By: Jonathan Kwan
January 27, 2023
"Oh no, I am going to miss my final exam," I frantically yelled as I looked at my alarm clock next to my bed, indicating it is now 9:30 am. The exam was supposed to start at 8:00 am, and my heart sank. What am I going to do now? Just as these thoughts finished running through my head, I woke up in cold sweat -- thank goodness it was all a dream. I do not know about you, but I still have bad dreams about final exams and this scenario has always been one of my biggest fears even though it has never happened before. In reality, it has been over two years since I have graduated with my last degree -- PhD in electrical engineering, no less -- and the last time I wrote a final exam for any course was in April 2017. Some things change little as time progresses, and I think the big idea of the fear of seriously messing something up in life because of a trivial error is a pretty valid fear. If there is another thing that changes little over time because of its proven validity, it would be Kingston's flagship SSD lineup. On the last day of 2021, I published the Kingston KC3000 1TB review, which proved to be an excellent model. Half a year later, I reviewed the FURY Renegade 1TB, which has a revised firmware for a slightly higher read speed of 7300MB/s rather than 7000MB/s and a 25% increase in rated write endurance to 1000TBW. Another half year has elapsed, and Kingston once again asked us to evaluate the FURY Renegade 1TB, this time it comes with a heatsink in the package. With the latest market pricing and in light of several competitor models that has released since then, is the Kingston FURY Renegade 1TB still one of the best among the rest? Read on to find out!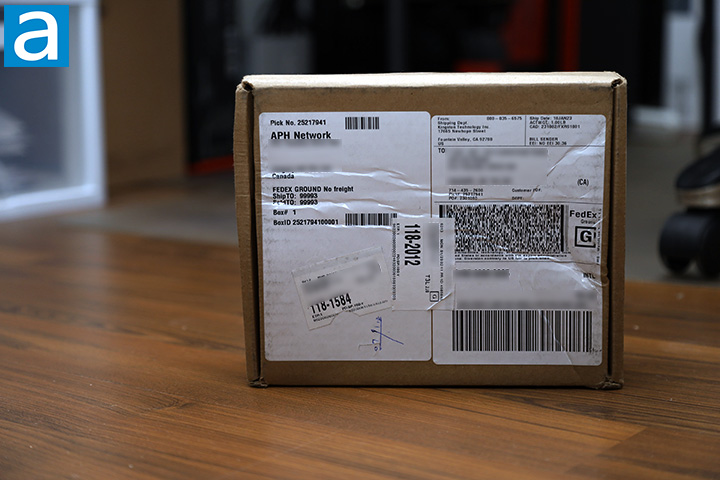 Our heatsink version of the Kingston FURY Renegade 1TB arrived in a small brown corrugated cardboard shipping box from the company's American headquarters in Fountain Valley, California, USA for our review today. Using FedEx Ground, the package was slightly crushed as it arrived on our doorstep here in Calgary, Alberta, Canada, but thankfully it was just the shipping box. Inside the box is also the Kingston FURY Renegade RGB DDR5-6000 2x16GB, which I will look at shortly.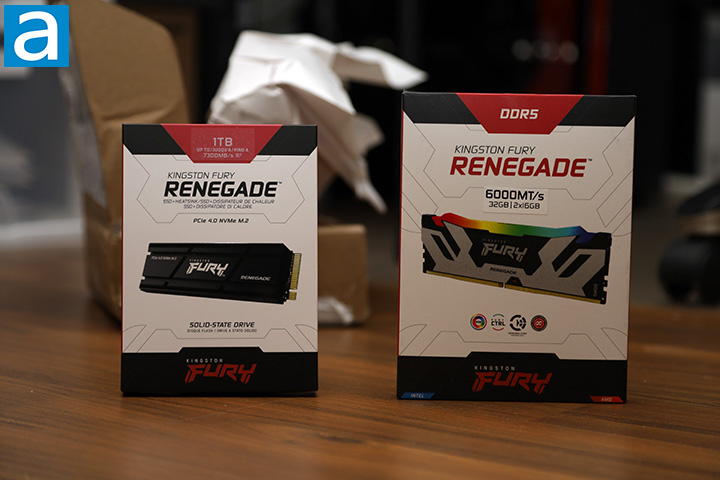 The Kingston Fury brand is aimed at enthusiasts, while the regular Kingston name is all about business. Interestingly, the packaging for the Kingston FURY Renegade 1TB with heatsink seems to be more Kingston than Kingston Fury. As you can see in our photo above, its retail packaging looks quite serious, and should I say, professional and business-like. It is pretty much the exact same thing as the no heatsink version, except this comes in a box rather than a hang packaging. The background is a predominantly black and white with hints of red for the Fury brand. Kingston's branding and product name is shown across the center, while the storage capacity and rated read speed are shown in the red-colored section above. A photo of the FURY Renegade SSD in three-quarters angle occupies some prime real estate. The Kingston Fury logo is centered at the bottom. Additional branding and fine print can be found on the remaining sides of the box.
Before we move on, let us take a look at the specifications of the Kingston FURY Renegade 1TB with the heatsink, as obtained from the manufacturer's website:
Form Factor: M.2 2280
Interface: PCIe 4.0 NVMe
Capacity: 1TB
Controller: Phison E18
NAND: 3D TLC
Sequential Read/Write: 7,300/6,000MB/s
Random 4K Read/Write: up to 900,000/1,000,000 IOPS
Total Bytes Written (TBW): 1.0PBW
Power Consumption: 5mW Idle / 0.33W Avg / 2.8W (MAX) Read / 6.3W (MAX) Write
Storage Temperature: -40°C~85°C
Operating Temperature: 0°C~70°C
Dimensions: 80mm x 23.67mm x 10.5mm
Weight: 32.1g
Vibration Operating: 2.17G Peak (7-800Hz)
Vibration Non-operating: 20G Peak (20-1000Hz)
MTBF: 1,800,000 hours
Warranty/Support: Limited 5-year warranty with free technical support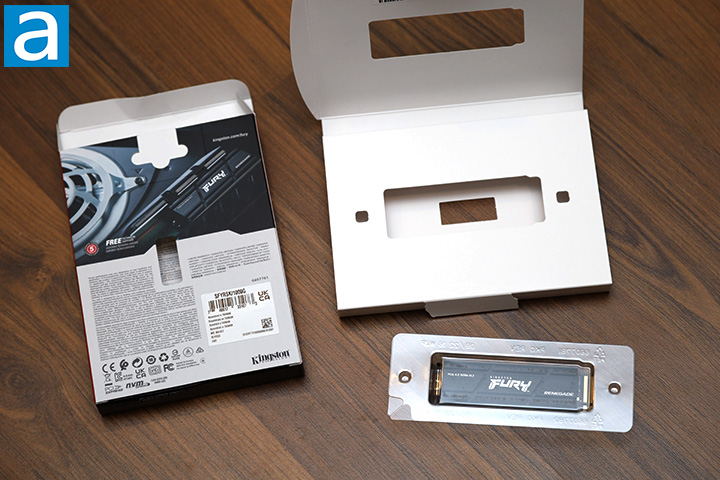 After opening a flap at the top of the box, a slide-out cardboard tray is revealed. Clipped between two clear plastic tray pieces is the Kingston FURY Renegade 1TB. A sticker on the inside flap of the cardboard tray is a sticker that contains an Acronis True Image HD license key. The Kingston KC3000 1TB also came with it, but the no heatsink version of the FURY Renegade 1TB did not. This is it -- out of the box, you will get nothing more than what you need, not even a manual or any type of product literature. Not that we need them anyway, of course.
---
Page Index
1. Introduction, Packaging, Specifications
2.
A Closer Look, Test System
3.
Benchmark: AIDA64 Disk Benchmark
4.
Benchmark: ATTO Disk Benchmark
5.
Benchmark: Crystal Disk Mark 8.0
6.
Benchmark: HD Tune Pro 5.70
7.
Benchmark: PassMark PerformanceTest 10
8.
Benchmark: PCMark 10
9.
Benchmark: 3DMark
10.
Conclusion