By: Jonathan Kwan and Aaron Lai
October 21, 2016
"You are my favorite Lauren," I told my friend. "Do you know another Lauren?" she quickly snapped back. "Let us leave that discussion for another day," I replied as I closed off the conversation for the night. Do I know another Lauren? The fact is, I probably do. However, she is the only one I actually talk to, and saying she is my favorite Lauren is definitely not a lie. But even if she was the only Lauren I knew, is not this statement still true? I think in this scenario, we are not questioning the textual truth of this statement, but rather its implied meaning: She is better than all the other Laurens I knew, under the condition I knew more than one Lauren. When I finally received the Phanteks Enthoo EVOLV ATX Tempered Glass Edition in early September after spending months trying to get my hands on one, my first thought was, "Will this be my favorite Phanteks Enthoo EVOLV ATX?" Of course, in order to substantiate this statement, just like my earlier one, there must be other EVOLV ATX models we have had experience with. Fortunately, we do have experience with another EVOLV ATX. About a year ago, we covered the Phanteks Enthoo EVOLV ATX, a mid-tower described as "one attractive chassis that exceeds in both form and function" in our review. Fast forward a bit in time, Phanteks added tempered glass side panels to create a new variant of one of our favorite cases here at APH Networks called the Enthoo EVOLV ATX Tempered Glass Edition. Will this simple upgrade plus a few other minor changes make this chassis my favorite Phanteks Enthoo EVOLV ATX edition? Read on to find out!
Our review unit of the Phanteks Enthoo EVOLV ATX Tempered Glass Edition came in its retail box from the company's American offices in Walnut, California. As with the overwhelming majority of cases we receive, its retail box doubled as the shipping box. Understandably, it took a slight beating when it made its two thousand kilometer trip up north to us here in Calgary, Alberta, Canada. That said, even with all the tempered glass inside, there was nothing to worry about -- UPS got it to our doorstep in very reasonable condition. Using the Standard service, it took about a week to arrive, but that did not reduce my excitement to check out what Phanteks had it store for us. After all, I waited several months to get my hands on this thing already, haha.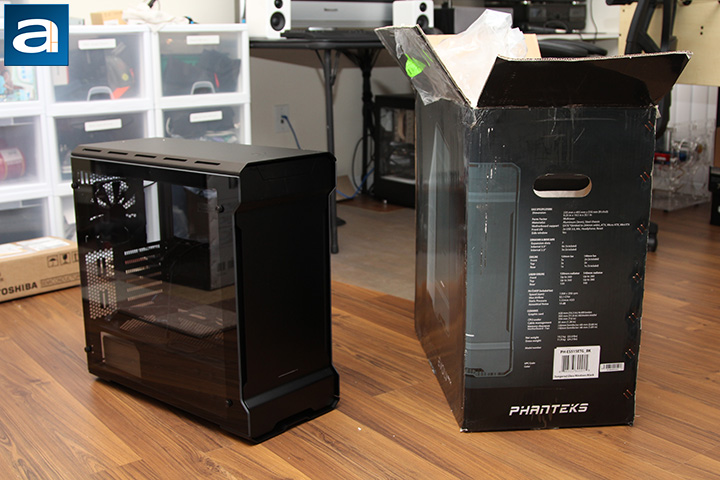 If you are familiar with the standard Phanteks Enthoo EVOLV ATX, judging by the last two photos, you will realize the retail packaging for the Tempered Glass Edition is very similar. I will push that point a little further, and say this is actually the exact same box. The photo of the EVOLV ATX residing over the glow on its black background is a photo of the Enthoo EVOLV ATX without tempered glass, and even the specifications and feature highlights on the remaining sides of the box point to its acrylic window brother. For example, it mentions about the chassis' hinged panels, which the Tempered Glass Edition does not have. The only difference is someone stuck a universal product code sticker for the actual product over the original. This seems a little lazy to me, especially when they are advertising features the actual product inside does not have.
That aside, it is the product inside that counts, and cutting open the tape at the top reveals the Phanteks Enthoo EVOLV ATX Tempered Glass Edition clipped between two large Styrofoam brackets. To add extra protection for the fragile tempered glass panels, the company inserted two additional pieces of foam between the glass panels and the box. In the end, everything inside arrived in perfect condition, so it looks like the packaging worked well to me.
Before we move on, let us take a look at the features and specifications of this case, as obtained from the manufacturer's website:
CASE SPECIFICATIONS
Dimension: 230 mm x 495 mm x 510 mm (W x H x D); 9.25 in x 19.5 in x 20.1 in
Form Factor: Full Tower
Material(s): Aluminum (3mm), Tempered Glass, Steel chassis
Motherboard support: E-ATX *(up to 264mm wide), ATX, Micro ATX, Mini ATX
Front I/O : 2x USB 3.0, Mic, Headphone, RGB LED control
Side window: Yes
EXPANSION & DRIVE BAYS
Expansion slots: 7
Internal 3.5": 5 (2x extra upgrade slot)
Internal 2.5": 2 (1x extra upgrade slot)
COOLING
120 mm: Front 3x, Top 3x, Rear 1x
140 mm: Front 2x (2 included), Top 2x, Rear 1x (1 included)
LIQUID COOLING
120 mm radiator: Front up to 360, Top up to 280, Rear 120
140 mm radiator: Front up to 280, Top up to 280, Rear 140
PH-F140SP (included)
Speed (rpm): 1200 ±250 rpm
Max Airflow: 82.1 CFM
Static Pressure: 1.33mm H2O
Acoustical Noise: 19dB
CLEARANCE
Graphic card: 420 mm (16.54 in) no HDD brackets, 300 mm (11.8 in) HDD brackets installed
CPU cooler: 194 mm (7.6 in)
Cable Management: 35 mm (1.38 in)
Memory Clearance (motherboard - fan): 120 mm form factor: 68 mm (2.68 in); 140 mm form factor: 48 mm (1.89 in)
Warranty: 5 Years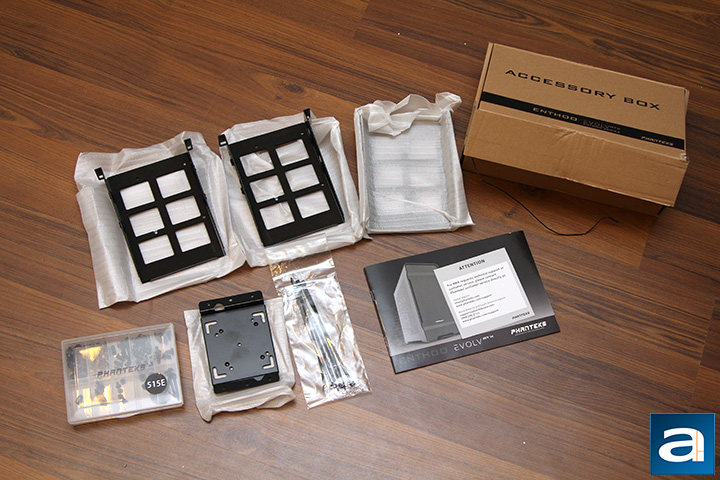 For case reviews, I do not normally look at the included accessories, but with the Phanteks Enthoo EVOLV ATX Tempered Glass Edition, I had to make the exception. We have praised Noctua in the past for their exceptional packaging skills, and I think Phanteks deserves some of this too, even if it is only for their accessory kit. Included in the small cardboard box are three hard drive brackets for mounting your storage drives, one metal plate for a pump mount, some zip ties, user manual, and a very neatly compartmentalized screws box. Each of the parts I have mentioned are either individually bagged or wrapped in a foam bag to ensure nothing gets scratched or broken. But I am most truly impressed with the tidy screws container. This is much better than everything else other manufacturers have provided, and everyone should learn from Phanteks in this regard in my opinion. Otherwise, let us move onto the Enthoo EVOLV ATX Tempered Glass Edition itself.
---
Page Index
1. Introduction, Packaging, Specifications
2.
Physical Look - Outside
3.
Physical Look - Inside
4.
Installation and Conclusion