Page 4 - Installation and Conclusion
The installation process was very straightforward with the Phanteks Enthoo EVOLV ATX Tempered Glass Edition. For the purposes of demonstration, I transferred my main PC over. Out of preference, I installed my Gigabyte GA-Z170X-UD5 motherboard first, followed by the rest of my components. Since the interior of the EVOLV ATX is separate into two chambers, it does not matter whether you install the PSU or motherboard first, since they will all work out just as well in the end. Pushing all the case I/O cables through the one of the three openings close to the motherboard on the panel separating the two chambers delivered excellent accessibility to anything that requires a connection to my motherboard. An opening near the outside edge of power supply chamber ceiling allows easy power delivery to your graphics card. Furthermore, there are two large openings adjacent to the motherboard on the right, so choose your half. They are all appropriately placed for routing cables through, whether they are from your power supply or your hard drive, with proper rubber grommets for both looks and vibration dampening. The rubber grommets are clipped onto place, but they stay reasonably secure unless you use excessive force. The large motherboard tray cutout also made the installation of any aftermarket CPU coolers totally painless.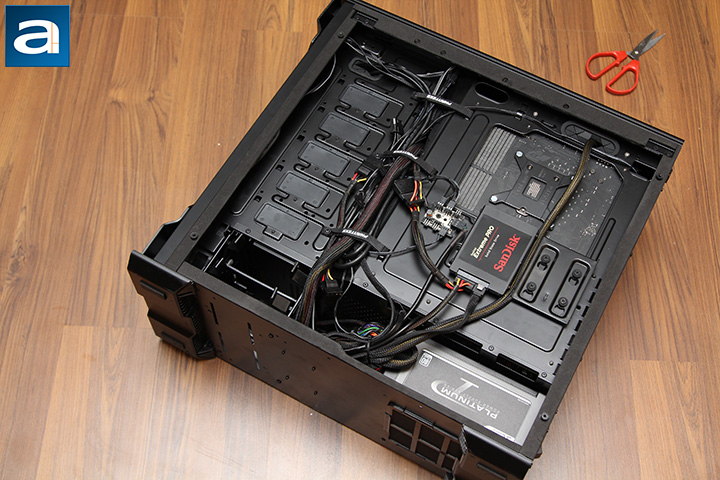 Executing a good cabling job was pretty straightforward on this ATX mid-tower. That said, it may even catch the most experienced of us off guard, since everything you do -- both the front and back, top and bottom -- will be fully exposed to the public, thanks to the full view glass panels on both sides. Thankfully, Phanteks added a cable management section behind the motherboard tray, as shown in our photo above. Therefore, organizing the modular cables from my Seasonic Platinum 1000W power supply was a breeze. It would have been nice if there were a few more cable tie down points though.
The rest of the installation process came and went just as smoothly, as I continued to install the rest of my components like my SSD. The one shown in the photo is the SanDisk Extreme PRO 480GB installed behind the motherboard tray. Unless you count thumbscrews as tool-free, like your add-on cards, installation of most components will require you to keep your screwdriver handy. Stuff like storage drives will definitely require a screwdriver. I do not have much beef against this though, since it is usually much more secure, and it is not like I will take my computer apart occasionally anyway. As you can see, the EVOLV ATX can actually accommodate some serious water cooling equipment. I am personally not huge into water cooling, so I will just take advantage with the epic airflow design in my particular install instead.
After plugging in everything, our system configured inside the Phanteks Enthoo EVOLV ATX Tempered Glass Edition was ready to roll. I hit the large oval power button at the top, and my computer came to life. With some LED lights inside, the tempered glass makes a stunning show out of your interior components.
On a scale from 0.0 to 10.0 where 0.0 is silent and 10.0 is the loudest, the stock Phanteks PH-F140SP fans would come in at 2.5 subjective sound rating in everyday usage. That is very impressive. Slowing them down will keep it at around 1.0 in my personal opinion. I am quite sensitive to perceived sound volume, and as a quiet PC enthusiast, the Phanteks Enthoo EVOLV ATX Tempered Glass Edition is quite impressive, considering there are no noise insulation material installed. The fans have a smooth running motor with no annoying noise during operation. I do not think this case was designed specifically for quiet PC enthusiasts in mind, but it is not a bad choice if you are looking for a great looking case with quality stock fans. The straight unrestricted airflow design is a nice bonus for enhanced cooling performance.
-----------------------------------------
As we come to the conclusion of our Phanteks Enthoo EVOLV ATX Tempered Glass Edition, the question posed in the beginning of this review is easy to answer. This is, no doubt, my favorite Phanteks Enthoo EVOLV ATX edition. And this is not because there is no competition. It is because this case earns accolades by its own merits. Based on the acrylic panel version of the Enthoo EVOLV ATX, the Tempered Glass Edition carries forward what made the original one of our favorite mid-towers here at APH Networks. This case comes with a clean appearance that is not boring; its use of three dimensional shapes was a right balance between conservatism and design risk. Phanteks' designers created this chassis with a clear attention to detail, and manufactured it out of quality materials that feels solid in every corner. There are tons of cooling options, whether you like to stay on air or go to water. For the water cooling enthusiasts among us, the EVOLV ATX can accommodate both closed-loop water coolers and custom made solutions. Of course, its stock cooling options are excellent as well; the trio of included PH-F140SP fans are very quiet and provides great airflow. The dual chamber design divides the interior into two thermal zone with excellent cooling and cable hiding options. Its modular storage design makes sure people with different priorities and components are well accommodated. Needless to say, the build experience was very positive for me. Having a pair of tinted tempered glass panels on both sides is really the icing on the cake. You lose out on the hinged panels that swing open, but in my personal opinion, it is not a big deal. If there is anything to improve upon, I can count them with a few picky fingers. Firstly, get the eighth expansion slot back, as this is a bit of a curious omission for a high end chassis that costs about $190 at press time. Secondly, some noise insulation material behind the front panel would be nice. Thirdly, there should be more cable tie down points behind the motherboard tray. Lastly, I think an internal lighting kit should come standard. But are these deal breakers? Unless the first one is an issue, then definitely not. The Phanteks Enthoo EVOLV ATX Tempered Glass Edition is a real winner in my books.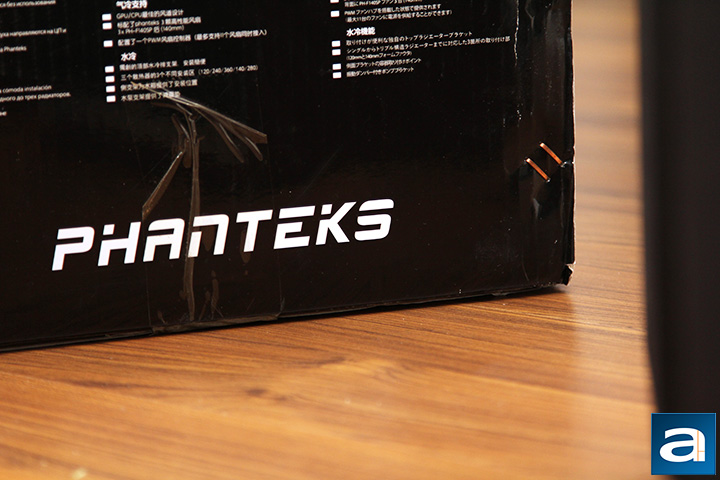 Phanteks provided this product to APH Networks for the purpose of evaluation.

APH Recommended Award | APH Review Focus Summary:
8/10 means Definitely a very good product with drawbacks that are not likely going to matter to the end user.
-- Final APH Numeric Rating is 8.0/10
Please note that the APH Numeric Rating system is based off our proprietary guidelines in the Review Focus, and should not be compared to other sites.
Phanteks' Enthoo EVOLV ATX Tempered Glass Edition is an all-round excellent mid-tower chassis now equipped with tinted tempered glass side panels for a stunning view of your PC's interior.
Do you have any comments or questions about the Phanteks Enthoo EVOLV ATX Tempered Glass Edition? Drop by our Forums. Registration is free, and it only takes a minute!
---
Page Index
1.
Introduction, Packaging, Specifications
2.
Physical Look - Outside
3.
Physical Look - Inside
4. Installation and Conclusion