By: Jonathan Kwan
November 1, 2019
At the end of September, I had the chance to attend the IEEE 90th Vehicular Technology Conference in Honolulu, Hawaii. I was quite excited to go not just because I managed to have two research papers accepted, but also for the fact I am in Hawaii. I have never been there before, and what better thing is there than to be in a world-renowned vacation spot for sunshine and beaches than to be there for work and have everything paid for by someone else? Now, for those who have trouble believing I got any work done there, I can assure you I did. In my free time, however, I had a chance to tour the island of Oahu in my rental car. One of the things people kept talking about were the shrimp trucks; particularly, Giovanni's Shrimp Truck. At first, I was kind of confused and even somewhat reluctant to go. For one, while I do not hate shrimp, it is certainly not something I crave. Secondly, why would I buy food out of a truck on the side of the highway that only accepts cash? But since everyone was giving them rave reviews, I decided to cough up a whole $14 worth of greenbacks to the totally unenthusiastic person in the truck. When I got my food, I still was not convinced. All I got was a paper plate full of greasy shrimps, two scoops of rice, and a whole stack of napkins. What is going on? Then I took my first bite, and I literally said out loud, "Holy crap!" I did not even care how other people looked at me; I finished the entire plate of food in less than ten minutes. It was simply amazing. What I learned is sometimes, you really have to experience something to understand it. Recently, my colleague Aaron reviewed the Sennheiser Momentum True Wireless, a set of high end true wireless earphones. But if you do not have $300 and still not convinced about why true wireless earphones are the way to go, Philips has a solution for you. The Upbeat True Wireless SHB2505 is a pair of true wireless earphones for the masses. But are they any good? Read on to see how it fared in the infamous APH Networks audio tests!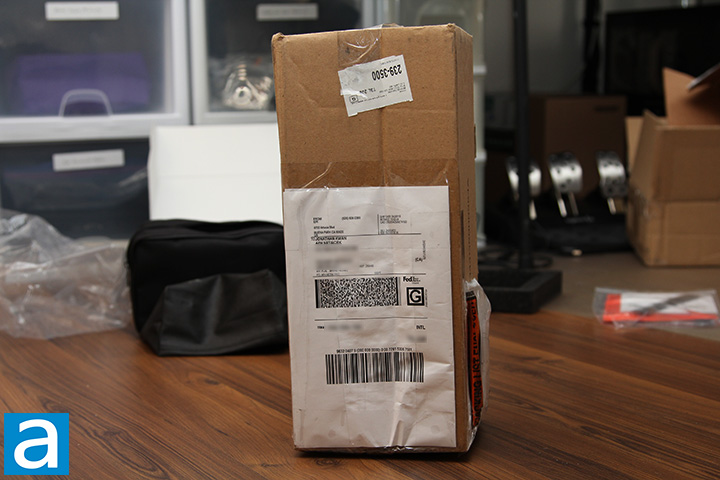 Our review unit of the Philips Upbeat True Wireless SHB2505 came in a medium sized brown corrugated cardboard box from the company's American headquarters in Buena Park, California, USA to us here in Calgary, Alberta, Canada. The last time I reviewed anything from Philips was almost ten years ago, which was the Philips X-treme Power +80 -- how time has flown by. Using FedEx Ground, the earphones arrived safely, although the packaging was bad. The top was not sealed properly, so I was able to take the content out without even opening the box. There was no other shipping material inside either, but if there were, it must have all fallen out, haha.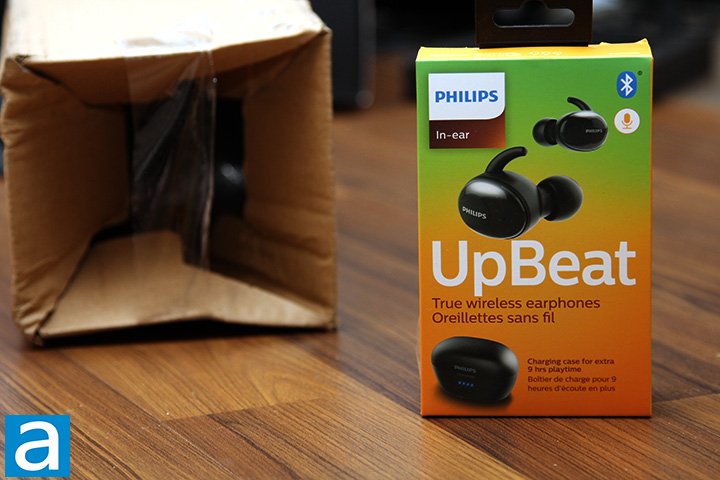 My impression of Philips, at least in the consumer electronics realm, has always been a legacy manufacturer that makes value products for the general consumer. The Upbeat True Wireless SHB2505's retail package design seems to only solidify that impression. The hang packaging with the funky green and orange color scheme will not look out of place in the electronics section of your local Wal-Mart in 2005. In the top left corner, you will find Philips' logo on a white island with a shadow over the background color gradient. The word "Upbeat" in white occupies the majority of the space in the middle, followed by the text "true wireless earphones". Photos of the earbuds and the charging case can be found at the bottom. A couple of icons in the top right corner indicates its Bluetooth wireless support and built-in microphone. Feature highlights can be found on the remaining sides of the box. All in all, I think Philips can do a bit to improve their brand profile by making their box art more modern and attractive.
Before we move on, let us take a look at the specifications of the Philips Upbeat True Wireless SHB2505, as obtained from various sources like the manufacturer's website and retail box:
Product Features
- Get up to 12 hours play time and 10 hours talk time
- Soft rubberized wing tips. Secure and comfortable
- 6 mm neodymium acoustic drivers. Great sound, punchy bass
- Multi-function button. Easily control music and calls
- Noise and echo cancellation for clear voice
- A double button-press wakes your phone's voice assistant
- Smart pairing. Automatically find your Bluetooth device
- Portable charging case. Multiple charges in your pocket
Specifications
Frequency range: 20 Hz to 20 kHz
Speaker drivers: 6mm
Maximum power: 5mW
Sensitivity: 90dB
Impedance: 16 ohm
Bluetooth transmitter power: <20 dBm
Bluetooth transmitter frequency: 2.402 to 2.480 GHz
Connectivity
Microphone: Built-in microphone
Bluetooth profiles: A2DP, AVRCP, Handsfree, HFP, HSP
Bluetooth version: 5.0
Maximum range: Up 10m
Product dimensions
Height: 6.5 cm
Width: 4.1 cm
Depth: 3.6 cm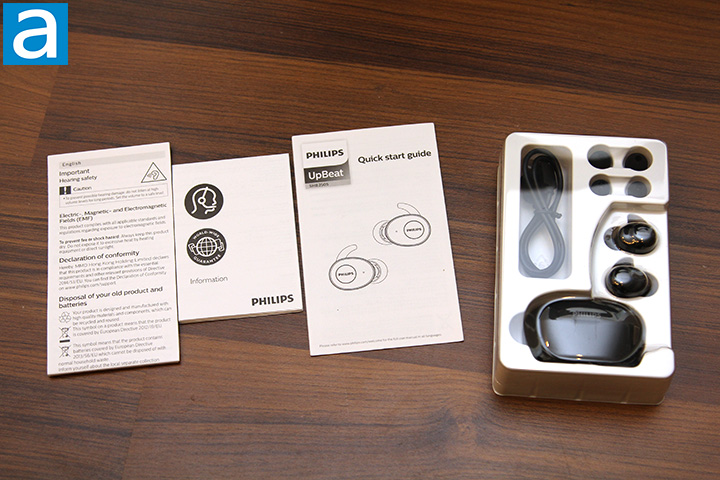 Upon opening the box, you will find everything on a white plastic tray enclosed by a clear plastic cover. The bundle is quite straightforward as well; what you will get are the earbuds themselves, charging case, two additional earsleeve sizes in addition to the ones already installed, and a USB cable for charging. Product literature included are a quick start guide, product information poster, and a regulatory warning sheet.
---
Page Index
1. Introduction, Packaging, Specifications
2.
Physical Look - Hardware
3.
Subjective Audio Analysis
4.
Conclusion