By: Aaron Lai
May 10, 2019
It has been over a month since the Calgary Flames were unceremoniously booted from the quest for the Stanley Cup playoffs. I honestly did not expect them to go all the way this season, but I did expect them to get past the Colorado Avalanche. Credit where credit is due, the Denver-based team was the better team in the first round. They outworked, outpaced, and outplayed the Flames in almost every aspect of the game, and the result was as expected. I say "almost" because I would say we had the better goaltender. One man stood on his head every game, giving the team in front of him a chance to win. This was probably the most surprising part of the Calgary Flames, as the goalie, Mike Smith, was called into question about he could really be a starter for the playoffs. His record and stats showed he was less than ideal and the new number one, David Rittich, had established himself as the better goaltender in the regular season. When the coach announced Mike Smith would be starting, I was one of many who lamented this decision. Instead of complaining, Mike Smith served us all some humble pie with his lights out performances that were let down by the team in front of him. When Sennheiser touted their first set of truly wireless headphones, I knew I had to try these out. However, one problem that often comes with these units are the lack of battery life, as there needs to be a compromise on internal battery to keep the unit small. Even so, how do the Sennheiser Momentum True Wireless perform in this regard as well as other areas like sound quality and usability? Is this a pair of well-rounded, wireless headphones to praise? Read on to find out!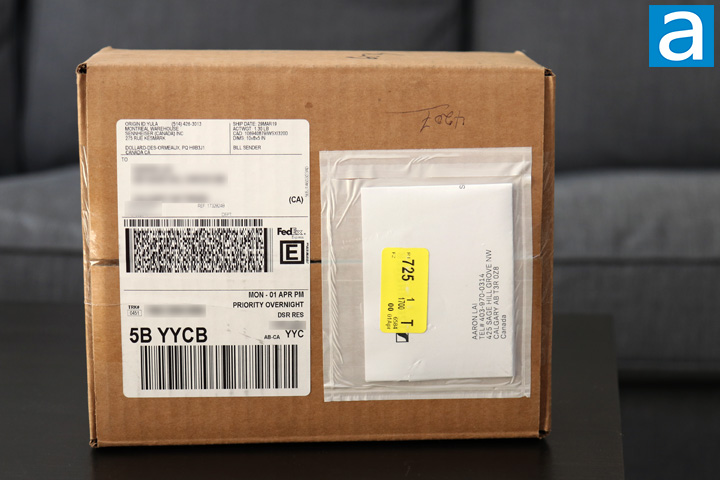 Today's review unit of the Sennheiser Momentum True Wireless arrived in a quick fashion, traveling via FedEx and its Priority Overnight service. Due to its fast shipment time, it ended up getting to our APH Networks offices in Calgary, Alberta in no time at all. Traveling in a brown corrugated cardboard box, the wireless earphones arrived in excellent condition and no damage to speak of around the outside of the box. Inside, Sennheiser packaged everything together with lots of packing paper to ensure nothing gets damaged during shipment. Otherwise, there is not much else to speak of, so let us carry on.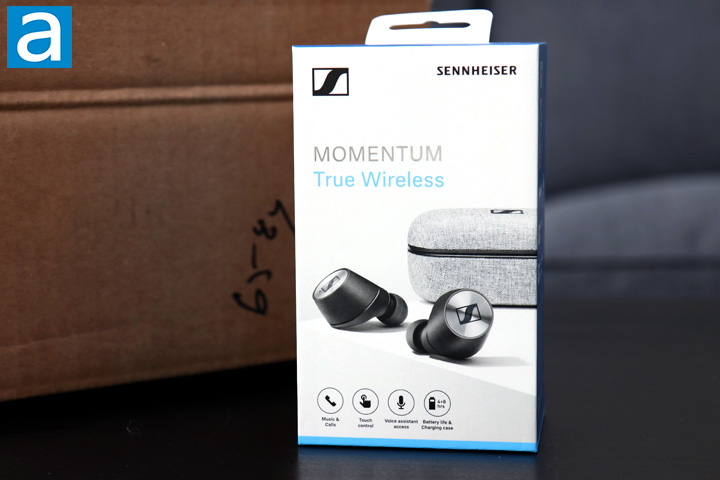 The retail container of the Sennheiser Momentum True Wireless is a pretty compact affair, which is understandable considering the size of the whole package. On the front, you can see a scaled up image of the headphones and the carrying case that is included with inside. The product name is located right above the picture and a company name and logo can be found at the top. At the bottom, we have four highlighted features of the Momentum True Wireless, including its usage, touch controls, voice assistant integration, and its specified battery life. We will be exploring these features and more in our review. Otherwise, the top shell pops off to reveal the product inside.
Before we continue, I have grabbed the specifications from the manufacturer's website, for your reading pleasure:
Dimensions: 78.6 x 45 x 35 mm (charging case)
Microphone: MEMS
Bluetooth Version: Bluetooth 5.0 compliant, class 1
Supported Profiles: A2DP, AVRCP, HSP, HFP
THD, total harmonic distortion: <0,08% (1kHz / 94dB)
Ear coupling: Ear Canal
Weight: 69.8 g (earbuds and charging case), 13.2 g (both earbuds), 56.6 g (charging case)
Charging time: Approx. 1.5 hrs
Microphone sensitivity: 94 dB SPL at 1 kHz
Operating temperature: 0 to +40°C
Power supply: 5 V, 650 mA: USB charging via USB-C socket at charging case
Battery Specification: Built-in Lithium rechargeable battery
Frequency range: 5 Hz to 21 kHz (earbuds), 100 Hz to 10 kHz (microphone)
Sensitivity: 107 dB SPL (1 kHz / 1 mW)
Speaker type: Dynamic
Operating relative humidity: 10 to 80%, non condensing
Battery time: Up to 4 hrs (A2DP) with rechargeable batteries of the earbuds, Up to 12 hrs with rechargeable battery of the charging case
Water Protection Code: IPX4, splash resistant (earbuds)
Type of Codec: SBC, aptX™, aptX™ Low Latency, AAC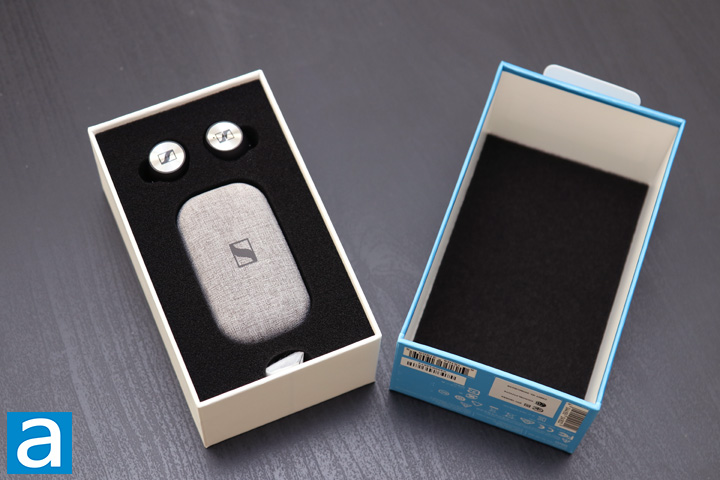 Opening up the box, you can see Sennheiser has neatly packaged the Momentum True Wireless earphones in a foam shell, showing off the earphones and the charging carrying case. Underneath, we have a white box holding some more accessories like different sized ear tips, some documentation, and a short USB to USB Type-C charging cable. From here, you can see we are using the newer Type-C interface, which is regarded as more durable and convenient than the older micro USB standard. The documentation also includes disposal information and warranty information. Sennheiser covers the Momentum True Wireless for two years, which is pretty standard for their products.
---
Page Index
1. Introduction, Packaging, Specifications
2.
Physical Look - Hardware
3.
Subjective Audio Analysis
4.
Conclusion