By: Jonathan Kwan
April 13, 2017
Several months ago, a few of us gathered around the table and talked about our past summer job experiences. "Callaway Park customers are terrible," one of my friends began to rant. "They are impossible to satisfy. They just complain about everything!" Before that friend could continue, a second friend quickly jumped in. "You served an elderly couple a raw hamburger, what do you expect?" With the rest of us bursting out in laughter, this situation illustrates one very important lesson in life: Statements are one thing, but context is everything else. While it may be true some Callaway Park customers are impossible to satisfy, it certainly does not apply in the context my friend was in -- I definitely would have made a complaint if some kid tried to serve me a raw hamburger. A little over a month ago, I wrote an article called The 32TB NAS Setup: Striking the Sweet Spot on this website. If you have read that report, you may recall the QNAP TVS-473's power consumption reached as high as 81W under load with four Western Digital Red WD80EFZX 8TB running in RAID 5. But what is the context? QNAP's latest small business class NAS comes with an AMD RX-421BD quad core CPU and an embedded Radeon R7 graphics processor for 4K video output and accelerated 4K H.264 video decoding and encoding. Therefore, the question we should be really asking is, does the company's state-of-the-art private LAN and cloud storage solution with top-notch multimedia features justify its power consumption by its features and performance? Let us find out.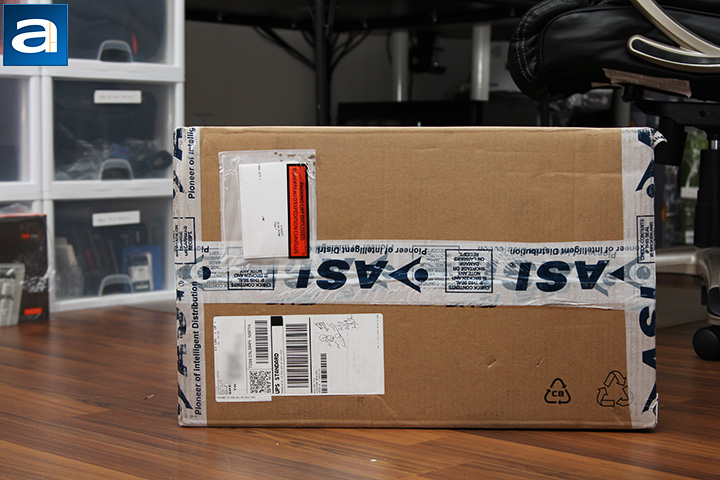 Our review unit of the QNAP TVS-473 network attached storage system arrived in a relatively large, brown corrugated cardboard box from the company's Canadian distribution company in Markham, Ontario, Canada. If you know Markham well enough, let me just point out one fact about this part of the Greater Toronto Area for those who do not: If you are white, you are a visible minority. Trust me, I am not even exaggerating. Using UPS Standard, everything arrived in excellent condition to us here in Calgary, Alberta for our review today.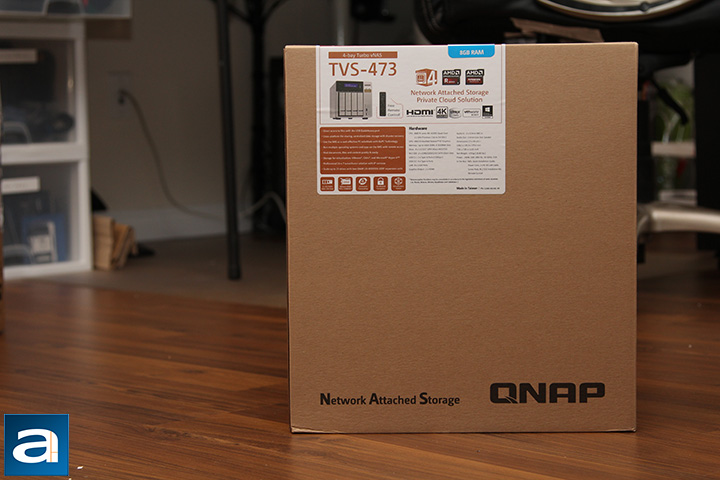 The latest iteration of QNAP's retail package design is similar to the one used in the TS-453A I previously reviewed. Like the system we got from QNAP almost exactly a year ago, it is in a high quality corrugated cardboard box enclosed by a series of flaps for future reusability. That said, what we have here is an extremely simple package with no fancy images -- just a QNAP logo and "Secure Data Storage & Backup" slogan printed in black at the top. A mid-sized sticker hangs over the side signifying its QNAP TVS-473 model name along with a small image of the system, amount of RAM it comes with (Our particular model is the 8GB version), bullet list of feature highlights, as well as the hardware specifications. You will also find its UPC code, EAN code, serial number, and MAC address stickers at the top, but there is not much beyond that. Since I doubt anyone purchasing a SOHO/business NAS would really go over everything in detail on the box instead of reading this review beforehand, less information is more information -- not to mention single color printing is a great cost savings measure. Upon opening the box, the user will find a welcome message on the inside flap.
Before we move on, let us take a look at the features and specifications of the QNAP TVS-473, as obtained from the manufacturer's website:
CPU: AMD R-Series RX-421BD quad-core 2.1 GHz processor, burst up to 3.4 GHz
- Hardware Encryption Acceleration: Yes, AES-NI
- Graphics: Embedded Radeon™ R7 Graphics Processor
System Memory: TVS-473-8G: 8GB DDR4 (2 x 4GB)
Maximum Memory: 64GB
Memory Slot: 4 x SODIMM DDR4 (For dual-or quad-DIMM configurations, you must use a pair of identical DDR4 modules.)
Flash Memory: 512MB DOM
Hard Disk Drive: 4 x 3.5"/2.5" SATA 6Gb/s HDDs/SSDs; M.2 SSD Slot: 2 x 2280/2260 SATA 6Gb/s
- Note: M.2 SSD operations can easily generate excessive heat. It is recommended to install a heatsink (from QNAP or a third-party provider) on the M.2 SSD.
LAN Port: 4 x Gigabit RJ45 LAN ports
PCIe Slot: 2 x PCIe Gen 3 (x4), one slot is pre-installed with a dual-port USB 3.1 Type-A card
LCD Panel: Mono-LCD display with backlight, Enter and Select buttons for configuration
USB: 2 x USB 3.1 port, and 4 x USB 3.0 Type-A port
HDMI: 2, up to 3840 x 2160 @ 30Hz resolution
LED Indicator: Status/Power, USB, LAN, Drive 1-4, M.2 SSD 1-2
Button: Power/Status, USB one-touch-backup, Reset
IR Receiver: Yes, support QNAP RM-IR004 and MCE-compatible remotes
Others: Kensington security slot, system maintenance port
Form Factor: Tower
Dimension (H x W x D): 188.2 x 199.3 x 279.6 mm; 7.41 x 7.85 x 11.01 inch
Weight: 4.9 kg / 10.80 lbs
Operating Temperature: 0 ~ 40˚C
Relative Humidity: 5~95% RH non-condensing, wet bulb: 27˚C
Power: ATX 240W, 100-240V AC, 50-60Hz, 3.5A
Power Consumption(W): HDD standby: 33.24W; In operation: 56.23W (with 4 x 2TB HDDs installed)
Fan: 1 x 12cm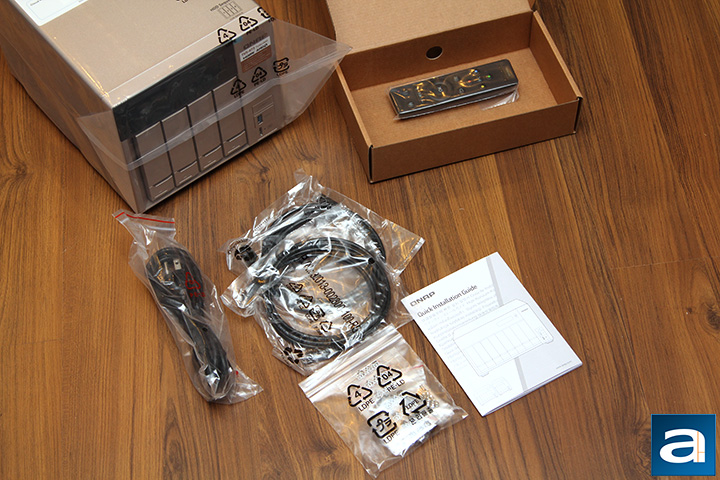 Opening the retail box reveals the QNAP TVS-473 clipped between two large Styrofoam brackets, and wrapped in a large plastic bag to ensure no bumps and scratches occur during transport. A separate accessory box holds all your accessories in place, making it organized and easy to find. Overall, I found the packaging to be simple and effective, and I have never had any problems finding what I need out of the box.
The following items are included for the end user:
1x QNAP TVS-473
1x RM-IR004 remote control
2x AAA batteries
2x Ethernet cables
12x Screws for 2.5" HDDs
16x Screws for 3.5" HDDs
2x Flat head screws for M.2 SSDs
1x Power cable
1x Quick installation guide
---
Page Index
1. Introduction, Packaging, Specifications
2.
A Closer Look - Hardware (External)
3.
A Closer Look - Hardware (Internal)
4.
Configuration and User Interface, Part I
5.
Configuration and User Interface, Part II
6.
Configuration and User Interface, Part III
7.
Performance and Power Consumption
8.
Conclusion