Page 5 - Configuration and User Interface, Part III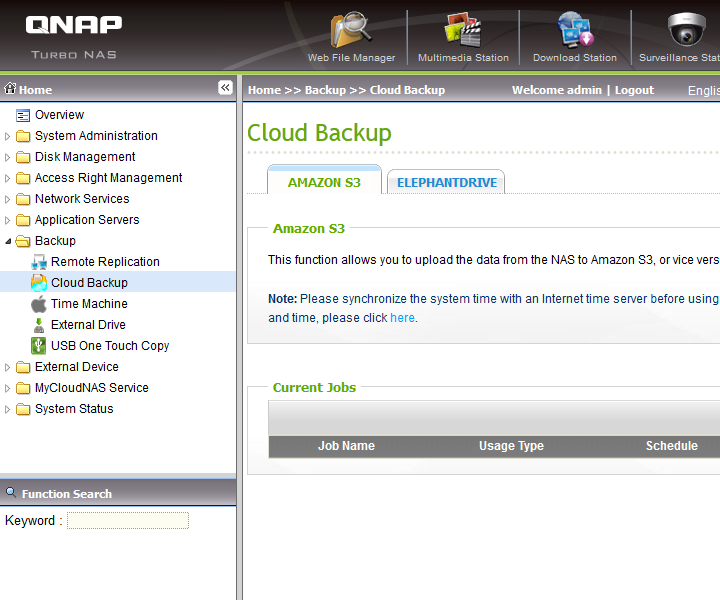 Under the Backups heading are five sections. These include Remote Replication, Cloud Backup, Time Machine, External Drive, and USB One Touch Copy. Remote Replication lets you configure your QNAP TS-219P II to copy data to a remote server of the same NAS series, and backup from remote server to the local server as well. You can also set its port number, and allow/disallow remote Rsync server to back up data to the local system. Cloud Backup provides support for Amazon S3 and ElephantDrive, where you can upload data from your NAS to the respective services, and vice versa.
QNAP V3.5 adds Apple Time Machine with Mac OS X Lion support. Once enabled, you can use the NAS as one of the Mac OS X Time Machine backup destinations. In the External Drive screen, you can back up select data on your NAS to an external drive connected via USB or eSATA. Last, but not least, is USB One Touch Copy, which configures the function of the front one touch copy button. You can use it to copy data from an external drive to a specific directory on the NAS, copy data from a specific directory on your NAS to the external drive, or disable it completely.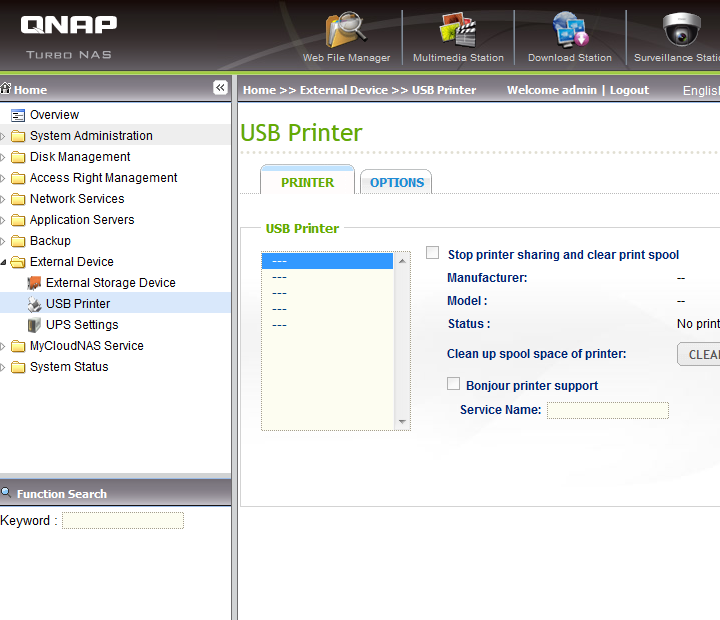 Under External Device, you can configure your NAS to work with, well, external devices -- including management of an external disk drive, USB printer, and connected UPS. The QNAP TS-219P II has a print server function, and the USB printer configuration screen is shown in the image above. Of course, I have no printer connected at the time of taking that screenshot. Other than that, the final screen in this section is the UPS settings, which is quite self explanatory.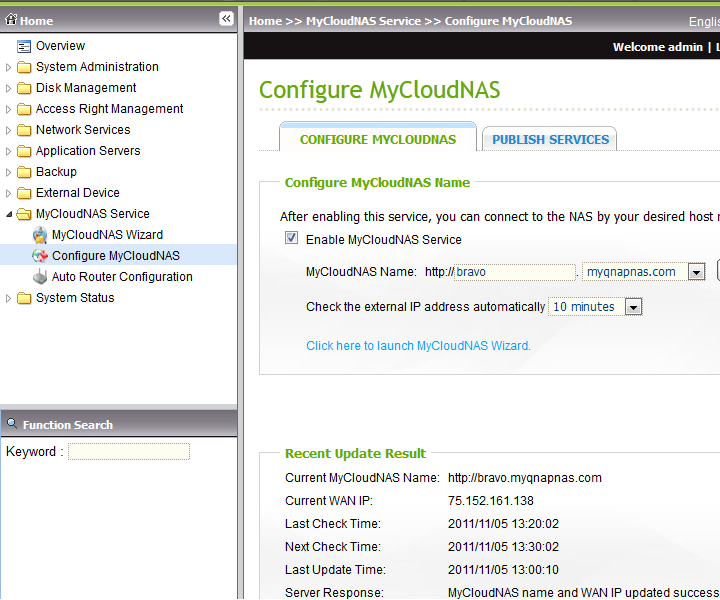 Given the popularity of cloud services nowadays, QNAP took it one step further, and unleashes your NAS from the confinements of your local area network. The implementation of QNAP's MyCloudNAS service is nothing too mysterious, however -- combining a built-in dynamic DNS service, and a wizard that lets you easily get desired services online, it makes it quite a breeze to configure the TS-219P II for access anywhere with internet. For users with UPnP routers, port forwarding setup is no more than a couple of clicks away. One thing that I did find handy was that if you need your files at hand all the time, the web file manager will be an absolutely invaluable asset. Additionally, since Multimedia Station is part of the MyCloudNAS program, you can now stream music to any computer with a web browser that supports Flash (Or even your smartphone with the QMobile app installed).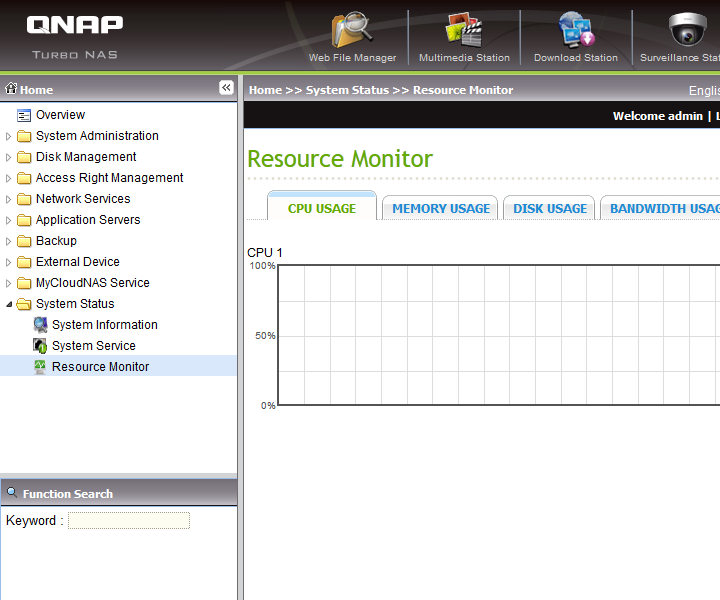 Last on the menu are System Status options under three specific sections: System Information, System Service, and Resource Monitor. The System Information screen provides a list of quick information on your NAS in text form, such as CPU usage, total memory, free memory, Ethernet adapter's packets sent or received, CPU temperature, system temperature, independent hard drive temperature, system uptime, and system fan speed. System Service displays statuses of various services under different tables. The Resource Monitor screen has live AJAX graphs showing CPU usage, memory usage, disk usage, bandwidth transfer, and running processes separated into their respective tabs; as shown in our screenshot above.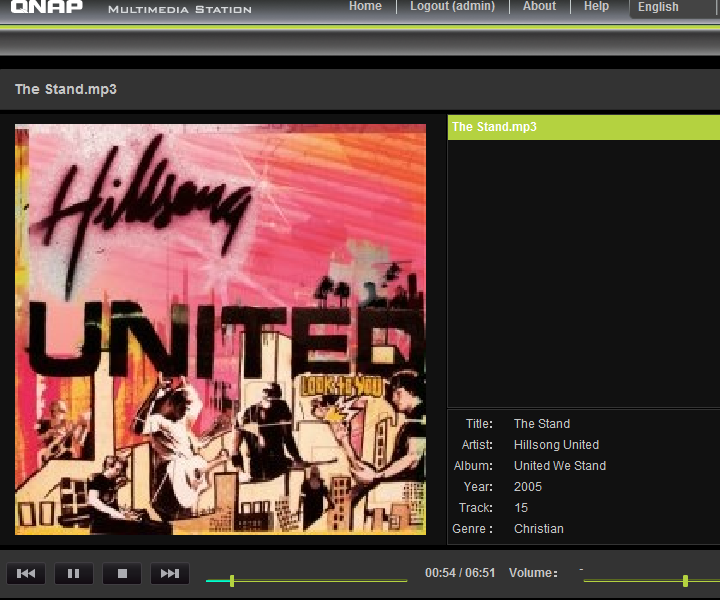 Last but not least is QNAP's Multimedia Station. It is a Flash based web application that allows you to view and play media files located inside your TS-219P II's Multimedia folder on any computer with internet access. With Web Server and QMobile for iPhone/iPod touch enabled under the Bonjour tab in Network Service Discovery on your NAS, you can now stream media directly from your file server to your Apple iOS based device through QNAP's QMobile app (Available for free in the App Store). QMobile works over WiFi and 3G, so as long as your network attached storage is web accessible, you can access your music, photos, and videos from anywhere with internet access. Where data coverage may be unavailable, you can also cache up to 1000 songs on your Apple mobile device. You can even upload images from your iPhone, iPod touch, or iPad directly to your TS-219P II too.
Overall, in my personal opinion, I found the web configuration interface on QNAP's TS-219P II is quite amazing. The only real complaint I have is that the startup and shutdown time is quite slow. But since it remains on for as long as possible anyway, it should not be a significant problem in the long run. I think QNAP has already gone above and beyond what an average user expects from a network attached storage device. The amount of features available on the QNAP TS-219P II, thanks to firmware V3.5.
---
Page Index
1.
Introduction and Specifications
2.
A Closer Look - Hardware
3.
Configuration and User Interface, Part I
4.
Configuration and User Interface, Part II
5. Configuration and User Interface, Part III
6.
Performance and Power Consumption
7.
Final Thoughts and Conclusion