Page 6 - Performance and Power Consumption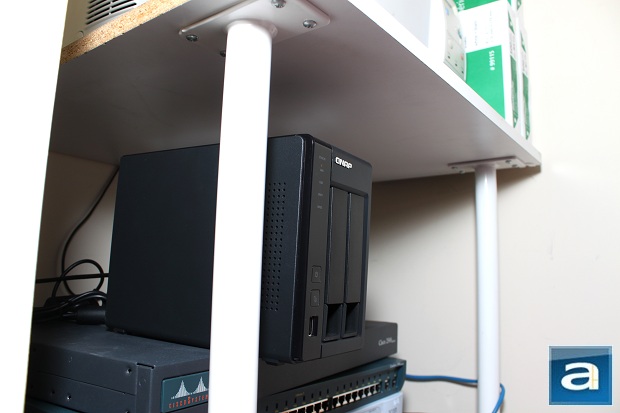 For our tests, the QNAP TS-219P II is placed in our networking room in the basement. Our test station is located on the same local area network as the NAS to simulate real world performance in a centralized operating environment. The TS-219P II is connected to a NETGEAR GS-108 Gigabit switch via the provided CAT5e cable.
A single Western Digital Caviar Black AALS 500GB is installed in our QNAP TS-219P II NAS. The Caviar Black is a performance oriented 3.5" hard drive, but the NAS can take on 2.5" drives such as SSDs as well. However, for a device of such nature, although it can support such drives, it may not reflect real life results quite as well, so we chose avoid using such drives. Our client computer is configured with the following specifications:
CPU: Intel Core i7-930 @ 4.01 GHz (Overclocked, Turbo Boost disabled)
CPU Cooling: Noctua NH-C14 (Dual Fan)
Motherboard: Gigabyte G1.Sniper
RAM: Patriot Extreme Performance Viper II Sector 7 Series PC3-12800 6x2GB
Graphics: HIS Radeon HD 6870 1GB
Chassis: SilverStone Raven RV03
Storage Seagate Barracuda 7200.11 1.5TB
Power: Cooler Master Silent Pro Gold 1000W
Sound: Integrated Creative X-Fi
Optical Drive: Asus DRW-24B1ST 24x DVD-RW
Operating System: Microsoft Windows 7 Professional x64 SP1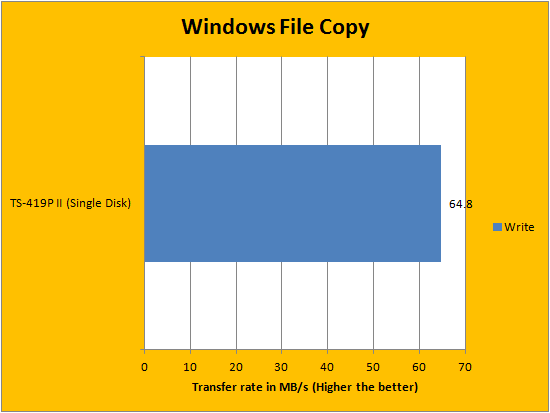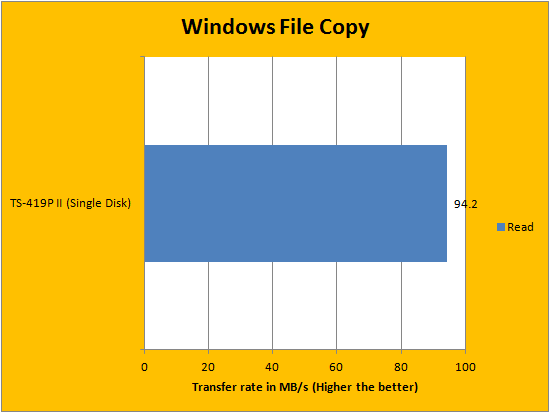 Equipped with a Western Digital Caviar Black AALS 500GB hard drive (7200rpm, 16MB cache), our QNAP TS-219P II is ready to roll out over our Gigabit LAN network. As you can see from our results above, the TS-219P II delivered impressive results with averages of 64.8MB/s and 94.2MB/s write and read speeds, respectively. As far as I can see, I really don't have anything to complain here other than the fact that my coffee breaks have just shortened in time, haha.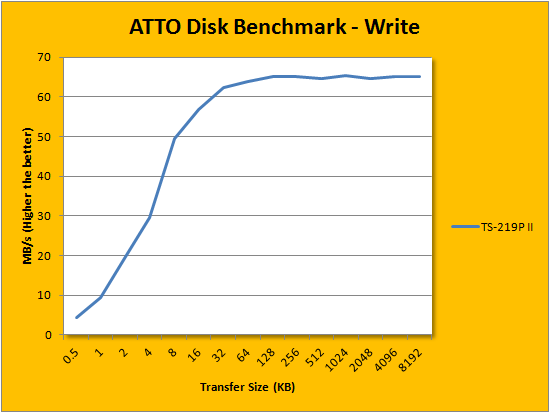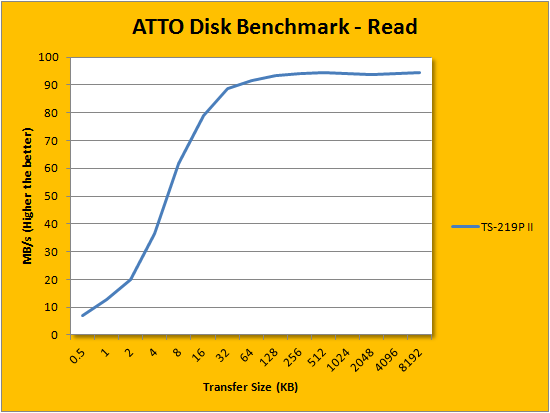 ATTO Disk Benchmark provides important insight into evaluating NAS performance. It is especially valuable since it is not local hard disk or protocol limited like Windows File Copy -- but rather the network adapter itself. After first using it in our QNAP TS-559 Pro+ review last year, ATTO has been an integral part of our storage benchmarks; used in everything ranging from USB flash drives to solid state disks. Anything from the 32K point and on, you will get 'only' a write speed of anything over 60MB/s, while the read speeds venture into a rate of just over 90MB/s, and levels out to 94MB/s.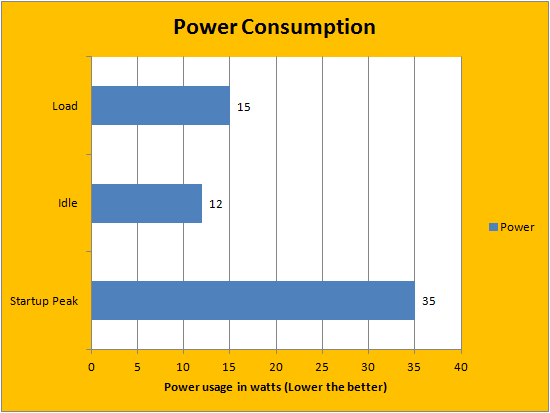 It doesn't take much to power to get the QNAP TS-219P II up and running. Keeping it in an idle state, it consumes only 12W, while it consumes 15W under load. For interest's sake, I have also recorded down how much power it consumes when it starts up, which is a mere 35W. Although it may not make a huge difference, it is important to note the hard drive used for testing is a more performance oriented 7200rpm disk, rather than power saving units that is becoming ever more popular lately. Therefore, your numbers might actually turn out to be lower than mine. Considering that it is going to be on 24/7, if you are concerned about your power bill, every last watt does add up in the end -- and the TS-219P II is certainly not an expensive machine to run.
---
Page Index
1.
Introduction and Specifications
2.
A Closer Look - Hardware
3.
Configuration and User Interface, Part I
4.
Configuration and User Interface, Part II
5.
Configuration and User Interface, Part III
6. Performance and Power Consumption
7.
Final Thoughts and Conclusion