By: Ben Joubert
May 26, 2017
The other day, I stopped by my colleague Jonathan Kwan's house to pick up some new items for review. Two of my colleagues were hard at work on spring cleaning their cars, of course this was Jonathan Kwan and Aaron Lai. A short visit mainly for work, in typical APH Networks fashion, turned into a longer visit including lunch, although I had to first wait for them to finish cleaning their cars before we would leave. We talked about all the usual topics; mainly the new products we received that day. Aaron finished cleaning his car first, and together we waited a while longer for Jonathan to finish. Aaron had a much more relaxed approach to cleaning his car compared to Jonathan, who instead was very precise in cleaning. The couple of years old Honda Jonathan drives still looks new. The precision Jonathan has for cleaning his car definitely pays off. I definitely am not as precise as either Jonathan or Aaron when it comes to cleaning up my car, but I like to keep it as clean as possible while I am using it, so that garbage and all that will not pile up. But winter makes it quite difficult to keep all the little things in your car clean. I usually do a quite extensive clean up during spring time, which I am sure many others do as well. I am more precise in other areas, however, such as my room. Everything has a place, and I slowly get more and more stressed if more and more things pile up until I finally neatly arrange everything again. It is a vicious cycle. Anyway, precision is important in many different aspects of life, especially when it comes to gaming. Today, we have the ROCCAT Kone EMP up for review, which promises, according to the manufacturer's website, unrelenting precision with its Owl-Eye optical sensor. Will this sensor be up for the task with enough precision for gaming? Read on to find out!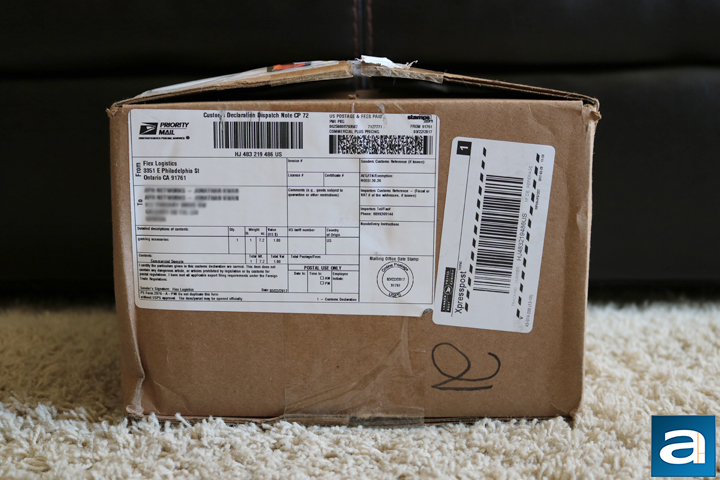 The ROCCAT Kone EMP arrived via Canada Post transfer all the way from Ontario, not Canada, but California, to APH Networks here in Calgary, Alberta. It arrived in a medium sized brown corrugated box, with some damage done to the exterior. Most notably, the bottom left corner was quite beat up as you can see in the picture. All the other damage was smaller when compared to the left corner, but none of the damage was cause for alarm. After opening the shipping box, the retail box was intact, with plenty of cushioning on all sides to keep it safe.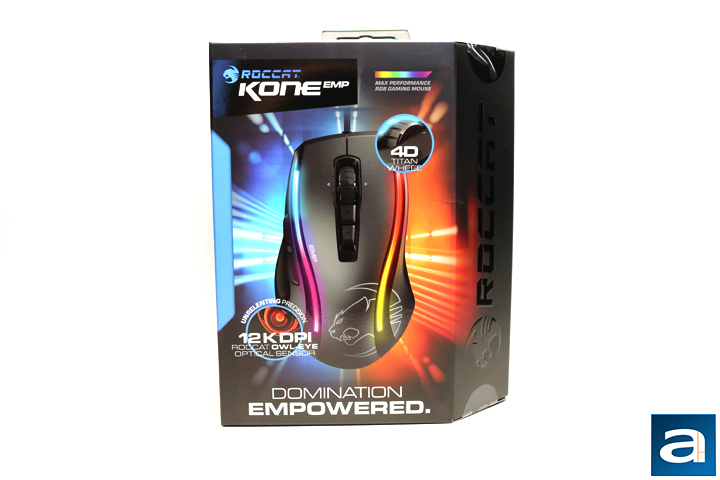 The retail box of the ROCCAT Kone EMP had no damage from shipping and has a striking look on the front. Front and center, we can see the mouse in all its RGB glory, which today qualifies it as a gaming product. The retail box is not entirely rectangular, as the front right angles down toward the back. The top left of the box has the product name, while to the right the RGB functionality is advertised. Also around the top right, the 4D Titan scroll wheel is advertised; opposite to this the owl-eye optical sensor is advertised with up 12000 DPI. The back has a similar color scheme around a picture of the mouse. Instead of advertising the main features, on the back is a list of features in different languages.
Here are the specifications from the manufacturer's website:
- ROCCAT® Owl-Eye optical sensor with 12000dpi
- 1000Hz polling rate
- 1ms response time
- 50G acceleration
- 250ips maximum speed
- Mouse acceleration: no
- Angle snapping: no
- Adjustable lift-off distance
- ARM Cortex-M0 50MHz
- 512kB onboard memory
- 1.8m braided USB cable
- Dimensions / Weight: Width 7.7 cm, Height 4.2 cm, Length 13.1 cm, Weight 116g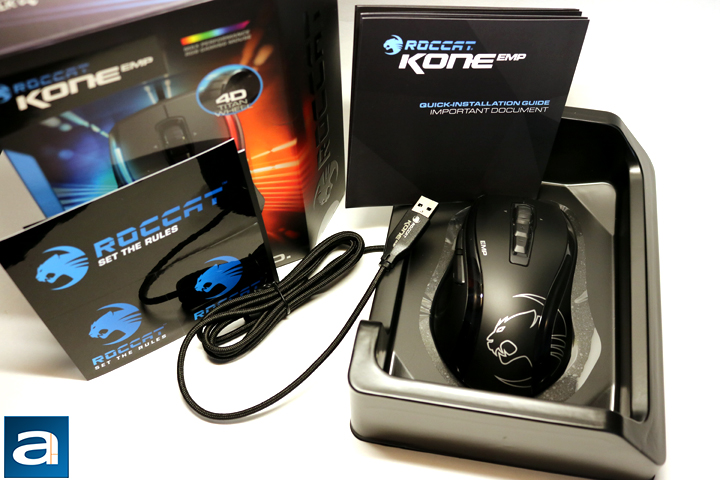 Inside of the ROCCAT Kone EMP retail box was nothing special. ROCCAT does include stickers with their products, which I think some companies have moved away from. The mouse has a clear plastic mold covering the top, which prevents any surface damage, moreover there is also a thin rubbery plastic sheet covering the mouse after removing the plastic mold for even more protection. Otherwise, the mouse is held in place by a larger black plastic mold to keep it steady, while the cable and all the documents were located behind the mouse. There is a quick installation booklet containing all the information for finding the software the mouse uses. Lastly, there are also three ROCCAT branded stickers included for you to use to show off your ROCCAT loyalty if that may be.
---
Page Index
1. Introduction, Packaging, Specifications
2.
A Closer Look - Hardware and Software
3.
Subjective Performance Tests
4.
Conclusion