Page 3 - Subjective Performance Tests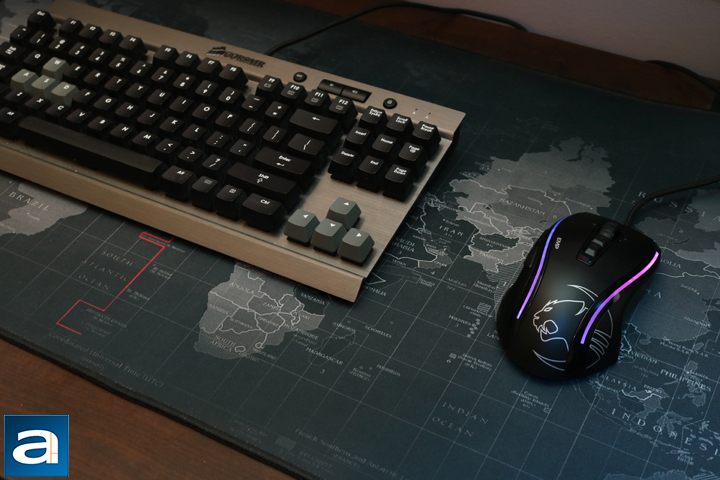 After installing the mouse, we put it through some subjective performance tests in an attempt to determine how good the mouse really is. These tests were subjective, but we hope through the extensiveness of the tests we will come to an objective conclusion. We tested the mouse in a normal office working environment, and of course, in a few different games. Some graphics testing was done as well by using it in Adobe Photoshop. The games used were Sid Meier's Civilization V, DOTA 2, and Counter-Strike: Global Offensive. These games span multiple popular genres of games, which allows us to figure out how well the mouse performs in different genres. The ROCCAT Kone EMP was also compared to previous mice I used, the EpicGear MorphA X and Ozone Argon.
The ROCCAT Kone EMP is comfortable for either a palm grip or a hybrid grip between palm and claw, but it is more aimed at a palm grip. I used a palm grip for this mouse. I found it to be the most comfortable, especially with the heavy weight. The two buttons right next to the thumb were placed in a good position and not too high. This ensured I did not accidentally actuate them, but still comfortable enough to reach, and they provide a nice feedback.
The Owl-Eye optical sensor in the ROCCAT Kone EMP is a modified PixArt 3361 sensor. The manufacturer's page is full of how precise and consistent this sensor is, just like the animal it is named after. As for the DPI settings, these can be adjusted in increments of 100 up to 12000 DPI, which I am sure nobody actually uses -- especially since ROCCAT recommends a golden zone in the range from 400 DPI to 3000 DPI. My usual DPI settings fall nicely into this golden zone, and I am sure many others also fall in this range. Overall, ROCCAT stresses the precision and responsiveness of this mouse, so of course we put it to the test.
Since the ROCCAT Kone EMP is a gaming orientated mouse, I started the testing here. The gaming mouse is advertised to be approved for MOBA and FPS games. For FPS gaming performance, I tested the mouse in Counter-Strike: Global Offensive. The default polling rate was already set to 1000Hz, so there was no need to make any changes. My experiences were really good. The ROCCAT Kone EMP was really responsive with every flick of the wrist. I usually hover around 700 to 800 DPI in a game such as Counter-Strike, but just for fun I attempted higher DPI settings closer to 2000. Even though my aim suffered extensively, the Kone EMP stayed consistent. It was still as accurate and responsive as before. Tracking was also smooth. I had the same results in DOTA 2, but this time I actually used the buttons on the side of the mouse by my thumb. It was difficult to accidentally actuate any of the side mouse buttons, which is good, but it also stayed close enough to my thumb to be able to comfortably press them. The one closer to the back of the mouse was harder to press; however, ROCCAT did make it larger than its brother in an attempt to press it easier. Overall, both buttons were easy enough to press, but also not too easy. For a more laid back strategy game, I played some Sid Meier's Civilization V, in which the mouse performed just as well as in the other games.
I encountered no issues with graphical work. It performed similarly to the gaming tests. The normal office usage in a Windows 10 environment was pleasant, and the ROCCAT Kone EMP was responsive and accurate. The ROCCAT Kone EMP was precise and consistent for everyday work, continuing its impressive performance not just in the gaming world. The Owl-Eye sensor definitely lives up to its namesake. In every test, there were no tracking issues either. Furthermore, the larger body of the mouse ensures a comfortable experience for both gaming and office work.
At this price range, it is expected for a mouse aimed at the enthusiast crowd to be a precise and responsive product, and it truly is. At a 1000 Hz polling rate, there was no input lag to speak of. Even at the highest sensitivity setting, there was no jitter, but at this setting the mouse was extremely sensitive and it was difficult to tell if it was my hand or the mouse. Overall, I found no issues in precision and consistency to warrant any cause for alarm. The ROCCAT Kone EMP is definitely a performing product, as seen throughout all the tests it was put through.
---
Page Index
1.
Introduction, Packaging, Specifications
2.
A Closer Look - Hardware and Software
3. Subjective Performance Tests
4.
Conclusion