By: Aaron Lai
November 19, 2021
A few months back, I was at a friend's place to hang out near their bonfire. As we were chatting around the firepit, I kept accidentally referring to one person by the name of her sister. The first time I said it, I caught myself and also saw her about to say something but then ignoring it. However, the second time it happened, she called me out on it and was wondering why I repeated my mistake. I think I normally can remember names, but it was clear my brain was matching the wrong name to the face. For me, it was awkward for two reasons. For one, these two sisters are notably different in personality and in stature, so there really is no rhyme or reason for me to mix them up. Secondly, I have also known them for quite a while now. Thankfully, they both laughed it off after only slightly questioning my sanity, and we went on chatting for the evening. As we have discussed in the past, names often mean something and are often used more than just to differentiate people or products. Today ROCCAT has sent us their Sense lineup of mousing pads, each with their own name and differences. We have taken a look at the ROCCAT Sense AIMO XXL earlier this year, which was an addressable RGB mousepad, but ROCCAT has since birthed more siblings to the family in the Core, CTRL, and Pro. How will each fare as mousing surfaces, and will I be able to differentiate them at the end? Let us read on to find out!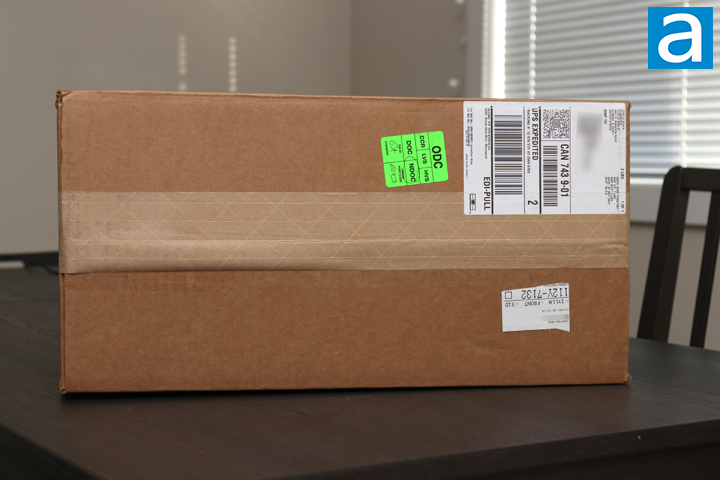 Today's review unit of the ROCCAT Sense Core, CTRL, and Pro arrived from Turtle Beach's distribution offices in Elwood, Illinois, United States. Traveling with UPS and their Worldwide Expedited services, this box arrived in excellent condition with no observable damage to be concerned about. As they packed three different mousing surfaces into here, they also provided a large amount of packing paper to keep the products inside secure and cushioned. Everything arrived in excellent condition with plastic bags around each retail container to protect it further from scratches or scuffs.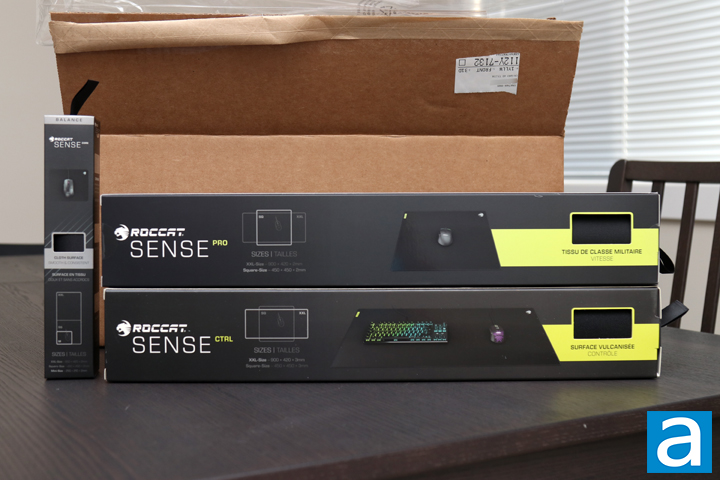 ROCCAT has clearly stuck with their black theme on their box, although you can see there are some slightly different accent colors. The manufacturer sent us a different size for each pad to ensure we do not mix up the three different pads. The smallest one is the ROCCAT Sense Core in its Mini size, while the one on top is the ROCCAT Sense Pro in the Square size. Finally, the largest one is the ROCCAT Sense CTRL in the XXL flavor. The Core is available in all of the aforementioned sizes, while the Pro and CTRL come in Square and XXL sizes. Otherwise, each of the boxes highlight some main features for each of the mouse surfaces with some specifications. You can see that the Core has a tagline of "Balanced", CTRL has a tagline of "Control", and Pro has a tagline of "Speed". We will explore what these extra lines mean during our inspections and testing.
Before we move on, I have grabbed the specifications from the manufacturer's website for your perusal:
Sense Core Mini
Surface material – Polyester Cloth
Base material – Natural rubber
Width: 250mm
Height: 210mm
Thickness: 2mm
Sense CTRL XXL
Surface material – Vulcanized Polyester Cloth
Base material – Natural Rubber
Width: 900mm
Height: 420mm
Thickness: 3mm
Sense Pro Square
Surface material – Military-grade Polyester fabric
Base material – Natural Rubber
Width: 450mm
Height: 450mm
Thickness: 2mm
---
Page Index
1. Introduction, Packaging, Specifications
2.
A Closer Look
3.
Subjective Performance Tests
4.
Conclusion