By: Aaron Lai
August 17, 2018
Sometimes, I think the hardest thing to do in life is to admit you are wrong. Last week, before my colleague Jonathan Kwan and I set off on a road trip with a few of our friends, we were discussing plans as to how we would meet up before we leave. At first, he told me that we would all assemble at my place before heading out. However, the next thing he said seemed to be the opposite: "You can go pick up two people and then go to the car rental to pick up the car". When I put the two statements together, it made no sense to me why I would need to pick anyone up. I did not even want to leave the house, but I knew I had to pick up the rental car. After some explanation, his points did make sense, but I still felt slighted because I was under the false pretense from the first statement. It may have been a hot day when we were talking, but in these situations, it takes a cool head and a mild temper to step back and realize your misconceptions. Another example is something I have mentioned in previous reviews about my generally negative opinion towards TTC switches. I have used two keyboards with them, the GAMDIAS GKC1001 and the Tesoro Gram XS. In both cases, I had poor experiences with their switches, especially with a weak tactile feedback. However, today's review unit of the ROCCAT Vulcan 120 AIMO is a new keyboard made with switches in collaboration with TTC. Will this keyboard and its switches make me eat my words? Let us read on to find out!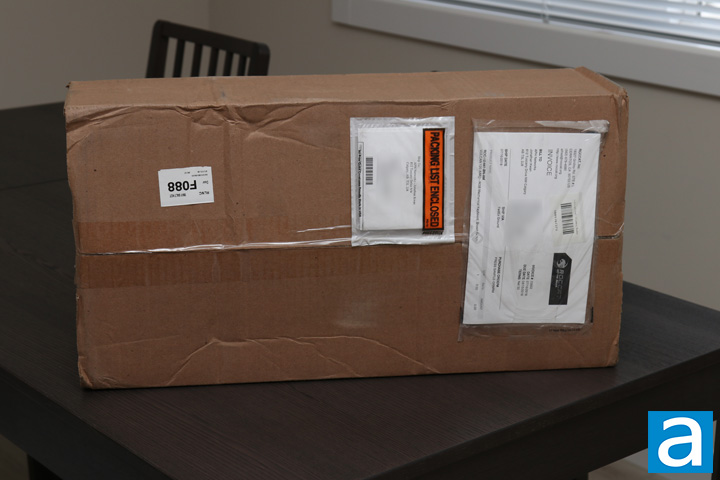 Today's review unit of the ROCCAT Vulcan 120 AIMO arrived via FedEx and their International Ground service. Traveling from ROCCAT's headquarters in Cerritos, California, the people in orange and purple delivered the parcel in great condition without any bumps or bruises to be concerned about. Internally, we had several layers of packing paper to protect the keyboard from any damage. Furthermore, the Vulcan 120 AIMO was wrapped in a clear plastic bag to avoid any surface scratches or abrasions.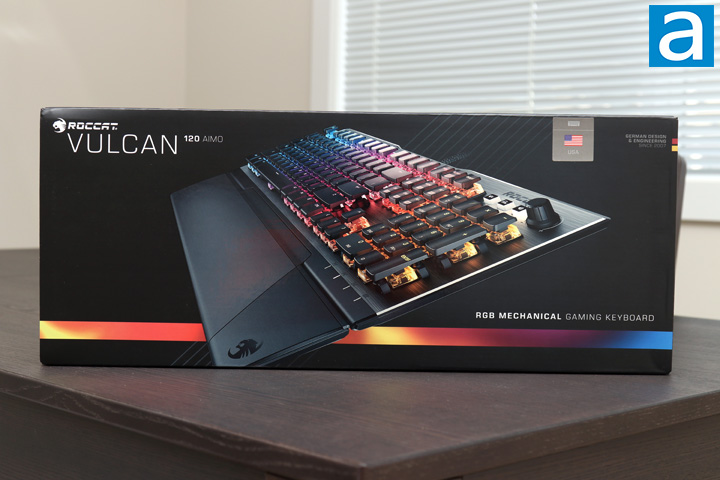 ROCCAT has gone with their blue and black exterior on their boxes in the past, but the Vulcan 120 AIMO is a shift in a different direction. We still have a dark background, but the rest of the words are written in white. The box shows off the keyboard on the front with it fully lit. As this is an AIMO designated product, this is one of ROCCAT's many peripherals with their RGB lighting. We also have a large strip to show off a nice blue to orange transition. The product name can be found on the top left corner, while a product description of "RGB Mechanical Gaming Keyboard" can be found at the bottom right side. Just as a heads up, the Vulcan lineup from ROCCAT comes in three different flavors. The other versions are the 100 AIMO, which is the same keyboard sans wrist rest, and the 80, which features a ROCCAT blue backlight.
Before we continue on, I have grabbed the specifications of the product from the manufacturer's website for your perusal:
TECH SPECS
- 1.8mm actuation point (tactile, silent)
- 3.6mm switch travel distance
- 512kb integrated macro & settings memory
- All keys remappable
- ROCCAT® Easy-Shift[+]™ technology
- 32-bit ARM Cortex-M0 based processor
- 1.8m USB cable
- 1000Hz polling rate
- ROCCAT® Swarm software suite
- RGB per-key illumination with 16.8m colors
- Removable ergonomic palm rest
- 1150g weight
- 462mm x 235mm x 32mm dimensions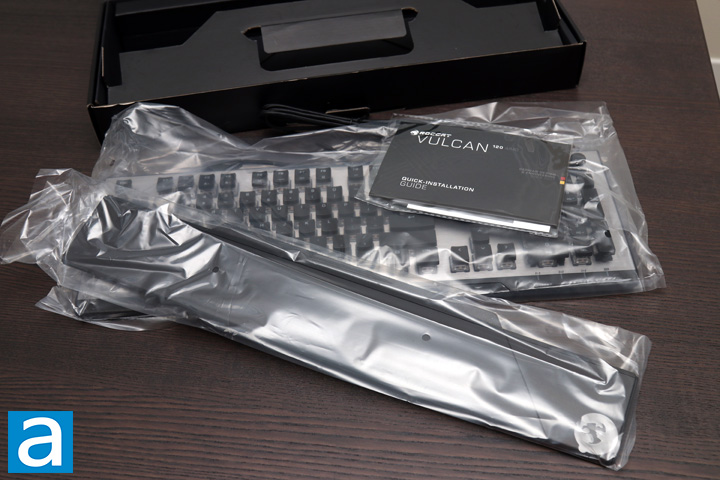 Inside the retail container, the ROCCAT Vulcan 120 AIMO can be found with several plastic bags, again to prevent any surface scratches. Thus, we have the keyboard itself in one bag, the wrist rest in another, and the related documentation in a smaller sealed bag. The documentation includes a quick installation guide, some disposal information, and some ROCCAT stickers. As ROCCAT has some presence in the esports world, at least in the European League of Legends Championship Series, it is nice to see some fan material. The Vulcan 120 AIMO comes with a standard two year warranty. Otherwise, let us continue with the keyboard itself.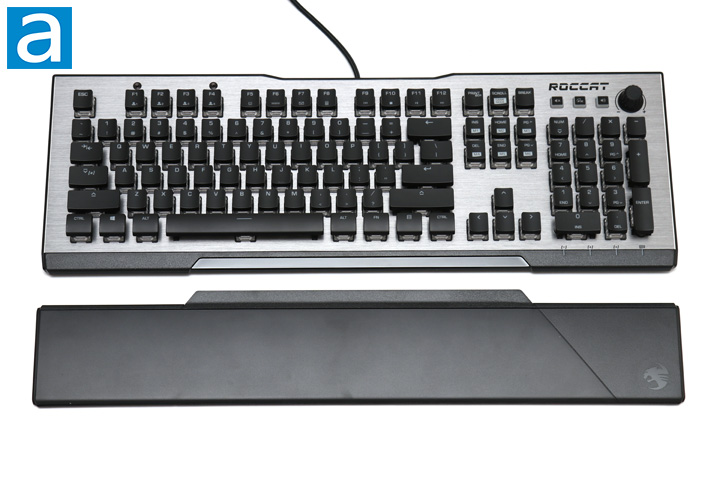 After seeing similar keyboards again and again, the whole Vulcan lineup from ROCCAT attempts to shake up the traditional look and the final product has grown on me. Rather than sticking with a black theme, ROCCAT has employed a silver-gray metal backplate. We actually have not seen many gray keyboards in a while now, which is a nice change. We also have lower profile keycaps on top of a clear plastic shell around the switch. Together, these two elements should allow for the RGB LEDs to shine through, but we will see when we look at it later. The keyboard still shares typical features, such as the island-style design with exposed switches. While we have the aforementioned aluminum backplate, the rest of the enclosure is a plastic shell. The metal is not finished out smoothly, which makes for a more industrial-like feel. This is generally okay except for the two screws at the top, which catch your fingers when you when you brush over this area. I personally would have liked to see a smoother finish on the back, but it is not a big deal. It also does a good job at resisting fingerprints and other greasy marks.
One feature I am glad to see with the Vulcan 120 AIMO is the magnetic wrist rest. While it is a basic thing, many keyboard manufacturers seem to neglect this helpful addition. As for the wrist rest included with the ROCCAT Vulcan 120 AIMO, it is made up of plastic. The surface feels smooth and is good at resisting finger marks. A small ROCCAT logo can be seen on the bottom right corner with a glossy finish. The rest attaches magnetically over the tabbed area at the lower edge. I have to say, it attaches well for magnets. While it will detach if you swing your keyboard about, this palm bar stayed in place a lot better than I expected. If you do not find yourself needing a wrist rest, you can also just purchase the lower tiered Vulcan keyboards.
As for dimensions, the keyboard is 462mm in width, 32mm in height, and 235mm in depth with the wrist rest included. Compared to other keyboards with wrist rests, like the HyperX Alloy Elite RGB, this keyboard is a bit bigger in width and depth, but slightly shorter. This is understandable considering the overall larger frame but shorter keycaps and flatter overall profile. In terms of mass, this keyboard is quite hefty at around 950g. Adding on the wrist rest, the keyboard weighs in at 1150g. Heft does not always translate into build quality but the ROCCAT Vulcan 120 AIMO does feel pretty sturdy. Its anodized aluminum backplate keeps the whole structure of the Vulcan very sturdy. There are still some signs of flex, especially near the arrow keys, but you have to be directly pushing on the backplate to see this slight imperfection. Even with a plastic base, this keyboard is as sturdy as ever.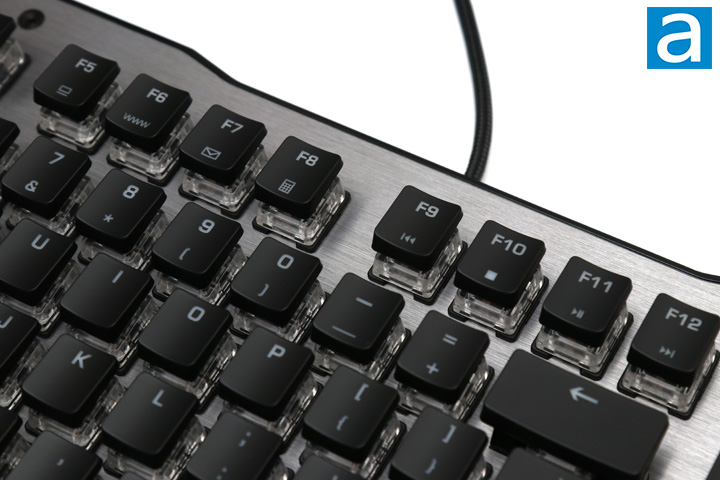 The ROCCAT Vulcan 120 AIMO came to us in a standard 104-key QWERTY ANSI layout with standard spacing on the bottom row. Personally, I would have loved to see a tenkeyless version with a wrist rest. Most of the keyboard is laid out in the same way as every other keyboard sent to APH Networks. The keycaps are average in quality with letters being translucent to allow the backlighting through. These are laser-etched ABS keycaps. ABS, which is short for acrylonitrile butadiene styrene, is a commonly used plastic for keycaps. They offer decent quality, but are also seen as inferior compared to PBT, or polybutylene terephthalate, which are stiffer, harder, and keep their color better. Fingerprint staining will be seen with these keycaps. These keycaps show off a bit of oily marks, but I have also seen worse. Font of the lettering on the keys is clean and legible. Otherwise, the keycaps are also much shallower to allow for better light bleed, while also making for a unique design overall.
ROCCAT has littered its function row with secondary functions, so I will go through each set. These can be activated by pressing FN + the corresponding function key. F1 to F4 allows users to select one of the four profiles you can store in the Vulcan 120 AIMO. F5 to F8 are different application shortcuts, including file explorer, browser, mail, and calculator. F9 to F12 is where the media functions exist, including Previous, Stop, Play/Pause, and Next. Finally, the Scroll Lock can be used to activate game mode, which locks the Windows key from opening the Start Menu.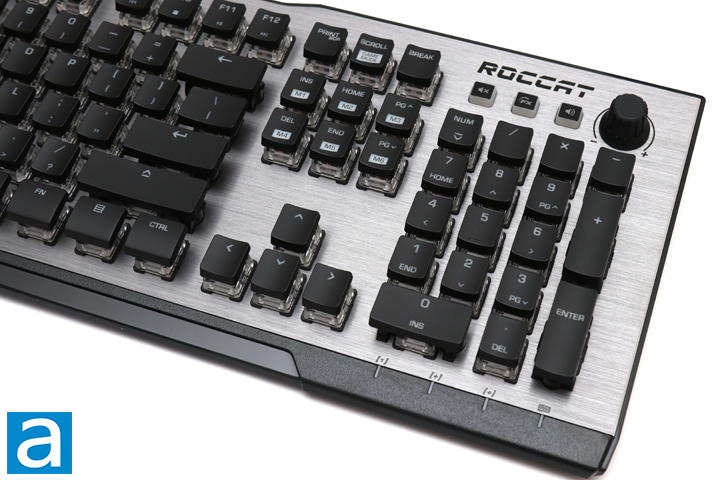 On the right side, we have a few more interesting inputs. At the top edge of the ROCCAT Vulcan 120 AIMO, we have three buttons. The first is a Mute one, followed by one marked FX and a Volume icon. The last two buttons are meant to be selected and used with the knob. When the Volume button is selected, this knob acts as a volume wheel, as you may expect. However, when FX is selected, which is indicated by a white backlight underneath these three buttons, the knob then adjusts the backlighting brightness. The knob itself is notched and feels good to use in your hands. Some may find it a bit too small but I like the volume knob. As you normally would have indicator lights at the top, ROCCAT moved them to the bottom edge of the right side. We have three main indicator lights for Num, Caps, and Scroll lock, followed by one more for the game mode indication.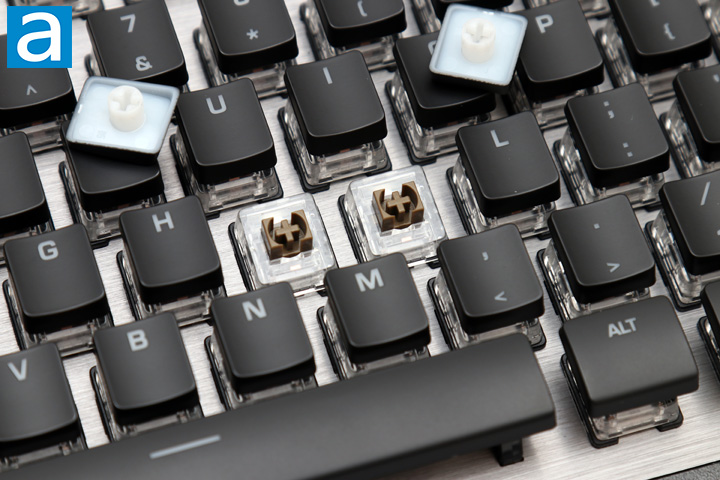 As for key rollover, the ROCCAT Vulcan 120 AIMO offers NKRO over USB. NKRO is abbreviated for n-key rollover, which refers to the number of keys independently scanned by the hardware. In essence, this fixes ghosting issues found in cheaper and/or laptop keyboards. While ghosting is a marketing term, there are cases where keyboards will not be able to recognize more than one keystroke at a time, causing for missed keys. This can be frustrating when you are playing games, or even if you are just a very fast typist. On an aside, the original usage of ghosting in keyboards actually referred to a third key being registered when two other keys were pressed, which thankfully is not a problem with most modern keyboards.
Before continuing on, one of the main selling points of the ROCCAT Vulcan 120 AIMO is the mechanical key switches. There are three main types of keyboards in the market today. The cheapest but most common is the membrane keyboard, which is the easiest to make, but also has poor typing feel and response due to squishy keys. Next is a scissor switch keyboard. This can be thought of as an enhanced rubber dome with two extra interlocking plastic pieces connected to the key and the keyboard. This creates a better tactile response and typing experience in comparison to the aforementioned membrane. Mechanical keyboards, such as the Vulcan 120 AIMO, cost the most, because each key switch is an independent part. These switches are generally composed of a base, stem, and spring, with varying degrees of tactile and audible feedback.
Our unit of the ROCCAT Vulcan 120 AIMO features ROCCAT's own Titan Switch, which was developed with TTC. ROCCAT has not given a keystroke endurance rating, though I think you can assume it should be close to the standard fifty million actuations. They also do not really give an equivalent Cherry switch, but I think they are very similar to the Brown switches, albeit with some differences. These differences exist internally and externally. On the inside, we have lower actuation and travel distances of 1.8mm and 3.6mm, respectively. They have also mentioned this switch counters a debouncing problem, which happens when the activating of a switch can cause a single stroke to result in multiple ones. Finally, we also have the clear enclosure around the switch to help reduce key wobble, protect the switch from dust, and disperse the lighting more evenly. Otherwise, brown switches are what I would call a hybrid switch, as they combine the good aspects of Red and Blue switches. This means we have a relatively quiet experience and a nonlinear travel together.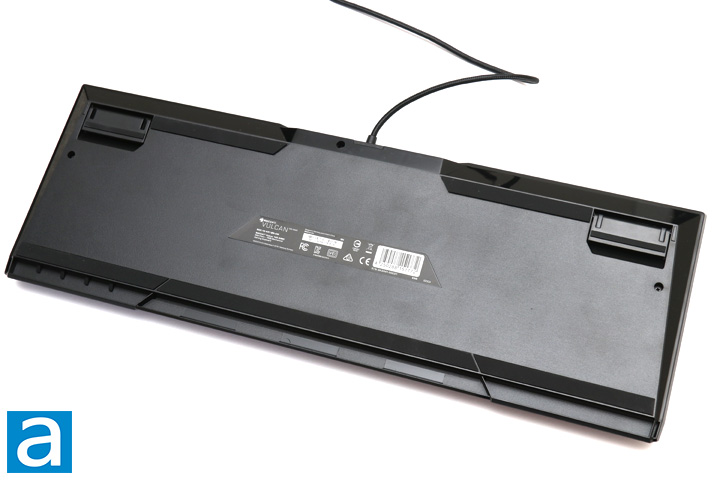 Flipping the keyboard over, the ROCCAT Vulcan 120 AIMO features nothing really out of the ordinary here. The top and bottom edges are lined with long strips of rubber padding to prevent the keyboard from sliding about. In addition, the feet have rubber padding on both exposed sides of the stand. Thus, whether they are folded like the photo above or protruding out, the keyboard should stay in place. In addition, the wrist rest has two strips of rubber to keep it in place as well. Out the back of the Vulcan 120 AIMO, we have a braided cable leading out the middle with a standard length of 1.8m. The cable is not exactly the most flexible one we have seen, but it should work fine. I would have liked to see a removable cable here, but it is not a big deal. Some users may want pass-through ports, whether this means an additional USB port or 3.5mm audio jacks. However, they are absent here, and I think it would have been a good addition as this is ROCCAT's top of the line keyboard.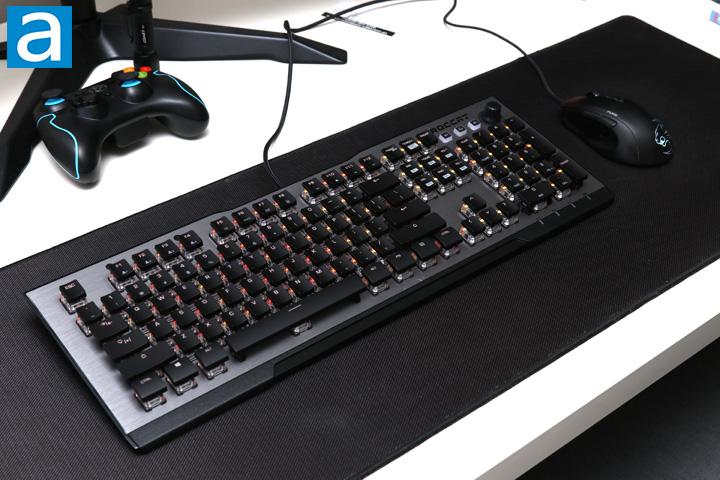 I only found it fitting to use this keyboard with my ROCCAT mouse, the Kone Pure Owl-Eye I reviewed a year back. I have to say I really like the look of the ROCCAT Vulcan 120 AIMO in my setup. Its gray metal backplate with its slim keycaps make for a unique looking typing apparatus. In addition, the ROCCAT Titan switches feel quite good to use. I will not say I love them, but they still offer good feedback. Compared to a similar switch like the Cherry MX Brown, there are some differences I noticed along the way. According to specifications, Cherry MX Brown switches have a 55g force to overcome the tactile bump before a 45g force after the bump to actuate the key. This seems to be the same as the Titan switch from ROCCAT and TTC. However, after several weeks of using this keyboard, I found the initial force to press the keys to be a bit higher than I would have expected. This is partially due to the fact I have been using light linear switches before moving to the ROCCAT keyboard. Otherwise, I really like the way ROCCAT has made their switch. All of the keys offer crisp feedback. Keycap wobble was kept to a minimum, while each switch felt consistent in their actuation and travel. I am really happy to see TTC prove me wrong, because it means more competition is available for the consumer. Well done ROCCAT and TTC!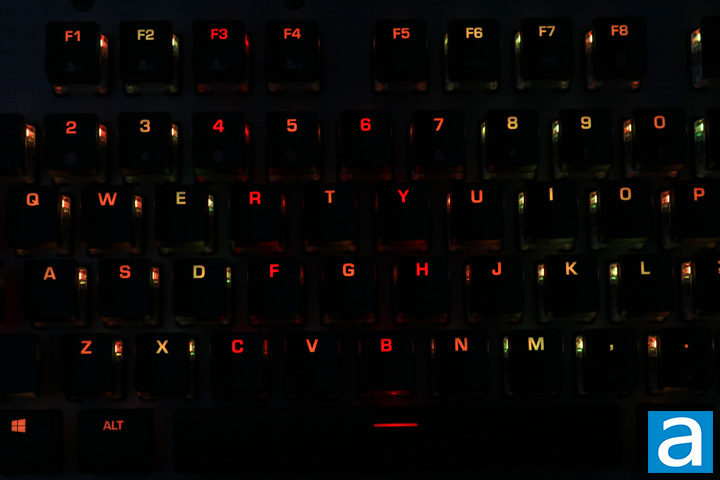 Like the typing experience, the lighting look was also quite good. Similar to how I praised the SteelSeries Apex M750 TKL for its brilliant backlighting, I think ROCCAT has matched it, albeit for different reasons. The SteelSeries option had many cool effects and customization, but the Vulcan 120 AIMO shines because of its physical design. Due to the combination of the shallow keycap and the clear switch housing, the lights on the ROCCAT Vulcan 120 AIMO diffuse throughout, making for a vibrant effect. Color transitions and movement is smooth, making the result appealing to the eyes. Outside of the software utility however, you can only change the brightness level of the keyboard illumination, rather than any effects. This is too bad but I am fine with this omission. If you are the type to switch it up every so often, then you will need ROCCAT's Swarm application.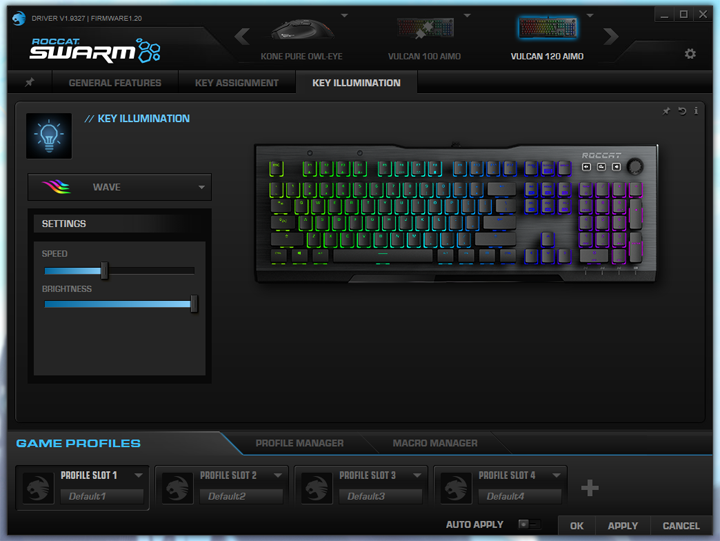 Speaking of which, the Swarm utility is the software for ROCCAT peripherals. We have seen this most recently with our review of the ROCCAT Leadr. This is a 119MB download from ROCCAT's website at press time. After installing the corresponding hardware module, you will be prompted to update the keyboard firmware. Updating the firmware was a quick and painless process.
After selecting the Vulcan 120 AIMO from the top, the interface separates into three different tabs. From left to right, they are General Features, Key Assignment, and Key Illumination. The first tab is meant for different settings such as character repeat settings and sound feedback, if you so desire. This can become pretty annoying, even if you live alone, but this is up to you. On the key assignment page, you can create and assign macro keys or different combinations to any key on the keyboard, besides the FN key. Finally, the third tab is meant to change the backlight settings and colors. This includes a whole ton of effects, including different static, dynamic, and reactive modes. Their "AIMO" or intelligent lighting system is also available, which works with multiple peripherals. While it does provide some neat effects, I found the reactive lighting with AIMO active to always be off by one key position. I think this is a pretty simple bug to fix, but it makes the software look a bit rushed with the Vulcan 120. Otherwise, I found the software to be pretty straightforward to use and had no issues when using it. I still would have preferred to see some game integration like we see with SteelSeries' products, but no one has really been close in that regard.
-----------------------------------------
For the second time in one review, I have to admit I was wrong. The Vulcan 120 AIMO may be the newest flagship keyboard from this feline of a company, but ROCCAT have hit the ground running with this keyboard, both in form and function. In terms of looks, the Vulcan 120 AIMO takes a different stance with its keycaps and switch housing, both of which set the keyboard apart from others. The whole keyboard is made to be sleek and the lower profile is the result. We may have seen exposed backplates before, but nothing looks as stunning as this. The clear housing also holds functional aspects by creating a more stable base while allowing lighting to pass through. In terms of features, we have everything from profiles, shortcuts, media keys, and macros. The polished volume wheel and included wrist rest are also excellent additions to this keyboard. When it comes to the lighting, we have an excellent spread of vibrant colors. The included software is well-rounded with the necessary features included. However, what really shines stems from the risk ROCCAT took in developing their Titan switches. While I may not have had the nicest of words for TTC, the ROCCAT Titan switch is actually a very good switch with consistent tactile feedback. If there is anything I would look at possibly adding or changing, it would be to see pass-through options, whether a USB port or audio jacks. Otherwise, the ROCCAT Vulcan 120 AIMO can be found for $160 USD. This is a pretty hefty price to pay, but you have practically everything you would expect in a refined flagship keyboard, making it an awesome choice.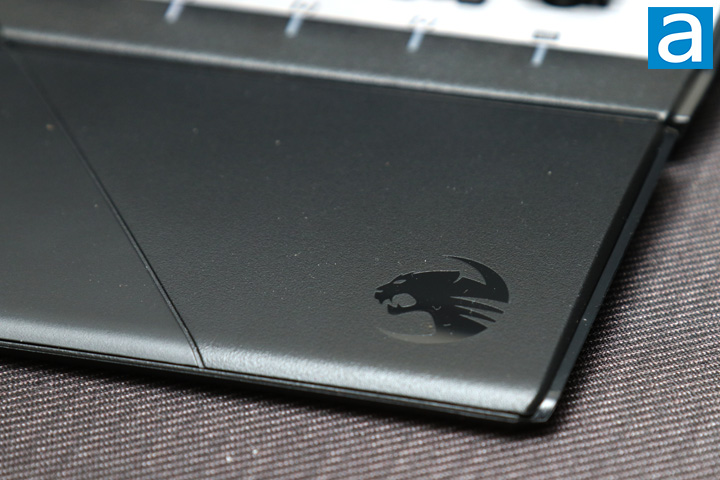 ROCCAT provided this product to APH Networks for the purpose of evaluation.

APH:Renewal Award | APH Review Focus Summary:
8/10 means Definitely a very good product with drawbacks that are not likely going to matter to the end user.
7/10 means Great product with many advantages and certain insignificant drawbacks; but should be considered before purchasing.
-- Final APH Numeric Rating is 7.7/10
Please note that the APH Numeric Rating system is based off our proprietary guidelines in the Review Focus, and should not be compared to other sites.
The ROCCAT Vulcan 120 AIMO shines brightly, both literally and figuratively, with its sleek design and polished Titan switches.
Do you have any comments or questions about the ROCCAT Vulcan 120 AIMO? Drop by our Forums. Registration is free, and it only takes a minute!