By: Aaron Lai
February 19, 2016
Surprises can elicit a variety of reactions, whether positive or negative, but it depends on the nature of the surprise. For example, one Sunday morning, I was looking around when I casually glanced over at one of my friends. Everything seemed normal, until I realized she was standing there without her usual glasses on. I went over and inquired about her missing spectacles. She looked at me and said, "Do not laugh, but I dropped my laptop on my face last night." Being the considerate and good guy I was, I laughed out loud for a few seconds. After I wiped the tears of hilarity from my eyes, she glared and me, and explained she had been watching videos in her bed. She somehow ended up in a position of holding her laptop above her head, when her computer slipped from her hands. Her glasses took the brunt of the force, causing her to don her contacts until she had a replacement pair. On an aside, today just so happens to be her birthday, so happy birthday! Just to be clear however, my laughter did not come from the fact she injured herself, but more from the surprise of why anyone would have their laptop above their heads. I can understand cellphones or tablets, but an entire laptop? With a MacBook Pro at three and a half pounds, it is not exactly something you want falling on your face. As you can see from this story, surprises can result in a few good laughs, even if at the expense of someone else's face. When GAMDIAS announced they were sending us over their GKC1001 Mechanical Gaming Combo, I was once again surprised, but for a different reason. Checking online, this set commanded a retail price of $70 USD. Considering most users cannot even find a mechanical keyboard by itself for this price, the GKC1001 made me take a second glance. This surprise however made me curious, wondering how GAMDIAS kept the price so low. Will this set knock my socks off with excellent build and performance? Read on to find out!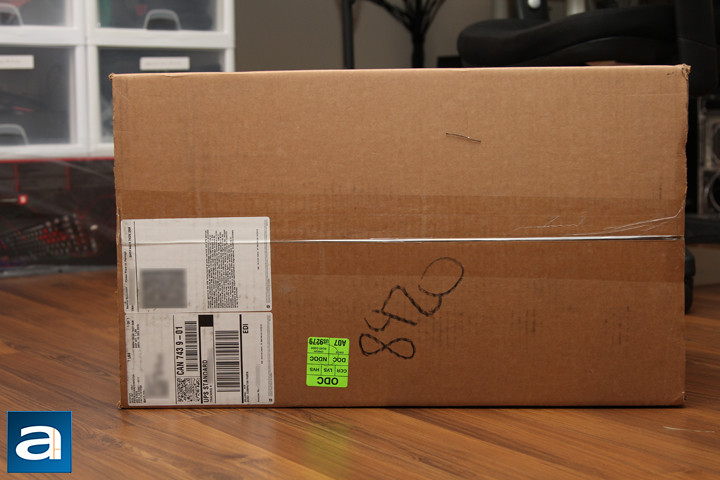 Today's package from GAMDIAS arrived from their American offices in Brea, California. Brea is a small city located in Orange County, with an estimated population of just over forty thousand citizens as of 2014. The city itself started as a crude oil production center. Economy was later driven by citrus production, and more recently as a retail center. If you are into hot weather, then Brea is a pretty good place to be, with an average annual temperature of 31.3 degrees Celsius. Comparatively speaking, Calgary's average annual temperature is 4.1 degrees Celsius. As for the package, this product was delivered by the people in the brown suits, or UPS. The parcel arrived in excellent condition without any physical issues to speak of. Along with the GKC1001 Mechanical Gaming Combo, GAMDIAS also sent us their Hephaestus Almighty, which is to be reviewed by Ben Joubert.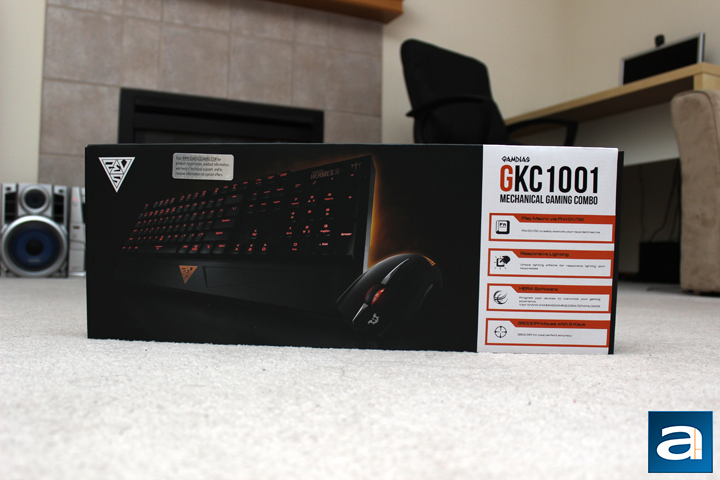 Pulling the retail box out of the parcel, we have the GAMDIAS GKC1001 Mechanical Gaming Combo's retail container. The box is pretty simple, with the keyboard and mouse displayed over a black background. Both the mouse and the keyboard are illuminated in red. GAMDIAS' logo is printed in white on the top left corner, while the product's name is on the opposite side. Four specific features are listed below on the front, including macro keys, responsive lighting effects, their HERA software, and a 3500DPI mouse. Otherwise the back panel has specific specifications for each of their products, and some other small details to note. One thing I found interesting was an "Industry Canada" logo printed on the back. For the most part, most products just have American "FCC" and European "CE" certification stamps on their boxes, but to see Canadian content here was surprising. Generally, most things allowed into Canada are allowed in the United States, barring the most dangerous things like Kinder Surprise Chocolate Eggs.
As it is impossible to see the features from the back of the box from the photo above, we have obtained these details from the manufacturer's website:
Specifications - Hermes Lite
- Key Switch: GAMDIAS certified mechanical switches
- Key Switch Type: Red
- GAMDIAS Element: No
- Dimension (LxWxH): 470 x 170 x 37 mm
- Weight: 1.14Kg
- Built-in Memory: 256K
- Polling Rate: 1000 Hz
- Additional Macro Keys: NA
- Programmable keys: 2
- Multimedia Keys: 6
- Switch Lifecycle: 50 Million
- Backlit: All Keys with 5 Levels Brightness
- N-Key Rollover: Yes, 21-Key rollover
- OTF Macro Record: Yes
- Windows Key Disable: Yes
- All-Keys Lock: Yes
- Onboard Audio Jacks: NA
- Onboard USB Port: NA
- Cable Length: 1.5m
- Graphical UI: Yes
- Interface: USB
- Number of Profile: 6
- WASD & Arrow keys Change: Yes
- Consecutive Attack Mode: Yes
- Customizable Lighting Effects: NA
- Model No.: GKB1002
Specifications - Erebos Lite V2 Optical
- Tracking Method: Advanced Gaming Optical Sensor
- Dimension (LxWxH): 118.7 x 62.38 x 37.8 mm
- Weight: 95g
- Resolution: 1200/ 1600/ 3200/ 4000 DPI (Default 1600)
- Polling Rate: 125 / 250 / 500 / 1000 Hz (Default 1000Hz)
- Built-in Memory: NA
- Weight System: NA
- Switch Lifecycle: 3 Million
- USB Cable Length: 1.5m
- Graphical UI: No
- Mouse Feet: Teflon
- Model No.: GMS7302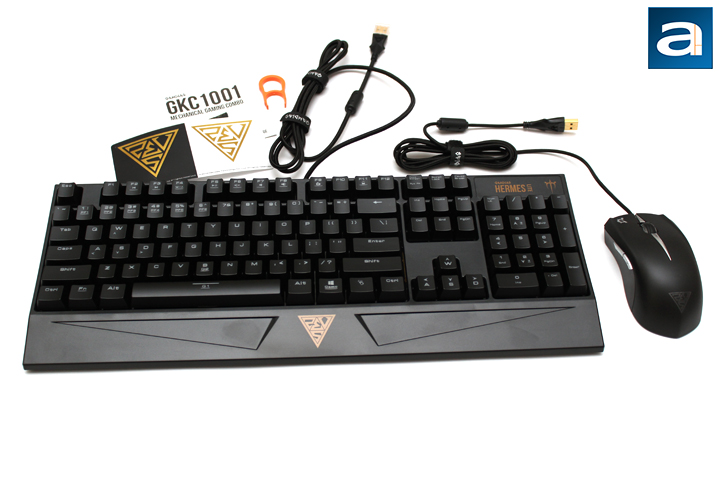 Out of the box, we have the keyboard and mouse wrapped in their own white foam bag. Each of their cables have Velcro straps to bunch the wires, which is always nice to see. This is becoming quite standard for most peripherals, and it just helps especially when moving your accessories around. Just for your information, the keyboard is also known as the GAMDIAS Hermes Lite, and is sold separately. The mouse is also called the Erebos Lite. Throughout the review, I will be referring to the keyboard and mouse as those names, respectively. In addition to the combination, we also have a small orange key cap puller, two GAMDIAS logo stickers, and a small white manual for usage. Otherwise, let us take a closer look at the Hermes Lite and Erebos Lite itself.
---
Page Index
1. Introduction, Packaging, Specifications
2.
A Closer Look - Hardware and Software
3.
Subjective Performance Tests
4.
Conclusion