By: Jonathan Kwan
July 10, 2020
"1.5 hours ought to be enough for anybody," I thought to myself as I was selecting the connecting return flight from San Antonio to Calgary via Atlanta in December of last year. After all, what could go wrong? As fate would have had it, the flight from San Antonio to Atlanta delayed a little over an hour, and unfortunately, there is only one flight from Atlanta to Calgary per day. To add salt to the wound, our entire group of four was split up and stuck either at the very back or near the back of the plane on the first flight. Now, seeing we got to Atlanta mere minutes before the Calgary flight was supposed to depart and being ambitious as we were, we got into action. As soon as each of us deplaned, we all made one of the maddest dashes we have ever made in our lives. After rushing into the Plane Train and running up and down escalators to get between concourses, we all made it to the gate literally moments before the doors closed. That was probably the tightest connecting flight I have ever done, and it was quite a risky move to think we could make a connecting flight in 10 minutes at the world's busiest airport. In the end, the rush paid off big time, otherwise we may have ended up visiting the CNN headquarters to see how fake news is produced, haha. In life, taking risks can either leave you stranded or pay off big time, and the same applies to making keyboards. If you want to take the safe route, you cannot go wrong with putting tried-and-true Cherry MX switches in. Unfortunately, almost everybody has a Cherry MX keyboard, making it hard to set yourself apart. On the other hand, you can put something else in, but those switches may not be as good as Cherry MX. When ROCCAT designed the original Vulcan 120 AIMO, they decided to take a risk. The company partnered with TTC to make their custom Titan switch, which we loved. Its clear design shows off its interior mechanics, combined with low profile keycaps, creates a sleek and striking looking keyboard. With the Vulcan 121 AIMO, you can now choose one of two variants of the Titan. Is this a big risk that will continue to pay off, or is it the kind that would leave you stranded? Read on to find out!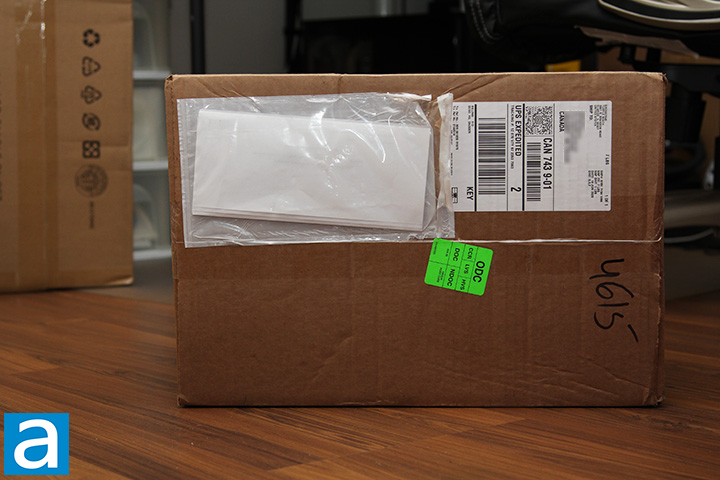 Our review unit of the ROCCAT Vulcan 121 AIMO came in a relatively large brown corrugated cardboard box from a shipping fulfillment center in Elwood, Illinois, USA. It is pretty rare we get anything that did not originate from California, so I had to look it up. Elwood is a small village outside of Chicago, and a quick Google Maps search of the originating address appears to be a large office building in an industrial area. Using UPS Expedited, everything arrived in excellent condition to us here in Calgary, Alberta, Canada for our review today.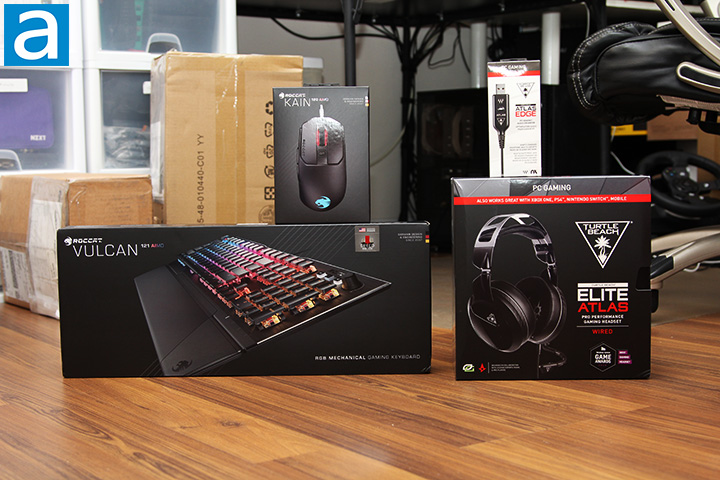 Traveling along with the ROCCAT Vulcan 121 AIMO were the ROCCAT Kain 120 AIMO and Turtle Beach Elite Atlas Pro w/ Atlas Edge. I think this is the first time we are covering something from ROCCAT since Turtle Beach bought them in 2019, but we have reviewed products from both companies when they were still separate. The ROCCAT Vulcan 121 AIMO's retail packaging uses a slightly updated template compared to what we have seen from the company in the past. The predominantly black color scheme is contrasted by the white text on the darker shades and black text on the lighter shades. A three-quarter photo of the keyboard occupies majority of the real estate in front. At the top, you will find ROCCAT's logo and model name. A sticker at the top right corner shows its US keyboard layout and the switch variant, which, in our case, is Linear. A subtle tab on the right points out its German engineering and design since 2007. At the bottom is the description line, "RGB Mechanical Gaming Keyboard". Further feature highlights and miscellaneous product information such as specifications and system requirements can be found on the remaining sides of the box.
Before we move on, let us take a look at the specifications of the ROCCAT Vulcan 121 AIMO, as obtained from the manufacturer's website:
General
1.8mm actuation point, tactile (Titan Switch Tactile)
1.4mm actuation point, linear (Titan Switch Linear)
3.6mm switch travel distance
512kb integrated macro & settings memory
All keys remappable
ROCCAT® Easy-Shift[+] technology
32-bit ARM Cortex-M0 based processor
1.8m USB cable
1000Hz polling rate
ROCCAT Swarm software suite
RGB per-key illumination with 16.8m colors
Removable ergonomic palm rest
Dimensions
Height: 3.20 cm
Width: 46.20 cm
Length: 23.50 cm
Weight: 1150 g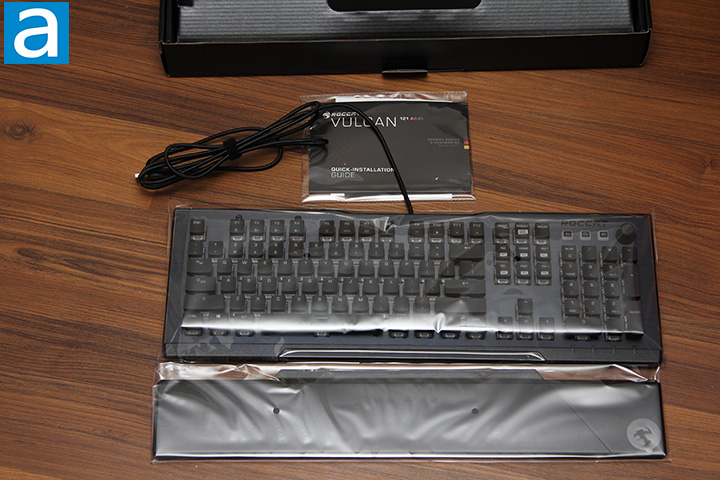 Out of the box, you will receive everything you need and not much else. Securely placed inside the box is the ROCCAT Vulcan 121 AIMO keyboard itself wrapped in a clear plastic bag, while its detachable wrist rest is placed inside a separate plastic bag. The only product literature included is a quick start guide and some stickers, if that is your thing.
---
Page Index
1. Introduction, Packaging, Specifications
2.
A Closer Look - Hardware and Software
3.
Conclusion