By: Aaron Lai
September 30, 2022
If you have met me in real life, you will know that I generally do not talk a lot. For me, talking publicly is just something I do not enjoy, and I can find myself running into trouble when I speak too much. Instead, I always enjoyed listening to others and just have not felt like I had much to contribute. Furthermore, I used to think that people that talked too much were often speaking carelessly. Someone once told me that if I ever did say anything, people would listen since I spoke so rarely. While I know they meant it is a compliment, I became even more weary of talking and conscientious of anything I did say. I wanted to be efficient with my words as to not waste my breathe on redundant or irrelevant ideas. Looking back, while I know there is wisdom in keeping silent, I also think being able and free to speak your mind is important, especially when you are trying to build a relationship with others, regardless of if they are family, friends, or a significant other. No one can really read your mind, and therefore the easiest way to communicate with others is to actually talk with them. I still am someone that ascribes to the fact that "less is more" in speech, but I also am learning the negatives of not speaking up. However, ROCCAT seems to lean on the side of less being more, at least when we look at this product. Today, we have the ROCCAT Vulcan II Mini, ROCCAT's first foray into the 65% form factor keyboard. We have seen tenkeyless options from them in the form of the Vulcan TKL Pro, but how does this smaller one fare today? Is it a good first entrant, or will we find some areas to improve upon? Let us read on to find out!
Today's review unit of the ROCCAT Vulcan II Mini arrived from Turtle Beach's distribution offices in Elwood, Illinois, USA. Traveling with UPS and their Standard ground service, this box arrived in excellent condition with no real issues to speak of. Illinois is not too far from our APH Networks offices in Calgary, Alberta, Canada, but I am still grateful for the defect-free box we have received today. To further protect the inside, the box was stuffed with lots of packing paper to prevent the keyboard from knocking around inside.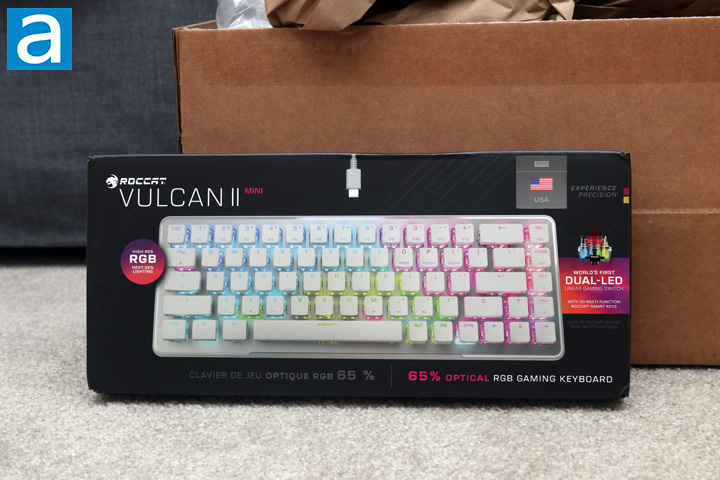 The ROCCAT Vulcan II Mini comes in a petite box, which is indicative of the size of this keyboard. It is much closer in size to the DeepCool KG722's box, although ROCCAT has chosen a notably different color scheme in its packaging. Here, we have the black gamer look with the product in full illumination on the front. At the top, we have the ROCCAT logo with the product name right underneath, while the left side has a highlight of "High-Res RGB Next-Gen Lighting". On the opposite edge, we have yet another feature highlighted about its lighting with this keyboard having the "World's First Dual-LED Linear Gaming Switch". We will explore what these lines mean as we continue on in our review. At the bottom, we have the description of this being a 65% Optical RGB Gaming Keyboard. As you can see, ROCCAT has sent us the white variant of the Vulcan II Mini, but a black one also exists. Around the box, we have a few features and specifications highlighted for the user to read before buying this product.
If you are interested, I have obtained the specifications from the manufacturer's website for your viewing pleasure:
General
Form Factor: 65%
Cable: Detachable 1.8m braided USB-C to USB-A 2.0
Switches: TITAN II OPTICAL RED
Smooth Linear Feel
1.4 mm Actuation Point
3.6 mm Travel Distance
Switch lifecycle: Tested to 100 million
Polling Rate: 1000 Hz
On-board memory: 4MB
Profile On-board: 5
RGB: RGB per-key illumination + 30 smart keys
Keyboard Rollover: Full Key (NKRO) with 100% Anti-Ghosting
Processor: 32-bit ARM Cortex M3
Software: ROCCAT SWARM
Adjustable height: Yes, double kick stand
Dimensions
Length: 116mm
Height: 31mm
Width: 324mm
Weight: 542g (with cable) / 500g (without cable)
Package Contains
ROCCAT® Vulcan II Mini Gaming Keyboard
Detachable USB-C to USB-A cable (1.8m)
Quick-Start Guide
Compatibility
Windows® 7 and above (software support)
USB 2.0 (or higher)
Internet connection (for driver software)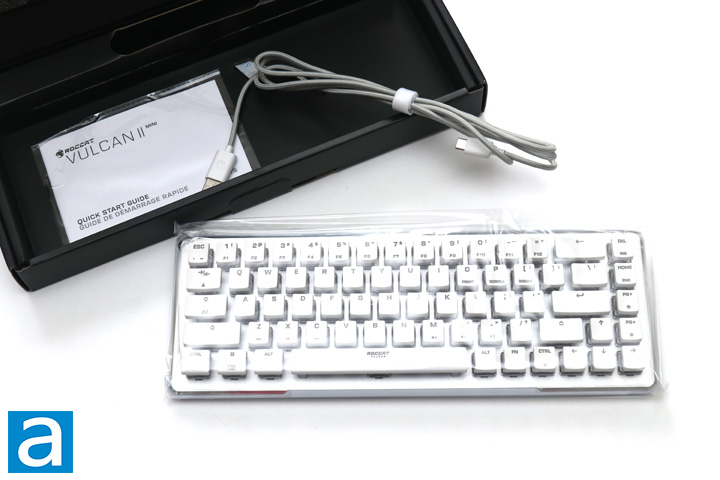 Out of the box, the ROCCAT Vulcan II Mini can be found in a clear plastic bag to prevent scratches in transport, while the edges are lined with clear tape to prevent further surface scratches on the reflective portions. A matching grey and white USB Type-C to full-sized USB braided cable can be found and collected by a white Velcro strap. A quick start guide is found at the bottom to help users plug in their keyboard and find the different shortcuts available with the Vulcan II Mini. Otherwise, there is not much else to look at, so let us dig deeper to the ROCCAT Vulcan II Mini.
---
Page Index
1. Introduction, Packaging, Specifications
2.
A Closer Look - Hardware and Software
3.
Conclusion