By: Aaron Lai
March 5, 2021
"My sister got a bleeding nose while picking her nose with her toe". This was said out of the blue in a Discord group chat with a few of my friends while playing a game. You may be wondering why I would bring this up in a review of a keyboard. There is a popular quote that says that truth is stranger than fiction. This quote is attributed to multiple people with Mark Twain being the most prominent one. However, I am not convinced this is always true. When we heard her say this, we all laughed for quite a long time. While we were all bewildered by this initial sentence, my friend tried to explain the story. Apparently, her brother had walked by his sister's room, saw blood on her toe and blood on her nose, and went to tell everyone else about it. When I first heard this, the first thing I tried to do was move my foot to my nose. I was able to reach my nose with my toe, although I had to agree it was practically impossible to fit my toe in my nose. Obviously, there were other questions on my mind, like why anyone would even attempt this. After a few minutes, my friend wondered out loud, saying it was more likely that her sister had a bleeding nose and blood had dripped on her toe. Even though this definitely seems like the more logical and realistic explanation, I feel like all of us wanted to believe in the fictional story because of how wacky it was. In a similar way, many declarations can be made about the products we get for review, whether by manufacturers or other reviewers, but it is up to us to determine the truth. Today, we have the ROCCAT Vulcan TKL Pro, which uses ROCCAT's newest Titan optical switches. ROCCAT says this makes the keyboard feel more responsive while still keeping the same tactile feel. How do these statements hold up to our testing? Read on to find out!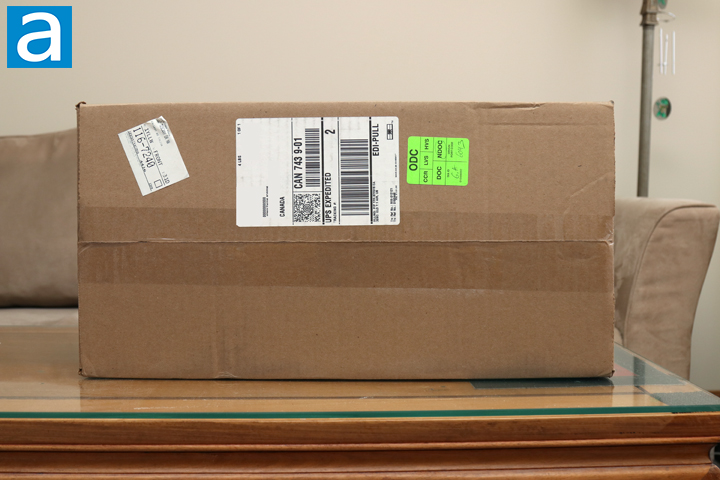 Our review unit of the ROCCAT Vulcan TKL Pro arrived from Turtle Beach's fulfillment center in Elwood, Illinois. This was sent to our APH Networks offices here in Calgary, Alberta via UPS and their Expedited service. The large cardboard box carrying our review unit may seem a bit larger than necessary for a tenkeyless keyboard, but this is because ROCCAT also sent us their Elo 7.1 Air, which I will be reviewing in the weeks to come. Otherwise, ROCCAT also packed some packing paper to ensure the products inside were cushioned. The box was also in excellent condition with no bumps or bruises to be concerned about.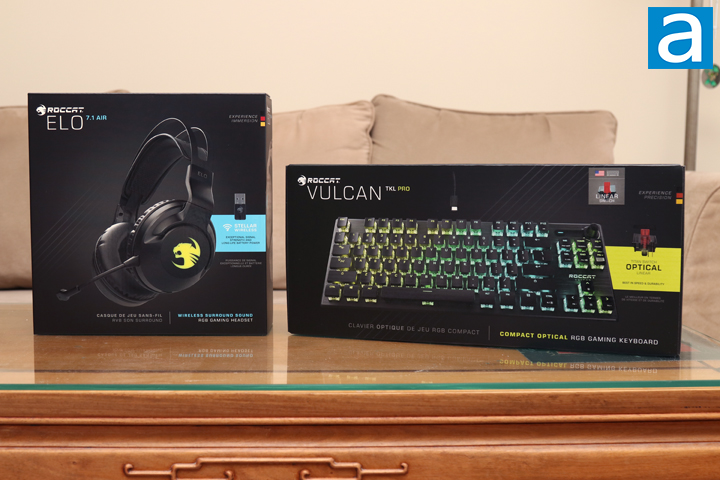 The ROCCAT Vulcan TKL Pro retail container looks very much like other ROCCAT products we have seen in the past and even in the present when compared in the image above. The front has the ROCCAT logo at the top left corner with the product name located right underneath. The keyboard can be found in the middle, illuminated in a nice glowing gradient of colors. On the right side, you can see these come with Titan Switch Optical switches with a linear travel feel. ROCCAT markets these as "Best in Speed & Durability". Finally, at the bottom we have a tagline for the product of "Compact Optical RGB Gaming Keyboard". Around the keyboard we have more information about specifications and notable features of the keyboard. We will explore all of these things in our review.
Before we continue, I have grabbed the specifications from the manufacturer's website for your perusal:
General
ROCCAT® Titan Switch Optical (1.4mm actuation, linear)
100 million keystroke life-cycle
Compact TKL form factor
Integrated settings memory
ROCCAT® Easy-Shift[+]™ technology
32-bit ARM Cortex-M0 based processor
1000Hz polling rate
ROCCAT® Swarm software suite
Dimensions
Height: 3.40 cm
Width: 36.00 cm
Length: 13.33 cm
Weight: 660 g
Compatibility
System requirements: USB 2.0 (or higher), Internet connection (for driver software)
Operating system: Windows® 10, Windows® 7, Windows® 8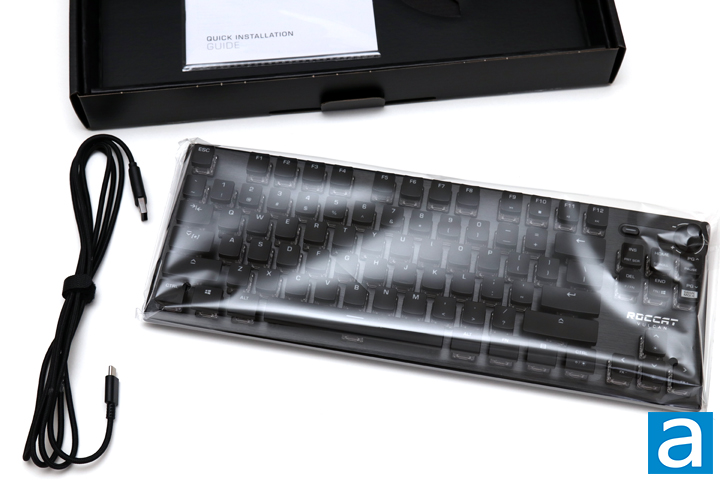 Out of the retail container, we have the ROCCAT Vulcan TKL Pro wrapped in a clear cellophane bag. Another plastic bag can be found holding a few pieces of documentation like a quick setup guide. Finally, a braided USB Type-C to full-sized USB cable is found, wrapped in a Velcro strap. Otherwise, there is not much else to really bring up here, so let us get a closer look at the keyboard itself.
---
Page Index
1. Introduction, Packaging, Specifications
2.
A Closer Look - Hardware and Software
3.
Conclusion