Page 2 - A Closer Look - Hardware and Software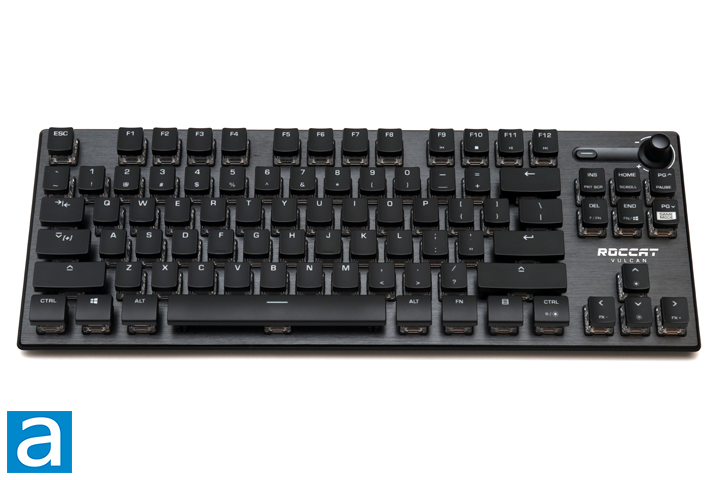 It has been a while since I have last looked at a tenkeyless keyboard, dating back to early 2019 when I reviewed the Cooler Master MK730. However, I can also say I have only used tenkeyless keyboards since then, alternating between the MK730 and the Cooler Master Storm NovaTouch TKL. I do like a more compact keyboard because I rarely use the number pad, and the smaller size means I do not need to reach out as much when I grab my mouse. With respect to the ROCCAT Vulcan TKL Pro, you can see even though it does have quite a few less keys than other ROCCAT Vulcan keyboards we have reviewed, the 121 AIMO and 120 AIMO. Even so, you can clearly see the similar design language for all three of these keyboards. The first thing I notice about all of these keyboards is the brushed metal backplate and the very shallow keycaps. These island-style keyboards also expose the clear housing on the key switches. The brushed aluminum backplate is generally well finished to hide finger prints. Otherwise, the sides and bottom are made out of plastic. As for the TKL Pro model we have today, this comes in an all-black finish on both the metal backplate and the keycaps.
In terms of dimensions, the ROCCAT Vulcan TKL Pro is 360mm in width, 34mm in height, and 133mm in depth. Compared to other tenkeyless keyboards, this is quite slim and low-profile. This is understandable considering the flatter keycaps and overall design. In terms of mass, the Vulcan TKL Pro weighs in at 660g. Thankfully, the keyboard is quite sturdy. I do not experience any signs of flex or movement in the keyboard, even when I try to intentionally torque and twist the keyboard. This is partly due to its smaller size of the ROCCAT Vulcan TKL Pro, but also because the aluminum backplate is quite sturdy. Even with the rest of the plastic shell around the keyboard, the construction holds up quite well. Unfortunately, ROCCAT did not include a palm rest with their smaller keyboard. Even though tenkeyless designed keyboards are meant for compactness or possibly even traveling with, I would have preferred if ROCCAT included a wrist rest with this model.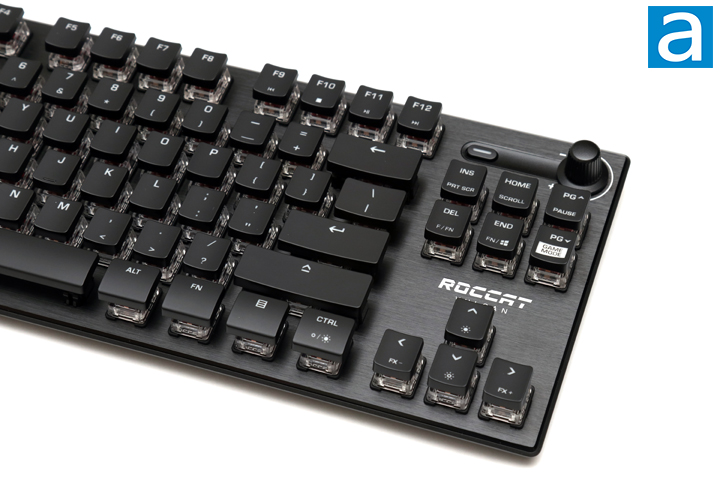 While most people would expect a tenkeyless keyboard to be 87-keys for the typical QWERTY ANSI layout, this one actually has 84-keys. This is because the top three keys to the right of the function keys have been replaced with a dedicated mute button and volume dial. Instead, those top three keys are now squished into the Insert, Home, and Page Up keys as secondary functions. Otherwise, the rest of the keyboard is pretty standard. The bottom row is spaced out in a standard fashion with the Windows, Fn, Ctrl, Alt, and Menu keys all being the same size. The indicator LEDs are located on the keys themselves, as they will glow white compared to the rest of your keyboard when it is active. This is a slight issue if you use a white backlight, so it is something you may need to keep in mind.
As for secondary functions, there are a few secondary keys and most of them exist on the right side of the keyboard. These are activated by pressing the Fn key on the bottom right side before pressing the marked key. Starting at the top, F9 to F12 are used for media functions, including Previous Track, Stop, Play/Pause, and Next Track. Thankfully, we do not have a duplicate set of keys for Volume, since we have the aforementioned dedicated volume dial and mute button. Underneath, the Insert, Home, and Page Up are used for Print Screen, Scroll Lock, and Pause, respectively. Delete is used to lock the function key, while End is used to swap the Function and Windows keys around on your keyboard. Finally, Page Down is used to enable Game Mode, which locks the Windows key from activating. In this mode, you can also reassign the functionality of the keys. This is customized in the ROCCAT Swarm utility, as we will see later on. The other keys are used for adjusting the backlight, but I will go over these functions later in the review.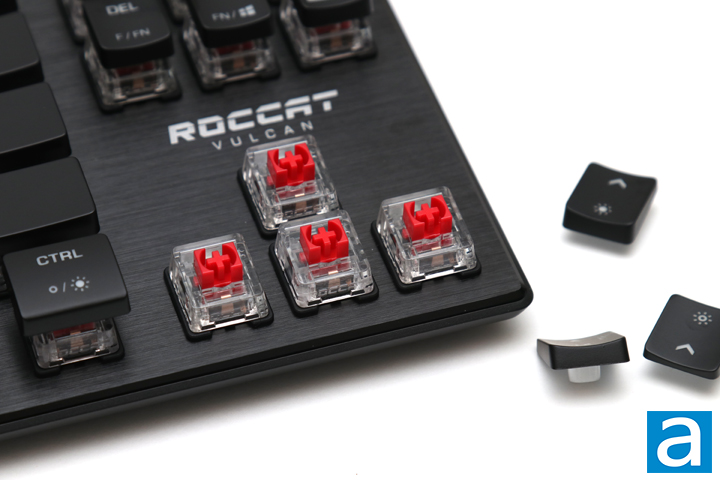 As for the keycaps, these are ABS plastic. I prefer PBT, or polybutylene terephthalate, keycaps because the material is harder and keeps its color better. These ROCCAT keycaps are also notably shallower than traditional keycaps. This allows for the clear housing on the switches to be visible for each key. The lettering is printed on with a laser etching process, which removes the black cover to reveal the translucent plastic. This is a typical and cost-effective solution for keycap printing. The choice of font here is good and legible throughout. The keycaps use standard MX stems. However, from the switch, if you do swap out keycaps, you should be sure they are not blocked by the surrounding protrusions around the stem. These protrusions are meant to help stabilize your keycaps, as the traditional single stem can often lead to keycap wobbling. One more thing I should point out is that while most keyboards have the tactile indicator on the "F" and "J" keys, this keyboard also has a tactile indicator on the "W" key, so that users can position their left hand for WASD on their keyboard.
As for key rollover, the ROCCAT Vulcan TKL Pro offers NKRO over USB. NKRO is abbreviated for N-key rollover, which refers to the number of keys independently scanned by the hardware. This fixes issues of ghosting found on cheaper keyboards. While ghosting is a marketing term, there are cases where keyboards will not be able to recognize more than one keystroke at a time, causing for missed keys. This can be frustrating when you are playing games or even if you are just a very fast typist. On an aside, the original usage of ghosting in keyboards actually referred to a third key being registered when two other keys were pressed, which thankfully is not a problem with most modern keyboards.
Before continuing on, one of the selling points of the ROCCAT Vulcan TKL Pro is the key switches. There are three main types of keyboards in the market today. The cheapest but most common is the membrane keyboard, which is the easiest to make, but also has poor typing feel and response due to squishy keys. Next is a scissor switch keyboard. This can be thought of as an enhanced rubber dome with two extra interlocking plastic pieces connected to the key and the keyboard. This creates a better tactile response and typing experience in comparison to the aforementioned membrane. Mechanical keyboards cost the most, because each key switch is an independent part. These switches are generally composed of a base, stem, and spring, with varying degrees of tactile and audible feedback. However, while the switches on the ROCCAT Vulcan TKL Pro utilize mechanical parts, but they are actually triggered utilizing light and a sensor. In the case of our Titan Optical switches, a horizontal light shines across the bottom of the switch. When a switch is activated, it blocks the ray of light, signaling a keystroke.
Our unit of the ROCCAT Vulcan TKL Pro features Linear Titan Optical switches. This features a linear travel and relatively light pressure required to push the switch. Since the actuation is actually not a mechanical action, but via light, these switches are rated to last one hundred million keystrokes. According to ROCCAT, this switch has an initial actuation distance of 1.4mm and an overall travel distance of 3.6mm. Based on our testing, the switch actuates at around 45g of force. This makes it notably lighter than some typical Cherry switches and closer to the Cherry MX Speed Silver, like the ones found in the Corsair K95 RGB Platinum XT. Otherwise, you can see the LED for each switch sits at the top of the switch. We will see how this affects our lighting situation later in our review.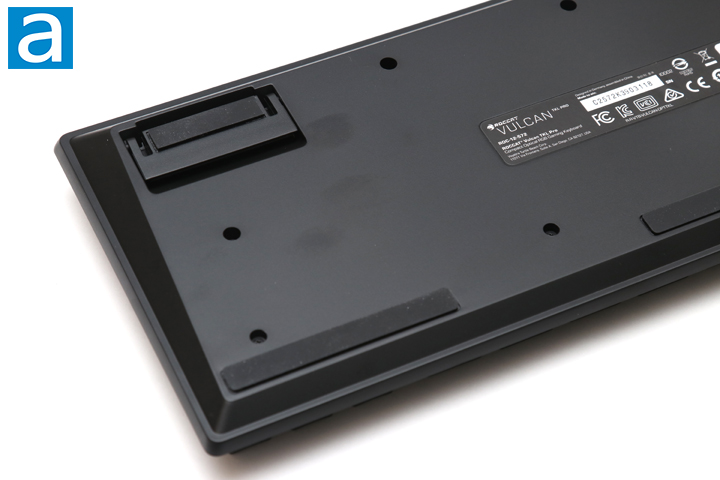 Flipping to the back side, you can see the label with some certification information as well as a serial number to identify your ROCCAT Vulcan TKL Pro. In the center at the back of the keyboard is where the detachable cable would come out of. This end is terminated with a USB Type-C plug, which is something I am happy to see. This cable measures approximately 1.8m in length and is decently flexible. Otherwise, you can see we have rectangular rubber pads on each corner to keep the keyboard in place. The rectangular rubber pads at back are on the extending feet that raise this keyboard. However, these feet are also capped with rubber. This ensures the keyboard stays in place regardless of whether the keyboard is propped up or not.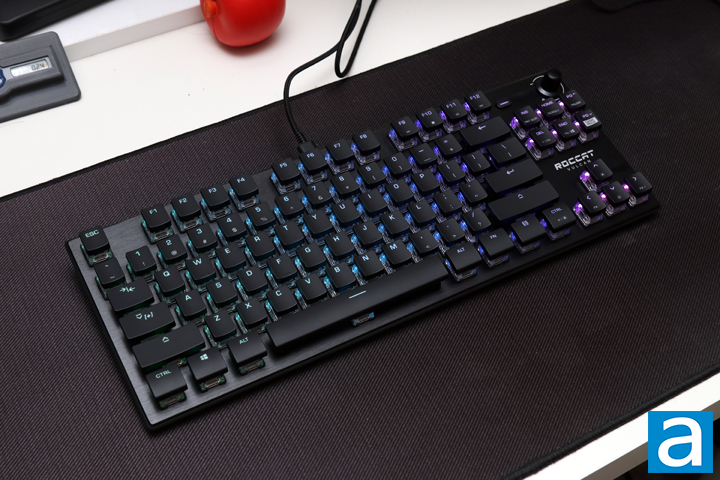 Once I finished my visual inspections, I plugged the ROCCAT Vulcan TKL Pro into my main machine and have been testing it out for about a month. This is the first time we have looked at ROCCAT's Titan Optical switches and I was pretty excited to try them out. These are linear switches, so it makes sense to test it with games. When gaming, the keyboard provides decent feedback and a nice audible "thock" when bottoming out. Even with the exposed aluminum backplate, I did not hear a notable metallic ping unless I intentionally pecked hard at my keyboard. It also helped that I was typing on top of a mouse mat, which will dampen metallic noises. The linear travel did not negatively affect my gaming performance and I liked the slightly lesser travel of these optical switches. When it comes to typing, the lighter feel did take a bit to get used to, especially as sometimes resting my hands on the keys would register a keypress. With some adjustment time, I was able to get used to this feel, but your mileage may vary. Otherwise, I enjoyed typing with this, but this is also because I am used to typing on linear switches. Overall, keys felt consistent across the board with a smooth travel. I did not encounter any issues like debouncing or chattering while I tested the Vulcan TKL Pro.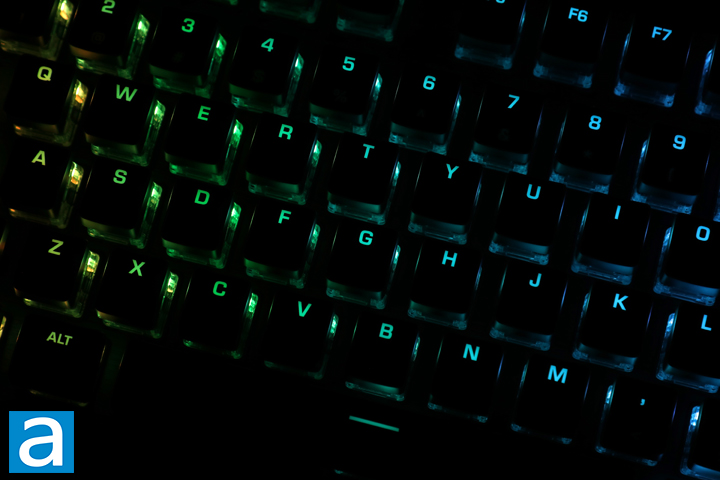 When you are in the heat of battle and realize you have been gaming till midnight with the lights off, you will then see your keyboard and look in wonder at the backlighting shining through the ROCCAT Vulcan TKL Pro. As I mentioned in my review of the Vulcan 120 AIMO, I really liked the clear switch housing and shallow keycaps that made the lights shine brightly. We have the same effect on the Vulcan TKL Pro, with the lights shining through and around the switch base. This emphasizes the floating island style of the keys, but also provides a nice light border around each key. However, since ROCCAT uses keycaps with printing on the top and bottom of the keycap, most of the secondary functions printed underneath are not illuminated. This will also affect the different symbols you might use, which may or may not affect some more than others. Even so, I like the effect that is produced by the backlights. In terms of changing the lighting effects, you can use Fn in combination with the arrow keys to cycle through a few different options. Left and Right are used to cycle through different effects, while Up and Down are used to increase or decrease the brightness. There are four levels of brightness as well as completely off. Finally, the right Ctrl can be used to toggle on or off the lighting.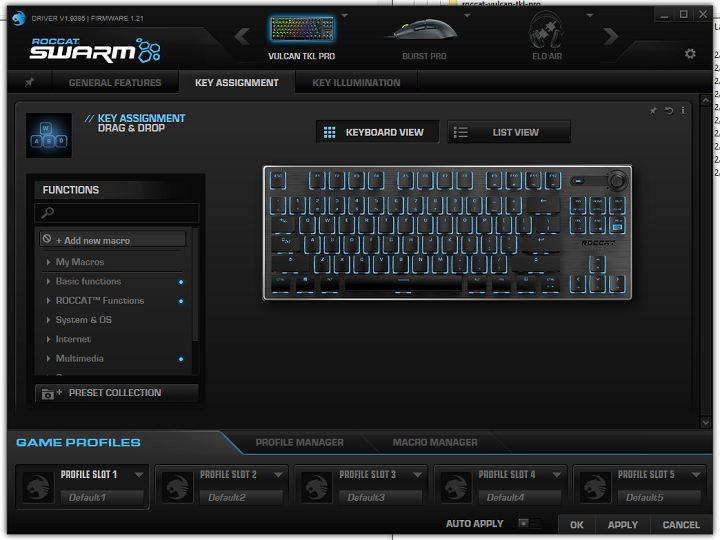 We have reviewed quite a few ROCCAT products in the past and all of them use the Swarm software for making adjustments to the different connected peripherals. Even in the screenshot above, you can see I have the Burst Pro and Elo 7.1 Air set up in Swarm for customizing. The utility is available from ROCCAT's website and it is a 157MB download. The setup process is pretty easy to work through and adding additional peripherals is quite easy. I also received several updates during my review, so I know ROCCAT is continually retooling and pushing fixes for their users.
After selecting the ROCCAT Vulcan TKL Pro at the top for configuration, you can see there are four tabs for changing options on the Vulcan TKL Pro. The first one is marked by a thumbtack and is used for users to "tack" the configuration options they choose on the next three tabs to save their favorite options to a single page. The first named tab is marked General Features. One section allows users to add Sound Feedback to your keyboard on each keypress. Another section lets you change the keypress repetition options, including the repeat delay, repeat rate, and cursor blink rate. You can also fully reset all of the settings for the keyboard here. The second tab is marked Key Assignment, where users can change what each key can do, including assignment of macros. You can also change the function of keys in Game Mode, as mentioned previously. Finally, the last tab is marked Key illumination. This lets you change the effects of the backlighting. This lets you choose typical static, breathing, and reactive modes. They also have their AIMO lighting for a fluid reactive and learning lighting that is said to learn your application usage and react accordingly. Finally, you can also use the fully custom mode to change lighting on a per-key basis.
There are two more tabs underneath for managing profiles and macros. A total of five profiles can be created and saved for the Vulcan TKL Pro. Macros here include actions for a library of games. This includes popular esports titles like League of Legends, CS:GO, and DOTA 2. You can also record your own macros here. Overall, I still think ROCCAT Swarm is a straightforward piece of software to use. It is clear they have not updated this application visually for quite a while now, but at least it functions as you might expect.
---
Page Index
1.
Introduction, Packaging, Specifications
2. A Closer Look - Hardware and Software
3.
Conclusion