By: Aaron Lai
November 27, 2015
Believe it or not, but Editor-in-Chief Jonathan Kwan was actually the first person to introduce me to an APH Networks favorite show, Top Gear. One of my favorite episodes is the first episode of the tenth season, where a challenge was set by the producers to find the best driving road... in the world. All three of the presenters brought a lightweight supercar, with James May's Aston Martin V8 Vantage N24, Richard Hammond's Porsche 911 GT3 RS, and Jeremy Clarkson's Lamborghini Gallardo Superleggera. Oddly enough, all of their cars were more expensive than the regular editions, despite having less features. While the pricing of the cars may not make sense, I can understand why car manufacturers like Aston Martin or Lamborghini makes lighter editions of cars. Shedding weight will naturally improve the performance. In addition, these cars are targeted at the enthusiast crowd, who are willing to sacrifice some convenience features, and their wallet, for a better driving experience. However, at the end of the episode, all three of the Top Gear hosts preferred the regular editions over the lightweight ones. They believed the regular editions of their cars would provide a similar driving experience with more equipment. Fast forward to today, and we have the NovaTouch TKL Barebones edition keyboard by Cooler Master. This keyboard is targeted at the enthusiast crowd for several reasons, including its Topre switches, and absent features like a number pad. Furthermore, the Barebones edition means this keyboard does not even come with keycaps. Even though I may not be a keyboard ricer or enthusiast, I will give it a fair shake as a reviewer. How does the Cooler Master Storm NovaTouch TKL Superleggera hold up? Hopefully this review will answer all your questions, so read on to find out!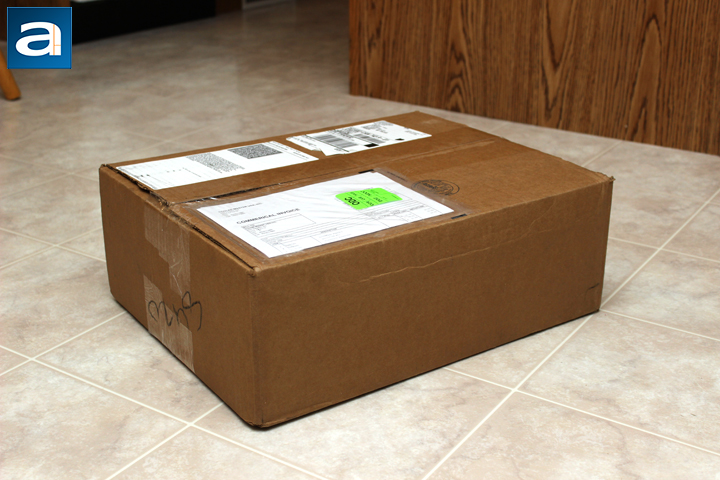 Today's unit of the Cooler Master Storm NovaTouch TKL Barebones arrived via UPS in a large brown corrugated cardboard box. As you already know, the NovaTouch TKL arrived with two other keyboards, the Cooler Master Storm Quick Fire Rapid-i, and the Quick Fire XTi. Thus, the parcel was shipped to us from Chino, California, where the headquarters of Cooler Master is located. This parcel arrived with very few dents or scratches. I have to say, however, when I opened up the box, I was surprised there was no additional packaging material, whether it was packaging paper or plastic bubbles, to keep the contents scratch or dent free. However, an even bigger surprise was about to show up.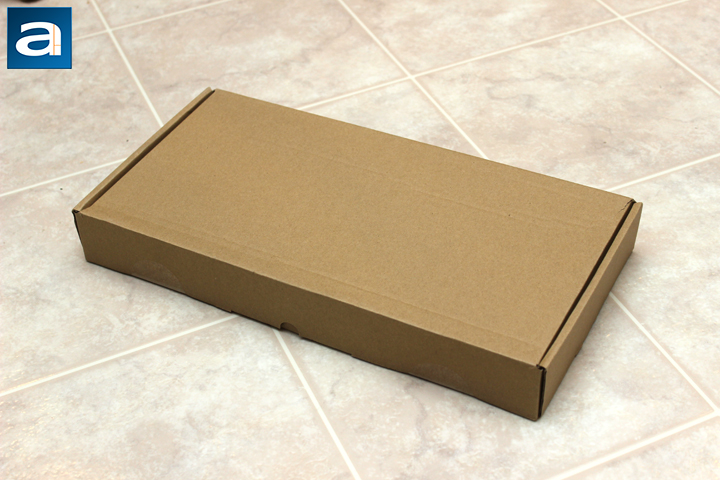 As you can see, the above photo shows the retail container of the... unnamed product. The Cooler Master NovaTouch TKL arrived in the plainest corrugated cardboard box I have ever seen. Despite the fact I knew they would send us a barebones version of the NovaTouch TKL, I did not expect the barebones style to extend to the box art, or lack thereof. This is not a bother for me, as the specifications can be found on the internet. Otherwise, on the front of the box is not a scaled down image of the NovaTouch TKL, but rather just a plain brown panel. The sides are not listed with any specifications, nor is the back filled with other languages or words. Cooler Master's logo is not found anywhere on the box either. Joking aside, this probably is a pre-production box, and users will probably see a different container. With all this out of the way, I decided to actually see what the keyboard was like, and popped open the box.
But before doing so, I pulled up the specifications from Cooler Master's website, for your perusal:
Specifications
- Key Switch: Hybrid Capacitive switch, Cherry MX Compatible stem
- Form Factor: Tenkeyless (TKL)
- Key Rollover: NKRO (Windows only)
- Polling Rate: 1000Hz, 1ms
- Interface: Micro USB 2.0 Full Speed
- Windows key Lock: Yes
- USB Cable: 1.8m braided, 18K gold plated and removable
- Dimensions: 35.9 x 13.8 x 3.9 cm (L x W x H), 14.1 x 5.4 x 1.5 inches (L x W x H)
- Weight: 895g, 1.97lbs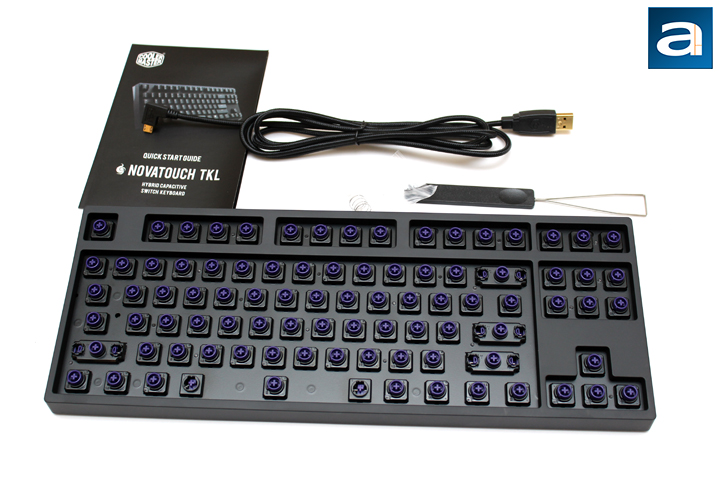 Out of the box, Cooler Master includes the NovaTouch TKL keyboard, braided micro USB to USB 2.0 cable, wire key puller, circular spring for the spacebar, and a small quick start guide. I have to say it is quite weird not seeing any keycaps on the keyboard already, especially since I just would expect to be able to start typing with any keyboard out of the box. The keyboard arrived in a white foam bag to protect it from any scratches occurring during transportation. The quick start guide also has warranty information, as Cooler Master provides a two year warranty with all of their keyboards. Unfortunately, once again there is no wrist rest included here. Otherwise, there is not much else to talk about, so let us divert our attention to the keyboard at hand.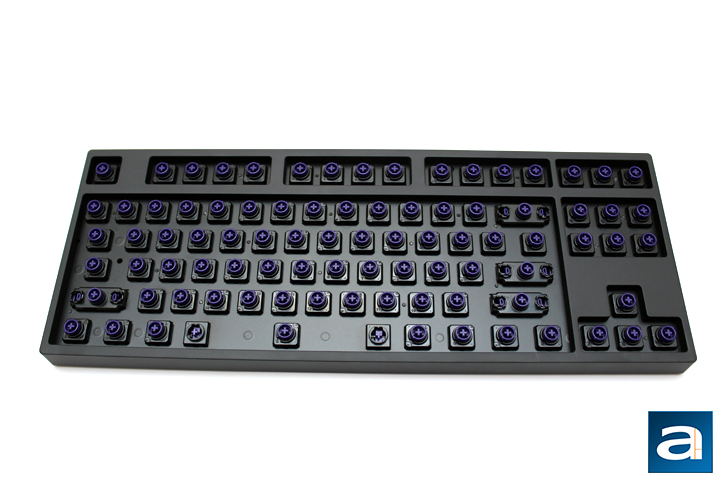 If you put all of the keyboards Cooler Master sent us beside each other, you probably would wonder what the difference is. Despite the differences in numbers of keys, all the keyboards seem to follow a very similar design language. Gone are the large bezels and elaborate designs, and in its place is simplicity to the maximum. In fact, just like the Cooler Master Storm Quick Fire XTi, the NovaTouch TKL does not have any Cooler Master branding at the top of the keyboard. I really like the minimal nature of the design, especially since it removes a lot of unnecessary plastic. In addition, this makes the keyboard blend in with office-like environments. Around the board we have a thin black plastic frame, which is still sturdy. Once again, the less-is-more approach of the Cooler Master Storm NovaTouch TKL is much appreciated by myself.
As this keyboard lacks seventeen keys in comparison to a traditional keyboard with a number pad, it is quite obvious the keyboard will be smaller and lighter than a standard 104-key keyboard. With measurements, the Cooler Master Storm NovaTouch TKL is 359mm in width, 138mm in depth, and 39mm in height. In addition, the NovaTouch tips the scales at under 0.9kg, or more than 200 grams lighter than the Quick Fire XTi. Compared to the Rapid-i, the measurements are the exact same, but for some reason it is lighter by around forty grams. This is quite a light keyboard, especially when it looks like a mechanical keyboard, but it definitely is still solid. This translates into the NovaTouch TKL staying in place on your desk. In terms of build quality too, the NovaTouch TKL offers zero flex or creaking, which is excellent to see.
As for the layout of this keyboard, the Cooler Master Storm NovaTouch TKL comes in with a standard ANSI 87-key layout. This is evident by the elongated spacing for the Enter key, as opposed to a rotated L shape. Personally, I am quite used to the ANSI layout, and this is standard for North America and Australia. The other common layout is the ISO layout, which is commonly found in Europe. Otherwise, most of the keys are in the same placement. A Windows key is placed on both sides of the keyboard, with an additional Function button on the right side. As you can see, there is no placement for any indicator lights. Unfortunately, the Cooler Master Storm NovaTouch TKL has no LED lighting either, so you really do not know if your Caps or Scroll Lock are active or not until you try it out.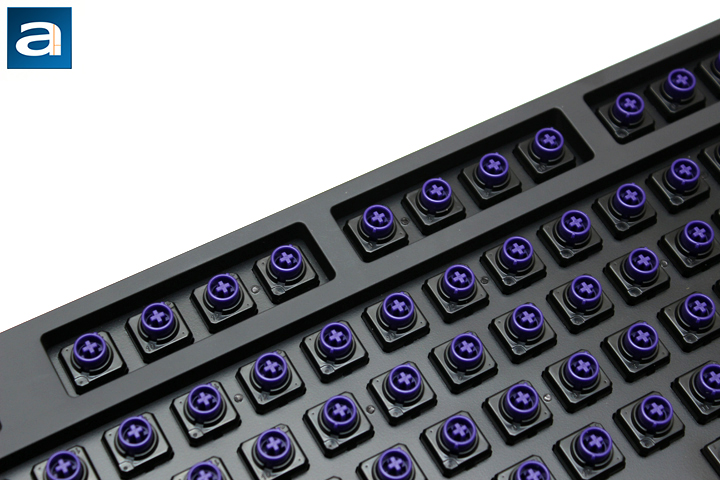 Usually by this time in the review, I start going over all of the different secondary Function keys the keyboard has. Unfortunately, without any keycaps, this is quite a bit trickier. However, with some help from Cooler Master's website, you can follow along with me as I identify each secondary function key. Starting on the left side, pressing Fn with F1 to F4 adjusts the repeat rate. Just like we saw on the Quick Fire XTi, this actually combines repeat rate and repeat delay together. Selecting a higher repeat rate on the keyboard not only increases the speed at which letters are repeatedly received, but also decreases the delay for the computer to wait for repeating characters. On a day-to-day use, this is quite impractical, but this is targeted at gamers. Personally, I always left my keyboard in "x1", since I did not really encounter this kind of problem on a day-to-day basis. Fn + F5 to F8 are for media keys, and from left to right, they are Play/Pause, Stop, Previous, and Next. Fn + F9 is used to enable and disable the Windows key, and this is handy for gamers who do not want to accidentally open the Start menu during their game. Finally, Function + F10 to F12 are used for volume adjustment. F10 mutes the audio, while F11 and F12 decrease and increase the volume, respectively.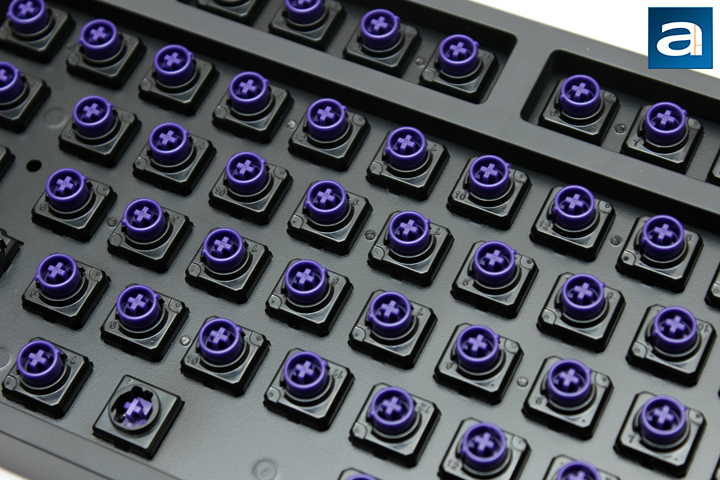 As for key rollover, the Cooler Master Storm NovaTouch TKL offers NKRO mode over USB. NKRO is abbreviated for n-key rollover, and it refers to the number of keys independently scanned by the hardware. The larger the number, the more key presses detected regardless of other keys being pressed at the same time. In essence, this fixes ghosting issues found in cheaper and/or laptop keyboards. While ghosting is mostly a marketing term, there are cases where keyboards will not be able to recognize more than one keystroke at a time, which can cause for missed keys. This can be frustrating when you are playing games, or even if you are just a very fast typist. Generally, 6KRO is usually quite sufficient, as it allows users to press six keys at a time, and the keyboard will recognize all six independent strokes. However, keyboards like the Cooler Master Storm NovaTouch TKL offer NKRO, which could mean any number of independent strokes larger than six. In general, most NKRO keyboards recognize around twenty different key presses, but last time I checked, I have only ten fingers.
Before continuing on, one of the best part of the Cooler Master Storm NovaTouch TKL is its key switches. This section has been adapted from Jonathan's Thermaltake Tt eSPORTS Meka G-Unit review in October 2011. There are three main types of keyboards in the market today. The cheapest is the membrane keyboard, which is the easiest to make, but also has poor typing feel and response due to squishy keys. A scissor switch keyboard has its own independent key switch mechanism for each key, which delivers improved tactile response and typing experience. Modern scissor switch keyboards can be very good for everyday office use. Mechanical keyboards cost the most, because each key switch is an independent part.
Our unit of the Cooler Master Storm NovaTouch TKL features none of the aforementioned switches above, as inside Cooler Master has placed what they call "Hybrid Capacitive switches". However, these are also known as Topre switches. They work on the principle of capacitance, as the keys are sensed with electrostatics, rather than a physical circuit closure. Unfortunately, this translates into a higher price. Some may call these premium rubber dome keyboards, and in some sense they are right. There are rubber domes underneath each key, but the return force is supplied by both the dome and an internal conical spring. The result is Topre switches offer a smoother feel and a longer life in comparison to membrane keyboards. These keys are rated to last up to sixty million keystrokes. These switches feature a low actuation force of around 45g to trigger them. They feature a non-linear travel, with an increase in force required right before the key is actuated.
The real differentiation of NovaTouch TKL in comparison to other Topre switches are the stems. Most Topre switches feature a different stem, deeming the keycaps incompatible with other keycaps, or more specifically Cherry MX keys. However, the NovaTouch TKL offers an MX compatible stem, allowing users to use their own custom keycaps. As this is a barebones keyboard, allowing for more compatibility with commonly found keycaps is almost a necessary feature to have.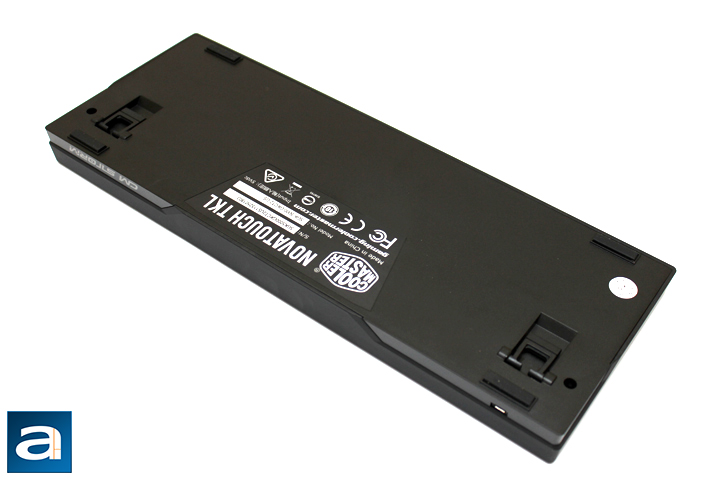 Flipping the keyboard to its underside, there are a few other things to note. On the bottom of the NovaTouch TKL are four rubber rectangular pads; one on each corner. At the back end, there are two extending feet, which are also rubber wrapped to ensure grip to the table. With the rubber and the weight of the keyboard, the NovaTouch TKL should not slide around too much, whether it is elevated or not. The back of the keyboard also reveals the micro USB port, where the removable cable connects to. As mentioned prior, the Cooler Master Storm NovaTouch TKL comes with a braided cable, measuring around 1.8m in length. The micro USB end is an L-shaped rather than a straight connection. I would have liked to see a similar solution for the NovaTouch TKL as we saw on the Quick Fire XTi, with routing tunnels for the cable, but this omission is not too big of a deal. Finally, the back is also the only place where Cooler Master puts any sort of logo, with a discrete "CM Storm" pasted there. Even so, this is quite hidden, and will not be seen on a day-to-day use.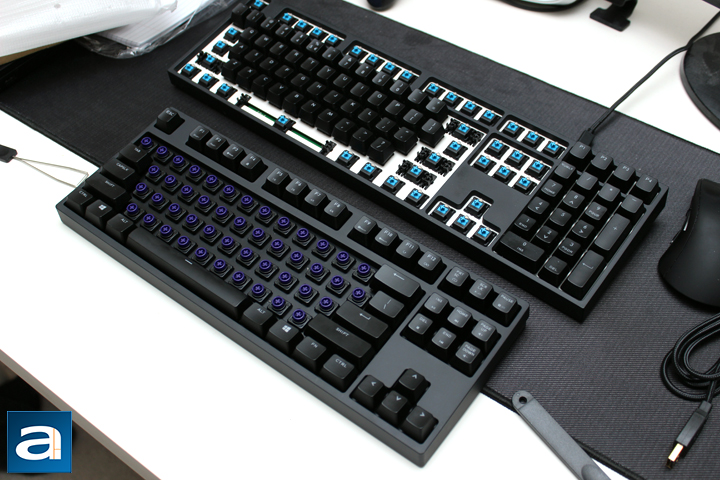 As this is a barebones keyboard, the first thing I needed to do before using the keyboard was to put some keycaps on it. The keyboard community as a whole actually has quite a following, with enthusiasts using their own kinds of keycaps. In fact, users have quite a bunch of varying ways to determine what makes a good keycap. For example, there are differences in types of material used, manufacturers, profiles, and key printing methods. Next, there are those who install things like O-Ring dampeners, and apply lubricant for a quieter response. It was quite the culture shock to encounter and learn about, but I can understand why a community like this exists. As the keyboard is one of the most commonly used input device on a computer, users want a keyboard to fit their desires. As I did not have any extra keycaps lying around, I pulled off the keys from the Quick Fire XTi, and installed it onto the NovaTouch TKL. Sure enough, the MX stem keys fit perfectly on the NovaTouch TKL. One thing I have been warned is some keycaps do not fit perfectly on the NovaTouch TKL, so be sure to do your own research. In addition, the longer keys on the NovaTouch TKL have Cherry stabilizers, as observed by the additional MX stems on the left and right side of the spacebar. The other common stabilizer is the Costar stabilizer, as these have metal bars spanning the entire key. I bring this up to ensure the keycaps you are using are capable of fitting over Cherry stabilizers. Installing the keys are as easy as pushing them in. As I had to uninstall it from the Quick Fire XTi, I had to use both wire keycap pullers, one from each keyboard, to remove the keys. I should also note to make sure you push the key firmly down in place, as a poor installation will make the key feel bad.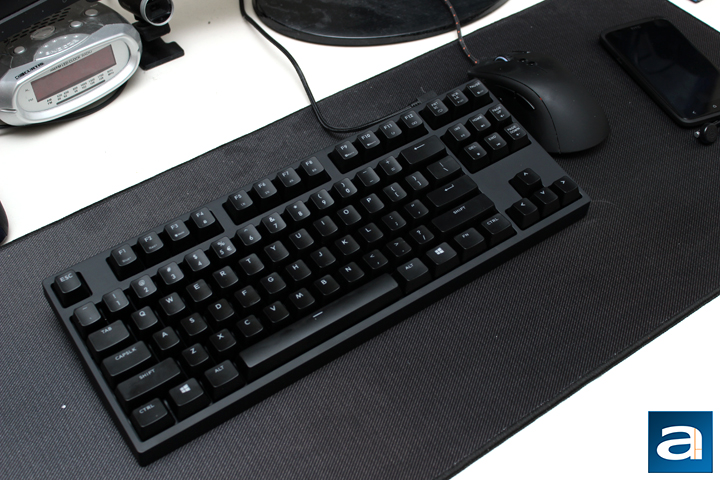 When I first tried this keyboard, I had no idea what to expect. My past few keyboards have all been mechanical Cherry MX keyboards, including MX Brown, Blue, and Red. First thing to say is after reviewing many keyboards here at APH Networks, I can attest to the fact it takes a while to adjust to different key switch technologies. After using one thing for so long, you get used to one type of key, and switching requires some time. However, after using the Cooler Master Storm NovaTouch TKL to type three reviews including this one, there are a few observations I can make. For one, the low actuation force reminds me quite a bit of the Cherry MX Red. I often found myself accidentally setting off keystrokes despite only resting my hands on the keys. In addition, after the tactile push at the very beginning of travel, the rest of the resistance is practically unnoticeable. These keys are also quite a bit quieter than Cherry MX Blues, but not as quiet as MX Reds. Finally, when you bottom out the key, its feeling is much nicer, as you do not hit hard plastic, but rather you feel the rubber of the membrane push back. The noise produced is a very satisfying bump.
Cooler Master has ensured every key is consistent in feel and response, and the NovaTouch TKL is no different. When it comes to typing, the Topre switches will definitely not be liked by everyone, but rather is an acquired feel. In my own experience, I do not mind the tactile feedback and feel of the switch, but I definitely had to adjust the way my hand rested on the keys to avoid accidental actuations. Otherwise, the keyboard experience is excellent. My only wish while using the keyboard was to see some lighting options. I understand Topre keyboards are directed more so at typists and not necessarily gamers, but I think this feature would be beneficial for anyone, especially when working in darker environments.
As for the missing number pad, I will say it is quite hard to go without one. Reading into some user opinions online, it seems the most beneficial reason of having a tenkeyless keyboard is to reduce the strain of stretching your arm and shoulders out as far, especially when using the keyboard in conjunction with a mouse. Other benefits are the keyboard having a smaller footprint on the table. As for myself, despite the little numerical data entry I do daily, having a dedicated area to enter numbers with one hand is much appreciated. I think Cooler Master should do something similar to what Tesoro did in the Tesoro Tizona and offer a detachable unit. This would allow users to add a number pad if they really want it, while having a consistent key switch feel. Otherwise, I would say this comes down to preference.
-----------------------------------------
While the Top Gear presenters all unanimously chose their regular counterparts over the lighter one, I do not think this keyboard is the same story. After all is said and done, I can say the Cooler Master Storm NovaTouch TKL is a special keyboard in multiple ways. For starters, the build and design of the NovaTouch TKL is top notch. Cooler Master makes consistently well-built products, and I am happy to report a similar story here. The lacking logos and Cooler Master branding is also a huge plus I wish more manufacturers would go with. Moving to the implementation, the layout is practically the same as any other 87-key layout. The build quality is shown through consistent tactile feedback. As for the Topre switches, I think this is another option for users to choose. I really cannot say anything other than the fact it feels quite different from mechanical keyboards and membrane keyboards. One thing I think Cooler Master should be commended for is their main selling point of the NovaTouch TKL, and this is the combination of Topre switches and MX stems. The barebones edition of the keyboard makes sense, since it gives users the Topre experience with more compatible keycaps. On the other hand, I will say there are still some things I would suggest for improving with the NovaTouch TKL. For one, the lack of a wrist-rest is disheartening, especially since this keyboard is intended to aim at the typists. Secondly, I wish there were some sort of lighting, whether it is RGB or just even a single color. Finally, I think some sort of indicator lights is a must for any keyboard. Despite all this, I still think the NovaTouch TKL is a very good keyboard. According to online stores, the barebones edition cannot be purchased through any large retailers yet, but the standard NovaTouch TKL can be had for as low as $150 USD. You might think this is quite pricey for an 87-key keyboard, but comparable Topre switch keyboards are costly, making this more of a reasonable sell. If Cooler Master can get the pricing of the barebones edition down to around $120 USD, I think this will actually sell decently. At the bottom line, I would say give all kinds of keyboard switches a try, whether Topre, mechanical, or membrane, before choosing one. If you like the Topre switches, then you should definitely look at the NovaTouch TKL. Furthermore, if you have your own caps, then the NovaTouch TKL Superleggera will let you rice modify it to your heart's content.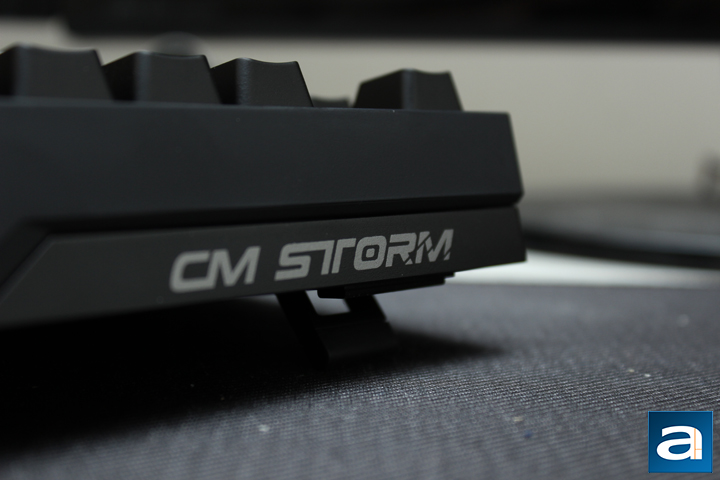 Cooler Master provided this product to APH Networks for the purpose of evaluation.
APH Review Focus Summary:
8/10 means Definitely a very good product with drawbacks that are not likely going to matter to the end user.
7/10 means Great product with many advantages and certain insignificant drawbacks; but should be considered before purchasing.
-- Final APH Numeric Rating is 7.2/10
Please note that the APH Numeric Rating system is based off our proprietary guidelines in the Review Focus, and should not be compared to other sites.
It is time to get your modding on, as Cooler Master shows it appreciates the enthusiast-modder typist with the CM Storm NovaTouch TKL Barebones edition.
Do you have any comments or questions about the Cooler Master NovaTouch TKL Barebones? Drop by our Forums. Registration is free, and it only takes a minute!