By: Preston Yuen
November 13, 2015
Whenever companies develop new products, often times, they are either loaded with functionality, stripped down to the core, or -- thankfully, most of the time -- balances both parameters in moderation. For some products, it is visually quite obvious what kind of it has to offer, while others may be more subtle. Some computer cases that we have reviewed here at APH Networks show just that. A few months back, I reviewed the Phanteks Enthoo Primo. Its sheer size, abundance of space, and amount of flexibility to house a large array of components give the impression this case is designed for enthusiasts. On the flip side, my colleague Jonathan is a big fan of the subtle designs from Fractal Design. One such example is the Define R5. It looks clean and elegant, if not a bit boring to be absolutely honest. Once you turn your eyes to its internals, however, it gives you all the features you will ever want and need. What we have here at APH Networks today is the Quick Fire Rapid-i keyboard from CM Storm. As its name suggests, it is branded under the Storm series, which is Cooler Master's way of saying that this is a gaming accessory. With the picture of the product itself printed on the front of the box, the first thought that came to my mind was, "How on earth could anyone consider this a gaming accessory?" With the stereotype of "more is better" in terms of gaming products, I have to admit it looks ostensibly too simple to serve the needs of a gamer. Is the Quick Fire Rapid-i like the Fractal Design Define R5 with subtle features, or will it be just like any average barebone keyboard classified as gaming "just because I can"? We cracked open a unit here at APH Networks to find out.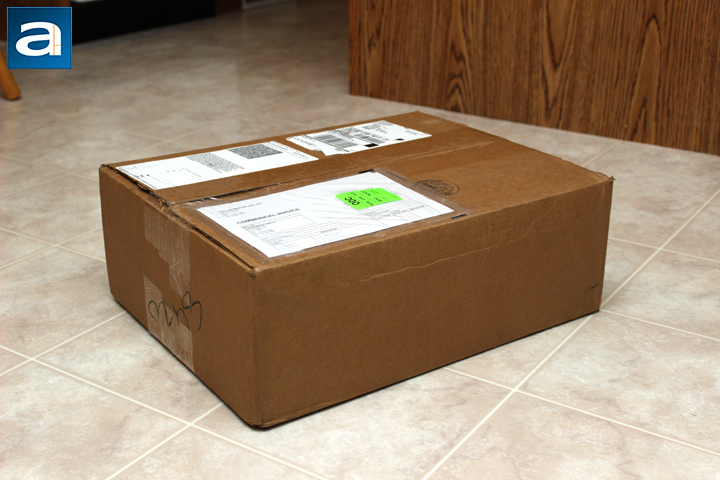 Our unit of the Cooler Master Storm Quick Fire Rapid-i arrived in a large corrugated cardboard box alongside two other keyboards, the NovaTouch TKL and Quick Fire XTi, reviewed by my colleague Aaron Lai. I have taken the liberty to borrow Aaron's skill to take the above photo, so you will see the same photo in three different reviews. Like many other times, the parcel shipped to us from Cooler Master's California headquarters to our APH Networks location here in Calgary, Alberta, Canada via UPS Standard. With very few dents or scratches, it looks like the people in brown overalls have kept it in pristine condition during its travels, which is always good to see.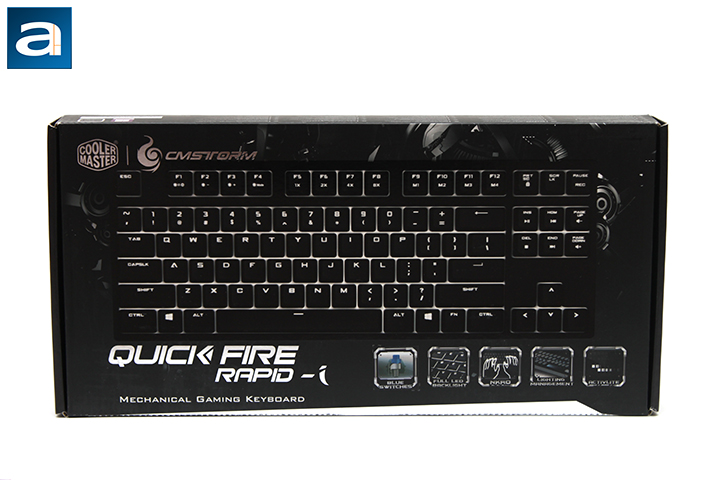 After being handed the goods, I quickly went home and started gaming working. The Cooler Master Storm Quick Fire Rapid-i pictured above is how you will find it on the shelves of stores. My first impressions of it was that it features a straightforward and clean design, with the Quick Fire Rapid-i prominently featured in the center, product name in silver-colored text along the bottom, and icons noting its main features beside the product name. You will also notice a very subtle background, which seems to be some sort of high tech or futuristic machinery. Other than that, if you would like to find out more about the keyboard itself, its features are listed on the back in various languages in addition to English. Judging by what is shown on the box, you would expect the keyboard itself would be very compact, especially with the number pad missing, and very little extra body around the keyboard itself. Personally speaking, this makes a very good keyboard for casual gaming, or for those who prefer not to use all those extra keys that come with "typical" gaming keyboards.
Before we continue, let us take a look at the specifications, as obtained from the manufacturer's website.
Specifications
- Model number: SGK-4040-GKCL1(Blue switch); SGK-4040-GKCM1(Brown switch); SGK-4040-GKCR1(Red switch)
- Key Switch Type: CHERRY MX Blue, Brown, Red (Availability may vary by region)
- Backlight: White LED on all models; All keys; 5 brightness levels; 5 lighting modes
- Interface: USB 2.0
- Key Rollover: N-Key
- Polling Rate: 1000 Hz / 1ms
- Keycaps: ABS, Grip Coated
- On-board Memory: 128KB
- Media Keys: F-Key Media Control; Repeat Rate Control
- Windows Key Lock: Yes
- Connector Cable: Removable Micro-USB 2.0; Braided (bend 90 degrees); 1.8 m / 70.9 inch
- Dimensions (L x W x H): 359 x 138 x 39 mm; 14.1 x 5.4 x 1.5 in
- Weight: 932 g / 2.05 lbs
- Packaged Dimensions (L x W x H): 373 x 183 x 46 mm; 14.9 x 7.2 x 1.8 in
- Packaged Weight: 1240 g / 2.73 lbs
- Warranty: 2 years
- Accessories: Keycap Puller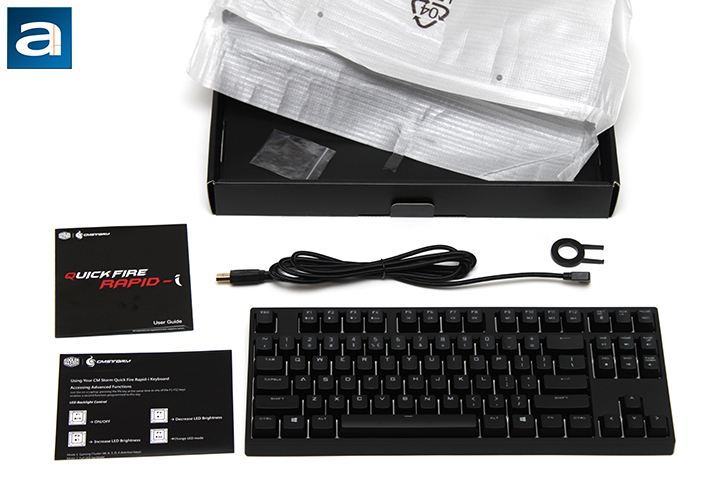 Pulling everything out of the package, you will find a few things. The keyboard itself is wrapped in a white foam bag to avoid scratches and scuffs during transport. Additionally, there is a removable micro USB 2.0 to full sized USB 2.0 braided cable, key cap puller, quick guide, and warranty information. Much of this is pretty straightforward, even for the average user. One thing to note here is there is no wrist rest included. I would have preferred if Cooler Master included one, especially for a mechanical keyboard. Having said that, it looks like they want to keep this line of keyboards as compact as possible, thus eliminating such an accessory.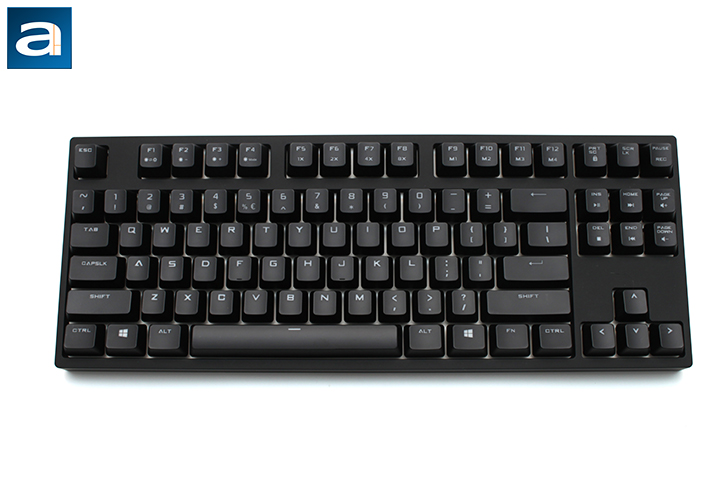 With the Quick Fire Rapid-i out of the box, it becomes very apparent the keyboard is very clean and simplistic, almost to the point where it seems like there really is not anything special. Upon closer look, however, you will find added functionality around the device. The design itself is very clean and compact, which is definitely a plus when it comes down to not being distracted. As Aaron has mentioned in his review on the Quick Fire XTi review, less is more, and Cooler Master has done a very good job in this regard. Overall, Cooler Master has done an excellent job at making the Quick Fire Rapid-i very minimalistic, clean, and functional. Although I am more of a fan of keyboards with more functionality, much of the games I play do not require added functionality, and the Quick Fire Rapid-i is very well suited in this area.
Whipping out my measuring tape, I checked out the size of the keyboard; measuring it to 359 mm in width, 138 mm in depth, and 39 mm in height. In comparison to the Quick Fire XTi, it is missing the number pad, thus the shorter width. On the flip side, it has slightly mode depth, but shorter in height. When it comes down to number of keys, there are only 87, as opposed to the standard 104. Following the logic of a smaller keyboard, it is also lighter than its counterpart, weighing in at 932g as opposed to 1.1 kg. This is probably one of the lightest mechanical keyboards you will see on the market today. I should note this is still decently heavy, so it should stay put on your desk without having to worry about it sliding around, especially with the rubber feet, which you will see in a short moment. Despite sitting in the lightweight category, the Quick Fire Rapid-i's build quality is top notch, as there is absolutely no creaks or flexing. Generally speaking, the build quality seems to be very solid.
In terms of layout, the Cooler Master Storm Quick Fire Rapid-i comes in the standard American QWERTY layout with the elongated Enter key. I am a big fan of this as opposed to the dual row Enter key, as it is much easier in terms of typing experience, but this is more of a personal preference. As with the rest of the keys, they are in its standard position. A Windows key is paced on either side of the Alt buttons, with an additional Function key on the right. Although it comes in a matte finish, I find it is still easy to smudge the keyboard, even with slightly damp fingers. For those that like to keep things clean, it would be a good idea to keep a cloth handy.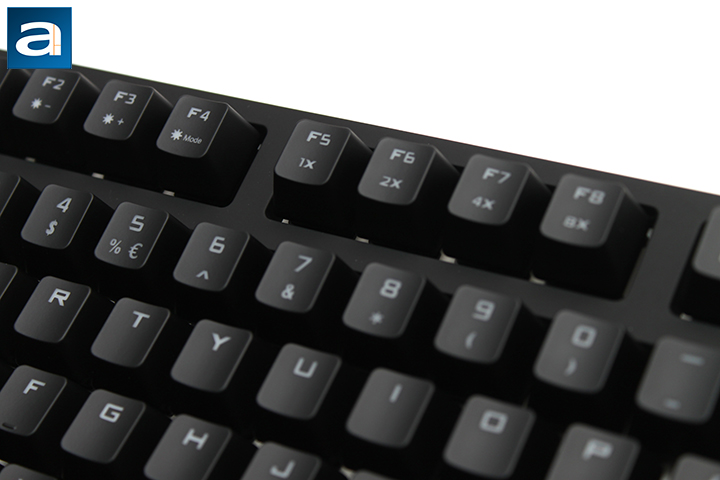 In addition to the standard functions present on most keyboards nowadays, there are secondary functions on the twelve function keys, which can be activated when holding down the Fn key. Starting from the left, F1 to F4 controls the lighting effects and brightness. Fn + F1 will turn on and off the backlight on your keyboard, while Fn + F4 will scroll you through the different lighting effects or modes available. I will explain the modes in more detail later in the review. F5 to F8 changes the repeat rate for each keystroke, while F9 to F12 are your macro keys. To exit recording your macros, press Fn + Esc. Generally speaking, this is pretty straightforward. As per the repeat rate keys, this is impractical for everyday use. However, gamers will appreciate this for faster key spamming without having to tire your fingers out by constantly lifting and pressing keys to achieve the same result.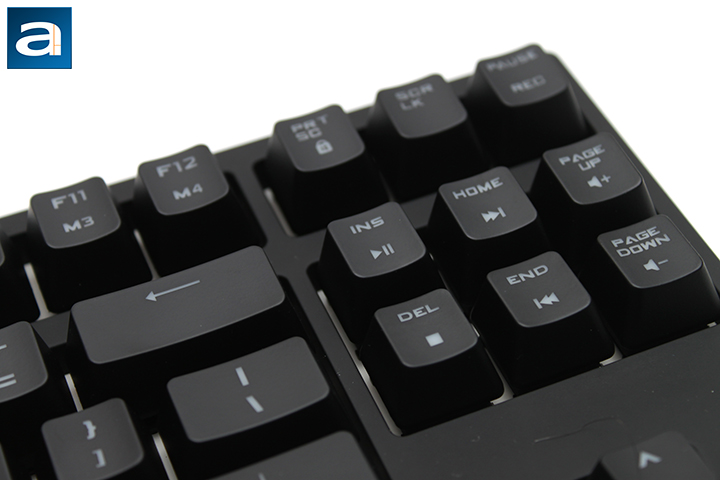 Print Screen will give you the option to lock your Windows key, in case you accidentally press it while in game to prevent bringing up the Start menu, while the Pause key features the Record function. This comes in handy when you are recording keystrokes for your macro keys featured on F9 to F12 as aforementioned. To override what you have recorded, simply press the Fn, Pause, and Macro key, and start recording again. I would have preferred some sort of software to manage this, but for a clean and compact keyboard out of the box, it works just fine. Above the arrow keys, you will find the media keys incorporated into the standard insert, home, delete, end, and page up/down keys. From left to right, they are Play/Pause, Stope, Next, Previous, Volume Up, and Volume Down. All of these functions are as you would expect with most media software.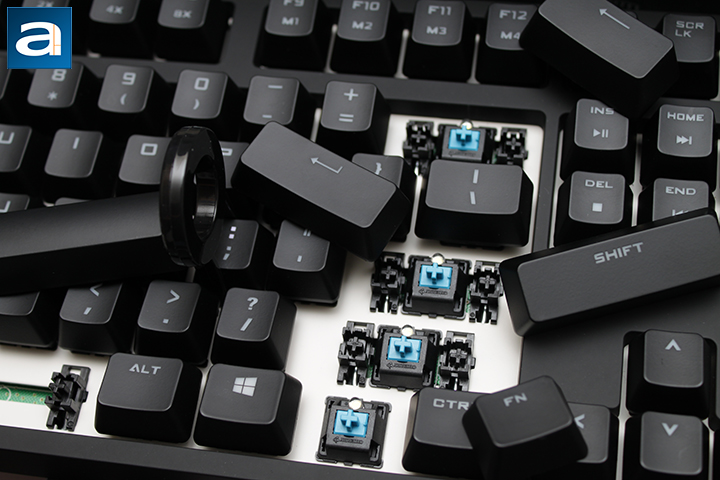 In terms of key rollover, the Cooler Master Storm Quick Fire Rapid-i offers full NKRO mode. This is abbreviated for n-key rollover. As Aaron has nicely worded it, it refers to the number of keys which are independently scanned by their hardware. The larger the number, the more key presses detected regardless of other keys being pressed at the same time. In essence, this fixes ghosting issues found in cheaper and/or laptop keyboards. While ghosting is a bit of misnomer, and at times a marketing term, there are cases where keyboards will not be able to recognize more than one keystroke at a time, which can cause for missed keys. This can be frustrating when you are playing games, or even if you are just a very fast typist. Generally, 6KRO is usually quite sufficient, as it allows users to press six keys at a time, and the keyboard will recognize all six independent strokes. However, keyboards like the Cooler Master Storm Quick Fire Rapid-i offer full NKRO, which could mean any number of independent strokes larger than six. In general, most NKRO keyboards recognize around twenty different key presses. Most multiplayer games now are played over LAN or online, but if you happen to play the occasional two player game on the same keyboard with your friend, then the Quick Fire Rapid-i is more than capable of handling such situations.
Before continuing on, one of the best part of the Cooler Master Storm Quick Fire XTi is its mechanical key switches. This section has been adapted from my colleague Jonathan's mechanical keyboard reviews. There are three main types of keyboards in the market today. The cheapest is the membrane keyboard, which is the easiest to make, but also has poor typing feel and response due to squishy keys. A scissor switch keyboard has its own independent key switch mechanism for each key, which delivers improved tactile response and typing experience. Modern scissor switch keyboards can be very good for everyday office use. Mechanical keyboards such as the Quick Fire Rapid-i costs the most, because each key switch is an independent part.
Our unit of the Cooler Master Storm Quick Fire Rapid-i features Cherry MX Blue mechanical switches. Other switches are available for this model, including Cherry MX Red and Brown. As my colleague Aaron puts it, these keys are rated to last up to fifty million keystrokes, just like other Cherry MX switches. Blue switches are what we would call a switch aimed at typists. These switches feature low resistance to typing, a low actuation force of around 50g to trigger them, and an audible 'click' on every key press. They feature a non-linear travel, with a tactile bump in the middle to tell you when the key has been actuated. Gamers can still use Cherry MX Blue switches, but the real issue comes with double tapping, since it requires a bit more force and travel distance for a double tap to be registered. Preference of which keys will come down to consumer opinion.
To be honest, I have not owned a mechanical keyboard for a very long time. To be clear right off the bat, I have nothing against mechanical keyboards, but simply preferred scissor keys. Having played with the Cooler Master Storm Quick Fire Rapid-i for almost two weeks, I am finding the joy as a typist again. Having annoyed my colleagues at my daytime office job, using this keyboard definitely makes you sound more productive and busy than you really are. With jokes aside, the clicky feedback gives a nice audible sound for each key actuation, which I definitely appreciate. In terms of gaming, it is definitely louder than most other keyboards, and double tapping will be an issue for some gamers, depending on the game you are playing. However, the overall quality of the Cherry MX Blues is what I expect it to be, which is great.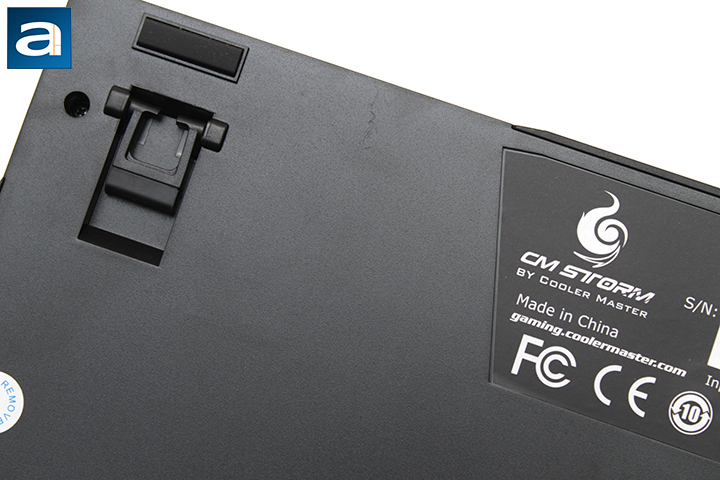 Flipping the keyboard over, there are a couple of things to note. There are four rectangular rubber pads; one in each corner. Additionally, each of the extending feet is wrapped with rubber. Consequently, the rubber and the weight of the keyboard itself will to prevent any slipping and sliding. At the top corner is the micro USB port, in which you can plug in your cable. The only problem here is the cable is angled ninety degrees left. This would not be too much of a problem if my computer was placed to the left of my keyboard, but that is not the case. It would have been nice if the cable was a bit more flexible to accommodate both sides by implementing cable routing grooves, like what they have done for the Quick Fire XTi. Additionally, the head sticks out. In my opinion, in a way, this defeats the purpose of having a compact keyboard in the first place, as the cable will be somewhat in the way of how you would layout your setup. In theory, the ninety-degree bend on the cable is a good concept. In practicality, this is a downside in my opinion. Having said that, this may work out just fine for other users. I would have preferred a bit more flexibility in this area.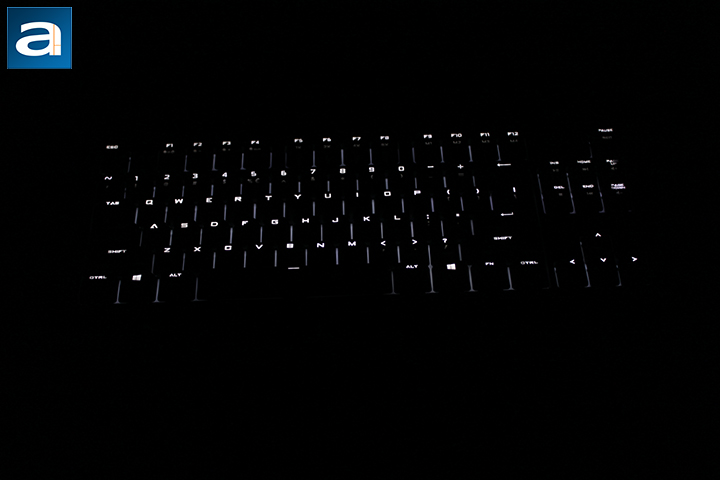 After admiring its appearance, I plugged in the Cooler Master Quick Fire Rapid-i, and started typing out this review on this very keyboard. I would definitely not consider bringing this to work if loud keyboards annoy your colleagues, unless, of course, you are behind closed doors. The same applies to late night work or gaming sessions. Some people swear by Cherry MX Blues, while others rather type on scissors; it is a matter of personal preference. Typing on the Quick Fire Rapid-i is a joy, but when it comes down to personal gaming experience, it required a bit of adjustment on my part. Otherwise, the typing experience is excellent, and exactly what you would expect from a mechanical keyboard.
As for lighting options, Cooler Master has kept it to a bare minimum in terms of colors. The Cooler Master Quick Fire Rapid-i is stuck with white LED illumination, whereas the Quick Fire XTi features thirty five shades of mixed blue and red. I would have preferred an RGB spectrum, as whatever the end user's preference may be, they could customize the color to their taste. When it comes down to lighting modes, you have quite a few to choose from. There are the standard always-on and breathing modes. Then there is an activation mode, which has two subsets: One where the light disappears immediately on release, and the other where it fades away based on the key you press. There is a ripple effect, which activates on the key you press and ripples out, like throwing a rock into a pond. In cross mode, the key pressed lights up all the keys vertically and horizontally adjacent to it, thus creating a cross. Other modes include lighting up the WASD and arrow keys only, and random key lighting, which disables all your keys, and only lights up certain ones at random. A problem exists when it comes down to lighting keys with two rows, such as the function or number keys, as only half of the key lights up, because the LED itself is placed closer to the top half. Because of how the keys are designed, Cherry MX switches partially blocks some of the light from reaching the bottom half, and such is the nature with lighting mechanical keyboards is its uneven lighting.
-----------------------------------------
The Cooler Master Storm Quick Fire Rapid-i did not come with any fancy eye-catching features out of the box, but this is not necessarily a bad thing. Firstly, the Quick Fire Rapid-i has solid build quality. Visually and functionally, this is a down to earth, tenkeyless keyboard. This may be a bit of a controversy for some, but its layout meets your everyday requirements, both in typing and casual gaming. Other main features include full backlighting in various modes, on-the-fly macro recording, adjustable repeat rates, and media keys. Opening up the hood, you will find the keys equipped with Cherry MX Blues, while MX Reds and Browns are also available for purchase. Key preference comes down to the user, but as for our review unit we have today, typing on the MX Blues is a real joy to type on. Finally, being able to customize the Quick Fire Rapid-i with no additional software is definitely a plus, especially for portability between computers. The fact that the keyboard itself is very compact enhances this idea further. However, it does come with its downside. For one, there is no wrist rest. Most keyboard manufacturers should have one included, even if it means it must be built-in physically. Next, although Quick Fire Rapid-i may potentially be seen as an entry mechanical gaming keyboard, it would have been nice if Cooler Master used RGB lighting to satisfy user customization. Finally, it would be nice if Cooler Master took lighting to the next level by fully illuminating all the keys, as some keys are only half lit. When it comes down to price, the Cooler Master Quick Fire Rapid-i is tagged at $85 USD after rebate at press time. Considering comparable competition at this price range comes with neither full RGB lighting nor wrist rest, who are we to complain? The Quick Fire Rapid-i is a top notch classic tenkeyless keyboard that does exactly what it should.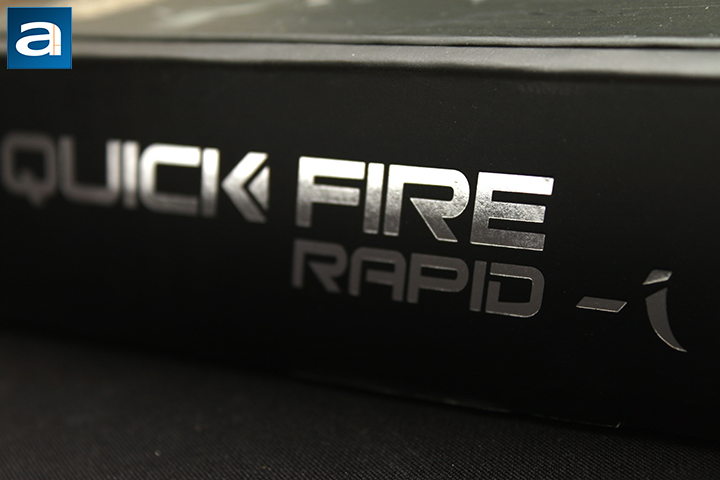 Cooler Master provided this product to APH Networks for the purpose of evaluation.
APH Review Focus Summary:
8/10 means Definitely a very good product with drawbacks that are not likely going to matter to the end user.
7/10 means Great product with many advantages and certain insignificant drawbacks; but should be considered before purchasing.
-- Final APH Numeric Rating is 7.4/10
Please note that the APH Numeric Rating system is based off our proprietary guidelines in the Review Focus, and should not be compared to other sites.
The Cooler Master Storm Quick Fire Rapid-i is a clean yet functional keyboard with solid build quality and cool lighting modes.
Do you have any comments or questions about the Cooler Master Storm Quick Fire Rapid-i? Drop by our Forums. Registration is free, and it only takes a minute!