By: Aaron Lai
August 18, 2023
Over the summer, I was helping my girlfriend's sister with her math as she was getting ahead of her upcoming year with summer school. If you know me, you will know mathematics was my favorite subject back when I was still in school. It always felt like problem solving with numbers. However, there were two issues I found while returning to math now for teaching. For one, a lot of it was remembering what was taught in Grade 11. Obviously, we use math daily, even if it is simply basic operations. However, I forgot about the Ambiguous Case of the Sine Law or the last time I used the quadratic formula. As I have not used these concepts in a while, I was quite unfamiliar and had to relearn it. The second issue stemmed from now trying to teach or explain these concepts so she could understand it. While it was straightforward to refresh my knowledge, I found it much harder to explain this to someone else. It takes more understanding of a concept to be able to teach it, which is why teaching is one of the most effective ways of learning. In a similar fashion, the last time I used at a ROCCAT keyboard was the Vulcan II Mini, which is a 65% keyboard. However, I have not used it in a while. Today, we have a familiarly named keyboard in the form of the ROCCAT Vulcan II Mini Air. This Air refers to the addition of wireless capabilities. However, has ROCCAT made improvements and changes on the previous one? Are there things I will need to remind myself of in going back to a ROCCAT keyboard? Let us read on to find out!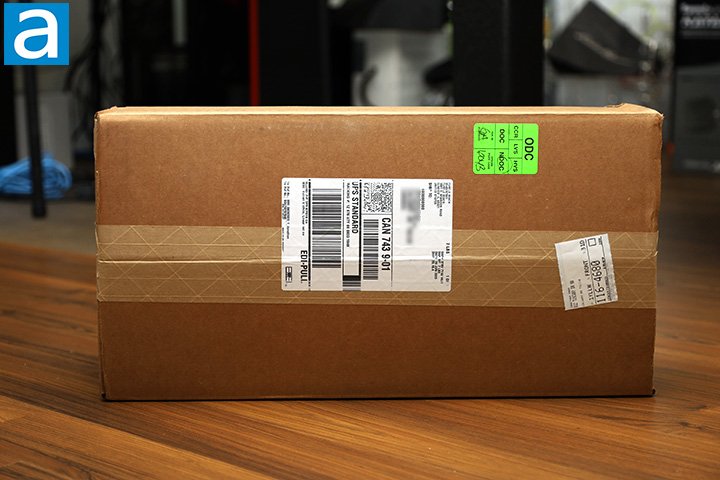 Today's review unit of the ROCCAT Vulcan II Mini Air arrived from a shipping fulfillment center in Elwood, Illinois. Traveling with UPS and their Standard ground service, this box arrived at our APH Networks offices here in Calgary, Alberta. The corrugated cardboard box carrying our keyboard came with no real damage to be concerned about. Along with the Vulcan II Mini Air, we also received the ROCCAT Vulcan II, which will be reviewed by my colleague Jonathan Kwan.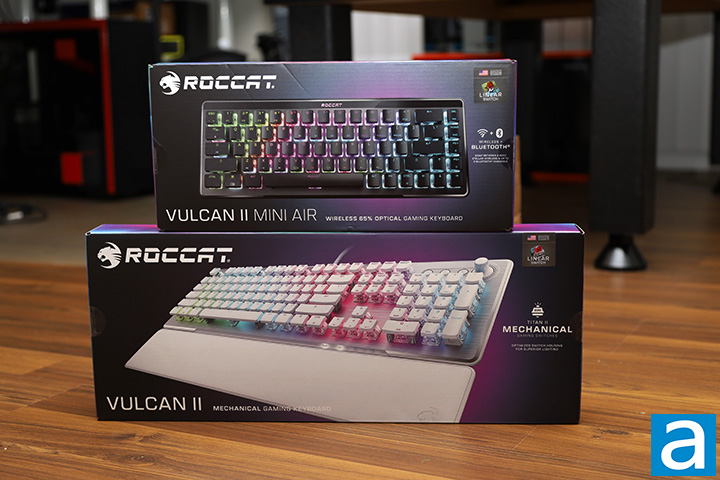 Looking at the ROCCAT Vulcan II Mini Air's retail container, you can see we have a familiar look between the two keyboards as well as previous ROCCAT keyboards. In the middle of a black box, we have the keyboard shown off with its AIMO addressable RGB lighting shown. The ROCCAT logo can be found on the top left corner, with the product name found on the bottom left corner. A description of "Wireless 65% Optical Gaming Keyboard" is printed right beside. Down the right side, you can see the type of switch this keyboard comes with, followed by the fact we have wireless and Bluetooth support for cable-free use. Around the back, we have some specifications and other information about the Vulcan II Mini Air.
Before moving on, I have obtained the specifications from the manufacturer's website for your viewing pleasure:
General
Form Factor: 65%
Connectivity: Detachable USB-C to USB-A Wired, Wireless 2.4GHz dongle, 3x Bluetooth 5.2
Cable: Detachable 1.8m braided USB-C to USB-A 2.0
Switch lifecycle: Tested to 150 million
Polling Rate: 1000 Hz
On-board memory: 4MB
Profile On-board: 5
RGB: RGB per-key illumination + 29 smart keys
Keyboard Rollover: Full Key (NKRO) with 100% Anti-Ghosting
Processor: 32-bit ARM Cortex M3
Software: ROCCAT SWARM
Battery life: Up to 240 hours (Varies with usage/proximity sensor)
Adjustable height: Yes, 3 different heights
Switches
TITAN II OPTICAL RED
- Linear
- 1.4 mm Actuation Point
- 3.6 mm Travel Distance
Dimensions
Product Dimensions: 325 x 124 x 33 mm (12.80 x 4.88 x 1.30 inch)
Keyboard without cable: 578g (20.39 oz) (with dongle), 576g (20.32 oz) (without dongle)
Keyboard with cable: 620g (21.87 oz) (with dongle). 618g (21.80 oz) (without dongle)
Package Contains
ROCCAT® Vulcan II Mini Gaming Keyboard
Detachable USB-C to USB-A cable (1.8m)
Stellar Wireless Dongle
Quick-Start Guide
Compatibility
Windows® 7 and above (software support)
USB 2.0 (or higher)
Internet connection (for driver software)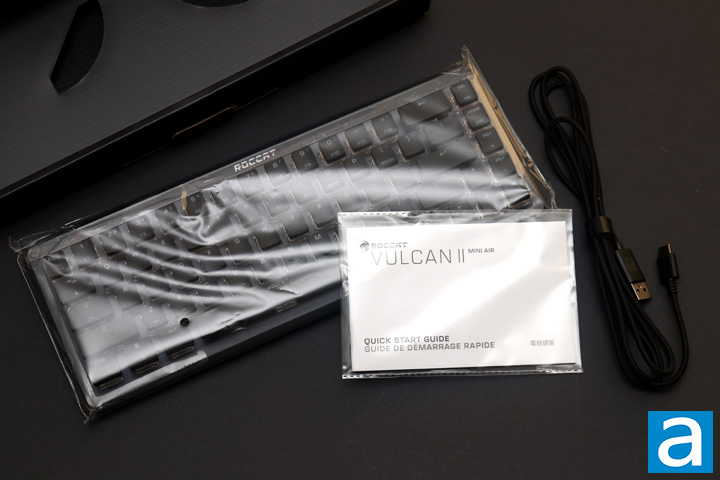 Out of the box, the ROCCAT Vulcan II Mini Air is packed in a transparent plastic bag to prevent scratches in transport, while its edges are lined with clear tape to prevent further surface scratches. A matching black USB Type-C to full-sized USB braided cable measuring 1.8m long is tied up with a Velcro strap. A quick start guide is found at the bottom to help users plug in their keyboard and find the different shortcuts available with the Vulcan II Mini Air. Otherwise, there is not much else to look at, so let us dig deeper into the ROCCAT Vulcan II Mini Air.
---
Page Index
1. Introduction, Packaging, Specifications
2.
A Closer Look - Hardware and Software
3.
Conclusion