Page 2 - A Closer Look - Hardware and Software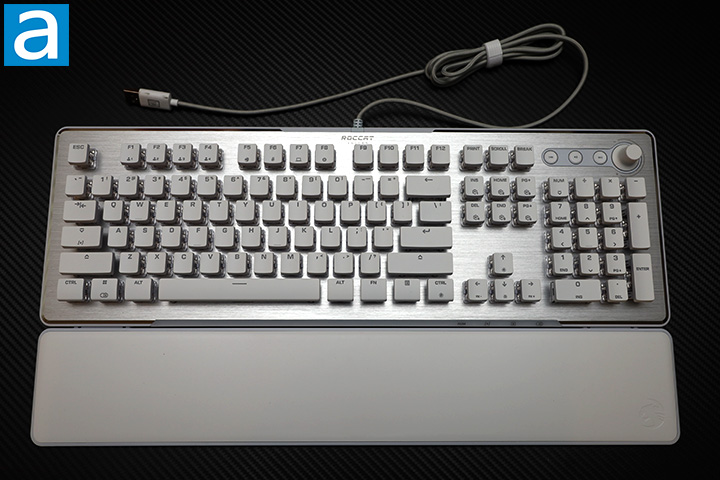 I have been using the excellent ROCCAT Vulcan II Max and Vulcan 121 AIMO on my main and work PC, respectively, for quite a while now, and I am no doubt a fan of the series. Like the rest of the lineup, the Vulcan II is yet another keyboard that fits APH Networks' design philosophy. It carries a clean, practically reference layout -- meaning no crazy designs -- with mechanical keyswitches, dedicated media buttons, RGB LED backlighting, and a detachable wrist rest. The subtle ROCCAT logo and Vulcan branding can be found at the top center. Meanwhile, the exposed dull silver-colored aluminum backplate in our white version is great to look at and easy to clean. It even hides fingerprints well thanks to the brushed finish. Note the Vulcan II Max has a matte finish instead. A black version of this keyboard is also available. A shiny silver strip runs almost the entire perimeter of the keyboard, and there are no exposed screws at the top like the Vulcan 121 AIMO for a cleaner look. The sides and bottom are all made out of quality textured plastic. Overall, I like the looks and the anodized aluminum backplate is mostly rock solid. You have to push hard near the arrow keys to see it flex, but otherwise feels substantial in everyday use.
The detachable wrist rest protrudes comfortably for my average sized hands. It is made out of hard plastic and is fully detachable from the main unit. The hard plastic is comfortable in day-to-day use, but the Vulcan II Max's silicone is better in my opinion. The wrist rest is designed to be connected to the keyboard by two plastic tabs, which you will see in subsequent photos. When placed on the table, the wrist rest can move slightly from side to side and can be rotated past 90 degrees when lifted off the table.
The ROCCAT Vulcan II measures in at 463mm width, 152mm depth, and 33mm height. Adding the wrist rest increases the depth to 236mm. These numbers are basically identical to the Vulcan II Max, and slightly deeper and wider than a standard QWERTY keyboard due to the overall larger frame. To go along with its medium footprint and medium profile, the keyboard weighs about 949g without the wrist rest and 1141.5g with the wrist rest according to the manufacturer. This is within reason for mechanical keyboard, but it packs a lot of hardware. The Vulcan II is roughly 10% lighter than the Vulcan II Max.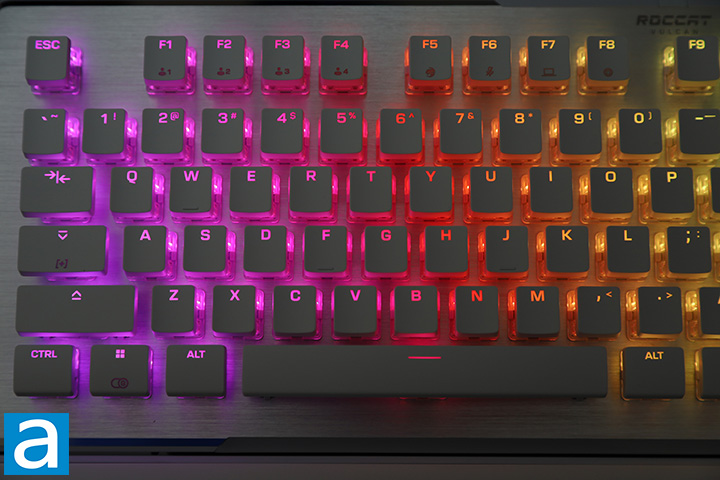 Once you turn off the lights and activate the ROCCAT Vulcan II's RGB LED backlit keys, you can see why the company claims this is a "mechanical masterpiece" on their product page. The Vulcan II has great design elements for both form and function, and the RGB LED lighting only adds to the experience. The laser-etched font is large and easy to read through the low-profile keycaps with exposed island-style switches. The Vulcan II features full independent key RGB LED backlighting. A dedicated 32-bit ARM Cortex M3 is inside to run all the effects and up to four profiles can be stored on the 4MB internal memory. The backlight can be turned off completely or activated in many brightness level steps. I am a big fan of fully backlit keyboards, and I am happy ROCCAT designed the Vulcan II with this feature. The ROCCAT Vulcan II's key illumination distribution is reasonably even for the most part. You can see the LEDs through the switches as the housings are clear. One thing to point out, for keys with more than one line of text label, you will notice only the top half is lit. This is due to physical design limitations of Titan II Mechanical stems, which you can see in our photo above.
Unlike the Vulcan II Max, there are no secondary indicator LEDs that light up when secondary functions are active. There are no performance monitoring secondary LEDs either. Since the wrist rest is solid plastic, the Vulcan II does not feature LED illumination projection into the wrist rest either.
The low-profile acrylonitrile butadiene styrene, or ABS, plastic keycaps are of average quality. Polybutylene terephthalate, or PBT, keycaps are stiffer, harder, and have better color retention, but the ones found on the ROCCAT Vulcan II are smooth and feel nice on the fingers. The white version of this keyboard will not show oily marks, but I imagine the black version will. It would be nice if all the included keycaps were double injection PBT keycaps.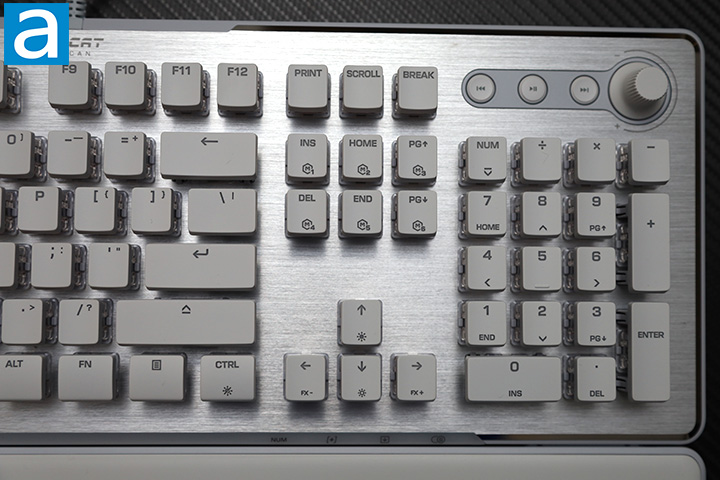 Almost everything here is pretty standard in terms of layout with a few additions. I prefer the single row Enter key layout as present on our US QWERTY ROCCAT Vulcan II. Keyboards with a double row Enter key usually means the "\" button is moved to the left side of the right "Shift" key, reducing the size of the latter. I am more used to having a full-width Shift on the right and a half-height Enter. Obviously, this is more or less personal preference, but having a half height Enter key makes a lot more sense to me.
Above the number pad are three round multimedia buttons and a volume knob, which includes previous, play/pause, and next. All multimedia buttons are RGB LED backlit and can be configured in software. Pressing the knob will mute your audio. I love having a knob it feels like what you will find in a mixer, just like the Vulcan II Max and Vulcan 121 AIMO.
There are dedicated LEDs for the Num Lock, Caps Lock, Scroll Lock, and Win Lock functions located inside the plastic strip near the arrow keys. The LEDs are located inside the keyboard and diffuse through the translucent surface. These LEDs are not user-configurable and only glow white. Making these indicator LEDs user-configurable is preferable in my opinion.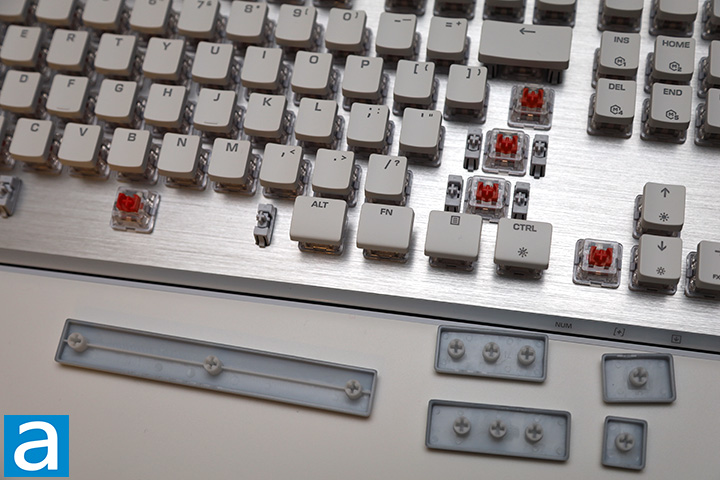 If you do not know what a mechanical keyboard is, there are three main types of keyboards in the market today. The cheapest is the membrane keyboard, which is the easiest to make, but also has poor typing feel and response due to squishy keys. A scissor switch keyboard has its own independent keyswitch mechanism for each key, which delivers improved tactile response and typing experience. Modern scissor switch keyboards can be very good for everyday office use. Mechanical keyboards such as the ROCCAT Vulcan II cost the most because each keyswitch is an independent part.
The Vulcan II we are reviewing today features Titan II Mechanical Linear switches. These switches are similar to the Titan II Optical-based Vulcan II Max I have been using for a while, except they use a mechanical connection for actuation rather than light, as their names suggest. The Titan II Mechanical Linear is compatible with third-party cross mount keycaps. It is marketed as a gaming-type switch and is often compared to the Cherry MX Red. The maximum key travel distance is 3.6mm with actuation at 1.4mm compared to the Cherry MX Red at 4mm total travel with 2mm pre-travel. With an actuation force of 45g in a completely linear fashion, it is the same as the Cherry MX Red.
The Titan II Mechanical Linear switch feels very different than Cherry switches. There is reduced side-to-side wobbling and debounced switch contact for a 20% increase in speed compared to the standard. It also feels smoother in use thanks to the factory lubrication. This keyswitch is desirable for gaming because you will be bottoming out all the keys anyway, but the lack of the bump of the Titan II Mechanical Linear may not appeal to everyone. The switches are rated for 80 million operations, which is slightly lower than Cherry MX switches. During operation, it makes a similar amount of noise as the Vulcan II Max, but it has a lower pitched tone and thicker sound, making it more pleasant sounding in everyday use. I recorded a sound clip below to give you an idea of how it sounds in practice.
For wider keys, ROCCAT opted to use Cherry stabilizers. A stabilizer, as its name suggests, is to maintain the balance of wider keys. The other main stabilizer design is Costar. The Cherry stabilizer found in the Vulcan II, as shown in the above photo, uses additional non-electrically activated switches without the spring on the sides for support. Costar stabilizers, on the other hand, has a wire bar that spans nearly the entire width of the keycap and attached by a clip at the bottom of the keycap. Costar stabilizers are rattlier, but are easier to maintain, while Cherry stabilizers feel mushier.
The ROCCAT Vulcan II is a full NKRO keyboard. NKRO stands for N-key rollover. If you have used keyboards with limited NKRO capabilities, you may have experienced ghosting issues in the past. Your system will be unable to register any more strokes when too many keys are pressed at the same time. A full NKRO keyboard like the ROCCAT Vulcan II overcomes this by independently polling each key, making all inputs detectable by the hardware regardless of how many other keys are activated at the same time. This means in the event you have every other key on your keyboard depressed, it will still register the last stroke. While this is a highly unlikely scenario since you have only ten fingers, this is as good as it can get.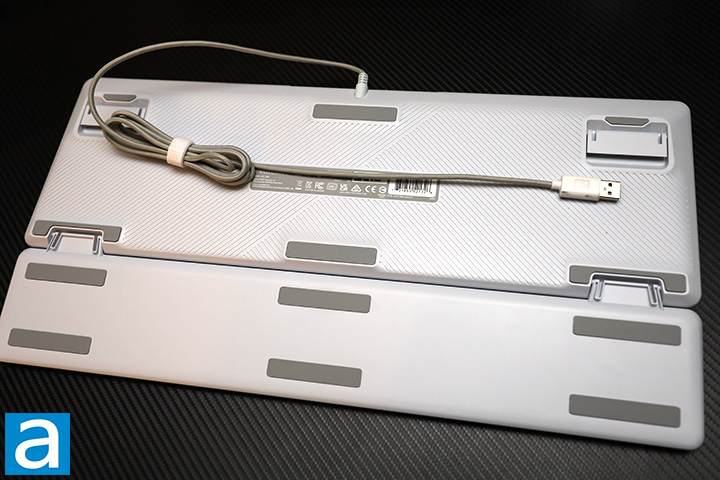 At the back of the ROCCAT Vulcan II is the USB cable lead out. It comes out in the center and is not detachable. A detachable cable using USB Type-C on the keyboard side would have been a better design in my opinion. This braided rubber cable is very thick and extends 1.8m in length to connect to your computer via two standard, non-gold-plated USB connectors. When we bring about the question of whether gold plated connectors are actually useful or not, let us just say if it was the actual pins, then there is a possibility since gold offers better conductivity than other metals. This theoretically establishes a better connection with your computer, but on a digital signal level, we must understand it is a discrete one or zero. If anyone tells you they can tell the difference, you can definitely defeat their theory with a double blinded test. Additionally, if you are referring to the gold part of the connector you see on the plug, I would like to point out it is only used as ground. In other words, it is nice to have, and it is pretty to look at, but it is not anything significant on a practical level. The lack of a gold-plated USB connector will not have any performance impact on the ROCCAT Vulcan II.
At the bottom are six rubber strips. Thy are all reasonably sized, but obviously not as big as the full-width rubber strips offered by the Vulcan II Max. Two rubber lined flip-out risers at the front tilt the keyboard up for those who prefer it. The wrist rest adds an additional six. In addition to the rubber strips, the ROCCAT Vulcan II is a pretty heavy keyboard by itself, which is great to keep it in its place during intense gaming sessions. What you will not find are keyboard drain holes, so it is advisable to keep your Mountain Dew at a distance.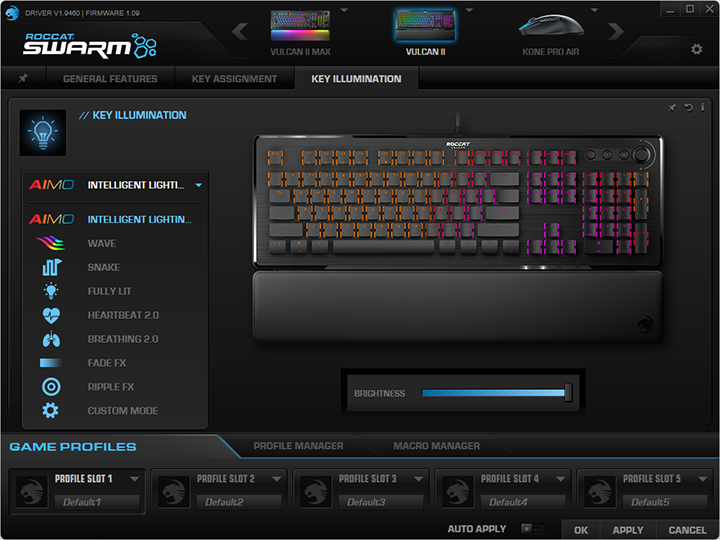 The Vulcan II works along with the latest version of ROCCAT Swarm, which is a 103MB download from ROCCAT's website at press time. This program unifies all your ROCCAT peripherals into one application. After installing the corresponding hardware module, you will be prompted to update the keyboard firmware, if application. Updating the firmware was a quick and painless process.
After selecting the ROCCAT peripheral you want to configure at the top, the graphical user interface is basically separated into three separate tabs: General Features, Key Assignment, and Key Illumination. Under General Features, you can customize the keyboard's sound effects that play through your PC speakers, character repeat settings, and reset settings. Key Assignment, as its name suggests, allows you to assign functions to different buttons. These include macro, basic functions such as caps lock, exclusive ROCCAT functions such as Easy-Shift[+], Smart Key functions if compatible, operating system functions such as shutdown, internet, multimedia, open a program, or timer. The macro manager allows you to directly link to actions from a preset list of games such as Counter-Strike: Global Offensive or even programs like Adobe Photoshop.
Our screenshot above shows Key Illumination, where you can adjust your Vulcan II's lighting effects. All of the available options are shown in the screenshot above.
Overall, I found ROCCAT Swarm to be mostly straightforward and easy to use. We have been saying this for as long as I have reviewed products from the company, but it seems like the software has stayed the same since forever, which makes it feel outdated compared to Corsair iCUE and SteelSeries GG.
---
Page Index
1.
Introduction, Packaging, Specifications
2. A Closer Look - Hardware and Software
3.
Conclusion