By: Jonathan Kwan
June 19, 2015
Sometimes, combining two ideas together create an absolutely ingenious solution. Other times, you end up with something so pointless, it gets you simply nowhere. The camera phone is a prime example of an ingenious solution. As the saying goes, "The best camera you have is the one you have with you." With the popularity explosion of the mobile phone in the last two decades or so, integrating a camera onto it revolutionized the world in more than one way. On the other hand, I can name some pretty pointless inventions in the past, at least in my personal opinion. One example is the Cadillac Escalade Hybrid. The Cadillac Escalade Hybrid was an epic massive, ultra-heavy, full sized SUV that was neither economical nor efficient. Why would anyone buy a behemoth V8 seven passenger "hybrid", for a price premium of roughly a compact car over a regular Escalade that still consumes a ton of gas, is absolutely beyond me. If you really wanted to save fuel, you can buy a regular Escalade and a lightly used Prius for the same price. Indeed, the Escalade Hybrid was discontinued only after one generation. Today, we will look at another product that combines two ideas into one. The Seagate Laptop SSHD ST500LM000 500GB is a hybrid drive that aims to amalgamate the speed of an SSD with the capacity of an HDD for a price that falls in between. Will it be successful it taking the best of both worlds, or will it achieve neither in the end? Read on to find out!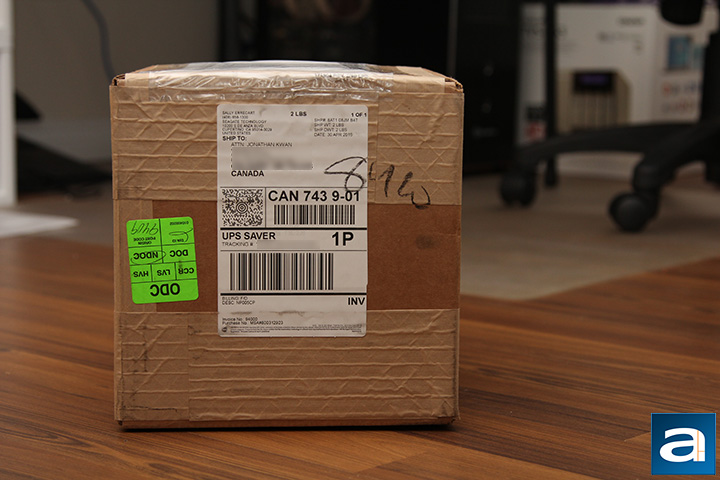 Our review unit of the Seagate Laptop SSHD ST500LM000 500GB came in a fairly cubic, brown corrugated cardboard box from Cupertino, California, where Seagate's headquarters are located. If you have heard that name before, but cannot quite recall where, it is also the home to one of the largest fruit producers in the world. Coming to us here in Calgary, Alberta, Canada using the UPS Saver service, everything arrived in excellent condition for our review today. Without wasting any more time, we cut open the tape, grabbed the camera, and got straight to work.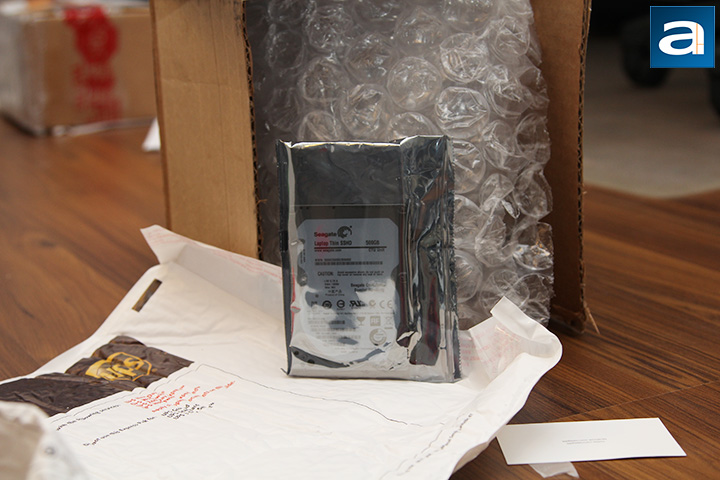 Inside the brown corrugated cardboard box of mystery is a whack of bubble wrap, which kept the Seagate Laptop SSHD ST500LM000 500GB a rather interesting quest to find. Last year, they sent the Seagate NAS HDD ST4000VN000 4TB in the same way, but finding a chunky 3.5" HDD in the midst of everything else was a little easier than digging up a 7mm thick, 2.5" laptop drive. Seagate sent the Laptop SSHD in OEM packaging, which is simply a bare drive inside an anti-static bag. To ensure adequate protection for fragile, mechanical devices like a hard disk drive, they definitely went all the way. To be honest, I have never purchased a hard drive that is not in OEM packaging in the past, so this should be nothing new to most people.
With all that in mind, before we move on, let us take a look at the specifications of the Seagate Laptop SSHD ST500LM000 500GB, as obtained from the manufacturer's website:
Package: Drive Only
Capacity: 500GB
Interface: SATA 6Gb/s
Areal Density: 705
Maximum Operating Shock: 350Gs
Storage Type: Solid State Hybrid
Length: 100.35mm
Width: 69.85mm
Height: 7.0mm
Typical Weight: 95g
AFR: 0.48%
Operating Temperature: 60°C
Average Operating Power: 2.9W
---
Page Index
1. Introduction, Packaging, Specifications
2.
A Closer Look, Test System
3.
Benchmark: AIDA64 Disk Benchmark
4.
Benchmark: ATTO Disk Benchmark
5.
Benchmark: Crystal Disk Mark 3.0
6.
Benchmark: HD Tach 3.0.1.0
7.
Benchmark: HD Tune Pro 4.60
8.
Benchmark: PassMark PerformanceTest 8.0
9.
Benchmark: PCMark 7
10.
Conclusion