By: Aaron Lai
December 1, 2017
Since today is the beginning of the last month in 2017, I think it makes sense to take a look back at everything that has happened this year. For me, there has been a lot of changes, both good and bad, but it has been positive overall. In May, I went on my first non-work related trip without my parents to San Francisco. I learned to plan and work through trip scheduling, while learning the patience and flexibility needed when plans do not work out. In June, I went through my first breakup. Despite it being a tough time in my life, it was a learning moment as well. In August, I exhausted myself with my first photography gig at a wedding. I learned the work required not only on the day, but also afterwards when editing photos. September was when I was a part of a wedding party for the first time as a groomsman for one of my close friends. I honestly learned a lot about the things to consider should I ever get married, but thankfully that will probably be a while away. As for APH Networks, I also went through a few firsts, including the first RGB mousing surface with the Corsair MM800 RGB Polaris as well as my first V-MODA headphones and router. Thus, if the theme is not clear enough, we have another first-time experience today. This is in the form of the HD 4.50 BTNC from Sennheiser. This may be a new experience working with this company, but audio reviews are not new to us, so let us see how the Sennheiser HD 4.50 BTNC fares today. Maybe I will learn something new too!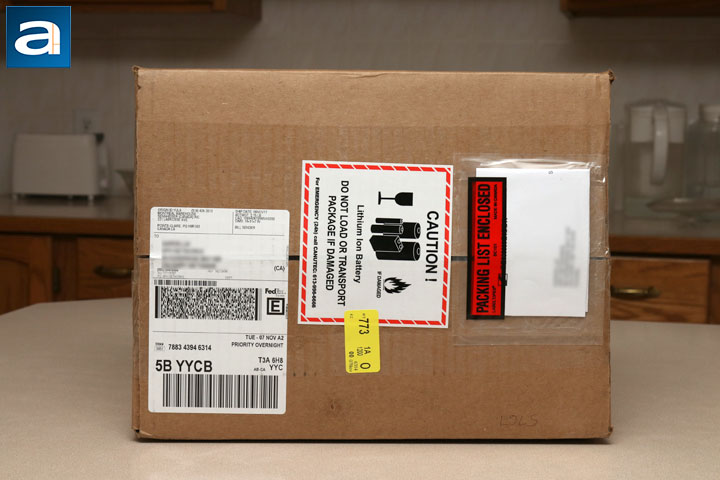 Today's review unit of the Sennheiser HD 4.50 BTNC arrived directly from one of Sennheiser's Canadian warehouses in Pointe-Claire, Quebec. The city of Pointe-Claire is actually a suburb located just west of Montreal. While the city itself was founded in 1698, the name of the city appeared on maps as early as 1686. As for the unit, the box arrived to us via FedEx and their Priority Overnight shipping service. Everything arrived in pristine condition with practically zero dents or bruises to be concerned about. Furthermore, Sennheiser stuffed this box with bubble bags, foam, and packing paper to ensure there is zero damage to their product inside.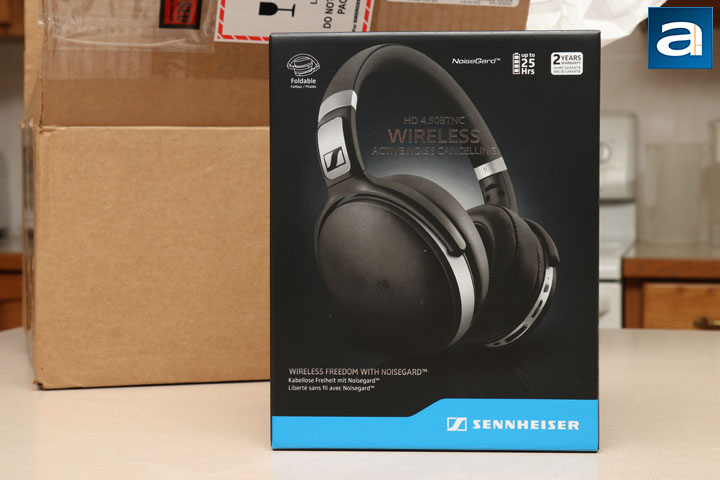 For some background, Sennheiser is a German audio company, with products ranging from headphones to microphones and even avionic headsets. They were founded shortly after World War II in 1945 by Fritz Sennheiser. Their first product, however, was not in the audio industry, but rather was a voltmeter. Since then, they have grown into a powerhouse in their industry with products as far reaching as their Orpheus, a pair of headphones that cost similar to the price of a fully-loaded Tesla Model 3.
Upon opening the corrugated cardboard shipping container, we have the Sennheiser HD 4.50 BTNC in its retail container. Following other Sennheiser products I have seen in the past, this box features a full black exterior with some blue accents for the Sennheiser logo. The front panel shows off the headphones. In the corners, we can see several features, including a folding design, a quoted maximum twenty-five hour battery life, and a two year warranty. There also is a NoiseGard name, referring to Sennheiser's active noise cancelling solution implemented in this product. On the sides, we have several more pieces of information, including the contents of the box and other features in various languages.
Before we move on, I have grabbed some technical specifications from the manufacturer for your perusal:
Technical Data
Impedance: 18 Ω
Frequency response (Microphone): 100 - 10,000 Hz
Frequency response: 18 - 22,000 Hz
Sound pressure level (SPL): 113dB (Passive: 1kHz/1Vrms)
THD, total harmonic distortion: <0.5% (1kHz/100dB)
Pick-up pattern: Dual omnidirectional microphones
Battery Specification: Li-ion Polymer Battery
Codecs: AptX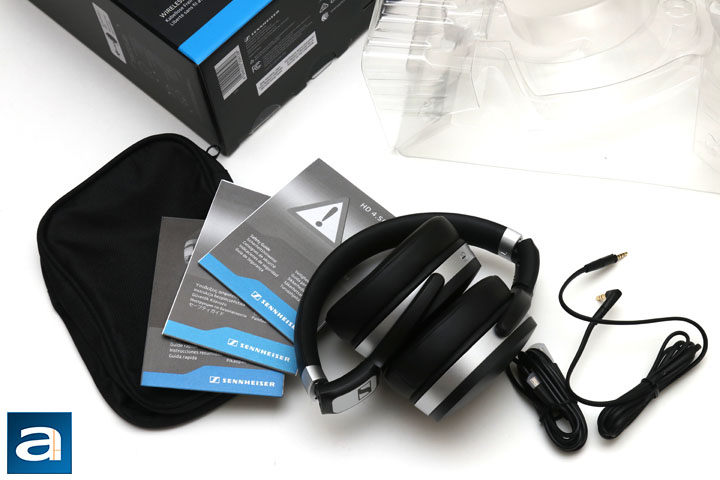 Out of the box, we have a clear plastic tray holding all of the contents inside. This includes the HD 4.50 BTNC headphones, a thin carrying case, and two sets of cables. The carrying case is a bit on the thin side and I would not expect much protection from it. I am at least glad they included one, but a hard-shell case would have been preferred. As for the cables, one of them is a micro USB to USB cable to charge the headset. The other is a flat 140cm audio cable, which allows you to plug in your headphones should you not want to use them wirelessly. This audio cable does not have any in-line remote or microphone. Some more reading material is included, which is a quick start guide and a safety guide. As we have already alluded to, a two year warranty is included with these headphones.
---
Page Index
1. Introduction, Packaging, Specifications
2.
Physical Look - Hardware
3.
Subjective Audio Analysis
4.
Conclusion