By: Jonathan Kwan
June 5, 2015
A couple of months ago, I went hiking with a bunch of my friends. After we reached the end of the trail at the top, there was a platform that overlooked the lake. As any social media enthusiast would recognize, this was a prime location to get your next Facebook profile picture taken, and not losing out on this opportunity, I asked my friend to climb down the slope adjacent to the platform with my phone to help me out. After a bunch of photos were shot, she climbed back up, and I met her just at the top of the slope where many people were standing. With my phone in her right hand, she reached out to me. Naturally, I took my phone back. Meanwhile, someone walking by saw the whole thing, and realizing what was going on, asked my friend if she needed some help up. She said she did. It was not until then I realized she actually wanted me to help her up rather than for me to take my phone back. I mean, why else would anyone reach out their hand in this situation, right? As you can see, sometimes, when we focus too much on one thing, we can totally overlook something (Or in my example, someone) else much more important. In the case of the Silicon Power Armor A65 1TB, it was designed with a lot of things in mind. It is shockproof, waterproof, and can be fully encrypted to protect you and your data against anything life has to throw at it. But is it still a good external hard drive that delivers in performance while looking good? Well, today, I "accidentally" dropped it the toilet after going through the full set of performance benchmarks. Read on to find out see if Silicon Power really got everything right, or if the company became so focused on one thing, the Armor A65 completely missed the point completely in another. Oh yeah, we still got to check if the drive still works.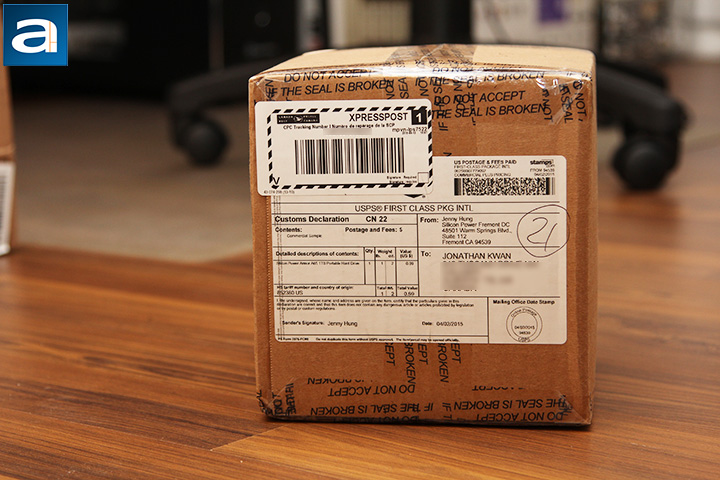 Our review unit of the Silicon Power Armor A65 1TB came in a practically cubic package from the company's American headquarters in Fremont, California. This area is home to a lot of high tech companies, and receiving a product originating from that part of California is definitely nothing new to us here at APH Networks. USPS carried the brown corrugated cardboard box to the border, and was transferred to Canada Post as it crossed the 49th parallel. When it arrived in Calgary, they left it locked in our mailbox, which we picked up for our review today. As always, everything came in excellent condition, and the "Do Not Accept if Broken" tape does not appear to be broken. Until I broke it, anyway.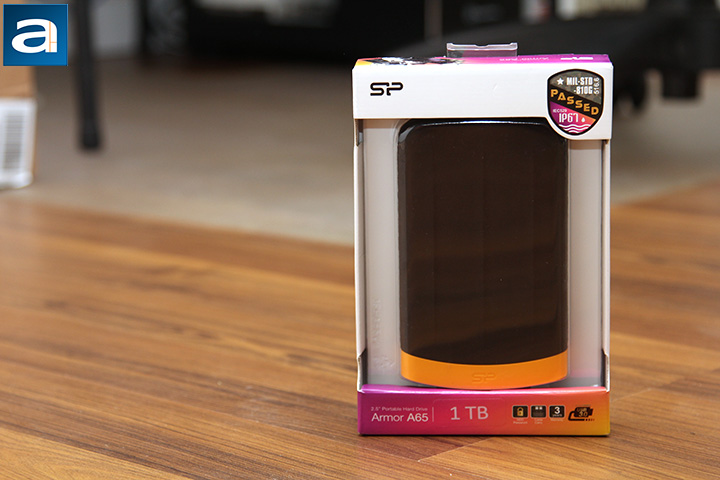 The Silicon Power Armor A65 1TB's retail packaging is a slightly revised version of the Silicon Power Armor A30 1TB and Silicon Power Diamond D06 1TB; the color scheme has not changed, but the layout has. As you can see in our photo above, Silicon Power's logo is placed at the top left corner, with the product type, model name, and capacity, and varying font sizes are printed across the bottom. A few icons highlight stuff like its encryption software, 3-year warranty, and so forth. A shield at the top right corner draws your attention to its MIL-STD-810G 516.6 Procedure IV and IP67 compliance. To make the retail package's appearance a little more visually exciting, a color gradient band is present to spice things up. The external hard drive can be physically seen behind a plastic window in the middle. Features and specifications are printed on the remaining sides of the box.
Before we move on, let us take a look at the features and specifications of the Silicon Power Armor A65 1TB, as obtained from the manufacturer's website:
- Dimensions: 143.4 x 86.7 x 20.7 mm
- Weight: 242~277g (by capacity)
- Capacity: 500GB, 1TB, 2TB
- Material: Rubber/ Plastic
- Color: Black
- Interface: USB 3.0 / USB 2.0 compatible
- Data transfer rates: Max. 5 Gbps (USB 3.0 Mode); Max. 480 Mbps (USB 2.0 Mode)
- Power supply: DC5V (Power supplied through USB)
- Supported operating systems: Windows 8.1/8/7/Vista/XP, Linux 2.6.31 or later, Mac OS 10.5 or later
- Operating temperature: 5℃~ 55℃
- Storage temperature: -40℃~ 70℃
- Warranty: 3 years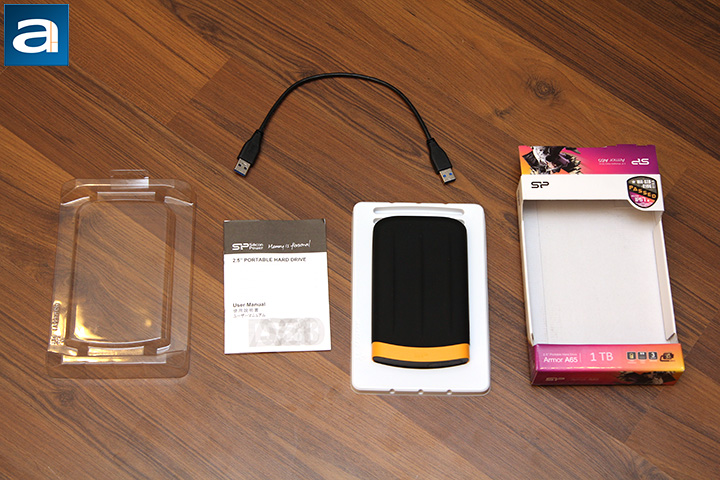 Out of the box, everything is neatly laid out, thanks to a white plastic tray, and the fact there is not a whole lot of stuff to begin with. You will receive the Silicon Power Armor A65 1TB itself, short USB 3.0 cable, and a user manual. Should 1TB not fit your needs, the Armor A65 is also available in 500GB and 2TB capacity as well.
---
Page Index
1. Introduction, Packaging, Specifications
2.
A Closer Look, Test System
3.
Benchmark: AIDA64 Disk Benchmark
4.
Benchmark: ATTO Disk Benchmark
5.
Benchmark: Crystal Disk Mark 3.0
6.
Benchmark: HD Tach 3.0.1.0
7.
Benchmark: HD Tune Pro 4.60
8.
Conclusion