By: Jonah Chow
April 15, 2022
One trend I have noticed in many of my friend groups over the past few years is the interest in pursuing a career in coding, whether it is software engineering or computer science. What makes coding so alluring though? Well, a big part, of course, is the pay. Big companies such as Meta, Amazon, and Google are known for compensating their employees with big six-figure salaries along with stock options and other bonuses. The pay is not limited to just these large companies though, as many startups can also have the funding to pay their employees handsomely while also giving them a chance to be part of something potentially significant. Other areas of the tech industry include financial technology for those who, on top of coding, also enjoy investing and the financial aspects of life. Now this is not to say that all people in coding are simply money-hungry, as many of these types of jobs require extensive overtime for extraneous projects. Many of my friends who pursue coding as a career are actively getting themselves involved in hackathons and various projects to continually sharpen their skills while also diving deeper into a genuine interest. Some may argue that the tech industry will become saturated because of the uptick in people who want to learn to code. In my opinion though, given how technology is advancing, I think we will always have a need for coders. Similarly, you could make an argument that the RGB LED fan market is becoming oversaturated, since pretty much every fan you see nowadays will likely have some RGB LED lighting to it unless it is from Noctua. The most important aspect anyways is that the fan will perform well, regardless of the colors it emits. This brings us to today's review of the SilverStone Air Slimmer 120 ARGB. Does the Air Slimmer 120 ARGB perform as well as it looks? Let us read on to find out.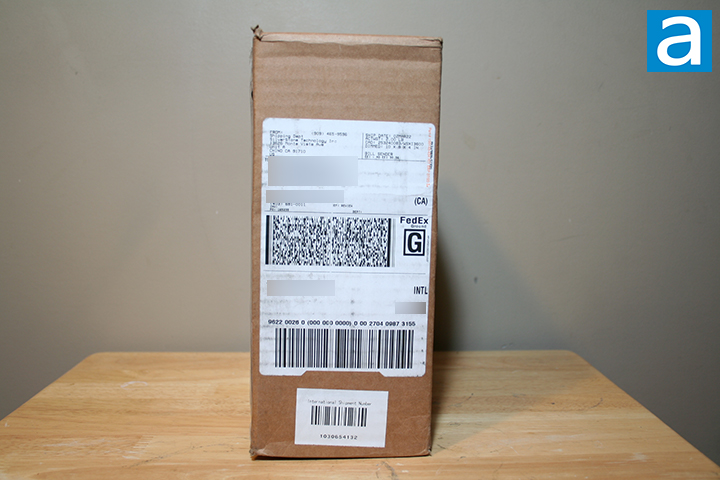 Our review unit of the SilverStone Air Slimmer 120 ARGB arrived via FedEx Ground from their offices in Chino, California, USA. The shipping package arrived here in Calgary, Alberta, Canada. Other than a few minor dents, the medium-sized brown corrugated cardboard box was in good condition. SilverStone also sent us their TS16 docking station, which will also be reviewed by Yours Truly.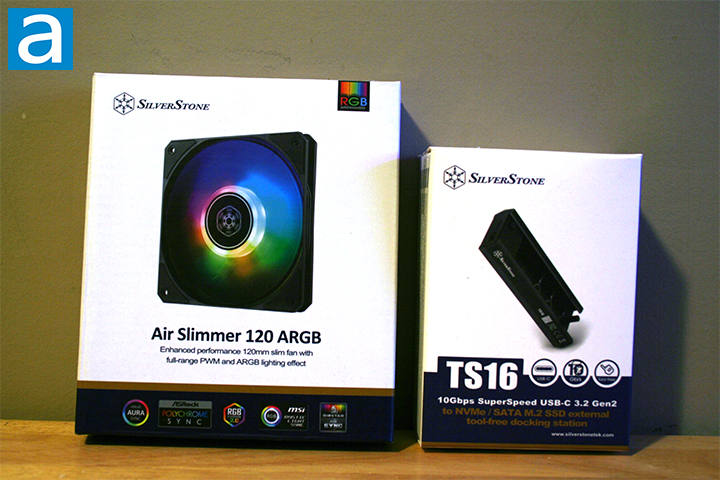 The Air Slimmer 120 ARGB comes in a blue and white box that resembles more recent SilverStone products in the last year. On the front, you will see a scaled-down image of the fan. The name and product description of "Enhanced performance 120mm slim fan with full-range PWM and ARGB lighting effect" can be seen below the image of the fan. The SilverStone logo and text are shown on the top left of the box. All of the compatible motherboard lighting are displayed at the very bottom. Other details and specifications can be found around the box.
Before we move on, here are the manufacturer's specifications from the SilverStone website:
Model No: SST-AS120B-ARGB
Material: Plastic
Color: Translucent fan blades, black frame
Bearing: All copper FDB
Connectors: 4 pin PWM connector + 4-1 pin ARGB (5V LED)
Rated Voltage: 12V
Starting Voltage: 6V
Rated Current: 0.32A ± 0.04
Rated Power: 3.84W
Speed: 0 ~ 1800 RPM
Airflow: 0 ~ 63.67 CFM
Static Pressure: 0 ~ 2.4mmH2O
Noise Level: 0 ~ 31.7 dBA
Dimension: 120mm (W) x 15.6mm (H) x 120mm (D), 4.72" (W) x 0.61" (H) x 4.72" (D)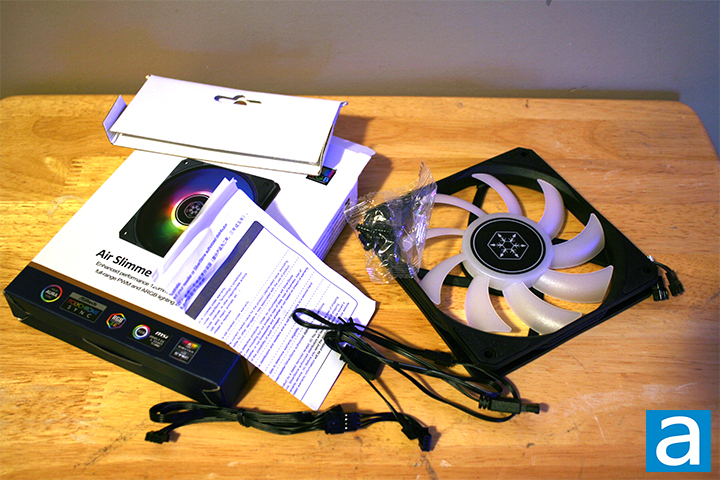 The fan arrived in good condition, showing that the retail box served its purpose. The Air Slimmer 120 ARGB also comes with a user manual and warranty information. Separate cables and mounting screws can also be seen. The Air Slimmer 120 ARGB comes with a limited one-year warranty.
---
Page Index
1. Introduction, Packaging, Specifications
2.
Physical Look - Hardware
3.
Performance Tests
4.
Conclusion