By: Jonah Chow
June 3, 2022
A common trouble I find myself dealing with when skiing is how to stay hydrated and energized throughout the day. I know many people who like to carry around a backpack when skiing to store all their goods. I personally cannot get around to this due to the inconvenience of having to take it off and on when riding the chair lift or just the imbalance it causes when skiing with it. You could just ski it out until lunch or some meal break, but who knows how thirsty or hungry you could get before that time. I eventually decided to just stuff a Gatorade bottle and some granola bars in my jacket pocket. There was a risk of it getting crushed and possibly having the bottle burst, although this also motivated me to stay on my feet more, haha. The granola bars would usually be rock hard due to the cold, which is not a pleasant experience when you are trying to eat one. Nonetheless, it solved an issue for me throughout the ski season that still worked well enough for every ski day. Today, SilverStone has provided us with their TS16 docking station, which can help solve this issue of where to place your M.2 SSD when you are out of room on your motherboard or make for a temporary way to access your files without needing any internal connections. Does the SilverStone TS16 provide a beneficial solution to this? Let us read on to find out!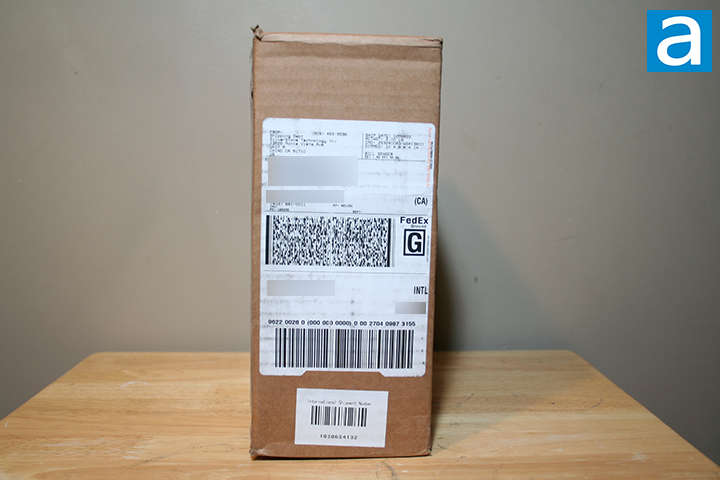 Our review unit of the SilverStone TS16 arrived via FedEx Ground from their offices in Chino, California, USA. The shipping package arrived here in Calgary, Alberta, Canada. Other than a few minor dents, the medium-sized brown corrugated cardboard box arrived in good condition. SilverStone also sent us their Air Slimmer 120 ARGB, which I have already reviewed.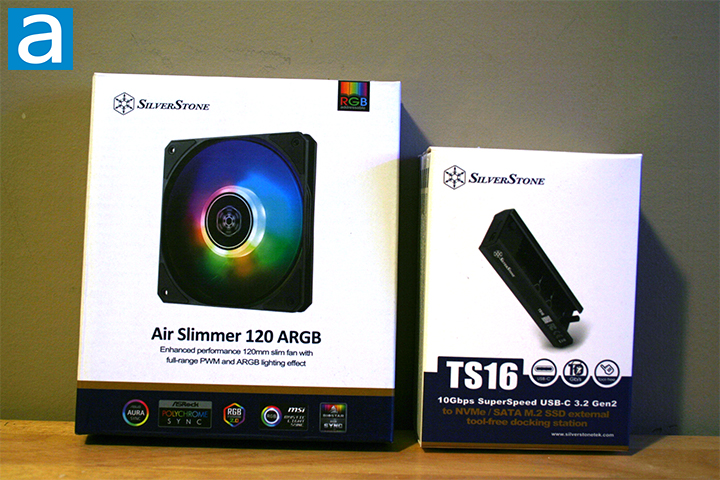 The TS16 comes in a blue and white box that resembles more recent SilverStone products in the last year. On the front, you will see a scaled-down image of the docking station. The name and product description of "10 Gbps SuperSpeed USB-C 3.2 Gen2 to NVMe / SATA M.2 SSD external tool-free docking station" can be seen below the image of the docking station. The SilverStone logo and text are shown on the top left of the box. Other details and specifications can be found around the box.
Before we move on, here are the specifications from the manufacturer's website:
Model No: SST-TS16
Color: Black
Material: Aluminum, plastic
Application: USB 3.2 Gen2 Type-C NVMe / SATA M.2 SSD external docking station
Controller: Realtek: RTL9210B-CG
Transfer interface: 10Gbps SuperSpeed USB 3.2 Gen2 Type-C
LED indicator: On: Solid white, Off: Solid red, Data access: Blinking white
Drive interface support: NVMe or SATA M.2
USB Cable: USB-C to USB-C
Net weight: 67.7g
Dimension: 107.9mm (W) x 17.48mm (H) x 42mm (D), 4.25" (W) x 0.69" (H) x 1.65" (D)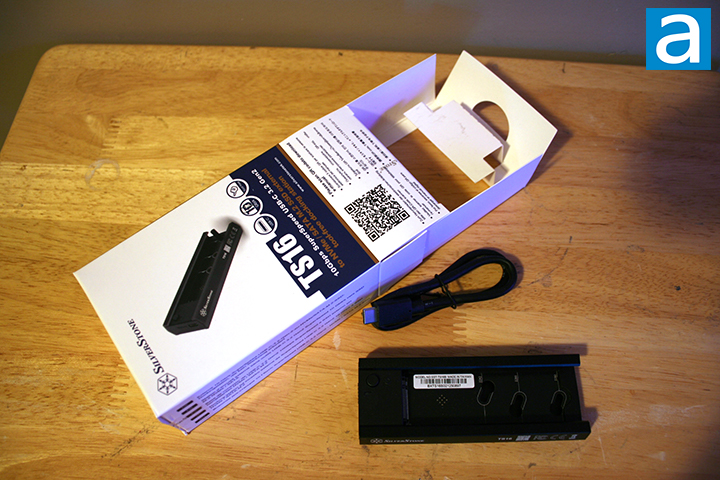 Opening up the retail packaging, we are met with the docking station and a USB Type-C to USB Type-C connector for hooking up the device with your PC. Other than an installation manual, there is nothing else to be seen, so let us move on to examining the docking station.
---
Page Index
1. Introduction, Packaging, Specifications
2.
Physical Look - Hardware, Installation
3.
Benchmark: ATTO Disk Benchmark
4.
Benchmark: Crystal Disk Mark 8.0
5.
Conclusion