By: Aaron Lai
February 18, 2022
I always find it interesting to see what games are trending, whether for casual or hardcore gamers. Most recently, I have seen quite a few of my friends play Wordle. If you have not heard of it, it is like the old board game Mastermind, except now using words. Users are supposed to find a five-letter word of the day with six guesses. For each guess, each letter will be marked as incorrect, present in the word but in the incorrect location, or correct. By the process of elimination, users should be able to guess the word correctly. It does require a bit of a vocabulary to be able to guess words. For example, a week or two ago, one of my friends was playing and narrowed down the letters down to "P_USE". However, he kept thinking the word was "PQUSE", even though this is not an actual word. He kept yelling this made-up word until finally he found the answer to be "PAUSE". After some moments of furor and shock, he saw the answer, left our Discord call, and went to sleep. Aside from my friend, I think the game's enjoyment comes from both its simplicity and complexity at the same time. The nature of the game is easy, but finding the correct word requires both a bit of logic and lexicon. In a similar vein, CPU cooling should be pretty straightforward, especially for air cooling. With the use of heatsinks and fans, heat will transfer away from the processor and to the air around it. Today, SilverStone has a price-conscious cooler in the AR12-TUF. How does it perform, and can it provide a simple but effective solution to a potentially complex problem? Let us read on to find out!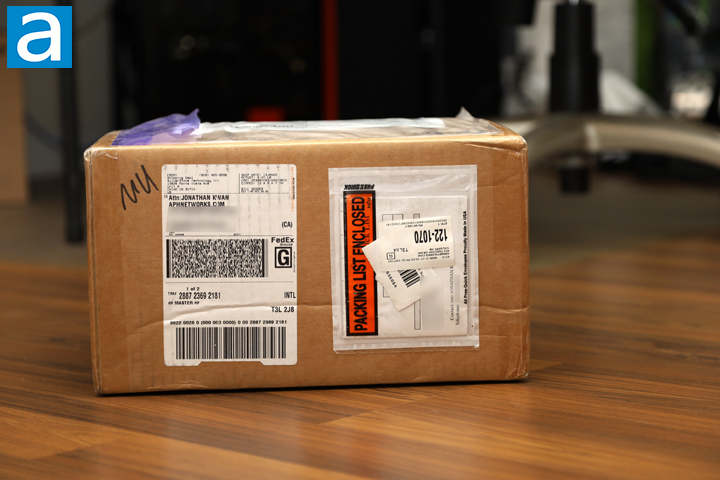 Today's review unit arrived from SilverStone's offices in Chino, California. Traveling with FedEx and their standard Ground service, this corrugated cardboard box arrived in excellent condition with no real damage on the outside to be concerned about. Along with the AR12-TUF, SilverStone sent us a bevy of internal and external storage related accessories, which will all be reviewed by my colleague Hai Wang.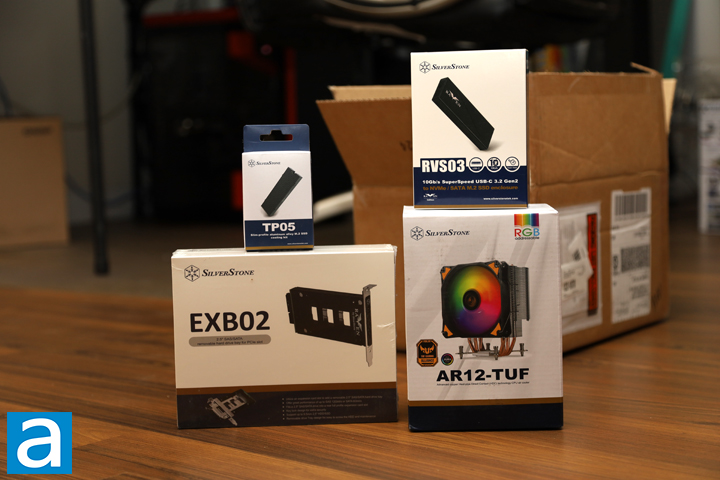 The box of the SilverStone AR12-TUF is pretty standard with the SilverStone logo on the top and the product found in the middle. This CPU cooler is illuminated with its rainbow colors to show off its addressable RGB capabilities, as you also can see from the logo on the top right. Under the image, there is the product name, along with a tagline of "Advanced copper Heat-pipe Direct Contact (HDC) technology CPU air cooler". You might be wondering why there is an ASUS TUF Gaming Alliance logo, and this is because the AR12-TUF is part of this club. Established by ASUS, this lineup spans across multiple brands as a way to provide a consistent look and quality. We will see what that means for our cooler today.
Before we continue on, I have grabbed the specifications from the manufacturer's website for your perusal:
Model No.: SST- AR12-TUF
Application: Intel LGA 2066/2011/1700/1200/115x/1366/775, AMD Socket AM4/AM3/AM2/FM2/FM1*
Material: Copper heat pipes with aluminum fins
Fan dimension: 120mm (W) x 25mm (H) x 120mm (D), 4.72" (W) x 0.98" (H) x 4.72" (D)
Speed (R.P.M.): 300 ~ 2200 RPM
Heat Pipe Type: Ø6mm heat-pipe x 4
Air Flow (CFM): 69.26 CFM
Air pressure: 2.36mmH2O
Noise: 6.2 ~ 34.4 dBA
Rated Voltage: 12V
Rated Current: 0.23A
Bearing: Hydraulic bearing
Fan MTTF: 40,000 hours
Connectors: 4 pin PWM & 4-1 pin ARGB (5V LED)
Net weight: 670g
Dimension: 128mm (W) x 154mm (H) x 75mm (D), 5.04" (W) x 6.06" (H) x 2.95" (D)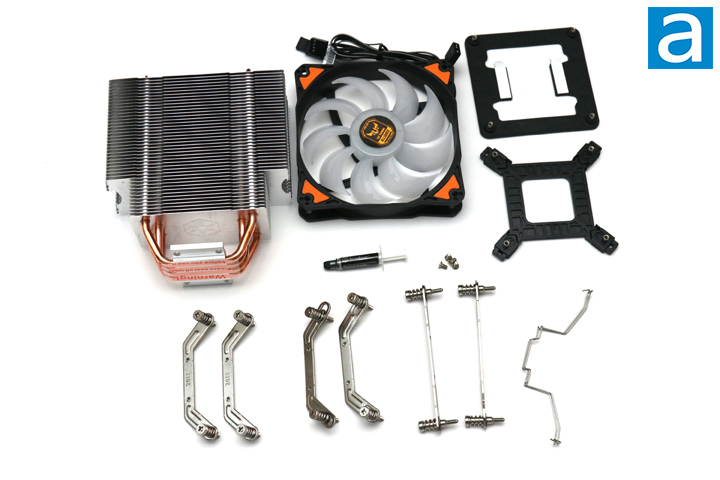 Out of the box, there are two main bags that are held within some foam brackets for product protection. The primary bag holds the AR12-TUF heatsink and fan, while a separate resealable bag contains all of the accessories for mounting the heatsink on both AMD and Intel platforms, including arms and a backplate. A tube of some unnamed thermal paste is also provided as well as the wire clips to attach the included fan.
With these accessories, you can mount the SilverStone AR12-TUF on Intel LGA1700, LGA1200, LGA115x, LGA 1366, LGA775, LGA2011, and LGA2066 sockets, as well as AMD AM4, AM3, AM2, FM2, and FM1 sockets. You can see the two backplates are included to accommodate the larger LGA1700 socket from Intel, so you will not need to purchase or obtain an additional mounting kit. The only notable exclusion from this list is AMD's TR4 or Threadripper 4 socket, which is not surprising considering how much larger the integrated heatspreader and CPU itself is. Otherwise, a sheet of documentation is included in the accessory box to quickly show installation and warranty information. SilverStone includes a single year of warranty with this cooler, which is a bit shorter than other comparable products.
---
Page Index
1. Introduction, Packaging, Specifications
2.
Physical Look - Hardware; Installation
3.
Test Results
4.
Conclusion