By: Brian Cheung (Guest Writer)
April 17, 2015
It is currently only April, but it certainly feels like it was Christmas not too long ago. You may ask, how is that possible when the Christmas season was clearly more than four months ago or eight months away? Let me explain this to you by giving you a little back story. Many of the staff here at APH Networks have heard me complain various times about my laptop, and knew I wanted to build a new computer. However, we held off on this, because I had no experience in this field, and giving me computer parts would mean no less than an electronic mess. But after writing a few reviews here at APH Networks, it was time to move on to something a little bigger and more meaningful, quite figuratively and literally. Hence this is why it felt a lot like Christmas when I received the SilverStone Kublai KL05 from Editor-in-Chief Jonathan Kwan. While he does not have a big belly or a big red suit, I was quite certain he was wearing his favorite Calvin Klein jacket. We did a quick exchange in a parking lot from the trunk of his sleigh (A 2013 Honda Accord) to the trunk of my Toyota Corolla. At first sight, I was simply surprised at how big the box was, even after reading about the specifications of it on the manufacturer's website. I rushed home and cracked the box open to see what was inside. Let us see what SilverStone has to offer with my first custom PC case, the Kublai KL05. Read on to find out!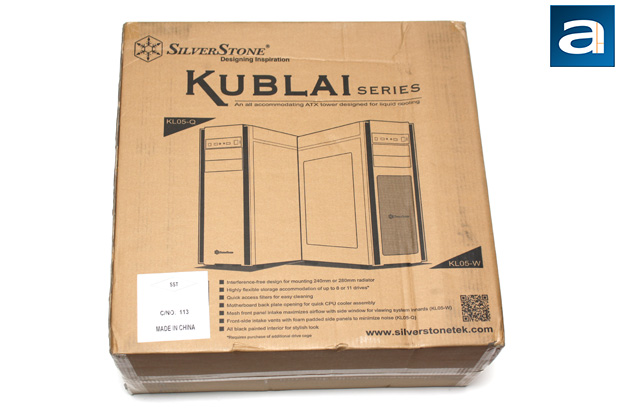 The SilverStone Kublai KL05 was delivered to us from the company's American office in Chino, California. Using UPS Standard, the KL05 arrived to our APH office located in Calgary, Alberta in good condition. Although there were little bumps on the box, we can assume it was San Andreas Fault. Jokes aside, with its tape-reinforced corners, I have no doubt that the contents itself are in no less than perfect condition. In addition, the design of the box was very straightforward, with both the models of the KL05 offered printed on one side, and a breakdown of the internal components on the other.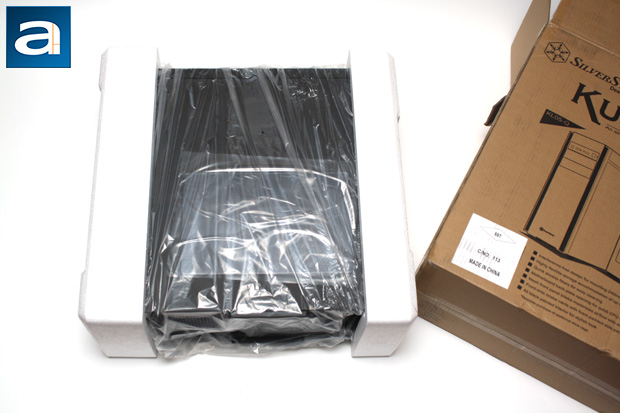 Like many previous case reviews at APH Networks, the SilverStone Kublai KL05 was wrapped in a clear plastic bag to avoid any scratches, and reinforced with large Styrofoam brackets on each side to prevent damages to the case in transit. Before we move on, let us take a look at the features and specifications from the SilverStone website:
Features
- Interference-free design for mounting 240mm or 280mm radiator
- Highly flexible storage accommodation of up to 8 or 11 drives*
- Quick access filters for easy cleaning
- Motherboard back plate opening for quick CPU cooler assembly
- Mesh front panel intake maximizes airflow with side window for viewing system innards (KL05-W)
- Front-side intake vents with foam padded side panels to minimize noise (KL05-Q)
- All black painted interior for stylish look
Specifications
Model No.
- SST-KL05B-W (black + mesh front panel intake + window)
- SST-KL05B-Q (black + front-side intake vents)
Material
- Mesh front panel, steel body (SST-KL05B-W)
- Plastic front panel, steel body (SST-KL05B-Q)
Motherboard
- ATX, Micro-ATX
Multimedia
--
Drive Bay
- External: 5.25" x 2
- Internal: 3.5" x 6 or 2.5"x 6, 2.5" x 6
Cooling System
- Front: 2 x 120mm/140mm fan slot (1x 120mm intake fan included)
- Rear: 120mm fan slot x 1
- Side: --
- Top: 120mm/140mm fan slot x 2
- Bottom: 120mm fan slot x 2
- Internal: --
Expansions Slot
- 8
Front I/O Port
- USB 3.0 x 2
- Audio x 1
-MIC x 1
Power Supply
- Optional Standard PS2(ATX)
Operating System Support
--
Expansion Card
- Compatible up to 16". 11" with optional drive cage (sold separately) installed
Limitation of CPU cooler
- 165mm
Limitation of PSU
- 225mm
Net Weight
- KL05-Q: 6.8kg
- KL05-W: 6.9kg
Dimensions
- 200mm (W) x 525mm (H) x 494mm (D), 52 liters
Extra
- Support Kensington locks
Support VESA Mount
--
---
Page Index
1. Introduction, Packaging, Specifications
2.
Physical Look - Outside
3.
Physical Look - Inside
4.
Installation and Conclusion