By: Jonah Chow
November 25, 2022
I am sure you have experienced the excitement of being in a city other than where you live, along with the feeling of being somewhere new before. A good example of this is when I visited Montana for a work trip back in September. In all my waking hours, I really felt that I was a foreigner in a place different than what I am used to, which kept me sharp during the whole trip. Another example is my recent trip to Vancouver just last weekend. I always enjoy visiting this city due to the great food, the comfort of it still being in Canada, and the short flight from Calgary. It also helps that I have many friends and family over there that I can see to keep me company when I visit. Even though this is my fifth time visiting Vancouver this year, it still felt fresh and unique thanks to the delicious Asian cuisines and nice city views. I always felt like I was in a different city, whether it was at restaurants, the Metropolis at Metrotown mall, or just anywhere in the area. I have also reviewed many cases in the past here at APH Networks, but some cases manage to be unique in their own way. Today, we have the SilverStone SUGO 16, which is from a series familiar to us here at APH Networks, given we have reviewed both the Sugo SG13WB and SUGO 14 in the past, yet it still feels unique in its own way. Does the SUGO 16 prove to pack a punch in a small package? Keep reading to find out!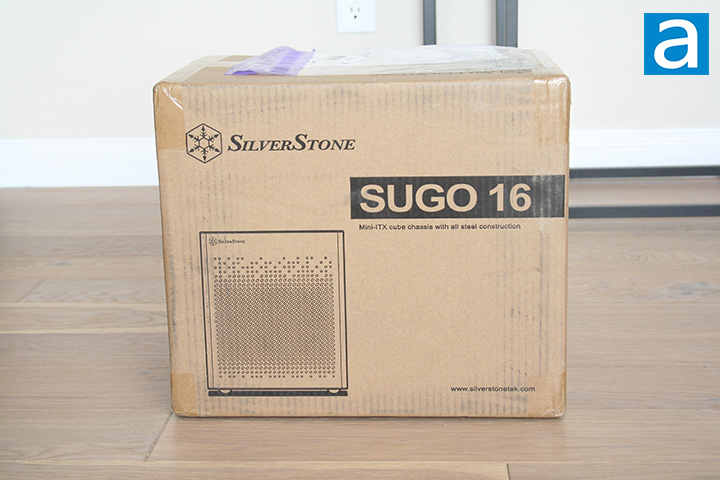 Our review unit of the SilverStone SUGO 16 arrived in a brown corrugated box from SilverStone's offices in Chino, California. Traveling with FedEx and their Ground service, this box arrived to our APH Networks offices in Calgary, Alberta. The box landed on our doorstep in good condition with very little scuff marks or dents.
Before we continue, here are the specifications from SilverStone's website:
Model No.: SST-SG16B (Black), SST-SG16W (White)
Material: Steel
Motherboard: Mini-DTX, Mini-ITX
Drive bay: Internal 2.5" x 1, 2.5" x 1 or 3.5" x 1 (Occupies front fan mount)
Cooling system:
- Front: 80mm x 1 / 92mm x 1 / 120mm x 1, (120mm only allows SFX, SFX-L power supply installation)
- Rear: 120mm x 1
Radiator support:
- Front: 120mm (Can only install SFX, SFX-L power supply)
- Rear: 120mm
Limitation of CPU cooler:
- Air cooler: 85mm ~ 172mm*
Expansion slot: 2
Limitation of VGA card:
- Length: 275mm
- Width: 147mm
Power supply: Standard PS2 (ATX)
Limitation of PSU: 150mm ~ 220mm
Front I/O port: USB 3.0 x 2, Combo audio x 1
Dimension: 200mm (W) x 232mm (H) x 280mm (D), 13 Liters7.87" (W) x 9.13" (H) x 11.02" (D), 13 Liters
Net weight: 2.66kg
Extra: Support Kensington lock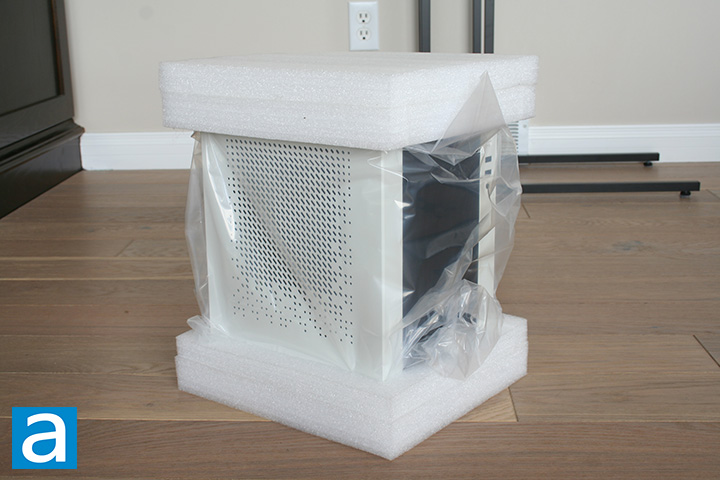 Two Styrofoam blocks are used to pad the case inside the packaging, which I think is always very good practice. Along with the Styrofoam blocks, the case itself is wrapped in plastic to prevent scratches that may occur during shipment. The SilverStone SUGO 16 arrived in very good condition when I eventually unwrapped it, showing no signs of physical damage anywhere.
---
Page Index
1. Introduction, Packaging, Specifications
2.
Physical Look - Outside
3.
Physical Look - Inside
4.
Installation and Conclusion