By: Preston Yuen
June 12, 2015
As a country that is "True North strong and free", Canada has a vast amount of land that can be considered as "tundra". Yet, with climate change on the move, what people used to consider as tundra is becoming more like the tropics. Well, maybe not to that extreme, but you get the point. As one would expect, no one in the right mind would ever walk around way up in the Canadian Arctic with nothing but a T-shirt and shorts. Instead, you would imagine someone wearing a fur coat, tuque, scarf, and gloves. Now, people could use an extra jacket or two to stay warm on a cold winter's day, and throw their computer outside for some serious overclocking, it is definitely not considered orthodox by... well, pretty much any standard. That said, some computer enthusiasts may still have an urge to take it to the next level. While the "next level" may involve tundra-like operating conditions, sometimes, you really do not need to do anything totally whacky (Like sitting outside in the cold in the middle of January trying to squeeze out a few extra megahertz) to get there. What we have today at APH Networks is SilverStone's Tundra TD02-E closed loop water cooler. Instead of you going to the tundra, the Tundra series hopes to bring the temperatures of the tundra right into your computer. With its massive 240mm radiator, will the Tundra TD02-E be able to deliver the results we expect? We cracked open a unit here at our headquarters to find out.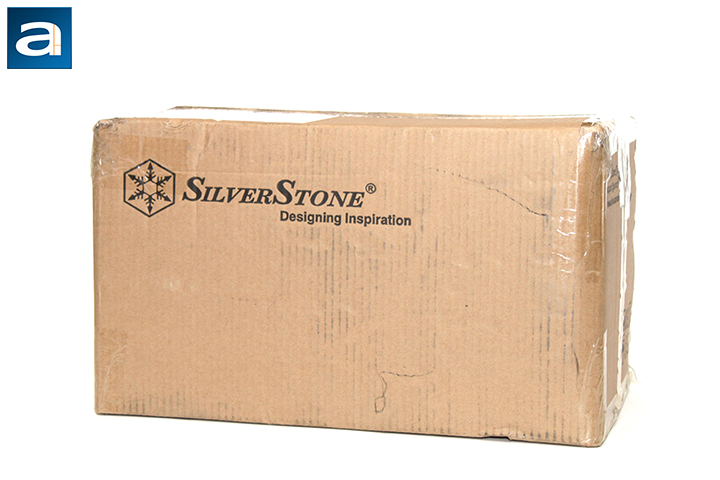 Our review unit of the SilverStone Tundra TD02-E water cooling unit came alongside its smaller brother, the TD03-E, in a relatively medium-sized corrugated cardboard box directly from SilverStone's American offices in California, USA. The TD03-E will be evaluated here at APH Networks in the coming weeks, so stay tuned for that. There were almost no bumps and bruises around the box, which means UPS Standard staff has taken good care of it while it was in transit to our Calgary, Alberta office. There is nothing too special about a cardboard box here, so let us keep moving.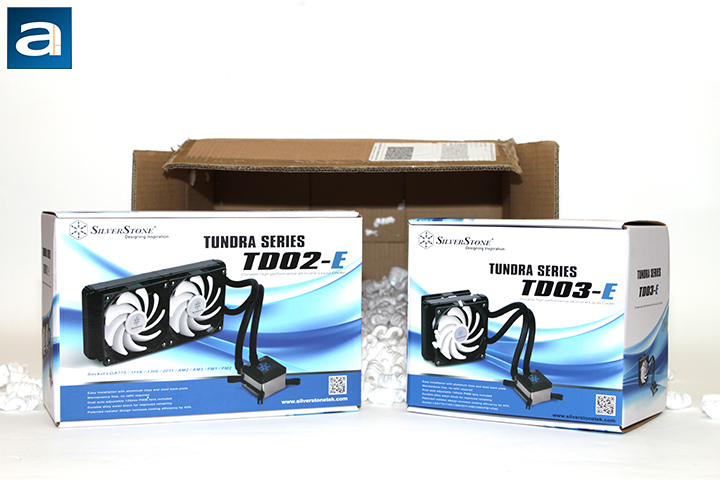 SilverStone has taken the extra effort in stuffing the box with extra packaging peanuts to ensure nothing is damaged while in transit. Pulling the Tundra TD02-E out of the first cardboard box, we can see SilverStone has paid close attention in designing an appealing retail box. A clean white background is used in conjunction with a hint of blue to signify the unit is indeed a water cooling product. All specifications and model name is printed around the box, while the product itself is stated boldly on the front.
Let us quickly take a look at the specifications of the SilverStone Tundra TD02-E before moving on, as obtained from the manufacturer's website:
Specifications
- Model No.: SST-TD02-E
- Water Block Dimensions: 60mm (L) x 55mm (W) x 33.5mm (H)
- Water Block Material: Copper base with nickel-plated aluminum unibody
- Pump motor speed: 2500±200RPM
- Pump Rated Voltage: 12V
- Pump Rated Current: 0.28A
- Fan Dimensions: 120mm (L) x 120mm (W) x 25mm (D)
- Speed: 1500~2500RPM
- Noise level: 18~35 dBA
- Fan Rated Voltage: 12V
- Fan Rated Current: 0.3A
- Max Airflow: 92.5CFM
- Pressure: 3.5mm/H2O
- Connector: 4 Pin PWM
- Radiator Dimensions: 278mm (L) x 124mm (W) x 27mm (H)
- Radiator Material: Aluminum
- Tube Length: 310mm
- Tube Material: Rubber
- Sockets: Intel Socket LGA775/1150/1155/1156/1366/2011/2011-v3; AMD Socket AM2/AM3/FM1/FM2
- Net Weight: 1501g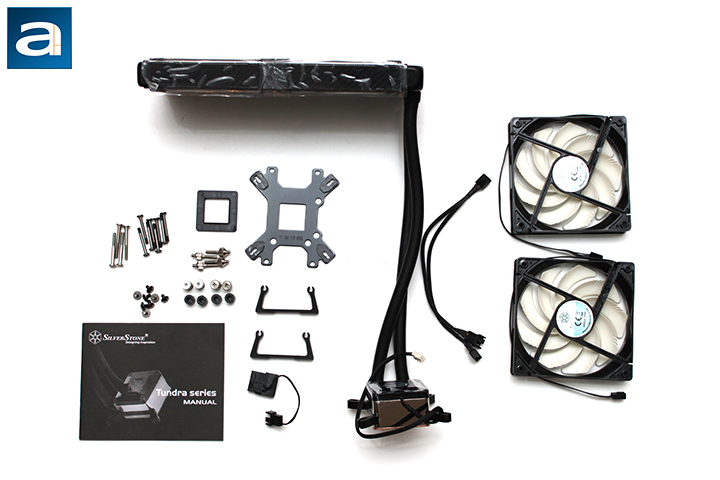 Further pulling all the contents out of the retail packaging, you will be greeted with a bunch of items. Firstly, you will receive the TD02-E itself, along with two 120mm fans. A manual, fan screws, AMD brackets, Molex to 4-pin adapter, Y-splitter, backplate, and other mounting accessories are packaged inside as well. The Intel brackets are already preinstalled for you, but if you are an AMD fan, these brackets come off easily by unscrewing them from the water block.
---
Page Index
1. Introduction, Packaging, Specifications
2.
Physical Look - Hardware; Installation
3.
Test Results
4.
Conclusion