By: Brian Cheung (Guest Writer)
October 16, 2015
In the past half year or so, I have been looking to buy a car, as I am driving much more than I have in the past, and needed a personal vehicle in place of a shared one. If you remember my first article, the XtracGear Ripper review here at APH Networks, I am still looking for a car with the mindset that it should be practical. Since it has been a while since I have begun the search, one of my friends approached me about a month ago, and wondered if I was interested in buying his car. Hence, I responded with the typical questions of what kind of car it was, year, mileage, and so forth. He told me it was a 2007 Honda Civic Coupe EX with a manual transmission with 130,000 km on the odometer. The reason why he needed to get rid of it was because with a family and a kid, it is very hard to carry everything around in a two door compact. This certainly got my interest up, as I was looking to buy a car where I could also learn to drive manual transmission on. However, when presented the opportunity to buy a coupe, I had to consider if it was the most practical choice I can make. Will a coupe be worth giving up the sedan I currently drive? What is the implication on insurance costs? How can I get it home, considering I have never owned a manual transmission car? This is also what I thought when I received the SilverStone Tundra TD02-LITE water cooler. It is certainly newer than the Tundra TD02-E. With a reduced price, how well will it compare as far as practicality is concerned? Read on to find out!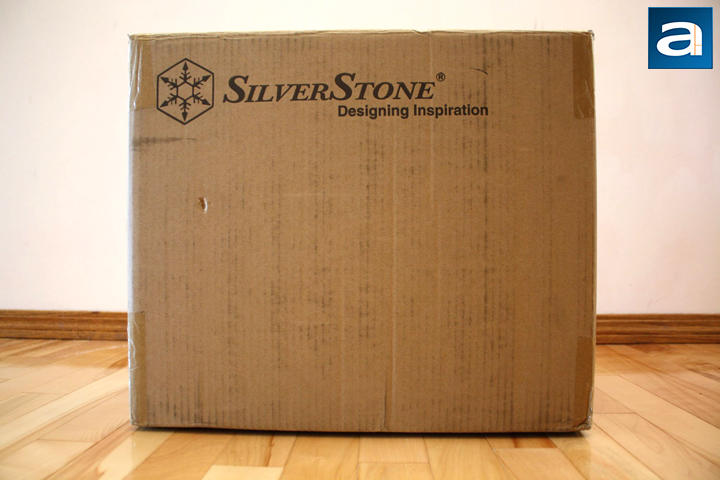 The SilverStone Tundra TD02-LITE we have here today was shipped along with the smaller Tundra TD03-LITE to be reviewed by yours truly, and the SilverStone Ensemble EBA01 reviewed by Technical Editor Aaron Lai a few weeks ago. Like many of the products we have received from SilverStone, they have chosen to use UPS Standard to ship contents to our APH Networks headquarters here in Calgary, Alberta, Canada from their American offices in California, USA. The brown corrugated box with the large SilverStone name on it arrived to us with no major bumps, and made a reasonable guess to say the products they had for us inside came in excellent condition. We quickly got our handy box cutter ready to see if we were correct.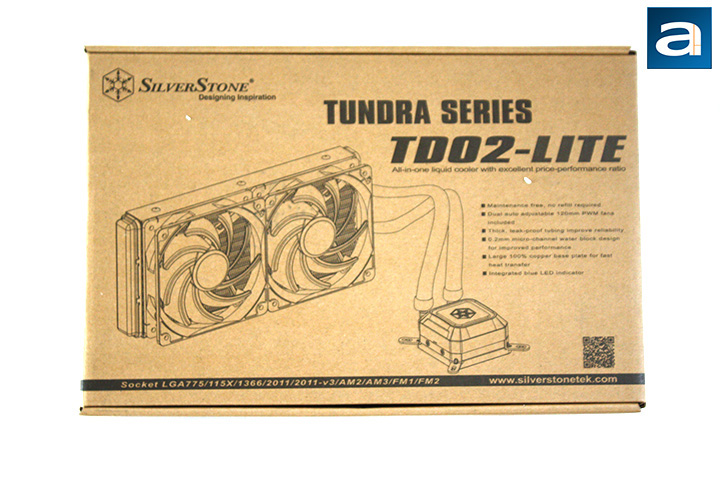 As we opened the box, we were welcomed by lots and lots of packing peanuts. I always like seeing packing peanuts, because it usually meant the person who packed the box had the safety of the contents in mind. As expected, the contents inside the box were in perfect condition, and of course -- practical concern -- everything was there. Like the previous Tundra series coolers, the design of the box is identical in nature, with the difference being the size. However, SilverStone decided to use a raw brown cardboard box for their LITE series rather than color printing. In my opinion, this is a welcomed change, as it allows the product to look simpler, and it saves on production cost. The box contains large labels stating the brand and model of the cooler inside. Something I noticed right away when I looked at the box was the drawing of the individual parts of the cooler with their respective measurements in millimeters. Also shown are the specifications and features of the cooler inside.
Before we move on, let us take a look at the specifications of the SilverStone Tundra TD02-LITE, as obtained from the manufacturer's website:
Specifications
-Model Number: SST-TD02-LITE
-Water Block Dimensions: 65mm (L) x 65mm (W) x 38mm (H)
-Water Block Materials: Copper base with plastic body
-Pump Motor Speed: 2500 +/- 200 RPM
-Pump Rated Voltage: 12V
-Pump Rated Current: 0.28A
-Fan Dimensions: 120mm (L) x 120mm (W) x 25mm (D)
-Fan Speed: 1500 - 2500 RPM (PWM)
-Fan Noise Level: 18 - 35 dBA
-Fan Rated Voltage: 12V
-Fan Rated Current: 0.3A
-Fan Airflow: 92.5 CFM
-Fan Pressure: 3.5mm/H2O
-Fan Connector: 4-pin PWM
-Radiator Dimension:273mm (L) x 120mm (W) x 27mm (H)
-Radiator Materials: Aluminium
-Tube Length: 310mm
-Tube Material: Rubber
-CPU Socket: Intel Socket LGA775/1150/1155/1156/1366/2011/2011-v3; AMD Socket AM2/AM3/FM1/FM2
-Net Weight: 990g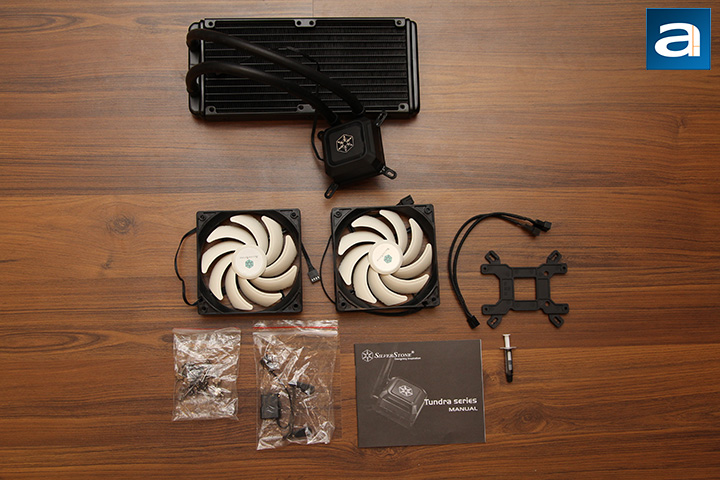 Taking the SilverStone Tundra TD02-LITE out of the box reveals many items waiting for you. The majority of the space in the box was taken up by the SilverStone Tundra TD02-LITE closed loop water cooler unit itself. Next, you will find the two 120mm fans, fan screws, AMD brackets, backplate, Molex to 4-pin adapter, Y-splitter, and other accessories for installation. The unit does come with the Intel bracket already installed onto the unit for you, but if you are a AMD user, these brackets can be replaced by unscrewing them from the water block.
---
Page Index
1. Introduction, Packaging, Specifications
2.
Physical Look - Hardware; Installation
3.
Test Results
4.
Conclusion