By: Brian Cheung (Guest Writer)
October 30, 2015
There are many words that can make a person feel uncomfortable. Many of those would be so-called bad words, or it can simply be words that remind you of certain bad experiences you have had in the past. Personally, when I hear the word "lite", I get a little uneasy. This is especially applicable when the word is slotted into the back of a product's name, and is something I expect to use in the long run. In my younger days, when I pursued a career as a professional hockey player (Which, unfortunately, never came to fruition), I bought a hockey stick named the "Vapor XXX Lite" made by Nike Bauer. It was a remodel of the Nike Bauer XXX, which was the go-to hockey stick for many NHL players at the time. The XXX Lite caused such a storm when it came out, it was almost like one of those phones a certain fruit company makes that releases toward the end of each year. If I recall correctly, the XXX Lite weighed about two-thirds of the previous model, and it featured many upgrades, such as a unique carbon fiber design and unibody construction. After it hit the market, it was received with mixed reviews from players in the NHL and other professional leagues. The problem with this stick was they had cut so much weight off by using different materials and technology, it was no longer as durable as the previous model. Hence, when I received the SilverStone Tundra TD03-LITE to review, I was a little uneasy about the changes they made compared to the Tundra TD03-E I reviewed a few months ago. With so many questions in my mind, I took one in, and looked to answer them in the pages to come.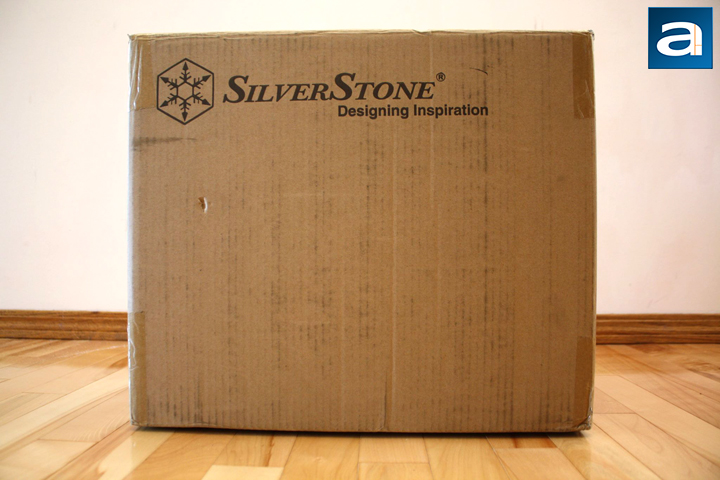 The SilverStone Tundra TD03-LITE we are reviewing today was shipped along with the larger Tundra TD02-LITE I reviewed a couple of weeks ago, and the SilverStone Ensemble EBA01 reviewed by Technical Editor Aaron Lai. UPS Standard was the shipping method SilverStone stuck with to get their contents safely from their American offices in California to our APH Networks office here in Calgary, Alberta, Canada. There were no major bumps or damages to the box when we received it. Because I have always had good things to say about SilverStone products, I could hardly wait to get my knife ready, and plunge inside. Not literally, of course.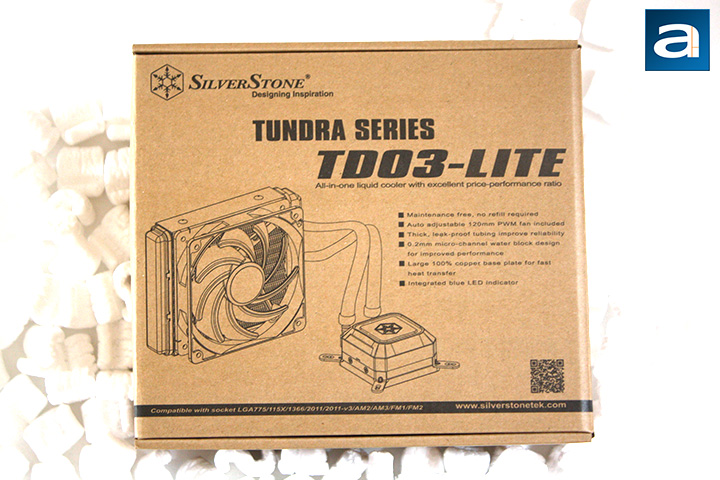 As I have mentioned in my review of the TD02-LITE, the shipping box was loaded with packing peanuts. I have and always will welcome packing peanuts, because it shows the manufacturers' special care for their products. As I got to the bottom, I found the SilverStone Tundra TD03-LITE, and its retail box was in excellent condition, as expected by the condition of the shipping package. The box holding the TD03-LITE utilizes the same design as the TD02-LITE; a simple brown cardboard box was all we got from SilverStone. It is true it saves on production cost compared to a full color design. On the other hand, across many other products we have reviewed here at APH Networks, I personally prefer the look of raw cardboard for its simplicity. The sides of the box has large labels with the SilverStone brand name as well as listing of the product model inside the box. The side panels has a drawing of the cooler inside with the measurements of length, width, and height in millimeters, as it is identical to the design of the box the TD02-LITE came in.
Before we move on, let us take a look at the specifications of the SilverStone Tundra TD03-LITE, as obtained from the manufacturer's website:
Specifications
-Model Number: SST-TD03-LITE
-Water Block Dimensions: 65mm (L) x 65mm (W) x 38mm (H)
-Water Block Materials: Copper base with plastic body
-Pump Motor Speed: 2500 +/- 200 RPM
-Pump Rated Voltage: 12V
-Pump Rated Current: 0.28A
-Fan Dimensions: 120mm (L) x 120mm (W) x 25mm (D)
-Fan Speed: 1500 - 2500 RPM (PWM)
-Fan Noise Level: 18 - 35 dBA
-Fan Rated Voltage: 12V
-Fan Rated Current: 0.3A
-Fan Airflow: 92.5 CFM
-Fan Pressure: 3.5mm/H2O
-Fan Connector: 4-pin PWM
-Radiator Dimension:153mm (L) x 120mm (W) x 27mm (H)
-Radiator Materials: Aluminium
-Tube Length: 310mm
-Tube Material: Rubber
-CPU Socket: Intel Socket LGA775/1150/1155/1156/1366/2011/2011-v3; AMD Socket AM2/AM3/FM1/FM2
-Net Weight: 750g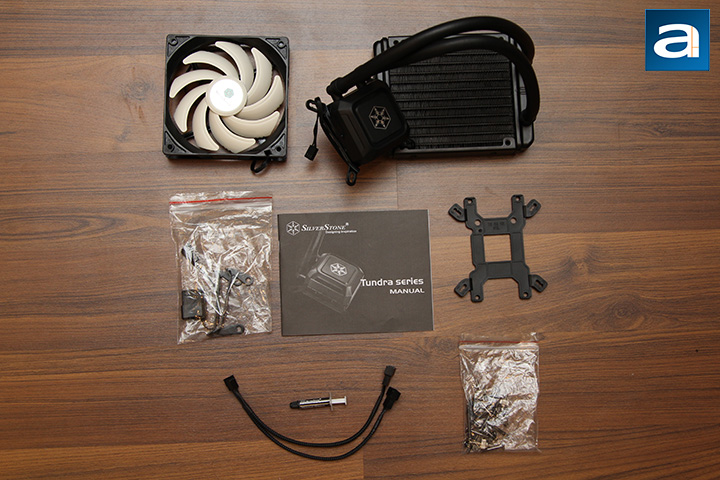 Taking the SilverStone Tundra TD03-LITE out of the box reveals the manufacturer has many items waiting for you. The majority of the space inside was taken up by the TD03-LITE closed loop water cooler. Next, you will find the 120mm fan, fan screws, AMD brackets, backplate, Molex to 4-pin adapter, Y-splitter, and other accessories for installation. The unit does come with the Intel bracket already installed onto the unit for you, but if you are a AMD user, these brackets can be replaced by unscrewing them from the water block.
---
Page Index
1. Introduction, Packaging, Specifications
2.
Physical Look - Hardware; Installation
3.
Test Results
4.
Conclusion