Page 3 - Physical Look - Inside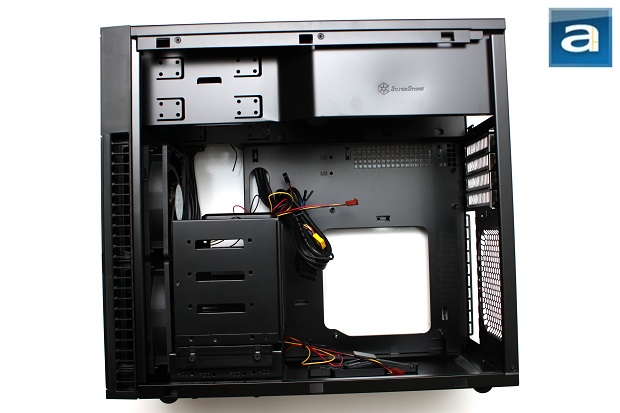 Unlike most modern towers, the interior of the SilverStone Precision PS07 is accessed by unscrewing the thumbscrews for the right side panel instead of the left side panel. Taking the panel off, you will have access to all your hardware, other than the power supply and components in the 5.25" bay area. Those areas could be accessed by taking off the top panel. Note that the top panel is held down by two Philips-head screws that are accessible externally, as mentioned on the previous page. As well, two more small Philips-head screws hold each side of the top panel down. This totals to six screws altogether, so it will take quite a bit of work to disassemble. As you can see in the photo above, the entire interior is painted black to keep the overall theme of the chassis consistent. However, one thing that caught my eye was the lack of tool-free installation of hard drives and optical drives. While this is not mandatory, it would still be a nice feature to tack on without jacking up production fees by a substantial amount. On the other hand, if you travel around frequently, the good old way is probably more secure; that's not to mention you will need to jump through quite a few hoops to gain access to the 5.25" bays in the first place.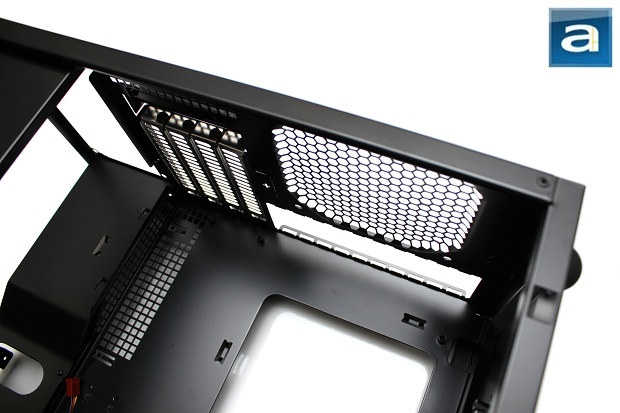 From this angle, you will see the motherboard tray, as well as the back of the Precision PS07. The power supply has its own little distinctive space by means of having it lowered from the top after the top panel is removed. An array of square holes are situated between the motherboard tray and the power supply bay, with the usual expansion slots, motherboard I/O opening, and honeycomb mesh for the rear exhaust fan. A nice feature already implemented is some motherboard risers are already permanently mounted on for you. These are the standard risers that are always needed, so it is nice to have SilverStone do half of the job for you out of the box. As well, there is a fairly large opening to accommodate aftermarket CPU coolers with custom backplates. Although you may not be fitting too large of a cooler inside, it is nice to know that it could still accommodate the larger types for those who have the desire to. Also to note here is if you are having a hard time with your motherboard for whatever reason, the motherboard tray can be detached for your needs. If you happen to be one of the lazy ones who don't want to detach and reattach the tray, mounting the motherboard and wiring everything neatly is possible too, in which you will see on the next page.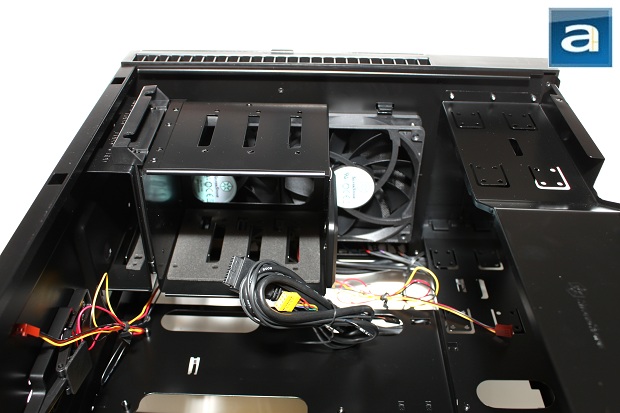 The front of the case has two 120mm intake fans, as mentioned previously. Both these fans are rated at 18 dBA of noise, and spins at 950rpm. A hard drive rack is situated right behind the fans, which can accommodate five 3.5" hard drives; the bottom bay can accommodate one 2.5" hard drive or a solid state drive as well. The hard drive rack itself can be taken out completely for easier management of components. On top of this area are the optical drive bays, which could also be accessed once the top panel is taken off, much like how you would access the power supply area. Again, personally, I would have preferred some sort tool-free clips here to hold the hard drives and optical drives in place without having to pull out my screwdriver. From this angle, you can also see the CPU cooler support. If you think your cooler is putting a little too much stress on your tiny motherboard, this is a great tool to use to give a boost in reducing stress.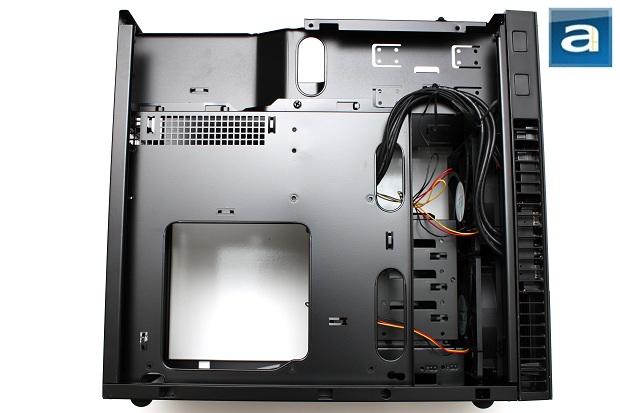 SilverStone provides sufficient cable management openings to the back of the motherboard tray, and these openings are placed in very convenient spots. Although the PS07 is slightly larger than most chassis of its kind, SilverStone has placed these openings to help end users to strategically route their cables around, making everything as clean and with as much room to work with as possible. Having said that, I could use slightly more space on this side, just because some cables will inevitably overlap each other, as some cables may not exactly be as long as you have first thought they are.
---
Page Index
1.
Introduction, Packaging, Specifications
2.
Physical Look - Outside
3. Physical Look - Inside
4.
Installation and Conclusion