By: Preston Yuen
December 23, 2011
Life progression is an inevitable journey -- one of "two roads diverged in a yellow wood", as Robert Frost would have said. As we all grow older, we generally become more independent, and as such, we buy our own cars, our own clothes, and food for sustaining life. But one of the biggest and single most expensive thing we spend money on is typically some sort of shelter, whether it is a house, apartment, or condominium. In most cases, the younger generation as well as some of the experienced working class these days would prefer a more modern and clean look to a purchased shelter. We expect the quality for the amount that we spend. Now, I don't know about you, but my taste of technology is leaning more and more towards the clean and good looking products, just like a good looking house with a modern interior interpretation. In some cases, this means more money is coming out of my bank account. However, to be honest with you, I don't mind spending a little bit less on certain used products in this area, provided that the product is still in decent and acceptable conditions. In today's case (No pun intended), we have a simple and clean looking chassis from SilverStone -- namely, the Precision PS07. At first glance, it exhibits a clean appearance, but certainly does not look like a fridge. Whether you like this look or not is really up to your personal preference, but what I can tell you is that this little beast can pack quite a bit of quality features for your computer. So if you're ready to find out, keep your eyes peeled!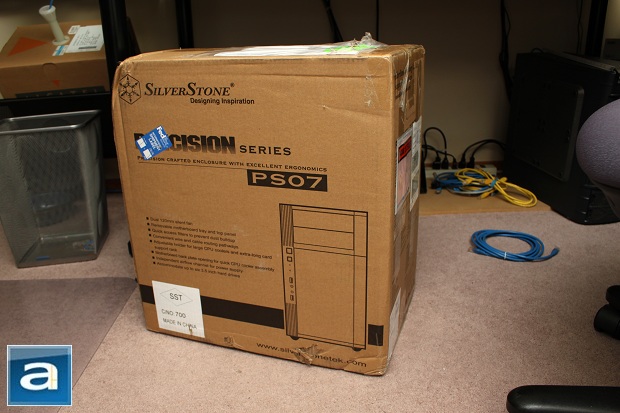 Like some of the chassis that we have reviewed at APH Networks earlier, the SilverStone Precision PS07 came in a rather simplistic brown corrugated cardboard box from our good ol' buddies down south in California, USA. I'm rather pleased with FedEx Ground's shipping and handling, as damage to the exterior box was kept to a minimum. Taking a look at the box itself now, you can see the company logo printed on the top left corner, while its model name is shown just below it, followed by number of main features on the left side and a simple outline of the chassis on the right. If you wish to go into a bit more detail, the back side of the box shows some additional features of the chassis. Without wasting too much of your time, I'll leave that to your own time to investigate.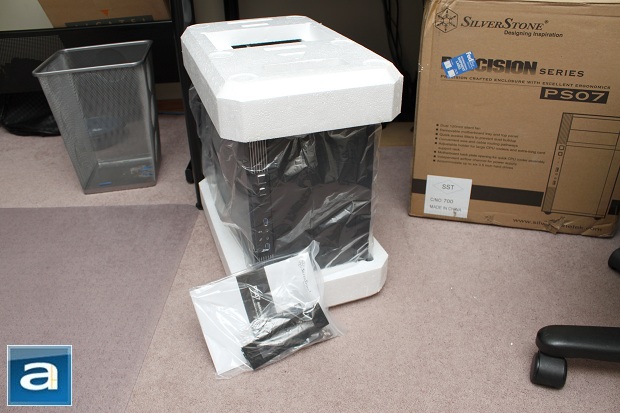 Pulling our goods out of the box, we have the Precision PS07 wrapped in a plastic bag, and sandwiched between two foam brackets to prevent bumps, bruises, and miscellaneous scratches during shipping. You will also find a small bag containing the user manual and some accessories to accompany the case. Without further unpacking it from its protection, I already have a good feeling that this case will suit my little 'office' very well -- but before we unpack the excitement, here is a little table of specifications, as obtained from the manufacturer's website:
Specifications
- Model No.: SST-PS07B (Black)
- Material: High-strength plastic front panel & aluminum accent, steel body
- Motherboard: Micro-ATX, DTX, Mini-ITX
- Multimedia: --
- Drive Bay: External 5.25" x 2, 3.5" x 1 (transfer bracket for hard drive installation); Internal 3.5" x 5 , 2.5" x1
- Cooling System: Front 2 x 120mm fan,950rpm, 18dBA; Rear 1 x 120mm fan slot
- Expansion Slot: 4
- Front I/O Port: USB3.0 x 2 (backward compatible with USB2.0); Audio x 1; MIC x 1
- Power Supply: Standard PS2(ATX) Optional, max length180mm*
- Expansion Card: Compatible up to 13.5 inches in length
- Limitation of CPU cooler: 165mm
- Limitation of PSU: Unlimited
- Net Weight: 5.2 kg
- Dimension: 210mm(W) x 374mm(H) x 400mm(D)
---
Page Index
1. Introduction, Packaging, Specifications
2.
Physical Look - Outside
3.
Physical Look - Inside
4.
Installation and Conclusion