By: Herbert Lui
March 24, 2008
From manufacturing gaming surfaces to headphones, keyboards to selling security software, SteelSeries is responsible for contributing to what they call "professional gaming gear". With the hobby of gaming evolving into a profession, the demand for mousing surfaces has never been stronger. People from all ages, backgrounds, and cultures meet online to duke it out - whether it be a game like World of Warcraft, or Counter-Strike: Source. As a once-hardcore gamer - not necessarily a good one, but an addicted one, I know how it felt like to be on top - or somewhat near there, anyway. When I was given such a product to review, I threw my discipline out the door and reinstalled Counter-Strike: Source, and thus decided it was the best choice in order to give us an overall look at the SteelSeries SP. I know that mousepads are beneficial in everyday use as well, but here's an excuse I can't let go.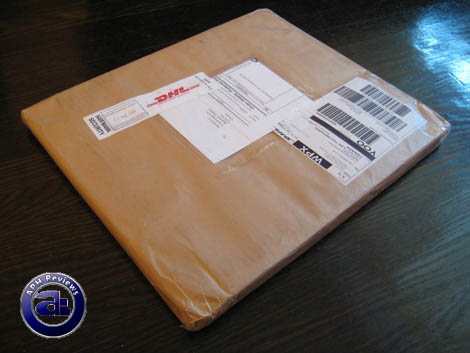 One sunny weekday, I was sitting at home minding my own business when DHL approached my house, surprisingly enough. Turns out the even more surprisingly friendly DHL lady had a package for me! She handed over the thinly-wrapped package from SteelSeries and wished me a nice day. If they're not careful, DHL might end up developing a good reputation - with me, anyway.
The advantage to thinly-wrapped packages is very noticeable - you don't need any sort of exacto knives or scissors, just lunge and throttle. I tore up one end of the packaging - hey, I needed an outlet for all that pent-up rage (Joking, of course) - and out slid... two pieces of cardboard?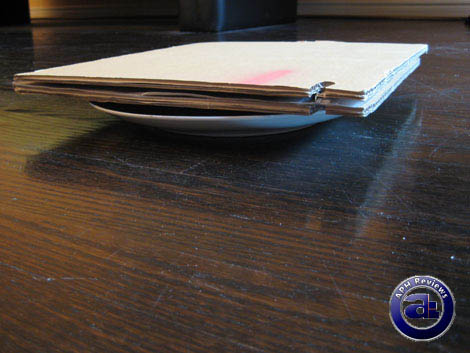 I discovered to my delight, it was a SteelSeries SP sandwich: mmm, mmm. Get it? See the plate? The sandwich consisted of two identical cardboard pieces of bread, with the cold cuts being the juicy SteelSeries SP.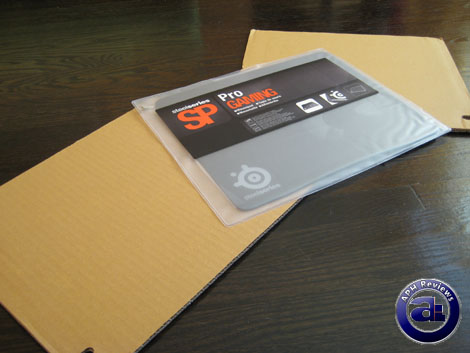 The retail packaging was very unique - I've got to give some respect to SteelSeries for such a minimalist design. The retail package was made of thin translucent plastic with some stickers on it, describing the SteelSeries SP in addition to the graphics and logo. There was a zipper at the back of the package allowing the SteelSeries SP to be slipped out with ease - again, excellent design. Also, this packaging makes it great for transporting between locations, whether it'd be from hotel to hotel for business travels or to hit those LAN parties.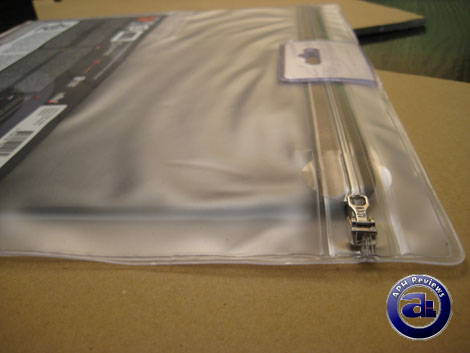 A hardly noticeable transparent circle sticker was attached as a seal to prevent easy shoplifting or whatever - well-implemented, as I didn't even notice it there until I realized I was having some trouble opening such a simple package.
As for the "professional gaming" part of the packaging, I must admit I was feeling it. The relatively 'sophisticated' black and gray, with a hint of orange and white text gave it a very professional vibe that's been associated with SteelSeries' latest design scheme for quite a while -- as we've first seen in the SteelSeries SX. Nothing as 'friendly' as the XTracPads Fat Mat; much edgier and cool. If the XTracPads Fat Mat was Morpheus from the Matrix, the SteelSeries SP would definitely more resemble Neo.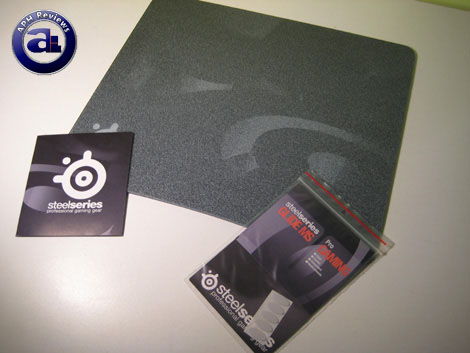 Out of the package, you get a promotional booklet, a set of SteelSeries Glide MS mouse tape, and of course - the main feature, the SteelSeries SP mousing surface itself. Oh yeah, and the sticker - but I found it too late, stuck in the package. Sorry folks.
The SteelSeries SP sat on the same spot the XTracPads Fat Mat did on my desk, and I was thankful that it was so thin and - get this - odor-free! Although I somewhat miss the ergonomic freedom the XTracPads Fat Mat offered, I'm still very grateful the smell didn't come with it.
What initially attracted me the most to the SteelSeries SP was the interesting patterns printed on the mousepad, somewhat resembling a flying saucer in my eyes. However, that's just the tip of the iceberg when it comes to cool features.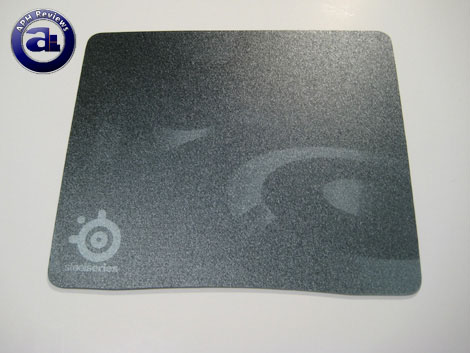 The dimensions of the SteelSeries SP are kind of... small - I can't believe I am actually saying that, but admittedly, perhaps my tastes have become a bit warped after using the XTracPads Fat Mat for so long, but I still find it small even in comparison to the XTracPads Hybrid. However, I find this convenient - usually, I don't use the farther half of my larger mousing surfaces, such as the XTracPads Hybrid or the XTracPads Fat Mat - and so, I find it kind of a waste in desk real-estate.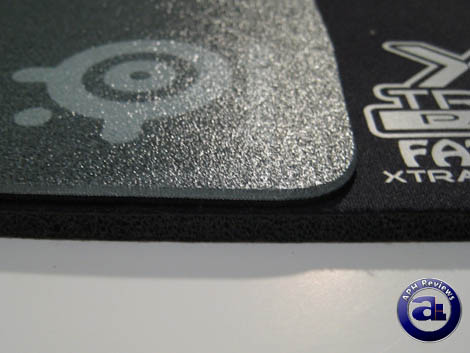 The SteelSeries SP takes up very little room - 320mm x 270mm x 3mm in contrast to the XTracPads Fat Mat's comparably-whopping 305mm x 406mm x 6.35mm. The 3mm doesn't give the SteelSeries SP any credit for its thinness though - thanks in part to its macroscopic texture; it looks even thinner than 3mm.
What surprised me the most is what I'd like to call the "hocus-pocus, goes your focus" material, known as the macroscopic texture. It's hard plastic, but it's textured so that it creates a pretty cool effect when you look at it. Upon trying to focus my eyesight upon it, I definitely felt a strain and a sense of self-disappointment; I couldn't focus clearly up close. I didn't have this problem viewing it from afar though, weirdly enough.
To be honest, I'm a bit iffy on the macroscopic surface. Sure, it's unique, but the ride on the mouse is just a bit more "hoarse-sounding" - however, in reality, the difference in glide between a macroscopic-textured surface and a regular plastic surface is practically negligible.
That being said, I still found this contributing to its cool factor - which if I sum up its packaging, design, and overall vibe, has a score of perfect ten. Just because I've never actually experienced something like this before. Had the Logitech G5's mouse been replaced with one without its glide-y feet, like the MX600 mouse included with the MX3000 keyboard and mouse set, the ride would've been absolutely impossible without the SteelSeries MS glide tape.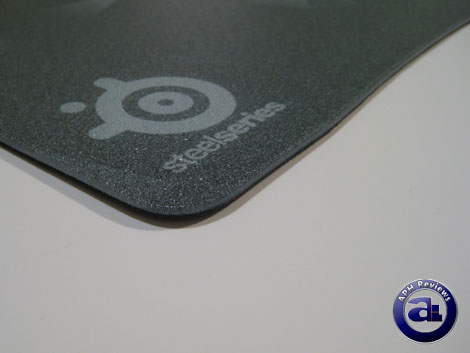 The shape of the SteelSeries SP is also somewhat funkier than most mousepads - having a natural rectangular shape, the SteelSeries SP also has a little curve at the southern end of the mousepad, giving it a unique feel.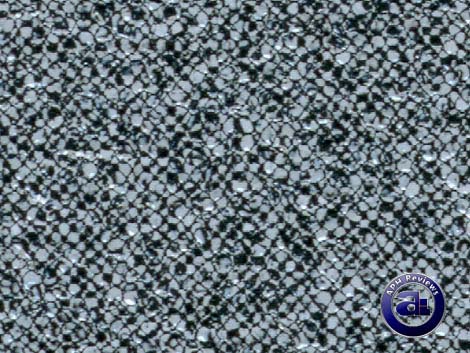 A closer look at what makes the macroscopic-textured surface tick. It's a unique addition - really, this is the first time I've ever seen a textured surface being implemented into a hard plastic mousepad. As we can see, the surface is anything but flat. The textures are shaped quite like a beehive, with the ridges being the "outlines" of the honeycombs.
The somewhat stenchless rubber, and I'm saying somewhat because if you really hover your nose over it you might catch a whiff of the stuff, serves its purpose very well. The SteelSeries SP didn't move a single bit, even when I was violently gaming. I've actually grown to expect this of gaming mousepads, so no more words wasted on that.
---
The Tests
A Logitech G5 was used for the following tests.
With the SteelSeries SP being a plastic mousepad, the usual stereotypes follow:
+ Easy to clean
+ Usually great glide
+ Guaranteed hard, flat surface
* Usually solid (Cannot be rolled up - depending on your preference)
- May be vulnerable to permanent scratches
- Makes noise during usage
- Harder on your mouse feet
- Control not as good as cloth pads
- Usually bad grip
- Less Comfortable
- Easy to accumulate dust and dirt on the surface
We at APH Networks look for a variety of things in a good mousepad:
Glide - For quick and effortless mouse movements across the mousing surface.
Control - For precise and accurate cursor/crosshair handling.
Grip - The mousepad's ability to stay in the same position on the desk without undesirably relocating itself.
Noise - Will this mousepad generate noise when the mouse is being used?
The testing was conducted mainly using Counter-Strike: Source, but also with overall regular performance.
+ Easy to clean: when you need to clean it, that is. Thanks to its textured plastic surface, water and other liquids slip right off with a wipe of Kleenex or cloth. Also, it didn't have any effect on the cool textures, just in case you were concerned - not that it would, logically speaking.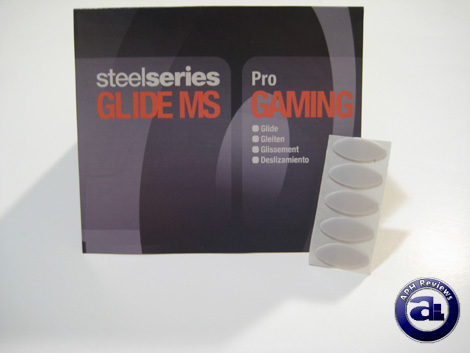 + Great glide: The SteelSeries SP is like an ice rink, with the G5 being the skates. Cold enough to be one too, but when the SteelSeries Glide MS tape was added to the mouse feet, it was a whole other level. In fact, I appreciated that the textured surface didn't go overboard, but at the same time, I found the feet made it a bit too slippery for my tastes - which I initially thought was a result of using too many cloth pads (I'll elaborate later). Otherwise, it's great!
+ Invulnerable to permanent scratches: I don't think that the SteelSeries SP will have much of a problem with permanent scratches. Thanks to its textured plastic surface, it doesn't have such a problem when around items you'd normally use in a gaming environment. It still wouldn't stand a chance against a knife, but since when did any mousepad?
+ Guaranteed hard, flat surface: Yes sir - or madam! It took brute force to bend it a bit, but I was afraid I'd snap it in half and dropped the subject. This also explains the packaging not being interestingly shaped, but rather professionally zip-locked, as it wouldn't fit in a cylinder, or any other way!
+ Great grip: Thanks to its lower rubber half, the SteelSeries SP has got excellent grip. This is a great feature overall in gaming, because it's absolutely too distracting when the mousepad moves right along with the mouse. Great grip for hardcore mouse usage.
+ Doesn't accumulate dust or dirt on the surface: I can't figure for the life of me how you'd get dirt on the surface, but dust I can understand. However, it hasn't accumulated much - and even if it did, you'd just wipe it right off.
* Solid (Cannot be rolled up - depending on your preference): If you like a solid, immovable piece of mousing surface, you've got yourself a winner. However, if you travel to lots of LAN parties or whatever, this isn't exactly the most flexible piece of surface - even though it is small enough to be portable, I daresay. But it is a plastic pad, after all.
- Makes noise during usage: Actually, the noise wasn't that bad. It was comparably louder than the XTracPads Fat Mat and the XTracPads Hybrid, but not by much. When the mouse tape was attached, in fact, I found that the volume restricted to a minimum level.
- Harder on your mouse feet: This goes double for the SteelSeries SP, as the surface is textured. However, if you use the attached SteelSeries Glide tape, it'll be smooth as a ride in a limousine.
- Control not as good as cloth pads: Such an increase in glide has to result in a huge sacrifice in control - put extremely bluntly, the control on this mousepad is horrible. And no - it's not because I've gotten too used to cloth pads, it's seriously out of control. I tried replacing all my 1.7g weights in my Logitech G5 with 4.5g weights, and it ended up helping a bit. Removing the SteelSeries MS Glide Tape also helped (ugh, but the process was hell) - but overall, I'd still consider it a lost cause when it comes to control.
- Lack of wrist comfort: That's for sure - especially when compared to a cloth pad like the XTracPads Fat Mat. I somewhat missed the nice, ergonomically-friendly semi-wrist rest.
---
Available for USD$39.99, I'd only consider the SteelSeries SP worth the money if you're looking for just glide and uniqueness in terms of looks and design. Let's not take any credit from it - the design is wonderful and unique; the texture was especially intriguing. It's got a cool macroscopic-textured design and it's got a grip on your desk, so it won't slide around during those hardcore gaming sessions or just simple everyday office usage for graphics design or whatnot. The darker side of the SteelSeries SP is its noise factor for one thing. Also, if control is of any importance to you - whether in graphic design, gaming, or just plain office use - I would suggest searching the market for another mousepad that's got more control, because while glide is excellent and feels great to use, control is a necessity and mousepads that strike a balance between all shouldn't be hard to find either.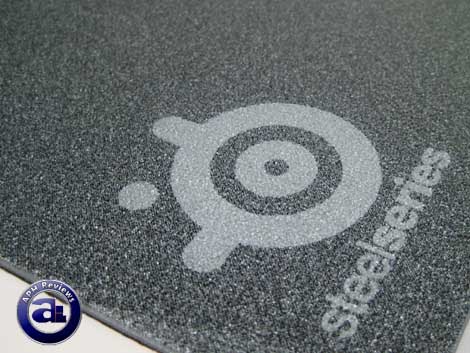 APH Review Focus Summary:
7/10 means Great product with many advantages and certain insignificant drawbacks; but should be considered before purchasing.
-- Final APH Numeric Rating is 7.0/10
Please note that the APH Numeric Rating system is based off our proprietary guidelines in the Review Focus, and should not be compared to other sites.
The SteelSeries SP is one doozy of a cool, extremely unique mousing surface, with graphics printed on and innovations to match. If you're looking for a mousepad with just glide in mind, look no further - the SteelSeries SP is your mousepad.