By: Jonathan Kwan
January 7, 2009
Happy, happy new year! It seems that 2008 has gone by so fast, when I was entering the information of this article earlier today, I simply typed "2008" without much attention. Note to self: It's 2009. Now that everything seems to have gotten back to normal -- back to work, or back to school, or maybe even both -- it's time for me to get started on writing reviews again haha. In this evaluation article, we will take a look at Thecus' N4100PRO network attached storage system. I've been a big fan of such systems built into my home network since I deployed my first one back in 2006. Now that I am on my third ever owned NAS machine, my love has not died off at all -- in fact, I've always wondered how I lived without it. With enhanced data flow within my local area network, simplified backup procedure, out of sight experience, and the convenience of having it always available -- and best of all, ease of use -- there's no reason for me not to be such a big fan of such devices. Interestingly, today's network attached storage systems are no longer the same as yesteryear's. It's hard to call them simply "network attached storage" anymore. Many features built-in print servers, Bittorrent clients, media server capabilities, incredible performance over Gigabit networks, and the list goes on and on. In light of that, let's see what the Thecus N4100PRO can offer us today: Both in areas of basic file performance; extending to availability of built-in features.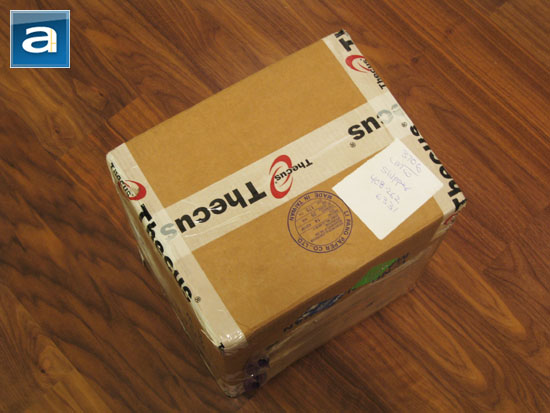 Our review unit of Thecus' N4100PRO arrived in a large cubic corrugated cardboard box from Thecus' American offices. Using FedEx International Economy, everything arrived in safely and reliably. Interestingly, Thecus entered my postal code wrong (The address and city was correct though) -- thankfully, it arrived safely anyway with minimal delay. The retail box is fitted snugly inside the tailored shipping box to ensure both the inside and its outside are in pristine condition.
Last week, a group of approximately ten friends and I went tobogganing at a local hill. Before you ask, yes -- we're university students haha. It's nice and steep, not to mention that the sliding length is much longer than anything I have experienced in elementary school. That said, besides our group, everyone else there were either little kids or their parents. I vaguely remember one little girl attempting to slide downhill in a large cardboard piece sourced from a LCD TV box. Needless to say, the friction created between the relatively rough corrugated cardboard box against the inclined plane even with smooth, slippery snow surface had a hard time using gravity alone to overcome its opposing force. It's quite similar in scenario here. Because the external shipping box, as aforementioned, is tailor-made for the retail box inside, and with such an excellent fit, it took me quite a while to get its contents out without destroying the box. By the way, I just used a very long story to illustrate a simple point. And you can't have your two minutes back. Muhahahahahahahahaha.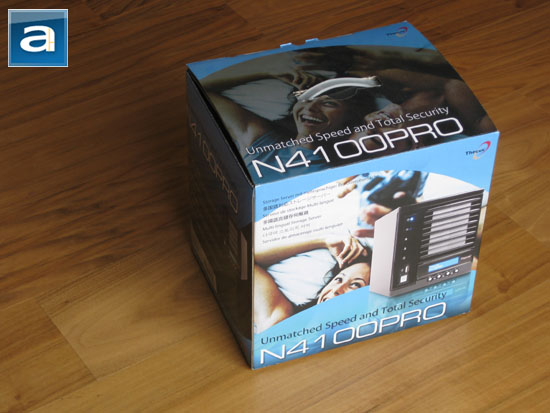 Anyways, on the serious side, now that we've finally separated the corrugated cardboard shipping box and the retail box of Thecus' N4100PRO network attached storage system, let's take a look at the design of its packaging. The background is composed of mainly what Honda themselves would have called "Neutron Blue Metallic", but without the metallic part, and printed with a gradient that fades into a hint of baby blue. An somewhat excited but irrelevant male and female couple fills the rest of the background space, and a photo of the NAS itself takes its spot in the foreground on the right. The model "N4100PRO" is printed in large, bold text across the bottom; with the slogan "Unmatched Speed and Total Security" just above it. The words "Multi-Lingual Storage Server" is translated into seven different languages including English in the left corner, and Thecus' logo is at the top right. Similar design is evident at the top, which features a nice carrying handle by the way. Identical layout is used on the opposing side of the front.
A brief description of the features of the Thecus N4100PRO along with the repeated "Unmatched Speed and Total Security" slogan and big bold "N4100PRO" text makes its appearance in both the box's left and right side. However, the left side of the box discusses a quick brief paragraph of the N4100PRO's features; while the right side has a diagram showing how an IP camera, laptop, desktop, and another NAS can all be connected to the N4100PRO NAS. There's nothing interesting on the bottom of the box, so we'll skip over that.
Before we move on, let's take a look at the specifications of Thecus' N4100PRO NAS, as obtained from the manufacturer's website:
-----------------------------------------
1. Hardware Platform
LAN Interface: RJ-45x2 : 10/100/1000 BASE-TX Auto MDI/MDI-X
USB Interface: USB 2.0 host port x3 (2xRear, 1xFront)
LED Indicators:
# Power(Blue)
# System Busy (Orange)
# HDD1 Power, Activity/Fail(Blue, Yellow/Red)
# HDD2 Power, Activity/Fail(Blue, Yellow/Red)
# HDD3 Power, Activity/Fail(Blue, Yellow/Red)
# HDD4 Power, Activity/Fail(Blue, Yellow/Red)
# WAN (Activity : Green, WOL supported)
# LAN (Activity : Green, WOL supported)
# System Failure (Red)
LCD Module: Displays system status and information
Power Supply: Internal 200W power supply
Disk Interface: SATA x4 via backplane
Thermal Control:
# Thermal sensor on HDD temperature
# System temperature control
Buttons:
# Power button
# LCM operating buttons(Front)
Chassis: Metal Chassis
Environment:
# Temperature : 5°C to 40°C
# Humidity : 0 ~ 80 % R.H. (Non-condensing)
2. Software Functions
RAID Modes: RAID 0, 1, 5, 6,10, JBOD
Auto-Rebuild: Supported
Hot-Swap: Supported
RAID Expansion: Supported
RAID Level Migration: Supported
Power Management: Spin down while idle time setup
Roaming: Support roaming to other N4100PRO NAS
S.M.A.R.T: Supported
Network Configuration: Fixed IP Address, Dynamic IP Address, Jumbo Frame
IP Sharing Mode: Supports WAN port IP address for LAN and Wireless LAN clients
Bonding: 802.3ad, Load Balancing, FailOver
Transport Protocols: TCP/IP/Appletalk
File Protocols: SMB/CIFS, HTTP/HTTPS, FTP, NFS, AFP
Wireless LAN: 802.11b/g AP mode supported by USB Dongle (ZD1211x based)
Client OS Support:
# Windows 2000/XP/2003/Vista
# UNIX/Linux
# Mac OS 9/X
WebDisk: Web-based file access
FTP: Built in FTP server with bandwidth control
Download Manager: HTTP / FTP / BT
Printer Server (IPP):
# Supports USB printers
# Supports IPP various printers
# Client can manage the print job queue via WEB interface
USB Copy Via LCM Operate: Copy USB Mass storage device contents to specified location to NAS
Client Schedule Incremental Data Backup: FarStone DriveClone PRO 5
Client System Disaster Recovery: FarStone DriveClone PRO 5
NAS Remote Replication: Via Thecus proprietary Nsync
iTunes Server: Supported File Types: AAC, MP3 w/ID3 tag, WAV
Photo Web Server:
# Supported File Types: GIF, JPG (JPEG), BMP, PNG
# Supports EXIF display
# Supports slide show
Media server: Supports uPnP AV streaming protocol
Local User: Supports built-in user accounts
Local Group: Supports built-in user groups
Microsoft AD: Supports AD users/groups
File System Type: Journaling File System
Capacity: 4TB or above
File Size Supported: Support Files max : 2TB
Language Support: Unicode Support
Authorization: Read, Write or Deny options on individual users or groups
Multilingual Web-based administration: Web-based server management interface supports English, Traditional Chinese, Simplified Chinese, Japanese, Korean, French, German, Italian, Spanish
Utility Program:
# Setup Wizard for MS Windows/MAC OSX
# Backup Utility for Windows 2000/XP/2003Vista and MAC OSX
Email notification: Sends system messages via Email to the system administrator
-----------------------------------------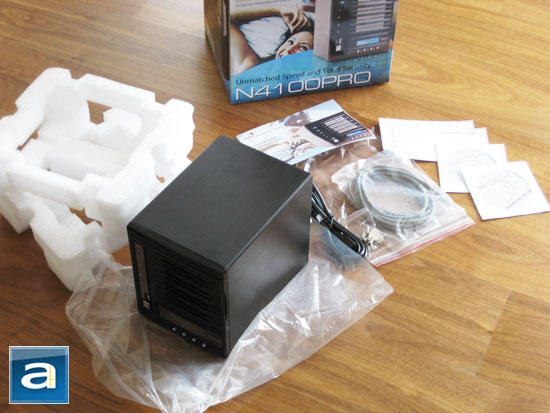 The Thecus N4100PRO itself is contained in a large, clear plastic bag, while clipped between two large foam brackets to ensure transportation safety. Out of the box, you will receive the N4100PRO NAS itself, along with a power and network cable. Four keys are included as well as screws for installing hard drives. Thecus also included two CDs; one that contains DriveClone5 Pro, while the second is a "universal CD" -- which is required for setup; we'll go over this in a moment. Document wise, there's a Quick Installation Guide, a warranty card, and a multi-language card that states "Please check Thecus' website for HDD compatibility list".
---
Page Index
1. Introduction and Specifications
2.
A Closer Look
3.
Configuration and User Interface
4.
Performance Benchmarks
5.
Final Thoughts and Conclusion