By: Jeremy To
April 25, 2011
Rice, ricer. I am not entirely sure of the origins of the word, but according to Urban Dictionary. a ricer is one who "...makes unnecessary modifications to their most often import car (hence the term "rice") to make it (mostly make it look) faster." Now first off, I just want to make the statement that not everything imported has to do with rice. Secondly, let me clear a few things for you ladies and gents. No, I do not own a riced up car; and no, I do not go around Chinatown rolling in first gear flaunting my excessively large exhaust. So what does today's review on a simple 3.5" HDD enclosure have anything to do with ricers? Well, in the past year or so, Thermaltake released a new HDD enclosure in the Silver River series, aptly called the Silver River II. What is different about this enclosure compared to its predecessor, the Silver River DUO? Well, absolutely nothing -- or at least it seems like it. It appears that what the Silver River II 3.5" offers to users that is different from the older versions would be a giant cosmetic upgrade. Interested? That will have to depend on you. Even though in terms of performance and functionality, the newer Silver River II may at first be 'questionable', it may very well be worth your money and time. You may loathe the new and improved design, but I am here to tell you this enclosure may have more to offer than its sweet and sleek lines. It took four years for Thermaltake to take the Silver River to a new evolution, and as a company notorious for its amazing cooling capabilities, we have already set high standards for this enclosure. This time around, the enclosure boasts of the spectacular and sleek-looking silver lines gracing the riced futuristic designs as well as the most impressive "diamond-cut" finish. Now as 100% of you intelligent people would know, diamonds are a woman's best friend; clearly, Thermaltake wants the enthusiast population to get in on the action (Note that in order to dodge the 'sexist' bullet, I created my own sex: Enthusiast). I mean, the Silver River II allows you to have both "Silver" and "Diamonds" -- kidding. So, is this enclosure good enough to being your HDD's new set of clothes? Or, will it be just another riced up product? Either way, you will have to read on to find out!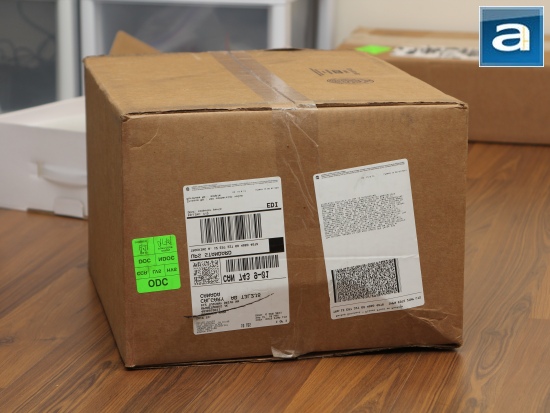 Our review unit today came to us in a brown corrugated box via UPS Standard among a large set of Thermaltake goodies. I can loosely quote our Editor-in-Chief's photo tag on Facebook at the time as "Santa has arrived this afternoon." Being in mid-April, and looking out the window greeted with pitch-white snowfall, "Santa's arrival" was simply an understatement. No matter though, as having a spring-Santa that sends bountiful gifts via UPS Standard from the south -- more specifically, California instead of the North Pole -- dubbed with the nickname of Thermaltake, can be quite exciting for us techno-fanatics here at APH Networks Calgary. As always, Santa's Thermaltake's units arrived safe and sound, and surprisingly without any apparent bruises. Maybe Santa should stick with UPS instead of chimneys next time.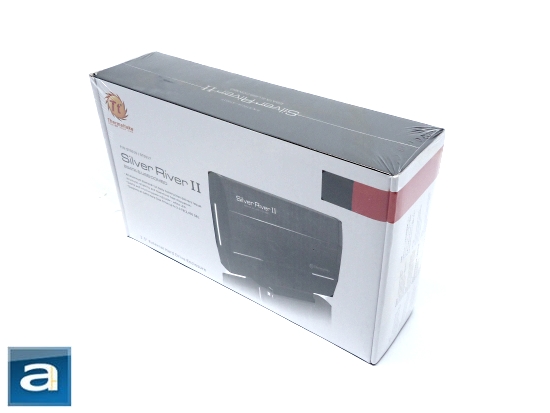 The Thermaltake Silver River II came to us in nice plastic shrink wrapping to protect the retail box from any moisture. Like most, if not all Thermaltake products, the retail packaging features the unit quite nicely. Showing a more simplistic retail box design, a photo of the Silver River II is placed at the front of the box with a simple list of features. On the backside of the box, Thermaltake has provided more feature details as well as a specification list.
Speaking of the features and specifications, let us take a quick look at these two lists, taken from the manufacturer's website and the retail box:
Features
- Rackable: Slide out HDD tray for quick assembly
- Rapid: High transfer rate with eSATA & USB 2.0 interface
- Rigid: Aluminum structure for best HDD protection
Specifications
- Enclosure Interface: SATA to eSATA, SATA to USB 2.0
- Transfer Rate: eSATA = up to 3 Gbps (Max), USB 2.0 = Up to 480 Mbps (Max)
- HDD Compatible: SATA I & II
- HDD Capacity: All 3.5" SATA HDD up to 2TB
- OS Compatible: Windows 7/Vista/XP/2003/2000, Mac 10.3 and later
- Material: Aluminum
- Power: Input: 100-240V/50-60Hz ; Output: 12V/2A
- Dimension: 125(W)x70(H)x195(D)mm, 4.92(W)x2.76(H)x7.68(D)in
- Accessory: eSATA Cable, USB 2.0 Cable, Power Adapter, Screw Driver, Vertical Stand, Screws (x4)
- Fan: ----
- Weight: 374g/0.83lbs
- Special Features: Aluminum Solid Craftmanship, Aluminum Body for Rapid Heat Dissipation, Stylish & Visible HDD Activity & Status -- White LED Indicator, Slide out HDD Tray for Quick Assembly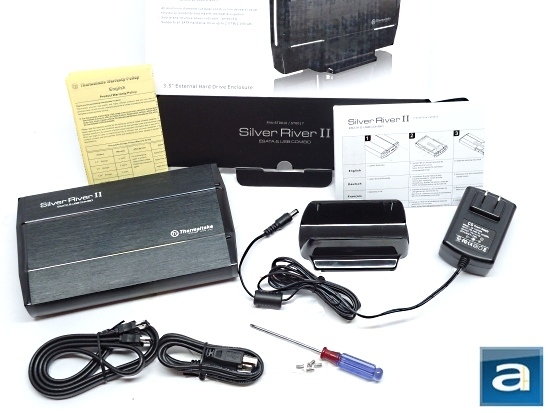 The retail box follows a standard build layout that incorporates a flap opening design from the side to front of the box. Inside reveals two cardboard boxes, manuals, and the Thermaltake Silver River II itself in the middle; bound by two Styrofoam pieces on the side. Inside the two boxes are several accessory components, including the USB cable, eSATA cable, power adapter, screwdriver, and a small baggy with four screws. There are two manuals with the unit. One is a quick setup and install manual geared to showing the user how to install and use the HDD as efficiently and effectively as possible. The other manual is the usual long-winded manufacturer's warranty geared to... well, making you read. Most 3.5" enclosures allow the user to orientate the device both vertically and horizontally. The Thermaltake Silver River II achieves this being escorted by a stand, as it came pre-attached to the unit itself out of the box.
Unlike its predecessor -- the Silver River, or the Silver River DUO, reviewed by my colleague Jonathan Kwan -- this enclosure comes with only one choice of color, black. Weird. Do not misunderstand, as the black Thermaltake Silver River II looks quite spectacular. However, I am just a tad bewildered as to why the Silver River series made its comeback without any silver.
---
Page Index
1. Introduction, Packaging, Specifications
2.
A Closer Look, Installation
3.
Test System, Benchmark Results
4.
Conclusion