By: Preston Yuen
June 10, 2011
Remember back in the days as a child when you had best friends? One friend would always say, "You are my best friend... in the world." As time passed on, the relationship between these two individuals may grow closer or further apart; I don't know what your reasons are for such developments, but I can tell you that my passion for computer hardware and miscellaneous electronics has increased dramatically. This is also due to the fact having APH conference calls into the wee hours of the morning has given me a lot more insight into modern technology (Yes, we work very hard at APH Networks to write quality reviews for our readers). As the years go by, some things are not meant to be forgotten, especially items that hold valuable memory. In the world of computer hardware, there are many pieces of hardware where I can truthfully say, in a Jeremy Clarkson voice from Top Gear, "This is the best toy... in the world." What we have here today is a mouse. No, I am not talking about mice that run around and hide in holes in the wall. I am specifically referring to the Tt eSPORTS Black Element. Taking a brief glance at it, I already feel that this mouse is a very classy-looking piece of gaming hardware. However, remembering the old saying, "Don't judge a book by its cover", I was second guessing whether or not the Black Element is truly better than its younger brother, the Tt eSPORTS Black. After weeks of extensive testing, the results are in. Read on to see what I have found!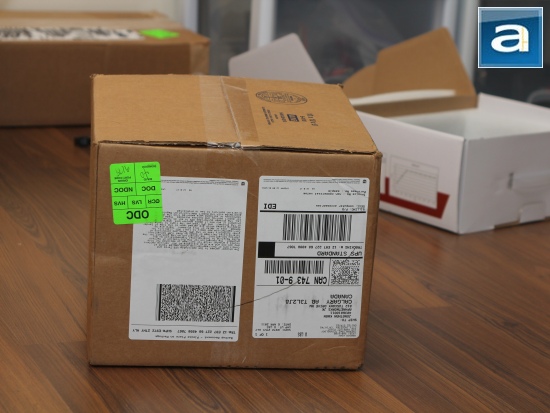 Completing the set now here at APH Networks, we will have reviewed both of the Tt eSPORTS Black, and its older brother, the Tt eSPORTS Black Element, by the end of today. The Black Element came in the same brown corrugated box as the Thermaltake Tt eSPORTS Azurues, reviewed by my colleague Jeremy a couple of weeks back, which came all the way from California. I am quite pleased as to how it was able to make it all the way up here to Calgary in safe condition via UPS Standard. Obviously, UPS has taken extra care when delivering their packages.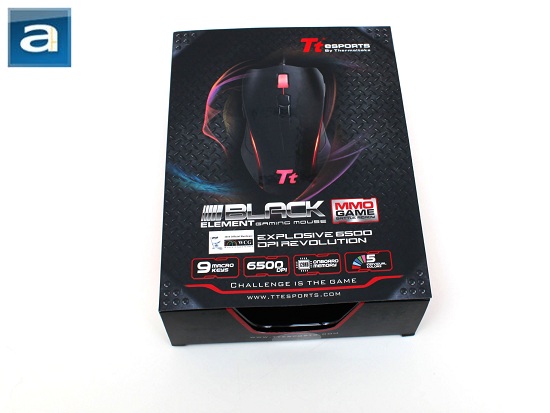 As you can see clearly in the photo above, our unit of the Tt eSPORTS Black Element has made it to Calgary, Alberta, Canada in pristine condition, which I am very glad to see. Much like its younger brother's retail packaging and others under the Tt eSPORTS sub-brand, we can see a photo of the Black Element planted right in the center on top of what seems to be a black studded sheet metal background with screws at all four corners. Thermaltake's Tt eSPORTS branding can be seen distinctly at the top right corner. The "/////Black Element" logo is printed in a shiny-like texture right below the photo of the Black Element itself; followed by the words "Explosive 6500 DPI Revolution". We shall see soon enough if this is truly an explosive revolution later on in this review. Around this area are several other icons, used in promoting the fact the Black Element is capable of many great features, which will be examined closer throughout this review. Its name is displayed prominently around the box, just in case you were looking at a different angle and did not know what it was. Some highlighted features can also be found on the back, as well as behind the front flap, in various languages. While taking a look at the features behind the front flap, you will also be greeted by the Black Element itself behind a plastic cover.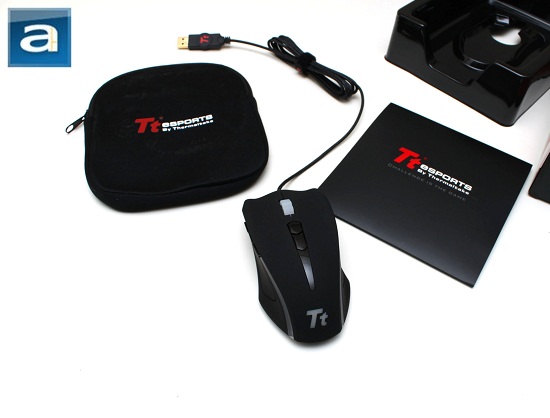 With the burning feeling of excitement inside, I pulled everything out of the box. You will of course find the Tt eSPORTS Black Element itself, accompanied by several components including a convenient carrying case, user's manual, warranty booklet, decal, and a driver CD enclosed inside a thin cardboard sleeve. The surprising thing here is that the Black Element comes along with a CD, whereas its younger brother requires you to download the software from Thermaltake's website. Although this may not be as environmentally friendly and will eat up an extra 15 cents in production costs, this will ensure that you won't be out of luck if you get cut off from the internet for whatever reason.
Before you frantically scroll down to see what the main differences are between the Tt eSPORTS Black Element and its younger brother, you may be interested in its features and specifications. Here is a list of the electronic paperwork, as obtained from the manufacturer's website:
Features
- MMORPG or RTS Game Type: customized laser gaming mouse for MMORPG or RTS game type.
- OMRON Gaming Switch: OMRON gaming switch enables an excellent gaming elastic capability with life expectancy for up to 5 million keystrokes.
- Weight-In Design: Weight-in design to get a perfect hand feeling for mouse movement.
- Gold-Plated USB Connectors: Gold-plated USB connectors provide reliable data or signal transmission.
- Pause-Break Lighting System: Pause-break lighting system to engage to gaming atmosphere.
- Rubber Coating Finished: Rubber coating finished to enhance hand grip for rapidly gaming movement.
- Graphical User's Interface: Graphical user's interface for personalized macro keys, advanced performance, and light options.
- 128KB On-Board Memory: 128KB on-board memory for storing up to 45 macro keys within 5 game profiles, plug and play while switching to different PC.
- Powerful 6500 DPI Laser Engine: Powerful 6500 DPI laser engine that can be used on most surfaces, on-the-fly sensitivity multi-level resolutions, 100 to 6500 DPI.
- Up to 5 Colors: Up to 5 colors to build up personal gaming atmosphere for scroll wheel, light pipes, and Tt logo.
Specifications
- Interface: USB
- Operational system: Windows 7/Vista/XP
- Number of Macro Keys: 9
- Sensor Engine: 6500 dpi
- Sensor Type: Laser
- Cable length: 1.8m braided
- Body dimension (LxWxH): 123.8mm x 66.7mm x 41.6mm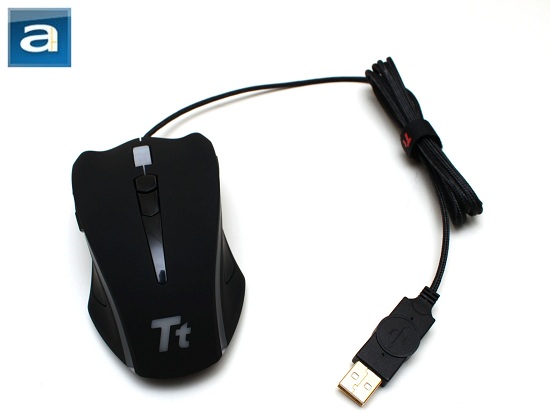 Like many gaming mice in the market nowadays, the Tt eSPORTS Black Element features the common braided USB cable, as it provides better durability, increased flexibility, less friction, and above all, reduced number of cable tangles. Having a 1.8m cable also gives you plenty of length if you ever decide to sit far away from your computer, or if you simply use your mouse while it is plugged in to the backside of your computer. One thing you may have noted already is that when comparing the Black Element with its younger brother, the Black Element looks more classy and slim looking, or at least in my opinion anyway.
Generally speaking, the Black Element is an asymmetrical mouse; with grooves on both sides to comfortably fit your thumb and fingers. As well, it is coated with a layer of nice rubberish grip for better feel and control of the mouse. On the left hand side of the mouse, you will notice there are three buttons here -- two that are larger in size, and a smaller one snugly fitted in between the two larger ones. The mouse is physically molded so you know where to place your thumb, although it's pretty standard and obvious where it should go. One thing I did not like about it was that it did not provide additional grip, and some may see this as a flaw. However, in my opinion, the rubber coating over the mouse gives you a good enough grip already. Secondly, the overall ergonomics and size gives most users an advantage naturally, so this is not too big of a deal. The right side is quite similar, except for the fact that it only features one button instead of three. Both the right and left sides do feature what Thermaltake refers to as light pipes. These are semi-transparent rubber strips which will let light through. The scroll wheel is made out of a soft silicone material, which gives you a very satisfying feel when scrolling through long pages, although some would much rather have nice clicks instead. The horizontal grooves give you a better grip on the wheel, as well as also being semi-transparent for the lighting to pass through. The right and left buttons are also slightly curved inward to support your fingers without having them slide off the mouse. One notable feature here are two buttons located almost right in the middle of the Black Element. These are convenient dpi sensitivity changers; also featured on the original Black. On the Black Element, however, it is capable of handling up to 6500 dpi. I doubted myself many times whether or not I am capable of even playing games with such high dpi, haha. There are four respective levels to the preset dpi starting from 800 dpi at Level 1, 1600 dpi at Level 2, 3200 at Level 3, and lastly, 6500 dpi at Level 4. All these buttons around the mouse can be programmed for different functions into five different profiles in the provided software, in which I will go into further detail in just a moment. Here, we will also find the gold-plated USB connector; do keep in mind the gold plating on areas you can see does not make actual contact with the USB pins. Probably the single and most pleasing feature of being gold-plated is it is pleasing to look at, but it does not mean it will give you a better connection unless the USB pins themselves are gold-plated. Even at that, it makes negligible difference at best, since this is a digital connection -- either it works or it doesn't. Once you plug it in, you will notice that the backlight will start to slowly fade in, then slowly fade out. This is known as Thermaltake's Pause Break Lighting System. This is a very simple feature, but it gives off a very good mood and atmosphere.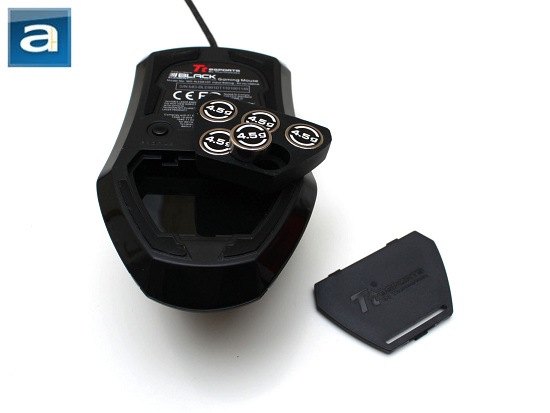 Flipping the Tt eSPORTS Black Element over, we are presented with a mostly plastic underside. A protective plastic cover surrounds the optical sensor area. The product name and brand is featured near the top along with the model. The four feet are made of Teflon, which is a very common type of material these days used on many gaming mice. Teflon is an excellent material because it enhances glide and smoothness of your mouse over different surfaces. Based on previous experiences, these feet should give you quite a long time before wearing down, so durability should be of little concern. The optical sensor, located approximately in the center of the mouse, is based on the Philips 6500 laser engine, capable of up to 6500 dpi with supported polling rates of up to 1000Hz at 1 ms response time. This is the industry performance standard, meaning it can send up to one thousand pieces of tracking data per second to your computer, increasing mousing precision. One thing different from the Black is that the Black Element has an additional profile button. Although it is located at the bottom of the mouse, it is a very convenient and easy button to access, and gamers would much appreciate this, as they would not have to minimize their game to change profiles.
Like its younger brother, the eSPORTS Black vanilla, the Black Element has its set of weights already pre-installed, instead of coming in some sort of tray. They can be easily accessed at the underside of the mouse by simply removing the cover that keeps the weights in place. The cover has a somewhat flexible section for users to unlatch the inner hook, which keeps the cover in its place. The Black Element also houses a rubber tray to keep the weights secured down in proper order so it does not bounce around. Of course, if you prefer having no weights at all, you can simply remove the whole container. The question is, where in the world could you ever keep weights if no extra tin tray is provided? Luckily, you are provided with a protective soft case out of the box, and within that case contains pouches where you can conveniently place your weights. However, we would appreciate it if more variety of weights were provided to better suit the greater population, as there are only five 4.5g weights available from the factory.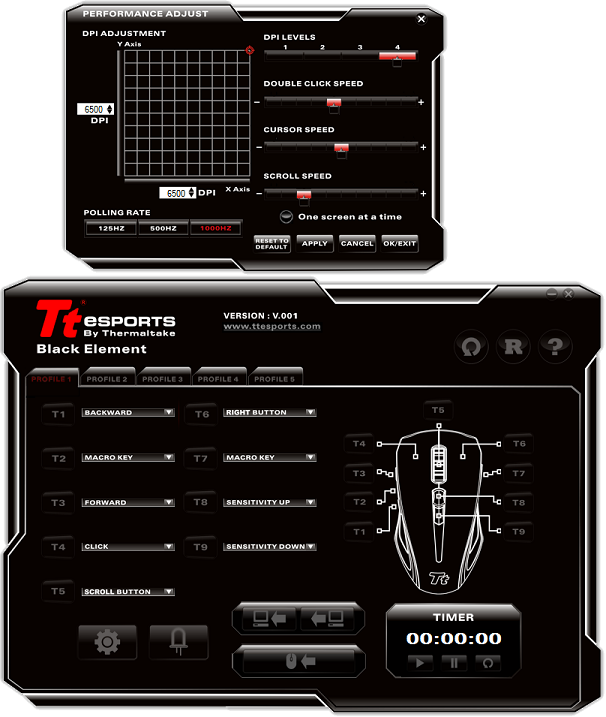 Thermaltake recommends the user to install the software before plugging the Tt eSPORTS Black Element in. The driver software installation took next to no time to complete, as it only requires the user to simply read and click 'Next' repeatedly. If you don't like reading, feel free to pull out an old mouse lying in the corner and madly click away. The provided software is quite plain in looks, but in a sense it incorporates a certain degree of slickness and style, which consists of a mainly black background fused with streaks of white along with text of the same color. The software provided in conjunction with the mouse's 128KB onboard memory allows up to five different profiles for custom button assignments, click speeds, polling rates, scroll speeds, dpi adjustments for both the x-axis and y-axis separately, and five different colors as lighting options for the logo and scroll wheel to be stored on the Black Element itself. The software also provides you with a means to reset everything to the default settings, as well as giving you an option to register your profiles online. Generally speaking, many of these features found in Thermaltake's provided software is quite standard, as what you would expect from a gaming mouse. Features such as independent X/Y axis sensitivity adjustment are one of the most advantageous features of the mouse, as gamers such as my colleagues Kenneth, Jeremy, and I would grow to appreciate -- this feature could very well enhance game play in various games. As mentioned earlier, there is also a feature where you could register your profiles online. This gives gamers a variety of perspectives on how other users set their settings on their gaming mouse, giving you a better understanding of specific settings you should use for your own Tt eSPORTS Black Element. The software also incorporates a timer at the bottom right of the menu screen for keeping track of how many hours you have spent playing games. Unfortunately, you have to manually start and stop this timer yourself.
The software provided also allows the user to set macros, with full time delay support. For example, in StarCraft, for you to build a supply depot, you are required to press 'b+s'. What the Macro Key Setup allows you to do is to record these keystrokes along with its delay time. Since you will need to press 'b+s' fairly quickly, you can set the delay time between each key down to the milliseconds. And of course, for those World of Warcraft fans, spells take time to cast, so you can easily set the delay times well into how many seconds you want to delay your macro keys. To start programming your macro keys, simply hit the 'Record' button to start setting up your keys. Once you are finished, there is a convenient 'Stop' button next to the 'Record' button. If you are not satisfied with what you have programmed in, you can always delete individual sets with the 'Del' button, or you can clear the whole thing by clicking on the 'Del' a second time. These keys can also be repeated if you require multiple repetitions of the same keystrokes. Lastly, if you do not want to lose all that hard work programming all those macro keys, there is a 'Save' button available, as well as a 'Load' button for previously programmed macro keys. These settings can be assigned to the different buttons on your mouse, and is preferred by gamers such as myself to map the browser 'Back' button to other functions to improve gameplay efficiency.
------------------------------------------
The Tests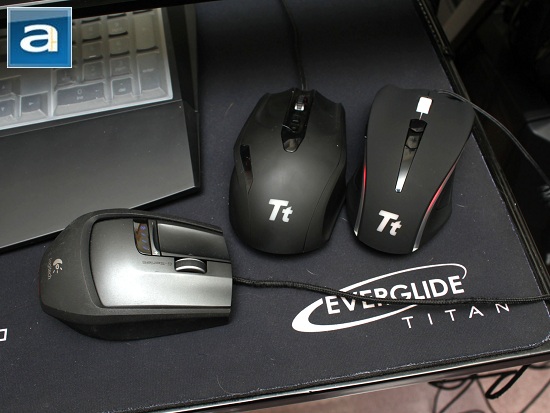 Our tests were carried out on a computer with the following specifications:
CPU: Intel Core i7-930 @ 2.80 GHz (Stock)
CPU Cooling: Arctic Cooling Freezer 13 Pro
Motherboard: Asus P6T
RAM: Patriot Extreme Performance Viper II Sector 7 Series PC3-12800 6x2GB
Graphics: HIS Radeon HD 6870 1GB
Chassis: Cooler Master Storm Enforcer
Power: Cooler Master Silent Pro Gold 1000W
Optical Drive: Asus DRW-24B1ST 24x DVD-RW
Hard Drive: Seagate Barracuda 7200.11 1.5TB, Western Digital Caviar Green 1TB
Operating System: Microsoft Windows 7 Ultimate x64
Like many other mouse reviews here at APH Networks, I have taken the Tt eSPORTS Black Element through an extensive course of performance tests through many weeks of usage. This includes the daily day-to-day office-type productivity programs such as the Microsoft Office suite, as well as Adobe's Photoshop Elements 9 and Premiere Elements 9. Also included in my battery of tests are popular computer games, which include Counter-Strike 1.6, Counter-Strike: Source, Tom Clancy's Splinter Cell: Conviction, Call of Duty: World at War, Front Mission Evolved, and Minecraft. The Black Element was tested on multiple surfaces to see how well it performed. This includes the Everglide Titan Monster Mat (DKT Edition), SteelSeries QCK+, Razer Sphex, Razer Destructor, and Razer Goliathus Extended Control Edition.
As you can tell, I have taken Thermaltake's Tt eSPORTS Black Element through a very long and thorough test so that you can be well informed about this product. I have found that the Black Element to be an excellent and well constructed mouse. There were no flimsy parts, and the slick rubber coating on top of the well constructed design gave me good control over the mouse. This took me almost no time to get used to, as I was previously using the vanilla eSPORTS Black, which had a larger body. Being more of a claw-grip mouser myself, the Black Element fitted my style just perfectly.
Obviously, this mouse is geared more towards users in the world of gaming more than the typical office user who plays flash games online while their boss is at a meeting. This does not mean that general office users cannot use such mice, but rather, it is more inclined for the former rather than the latter. The good news is it can easily be adjusted to suit whatever you are working on, as its sensitivity can easily be set via the dpi changer buttons or in the software provided. As far as gaming is concerned, you are free to choose from five different adjustable profiles, so if you ever get bored of one game, you can easily switch to a different game without having to think too much about resetting up your configuration. However, this does not guarantee that you will be ranked number one on the ladder in StarCraft II, simply because this mouse is the best of its kind. Incorporating the 1000Hz polling rate at 1ms response time, I found that mouse movements across the screen were very smooth, accurate, and responsive. However, once you get to 6500 dpi, some may find it a bit too sensitive for their liking. I had no problems in tracking when using over our multiple mousing surfaces, in which I have also tested on a bare wooden desk as well as on glass. However, testing over bare wood gave me slight hiccups, where the cursor would jump around the screen. This is most probably due to the fact that my desk had some unique textures that the laser sensor did not like. As you may have guessed, using the Black Element over glass simply did not work, just like any other optical or laser mouse.
------------------------------------------
Generally speaking, the Tt eSPORTS Black Element is sturdy and solidly built mouse that fits perfectly for nearly any type of hand curvature. Featuring the slick rubber coating for excellent grip and control, a durable long braided cable, well-thought out design for comfortable ergonomics, five different profiles that are easily customizable, and five interchangeable colors to set the atmosphere, the Black Element is truly a one-of-a-kind mouse for gamers and office users alike. Also included is 128KB of onboard memory to store up to five profiles. In addition, it is capable of handling up to as much as 6500 dpi, with four preset levels for convenient access. That's not to mention both the x-axis and y-axis sensitivity can be set separately. The featured software provides great flexibility for personalized styles. The Teflon feet included gives great mobility over most surfaces. Tunable weights are also found on the heel of the mouse, giving the user a more specific weight balance of the mouse. With all these desirable features, users like myself have little to complain about. However, some may feel that additional grip could be provided on the thumb side on top of the rubber coating. As well, it would have been nice if Thermaltake provided a wider range of weights to choose from, rather than sticking to five 4.5g weights. Other than these minor notes, what features on this mouse can you actually complain about? The only real statement I could really say with confidence is this is one of the truly best mice I have ever owned.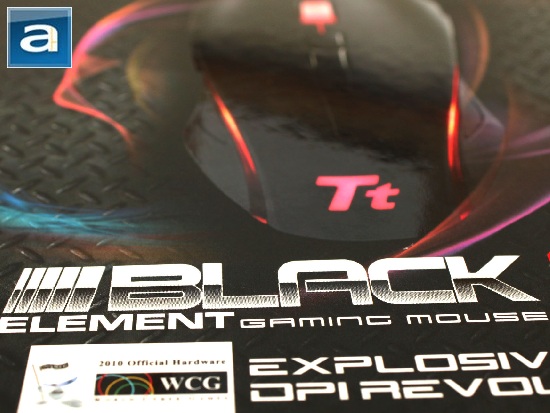 Thermaltake provided this product to APH Networks for the purpose of evaluation.
APH Review Focus Summary:
8/10 means Definitely a very good product with drawbacks that aren't likely going to matter to the end user.
-- Final APH Numeric Rating is 8.0/10
Please note that the APH Numeric Rating system is based off our proprietary guidelines in the Review Focus, and should not be compared to other sites.
If you are looking for a slick and sleek mouse with great all-around features, Thermaltake's Tt eSPORTS Black Element is a serious contender in the game. Both figuratively and literally.
Do you have any comments or questions about the Thermaltake eSPORTS Black Element? Drop by our Forums. Registration is free, and it only takes a minute!