By: Preston Yuen
February 18, 2011
What do you get when you combine a good gaming computer with a good gaming keyboard? A good gaming experience. How about combining a good gaming computer with a good gaming mouse? Another good gaming experience. However, have you ever thought about combining both a good gaming keyboard and a good gaming mouse with a good gaming computer? Over the course of many years in the gaming industry, I have put very little thought into whether gaming peripherals would ever help me enhance my in-game performance. Ever seen a pro in a Toyota Corolla beat a BMW M3 noob at the local track? (That is, in real life, by the way.) I have always come across peripherals more along the lines of productivity, as I once believed productivity peripherals were worth my money over any kind of gaming peripherals in the market. Being a hardcore gamer myself, I found that in many cases, I was more of a console gamer than a PC gamer -- that is, until just recently, when I began to show much interest in PC gaming as well. Then I began to understand why PC gaming peripherals are a necessity. And to better enhance my understanding of all the stuff going on in the gaming world, in addition to all the excellent keyboards and mice I already own, I also recently reviewed the Tt eSPORTS Meka G1 mechanical gaming keyboard and the Gigabyte Aivia K8100 gaming keyboard. But one thing seems to missing from the bigger picture as far as my review career is concerned. And the answer to this is simply that I am missing a gaming mouse! In conjunction with the line of Tt eSPORTS products, Thermaltake introduces their Tt eSPORTS Black gaming mouse. Featuring a slick rubber coated surface, a braided cotton cord, as well as various other features, Thermaltake intends on providing the best for gamers and give some of the big boys a nice challenge. Adding this /////AMG BLACK (inspired) mouse in combination with my 'Lamborghini' Aivia K8100 keyboard, only one question comes to my mind: How much supercar power does it pack under the hood? Well, you will have to keep your eyes busy to find out!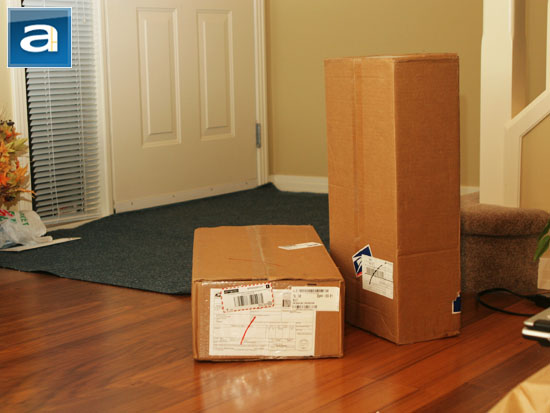 As mentioned in the Tt eSPORTS Meka G1 mechanical gaming keyboard reviewed by yours truly a short while back, the Tt eSPORTS Black gaming mouse arrived along with the Tt eSPORTS Challenger Pro gaming keyboard as well as the Meka G1 mechanical gaming keyboard in two separate boxes from our good neighbors down south -- specifically, from California -- via USPS, then transferred to Canada Post to our Calgary, AB location in mostly pristine condition. As always, there were some expected minor bumps and bruises, but nothing to get overly concerned of.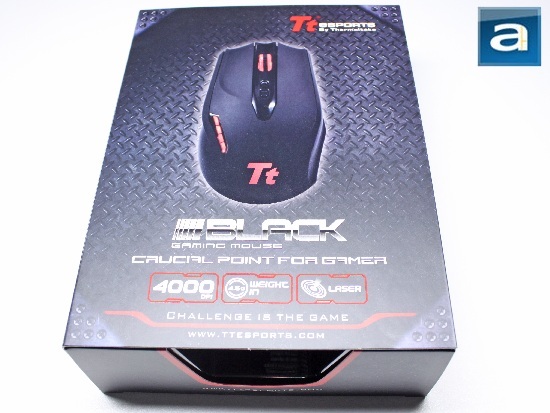 Our review sample of the Tt eSPORTS Black came in Thermaltake's standard eSPORTS retail packaging, which is quite similar in style as the rest of the Tt eSPORTS line of products. The background is embedded with a black, studded metal sheet design screwed down at the four corners. A photo of the Black mouse itself is prominently displayed in the center. Thermaltake's Tt eSPORTS branding can be found at the top right corner, while its name is boldly stated right below it with the slogan "Crucial Point for Gamer" mouse. As you can see, they stylized the name of the mouse like the Mercedes-AMG logo, except they reversed the order of thickness of the preceding five bars. Just so to mention, there are AMG Black Edition cars, so I wonder where they got that idea from, haha. There are also three key features shown below its name; followed a sleek red line, underlining the Tt eSPORTS slogan -- "Challenge is the Game". In case you missed out what the name of this mouse was, it is displayed on both right and left sides of the box as well as the top flap of the box too. Flipping the retail box over provides you with the key features of the Tt eSPORTS Black in multiple languages. Opening the front flap contains the features and specification comparison on the back side of the flap, as well as displaying your Tt eSPORTS Black gaming mouse under the cover.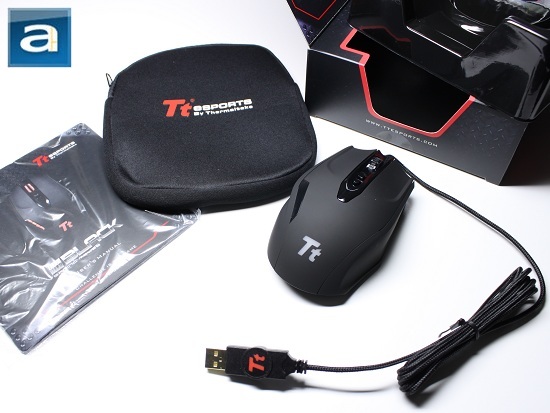 Pulling the Tt eSPORTS Black out of the box, you are also presented with a short manual/guide, a miniature warranty booklet, and a protective soft case for your mouse. There is not much of a surprise that there are very few things packaged into the box, and one notable thing companies have recently done is they have stopped providing driver CDs out of the box. This saves on production costs as well as reducing on environmental wastes. Besides, the most up-to-date drives are usually available online anyways. Enthusiasts like me would not even bother to stick a CD in the drive, as we tend to get the latest drivers online anyway.
Anyways, let's take a closer look at the specifications and features, as obtained from the retail packaging and the manufacturer's website, before moving on to the real deal:
Features
DPI Indicator: Provides up to 4 levels of dpi indication for 400/800/2000/4000 dpi.
Last Page: Instant access to last page in Internet Explorer.
Thumb Grip: Provides perfect thumb grip when moving mouse cursor.
Left Button: Click for shooting actions or the function of regular left button function.
Right Button: To activate "Sniper Scope" in most shooting games or the regular right button function.
Scroll Wheel: Scroll to select and change the weapon on most shooting games or the scrolling for up or down in Internet Explorer.
DPI Up/Down: DPI sensitivity stage up/down
Rubber Coating: Provides excellent hand grip and comfort during game actions
Weight-in: Provide weight tuning to your preferred mouse weight.
Philips 4000 DPI Laser Sensor: Accurate with precision in cursor movement
Teflon Feet: Provides low friction movement for mouse on most surfaces
Specifications
Model: Black gaming mouse (MO-BLK002DT)
DPI: 400/800/2000/4000
USB Data Format: 16 bits
Max Acceleration: 50G
Max Speed: 90IPS
Report Rate: 500 reports/second
Tuning Weight: Yes (4.5g×5)
On the move DPI: Yes (4 levels)
Buttons (Left / Right): 5 million clicks
Cable Length: 1.8m braided
Feet Material: Teflon
USB Connector: Gold-plated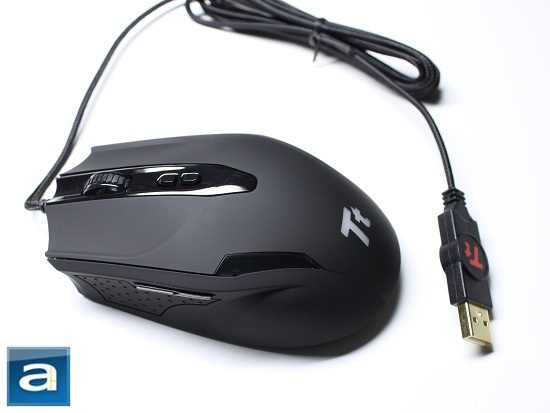 The Tt eSPORTS Black incorporates the common braided USB cable in the high performance gaming mice market, as this type provides better durability, increased flexibility, less friction than the standard plastic cables, and ultimately reduces the number of tangles in the wire. As well, the cable is 1.8m long, which is more than sufficient for the average desktop user.
The Tt eSPORTS Black, on the most part, has a slick matte black color shell with a shiny center surrounding the scroll wheel and sensitivity changer buttons. The majority of its surface is composed of a rubber coating for better gripping, comfort, usage performance, and style. Overall, the Tt eSPORTS Black is designed ergonomically well, which would suite a more diverse population of either palm grip type or claw grip type usage. However, due to the physical size of the mouse, the Tt eSPORTS Black leans more towards a palm grip mousing style than of a claw grip type. The asymmetrical design means that this is a right-handed mouse, so if you are a lefty, you are just out of luck unless you use your right hand. The right and left mouse buttons are slightly curved, as it acts as a slight preventive measure for fingers that like to slip off the mouse. There are curves on both sides of the mouse, but it is a little bigger on the left side to accommodate your thumb. The thumb section also tacks on some extra bumps for extra grip as well as a convenient hot button for going back on web pages instead of clicking the back button on your browser. This can easily be mapped as a different function with the provided software, in which I will go into further detail later. The curve on the right side helps support both your ring and pinkie finger. Again, due to its size, you will find yourself wrapping your pinkie further down near the base of the mouse. The Thermaltake logo and the sides of the scroll wheel uses a semi-clear cover and clear sides, respectively; enhanced with a red backlight for the extra kicks added to the overall design of the mouse.
The left side of the mouse uses an array of 4 LEDs as indicators for a four step sensitivity setting. These are preset to 400, 800, 2000, and 4000 dpi, respectively. If you are picky on the sensitivity steppings, you can also set the dpi settings to basically anything between 400 and 4000 dpi via the downloaded driver software. One notable but minor flaw in the dpi indicator is that the lighting tends to be uneven when you take a look at it from an angle. The dpi settings can easily be changed on the fly via the dpi sensitivity changers below the scroll wheel. These buttons can also be mapped as different functions, but in my opinion it is best to leave these ones as it is. The scroll wheel is a standard feature in most mice these days, and the Tt eSPORTS Black scroll wheel houses horizontal grooves for additional grip. As aforementioned, the scroll wheel incorporates clear sides with an LED backlight for enhanced aesthetics and visibility in the dark. Here we will also find its gold-plated USB connector; do keep in mind the gold plating on areas you can see does not make actual contact with the USB pins. Probably the single and most pleasing feature of being gold-plated is it is pleasing to look at.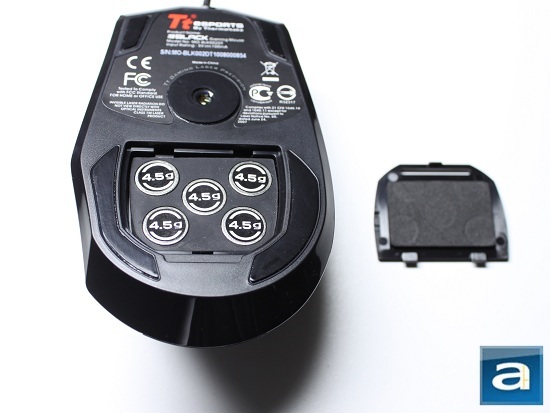 Flipping the Tt eSPORTS Black over, we are presented with a mostly plastic underside. A protective plastic cover surrounds the optical sensor area. The product name and brand is featured near the top along with the model. The four feet are made of Teflon, which is a very common type of material these days used on many gaming mice. Teflon is an excellent material because it enhances glide and smoothness of your mouse. Based on previous experience, these feet should give you quite a long time before wearing down, so durability should be of little concern. The optical sensor, located approximately in the center of the mouse, is based on the Philips 4000 laser engine, capable of up to 4000 dpi with supported polling rates of up to 1000Hz at 1 ms response time. This is the industry performance standard, meaning that it can send up to one thousand pieces of tracking data per second to your computer, increasing mousing precision.
Unlike the Mionix Naos 5000 gaming mouse reviewed by Kenneth back in April of 2010, or the Logitech G9 laser mouse reviewed by Jonathan back in November of 2007, the Tt eSPORTS Black has its set of weights already pre-installed, instead of providing then in a separate tin tray. They can be easily accessed at the underside of the mouse by simply removing the cover that keeps the weights in place. The cover has a somewhat flexible section for users to unlatch the inner hook, which keeps the cover in its place. The Tt eSPORTS Black also houses a rubber tray to keep the weights secured down in proper order without having the weights bouncing around. Of course, if you prefer no weights at all, you can simply remove the whole container. The question is, where in the world could you ever keep weights if no extra tin tray is provided? Luckily, you are provided with a protective soft case out of the box, and within that case contains pouches where you could conveniently place your weights. However, we would appreciate it if more variety of weights were provided to better suite the general population, as there are only five 4.5g weights available from the factory.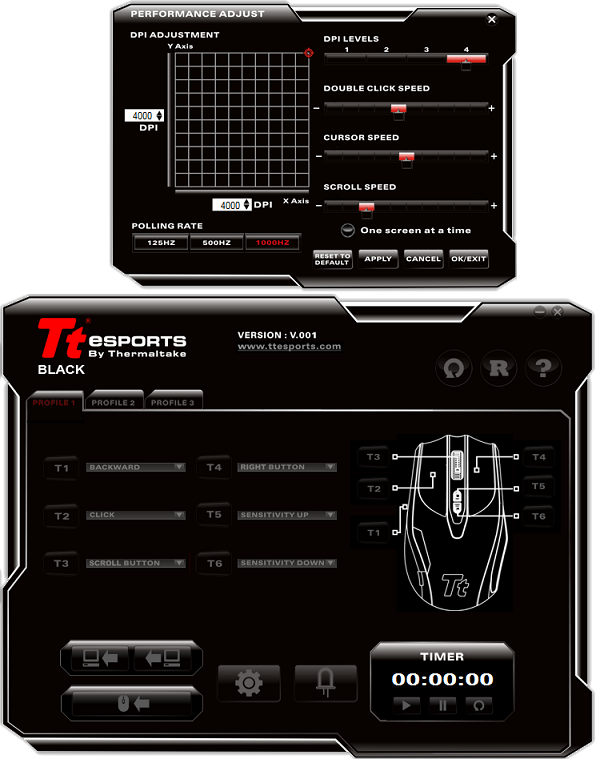 During installation, Thermaltake requires the user to download the driver for Tt eSPORTS Black gaming mouse from their website. The driver software installation took next to no time to complete, as it only requires the user to simply read and click 'next' repeatedly followed by a nice 'Finish' at the end. The provided software is quite plain in looks, but in a sense that it incorporates a sense of slickness and style, which consists of a mainly black background fused with streaks of white along with its white text. The software provided in conjunction with the mouse's 64KB onboard memory allows up to three different profiles for custom button assignments, click speeds, polling rates, scroll speeds, dpi adjustments for both the x-axis and y-axis separately, and lighting options for the logo and scroll wheel, separately. The software also provides you with a means to reset everything to the default settings as well as giving you the option to register your profiles online. Generally speaking, many of these features found in Thermaltake's provided software is quite standard; as what you would expect from a gaming mouse. Features such as independent X/Y axis sensitivity adjustment are one of the most advantageous features of the mouse, as gamers such as Kenneth and I would grow to appreciate for gaming in different situations and styles, and hence, enhances game play in various games. As mentioned earlier, there is also a feature where you could register your profiles online. This gives gamers a variety of perspectives on how other users set their settings on their gaming mouse, and some of them may share similarities, thus, giving you a better understanding of specific settings you should use for your own Tt eSPORTS Black. The software also incorporates a timer at the bottom right of the menu screen for keeping track of the many hours you have spent playing games. However, you have to manually start and stop this timer yourself.
The software provided also features macro key setup. Here, you may be able to set delay times for the different keys that you set. For example, in Starcraft, for you to build a supply depot, you are required to press 'b+s'. What the Macro Key Setup allows you to do is to record these keystrokes along with its delay time. Since you will need to press 'b+s' fairly quickly, you can set the delay time between each key down to the milliseconds. And of course, for those World of Warcraft fans, spells take time to cast, so you can easily set the delay times well into how many seconds you want to delay your macro keys. To start programming your macro keys, simply hit the 'Record' button to start setting up your keys. Once you are finished, there is a convenient 'Stop' button next to the 'Record' button. If you are not satisfied with what you have programmed in, you can always delete individual sets with the 'Del' button, or you can clear the whole thing by clicking on the 'Del' a second time. These keys can also be repeated if you require multiple repetitions of the same keystrokes. Lastly, if you do not want to lose all that hard work programming all those macro keys, there is a 'Save' button available as well as a 'Load' button for previously programmed macro keys. These settings could be assigned to the different buttons on your mouse, but it is most recommended that you replace the browser backward button, since most games require you to utilize the functions of your other buttons.
-----------------------------------------
The Tests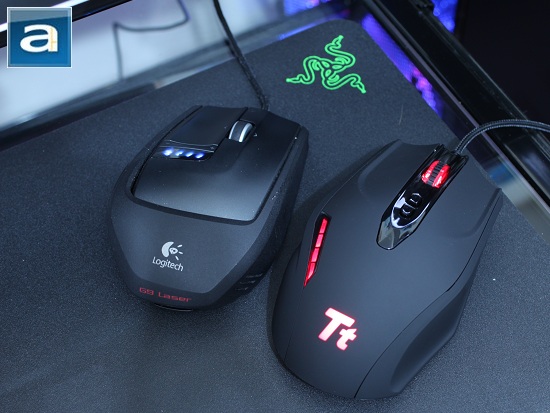 Our tests were carried out on a computer with the following specifications:
CPU: Intel Core i7-930
CPU Cooling: Arctic Cooling Freezer 13
Motherboard: Asus P6T
Graphics: HIS Radeon HD 6870 1GB
Memory: Patriot Extreme Performance Viper II Sector 7 Series PC3-12800 6x2GB
Chassis: Cooler Master HAF 932
Power: Cooler Master Silent Pro Gold 1000W
Sound: Integrated (Motherboard)
Optical Drive: Asus DRW-24B1ST 24x DVD-RW
Hard Drive: Seagate Barracuda 7200.11 1.5TB
Operating System: Microsoft Windows 7 Ultimate x64
I have taken the Tt eSPORTS Black through an extensive course of performance tests in the past few weeks of daily usage. Of course, this would include the usual office-type productivity programs like the Microsoft Office suite, as well as Adobe's Photoshop Elements 9 and Premiere Elements 9. And of course, being a gaming mouse, I have also put it through various tests in computer games, including Counter Strike: Source, Tom Clancy's Splinter Cell: Conviction, Call of Duty: World at War, and Front Mission Evolved. The Tt eSPORTS Black is also tested on multiple surfaces, which include the cloth-based Everglide Titan Monster Mat (DKT Edition), SteelSeries QCK+, as well as the ultrathin Razer Sphex.
After giving several weeks of experience and usage of the mouse, I found that the Tt eSPORTS Black was a very well constructed and solid-built. There were no flimsy parts that I was aware of, and the slick rubber coating gave me a very good sense of grip for excellent control, no matter what dpi setting I was using. The side button was convenient to press and the mouse buttons were very refined. As well, its Teflon feet provided a very smooth glide among various surfaces that I have tested it on.
After many years of playing around with various types of mice, I am classified as more of a mix between a palm mouse and a claw grip-type user, but leaning more towards the claw grip mousing style. This means that I would like to rest my palm on the surface of the mouse, but only use my finger tips to touch the rest of the mouse. This took me quite some time to get used to the Tt eSPORTS Black, as it is considerably larger than the mice that I normally use, forcing me to switch to the palm mouse style, where you full contact is established between the user's hand and mouse. Even though it may have taken me some time to fully switch between different mousing styles, I have to admit that once you have switched over, the Tt eSPORTS Black was actually quite comfortable.
The Tt eSPORTS is geared more towards the gamer-type market than for typical office users. This does not mean that this mouse is not suited for day-to-day office productivity, however. Its sensitivity can be easily adjusted, either via its dpi changer buttons or through the software provided, as mentioned earlier. As far as gaming is concerned, it is quite easy to preset your settings in the software before diving into your favorite Counter Strike round, and it does provide a balance in comfort and usage, even after extended periods of gaming. Having said this, it does not mean that I will be ranked in the top ten because I have such a fantastic mouse that increased my skills drastically. You have to use the Tt eSPORTS Black enough times to get used to it as well as setting up your preferred settings beforehand. Incorporating the 1000Hz polling rate at 1 ms response time, I found that the response time of the mouse was very smooth, accurate, and quick; even when set to the maximum sensitivity of 4000 dpi. This leads me to believe that such a mouse would help gamers like myself improve on various mousing skills required for the number of games as well as for different office programs that are out in the PC world. I had absolutely no problems in tracking when using over our test surfaces, in which I also tested on a bare wooden desk surface in addition to our performance surfaces. I have also given it a shot over a glass surface, and the truth is (For any normal laser mouse, that is), that it is not ideal, even if there is some sort opaque design directly under your glass surface.
-----------------------------------------
The Tt eSPORTS Black is a generally excellent gaming mouse. First of all, it houses a slick rubber coating for grip and control, a braided cable for durability and flexibility, and a solid build quality and incorporated grooves for comfort, which makes the Tt eSPORTS Black such a commendable product. Also included is a 64KB onboard memory for storing up to 3 different profiles for your different mousing styles. In addition to the driver software for setting profiles, it is also capable of up to 4000 dpi tracking sensitivity, with up to four steppings that can be stored onto the mouse at any given time. That's not to mention both the x-axis and y-axis dpi can be set separately. The current dpi setting is also indicated through its LEDs on the left side of the mouse. Its Teflon feet are another great enhancement for easy mouse gliding and movement over various surfaces. The eSPORTS Black's size, implemented grooves, and anti-slip thumb patch is a great addition for style, comfort, and grip. The software obtained from Thermaltake's website gives the user a great amount of options over various settings on their mouse, which I greatly appreciate, since not everybody could use the same settings as everyone else. Also featured is the tunable weights implemented on the bottom of the mouse. Although the Tt eSPORTS Black is equipped such desirable features, there are always a couple of minor flaws. First and foremost, although it is convenient that there are dpi indicators, it is quite hard to see when looking down at it from an angle. Gamers like myself would also appreciate a more diverse amount of weights that could be interchanged with the ones that are already on the mouse. Other than these minor flaws, I find that the advantages of this mouse much outweigh the flaws of the Tt eSPORTS Black. Is this really the AMG mouse? Stepping back and looking at the bigger picture, the Tt eSPORTS Black is a stylish high performance and comfortable gaming mouse, and it is all yours for a competitive $50 MSRP at press time. So yeah, it's quite AMG -- without the AMG price tag. Now excuse me while I get back to "work" along with my Lamborghini keyboard...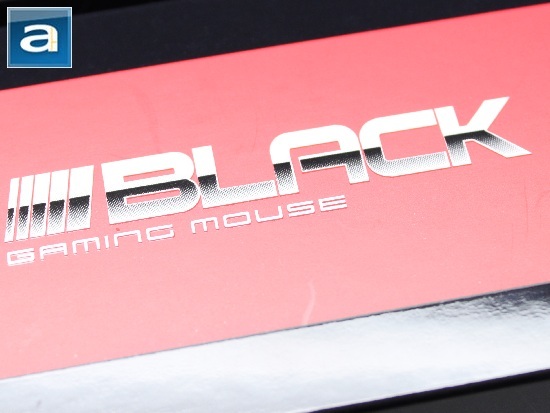 Thermaltake provided this product to APH Networks for the purpose of evaluation.

APH:Renewal Award | APH Review Focus Summary:
8/10 means Definitely a very good product with drawbacks that aren't likely going to matter to the end user.
7/10 means Great product with many advantages and certain insignificant drawbacks; but should be considered before purchasing.
-- Final APH Numeric Rating is 7.9/10
Please note that the APH Numeric Rating system is based off our proprietary guidelines in the Review Focus, and should not be compared to other sites.
Yep, Thermaltake is being serious about the gaming peripherals market, and you should take them seriously, too. The Tt eSPORTS Black is a commendable gaming mouse featuring great build quality, performance, and comfort all around.
Do you have any comments or questions about the Tt eSPORTS Black? Drop by our Forums. Registration is free, and it only takes a minute!