Page 3 - Subjective Audio Analysis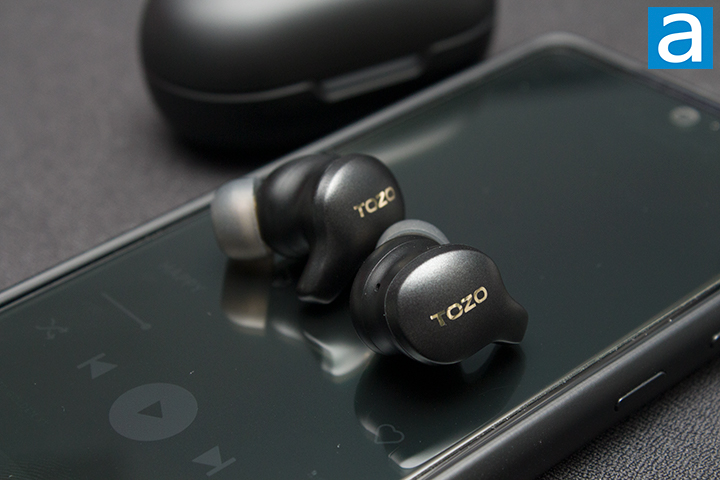 For all audio products we review at APH Networks, it takes quite a bit of experience and training of the ears before we can assess with fair judgment. Even for the experienced auditioner, it can be hard to produce an exact or accurate evaluation of a product without a familiar product to use as a reference. There are no true objective measurements for audio sound quality, but as a reviewer, I will put the TOZO Golden X1 through a series of subjective tests to try to come up with the most objective rating as I can. The audio tests were conducted with the Golden X1 connected to my Samsung Galaxy S20 FE via Bluetooth 5.0.
After taking some time to break in the TOZO Golden X1, I put these earbuds to the test. All tracks are uncompressed or high bitrate audio files. Equalizer settings were set to flat for testing purposes. I watched videos to test for latency.
As the TOZO Golden X1 has active noise cancelling, let us touch on this first. As someone who uses ANC earbuds daily, I was wondering how the Golden X1 would compare. As it turned out, I was quite impressed with the active noise cancelling feature here, as it was able to cut out a surprising amount of background noise. Constant low frequency noise was noticeably canceled too. The ANC went far beyond that of passive noise cancelling that I have become accustomed to for earbuds of this type. This is very useful for plane, train, or bus rides. I will say that the Golden X1 may make you quite unaware of your surroundings.
I will base most of the evaluation with ANC on, given the TOZO Golden X1 are active noise cancelling earbuds. Turning on ANC mode does affect the character of the sound output to a degree. Typically, when toggling ANC on, the bass will increase. In the case of the TOZO Golden X1, I experienced very minimal change, although it will be observable to keen individuals in silent rooms.
Keeping all of this in mind, I kept ANC on and I would say the sound character of the TOZO Golden X1's bass and treble was boosted above neutral, like many other earphones in the market today. Breaking down the "big three", we have the bass, midrange, and treble. With ANC on, I found the bass was reasonably deep and round in the tracks I listened to. I personally am not a fan of overly bass boosted earphones or headphones, but the bass was consistently deep and smooth. If you are used to a more neutral sound curve, you will definitely notice a slight boost at this end. Generally, the delivery of lower frequencies was well-articulated.
The midrange was notably recessed on the TOZO Golden X1 in my personal opinion. This is not necessarily a bad thing, as the midrange was still strong albeit overshadowed by the two ends. The audio in this section was defined and offered a clean reproduction of noise. Focusing on voices in the midrange, the detail was good, but not perfect. When the midrange was isolated, it was clear and smooth, but as tracks became more complicated, voices start to sound slightly less natural. Despite my minor nitpicks, the sound produced was decent in richness and clear for the majority of use.
Moving on to the treble, there was a very marginal boost above neutral, which allowed it to be more pronounced. While the sound was clear and sharp for the majority of the tracks I used when testing, other tracks began to sound less crisp. I find with many headphones, the treble is either rounded off or recessed to avoid an overly sharp sound signature, but the TOZO Golden X1 balanced out this portion well, giving the user a comfortable listening experience without sacrificing other aspects of the treble. The treble was very satisfactory in my listening experience. Everything was nice and tight, offering a clean overall sound. When it came to the balance between the three, there was a noticeable boost in the bass and treble, but some users may prefer this as this is a common instance for many earbuds. The treble was boosted, but not as much as the bass. There was a U-shape curve in terms of sound signature that did not quite fit my sound preferences. I will say that if you enjoy genres like tropical bass, the Golden X1 will sounds quite good.
The soundstaging of the TOZO Golden X1 was surprisingly adequate. I say this because there was an acceptably defined depth, width, and direction given the form factor. While it may not be on par with open-back headphones for instance, it still did a great job for its physical limitations. In terms of imaging, it remained faithful for the most part. Each layer had great detail. The resolution was good across the board, picking up most details in high quality encoded tracks. In more complicated tracks, the Golden X1 managed to hold up adequately. Frequency separation was also good. Details were reproduced with good clarity. The sound across the board was quite cohesive, being quite smooth and comfortable across the range.
The TOZO Golden X1 comes with six pairs of ear tips, including the pre-installed ear sleeves. The extra sizes helped in finding a proper fit to proper to create a good seal in your ear. This seal allows for good passive sound isolation. The Golden X1 has active noise canceling that promises to cancel out up to 42dB of ambient noise in the environment. It performed exactly how you think it would, blocking out some constant noise, alongside some background voices and noise. Of course, it did not block out everything, but it still did a very good job, considering the fact that I became oblivious to some of my surroundings.
The TOZO Golden X1 had very minor background hissing noise when turned on, which is a side effect of its active noise canceling system. The background hissing noise will go away if you turn off ANC. In terms of lag, I did not notice any significant delay on a regular occurrence. Audio appeared to be properly synchronized to videos I was watching on my Samsung Galaxy S20 FE.
In the sample recordings above, the microphone of the TOZO Golden X1 worked fine when walking inside and outside. I thought it was functional for day-to-day conversation. My voice came through quite decently, being easy to understand, but there was some observable muffle for both indoor and outdoor recordings. Outside, there was very little wind picked up making my voice much easier to understand. My voice came through well, but the quality was nothing to be ecstatic about. While the microphone made a minor amount of background noise, it was an acceptable amount. Generally speaking, it is fully usable for voice calls, but could sound a little more natural and less muffled.
The company estimates the battery to last around 5 hours with ANC on and 8 hours with ANC off on a single charge at 50% volume. I got approximately 4.5 hours at 50% volume with ANC on from my test, which is close to what TOZO claimed, but still slightly under. With ANC off, I got about 7 hours and 15 minutes. When the earbud is running low, the earbuds will make a noise to signal it needs charging. The rated wireless range is 10m, and from my testing, you can go much further. In my test I was able to make it roughly 25m away before receiving some interruptions in the audio. This test was a straight path down the street with no other notable interference.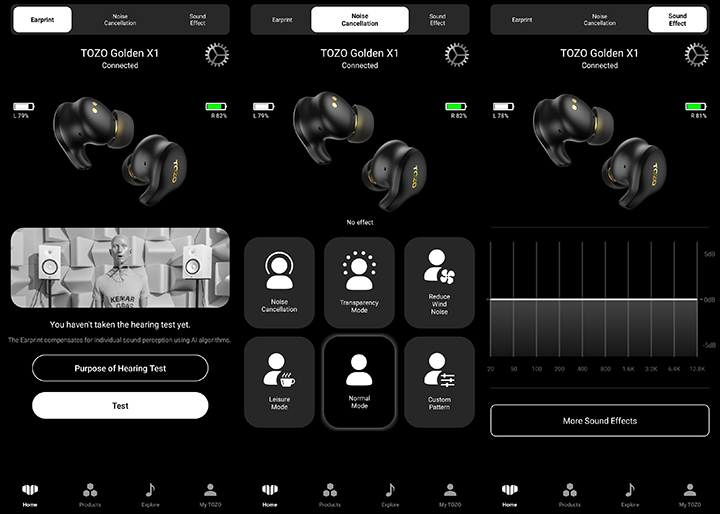 Overall, the audio performance of the TOZO Golden X1 was pretty good for the average user. The active noise cancellation is excellent in terms of isolating you from the rest of the world. If you are like me and like a flatter sound signature, the TOZO app offers the ability to adjust your listening experience. As seen in the image above, the app is fairly simple to use and has three main tabs. Earprint is a test to personalize your listening experience. This test uses different frequencies to identify your personal hearing preferences. Noise cancellation allows you to choose from six different levels of noise cancellation. Finally, sound effect is where you can change your EQ settings to better fit your sound profile. There are a total of 16 EQ profiles to be chosen from.
---
Page Index
1.
Introduction, Packaging, Specifications
2.
Physical Look - Hardware
3. Subjective Audio Analysis
4.
Conclusion