By: Aaron Lai
October 23, 2015
When Barack Obama was re-elected in 2012 for his second term as the President of the United States, I posted a status on Facebook saying, "I guess you could say... he is Barack". Now, if you have talked to me before, you will probably know about my adoration of puns. I even throw them into my reviews when I see an opportune moment. Puns are my way of making both a joke and a point at the same time. My friends respond to my puns generally in three different ways. One is in the form of a complete laughter. These people are either observing my punning ways for the first time, or they actually find these kinds of jokes funny. Next is a mixed form of dissatisfaction and pleasure, often shown by a palm to the face with a smile, or a chuckle followed by a sigh. These people know my word play antics, but they can survive the corniness. Finally, there are those who flat out reject my puns. They put their palm to my face and say "No" or "Stop". Unfortunately, these so-called friends miss out on these jokes altogether, or they have heard my word plays too many times. Joking aside though, I think puns are actually quite intelligent, since it takes a bit of context, wording, and delivery to make it work. If it is missing any one of these aspects, the pun does not reach its full potential. So when Turtle Beach sent us their latest headset with the name of Ear Force Stealth 450, I thought their series line was at least a play on words, tying between "Ear Force" and "Air Force". However, I could only wonder how I would respond to this pair of gaming headphones. Would it illicit a response of joy, dissatisfaction, or a mix of the two? And was my assumption of the word play correct? I guess we will only find out as I continue on in this review!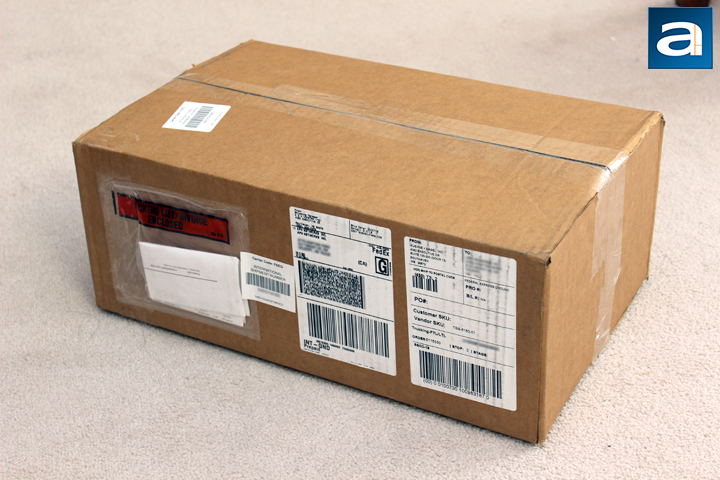 Today's review unit of the Turtle Beach Ear Force Stealth 450 arrived via FedEx Ground services, and the box arrived in excellent condition. There were no holes or dents on the box. Traveling all the way from Southaven, Mississippi, this box was shipped over thirty two hundred kilometers to reach the APH Networks locations here in Calgary, Alberta. I have to say I am quite surprised at the size of the box, especially since the packing list only states the Stealth 450. Otherwise, there is not much to note here, so I grabbed a pair of scissors and sliced open the parcel.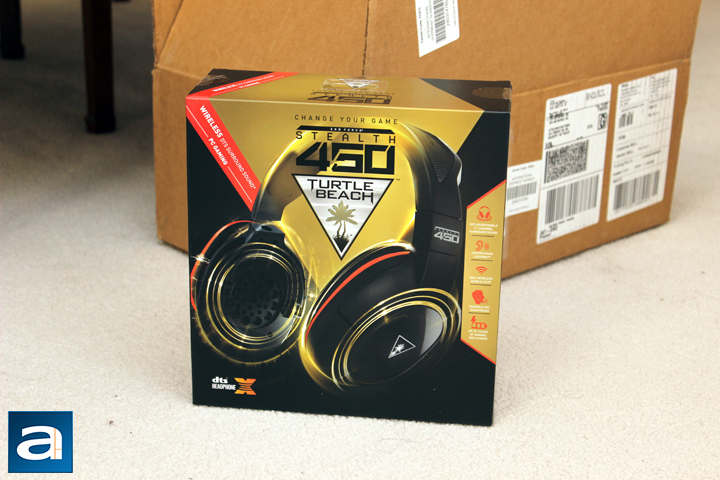 The retail container of the Ear Force Stealth 450 is quite similar to the other two Turtle Beach products we have reviewed here, the Grip 500 and Impact 700. A black and gold coloring scheme is seen here, with red highlights in various places. The front shows the product itself, with gold resonating rings around the product. Turtle Beach's logo is printed in the middle of the box with the product name above the logo. There are several features printed on the side of the front panel, but the biggest feature I should highlight is the fact these are wireless headphones. With a quoted fifteen hours of game usage, we will see if it actually lives up to the tests later on. Otherwise, there are notions of DTS Headphone:X 7.1 Channel Surround Sound, so I will take a look at this in the performance tests.
Before I continue to open the box, I have grabbed a feature list, as provided by the manufacturer's website:
Features
- 100% fully wireless, for crystal clear game and chat audio
- DTS Headphone:X 7.1 Surround Sound
- DTS Surround Sound modes to bring out the best from your games, movies and music
- Booming, high-performance 50mm Neodymium speakers
- Superhuman Hearing™ audio preset which gives you the competitive advantage of hearing enemies before they come into view
- Mic Monitoring lets you hear your own voice in the headset to avoid shouting
- Personalize audio to your liking with four EQ presets
- Removable, high-sensitivity boom mic picks up your voice loud and clear
- Audible voice prompts from the headset so you always know what setting you've selected
- Built-in rechargeable battery that delivers up to 15 hours of wireless gameplay
- Included mobile cable for mobile gaming, listening to music and watching movies on any mobile/tablet device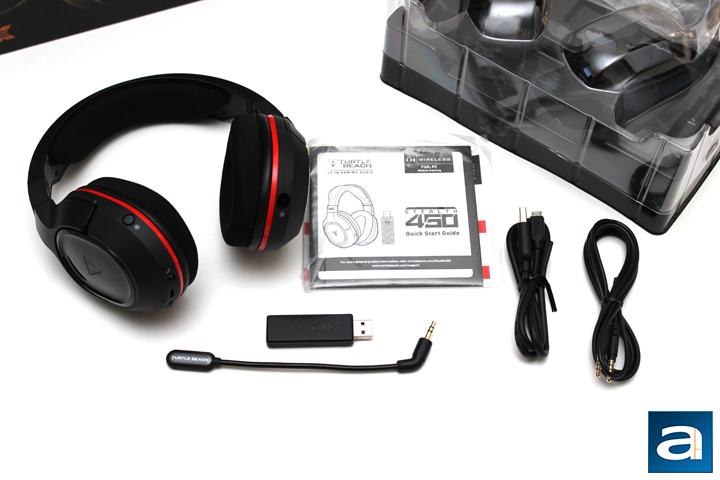 Out of the box, there are a few things to note. First is the Turtle Beach Ear Force Stealth 450 itself. Next is a medium sized USB thumb stick, which serves as the transmitter and receiver interface to your system. A separate microphone module is shown below the USB stick to attach to the Stealth 450. Two additional cables are provided too. The first is a four-pole male to male 3.5mm audio jack, which is used to connect the headset to your mobile device. The other cable is a micro USB to USB 2.0 cable for charging purposes. Finally, a small bag holding some documentation and a logo sticker is included here, but similar documentation can be found online as well. Some notable missing accessories are a carrying pouch, as it would be nice for Turtle Beach to throw in a relatively cheap addition. It would have also been nice to see a second battery here, just as SteelSeries includes with their H Wireless. On the other hand, since the battery is inaccessible to the general public, this omission is understandable. There is nothing much else to look at, so let us turn our attention instead to the headset itself.
---
Page Index
1. Introduction, Packaging, Specifications
2.
Physical Look - Hardware
3.
Subjective Audio Analysis
4.
Conclusion