Page 3 - Subjective Performance Tests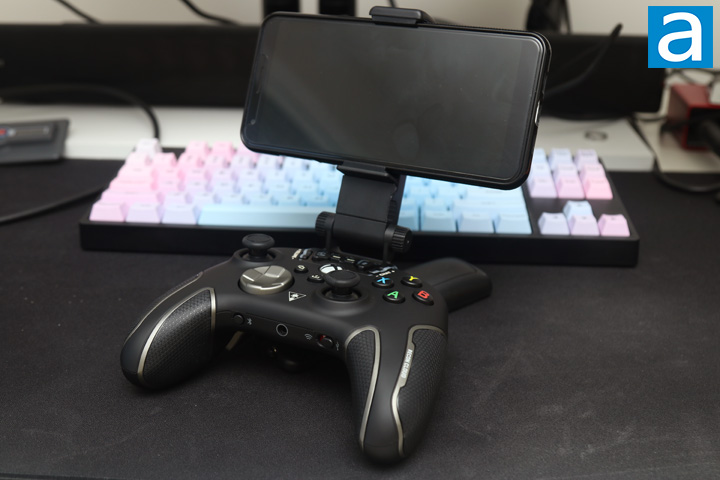 The Turtle Beach Recon Cloud Controller would normally flip over with a phone attached, but I wedged something at the back to keep the whole unit upright for the photo.
In order to truly test a gamepad, it makes sense to play some games with it. While this is an Xbox controller, the majority of my testing was with PC games. For my tests, I threw a bunch of different genres at the Turtle Beach Recon Cloud Controller. This includes a 2D platformer, racing game, and a couple of fighters. For comparison's sake, I played the same games with a wireless Xbox One controller. For Bluetooth wireless testing, I tested it with my Google Pixel 3a XL, which supports Bluetooth 5.0 and Bluetooth LE.
Starting with a platformer, my game of choice is Ori and the Will of the Wisps, which I have talked about in several reviews. The Turtle Beach Recon Cloud Controller was more than capable for a game like this, as everything felt responsive and well-fitting. Similar to the Recon Controller, the Recon Cloud felt quite good to use with its primary buttons that did not wobble much. The triggers were easy to locate and also satisfying to press. The thumbstick movement was smooth and the rounded D-plus was a bonus, as it provided easier diagonal movement. All in all, it was a joy to play Ori and the Will of the Wisps with the Recon Cloud.
For a racing game, I played GRID Legends, which is more of an arcade-like racer. As for the Turtle Beach Recon Cloud Controller, everything felt easy to work with on the gamepad. Triggers felt smooth in action and allowed me to accelerate and brake well. The analog feel worked as expected, with partial presses allowing for more gradual changes in speed. The thumbsticks felt accurate with not much of a dead zone in movement and everything was again quite smooth. The vibration motors inside the Turtle Beach Recon Cloud Controller were able to provide good feedback during braking and turns in the corner, which made me feel the rumble in the car.
The next two games I tried were fighting games in the form of Injustice: Gods Among Us and MultiVersus. While these are both categorized as fighting games, I would say they are quite different in their look and gameplay. Injustice is more like an arcade fighter with a 1v1 battle that involves button combinations, while MultiVersus is more attune to Super Smash Brothers with a free-for-all four-person battle on a floating stage. I am not necessarily a pro in either game, but the Recon Cloud Controller was more than capable in letting me hit the necessary button combinations with ease. It easily responded to jumping and movement and the buttons were well within reach. The grips on the controller also made it easy to hold for longer periods, as it felt comfortable and stayed cool for longer periods. It is clear the micro channels do play a part to make for a more enjoyable experience.
As for Turtle Beach's additions, the audio experience was great for its on-the-fly adjustments. I really appreciated the ability to change the volume whenever while staying in game. The equalizer settings were also handy to have, even if it is just for more customization. Audio streamed through clearly without any background hiss to be heard. On the other hand, its wireless performance was a bit more of a mixed bag. I certainly was thankful for the wireless capabilities, especially as it worked with my Pixel 3a XL and my computer, but there were a few caveats. As I already mentioned, we were unable to get any audio passthrough or vibration while using it wirelessly. Secondly, even though Turtle Beach claimed 30 hours of usage, I only reached 6.5 hours of gameplay before needing more charge. This is one major area that let me down, especially compared to the quoted time. Finally, it would have been nice if it worked with the Xbox consoles wirelessly, as then you would not need to be tethered with a cable. All in all, I appreciate the presence of wireless connectivity, but its execution needs improvement.
---
Page Index
1.
Introduction, Packaging, Specifications
2.
A Closer Look - Hardware
3. Subjective Performance Tests
4.
Conclusion