By: Aaron Lai
November 11, 2022
A few weeks ago, we had a celebration at church for the finish of one of the youth programs. For a party game, we got all of them to perform a piece of music that was chosen by others. As it happened, there were two people on the one team who had been joking about singing all year round despite not wanting to sing, so it only was fitting they were chosen to sing. Soon enough, the time came for the aforementioned two and their team to sing a song from Disney's Frozen "Love Is an Open Door". If you know the song, you will know that it ends in a proposal, but it was not on my mind until they got to the end part in their performance. Obviously to win the game, they continued and the guy proposed to the girl. Everyone in the audience went wild in adoration for the two of them. Since that night, they have been spotted together more often, although I am still not fully certain if they are interested in each other or just playing it up for fun. It is not as if they are a bad fit for each other and neither of them have outright denied any feelings for each other, but for now it is all speculation and both would probably say they are too young to consider dating. Another good pair we have seen for quite a while now is Turtle Beach and their gamepads. I have reviewed a couple of their controllers, including the Recon and React-R, and have generally been quite pleased. Today, we have a third one in the Recon Cloud Controller, so I have to wonder what this one will be like. Will it be another solid Turtle Beach gamepad or just for show? Let us read on to find out!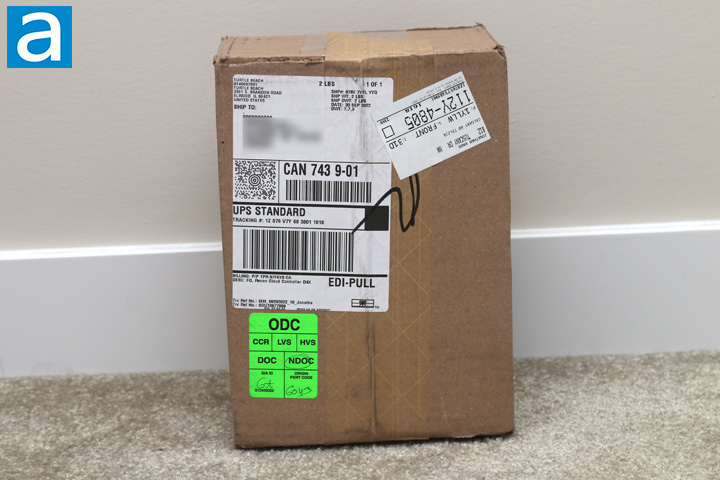 Today's box arrived from one of Turtle Beach's fulfillment centers in Elwood, Illinois. Traveling with UPS and their Standard ground service, this box arrived to our APH Networks offices in Calgary, Alberta, Canada, in excellent condition with no external bumps or bruises to be concerned about. Turtle Beach sent us the Recon Cloud Controller packed with packing paper to ensure the box inside was not damaged in shipping, although there was a bit of bruising on the retail box at the back.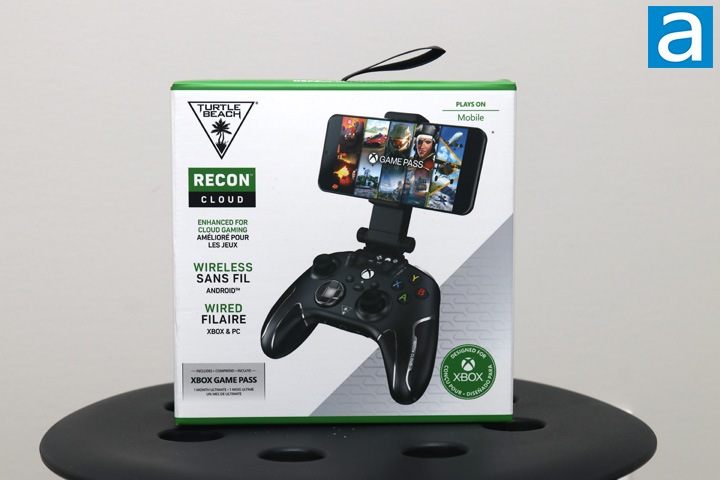 The retail container of the Turtle Beach Recon Cloud Controller is pretty typical for Turtle Beach with the controller shown off at the front. The Turtle Beach logo and product name can be found in the top left corner with several features highlighted, such as a focus on cloud gaming and its capability to operate wirelessly on Android devices or wired for Xbox and PC gaming. You can see other places where Xbox is name dropped, with the "Designed for Xbox" label in the bottom right corner and two mentions of the Xbox Game Pass. This is probably what Turtle Beach meant when they said the controller could be used for cloud gaming, but we will explore this later on in our review. Otherwise, there is not much else to look at, so let us continue unboxing the Recon Cloud.
Before moving on, I have grabbed the specifications from the manufacturer's website for your viewing pleasure:
Specifications
Connections:
- Wired: USB-A Connection to Xbox or Windows PCs
- Wireless: Bluetooth® Connection to Android Devices & Windows PCs
Connectivity Wired: Detachable 10ft / 3m cable with Type-C USB Connector (Type-A at console)
Connectivity Wireless: Bluetooth® connection to Android 8.0+ Devices & Windows PCs
Audio Input/Output: 3.5mm audio port for stereo audio output & microphone input
Product Weight (Kg/Lbs): 0.306 / 0.67
Package Weight (Kg/Lbs.): 0.601 / 1.32
Product Dimensions (Mm/In): 155x63x110 / 6.1" x2.48"x4.33"
Package Dimensions (Mm/In): 170x70x171 / 6.69"x2.76x6.73"
Compatibility: Compatible with Xbox Series X|S, Xbox One, Windows 10 & 11, Android 8.0+ Devices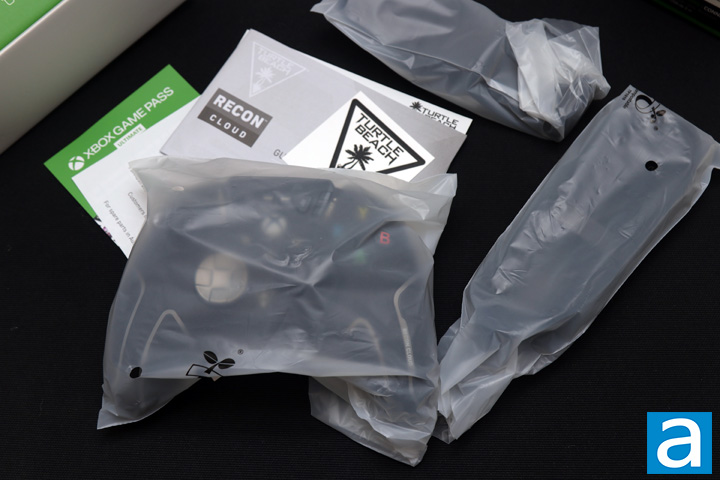 Out of the retail box, we have everything packaged in their own plastic bag. Interestingly enough, Turtle Beach has used compostable bags for all of their controllers, which is a neat thing to do, but there is tape on some of these bags, so be sure to remove the tape before throwing the bag in your compost bin. Otherwise, we have the controller itself, 3m braided USB Type-C to Type-A cable, and a phone mount attachment included. We also have some documentation for getting started with the Recon Cloud, some Turtle Beach stickers, warranty information, and a code for 1 month of Xbox Game Pass Ultimate for free.
---
Page Index
1. Introduction, Packaging, Specifications
2.
A Closer Look - Hardware
3.
Subjective Performance Tests
4.
Conclusion