By: Aaron Lai
September 16, 2022
I was recently eating at a katsu shop with a couple of my friends. I was running a bit behind, so when I got to the restaurant, I quickly gave them my order of pork katsu curry and sat with my friends to wait for the food. I looked around and it was clearly quite busy, as all the tables were filled with hungry customers. After some time, the server returned with the first round of food, and we realized they had given us the incorrect dish. It turned out the waiter had entered chicken katsu curry instead of chicken katsu don for my friend. While I told my group I was fine with taking the chicken katsu curry, they already started to cook the pork for my dish. The waiter came back with the news and asked if pork was okay for the don, which my friend said it was fine. However, during the meal, the waiter continually came back to the table and profusely apologized for entering the incorrect item into the system. It was interesting how many times he kept coming, especially since my friend was quite satisfied with the meal regardless of the meat on top of his rice bowl. I think honest mistakes are not too out of the ordinary in the service industry, especially with how busy things can get, but I do appreciate his recognition of wrong doing. On the other hand, one company that has no need to apologize for is Turtle Beach, especially when it comes to their gamepads. I last reviewed the Turtle Beach Recon Controller and I was quite satisfied with the end result. My only ask was that they make a wireless version of it. Today, we have the React-R Controller, which is not a wireless gamepad, but instead a simpler one that still offers audio enhancements for a lower price. What makes it simpler and how does this compare to the Recon and OEM Xbox controllers? Hopefully, it is not something Turtle Beach will have to apologize for, but let us read on to find out!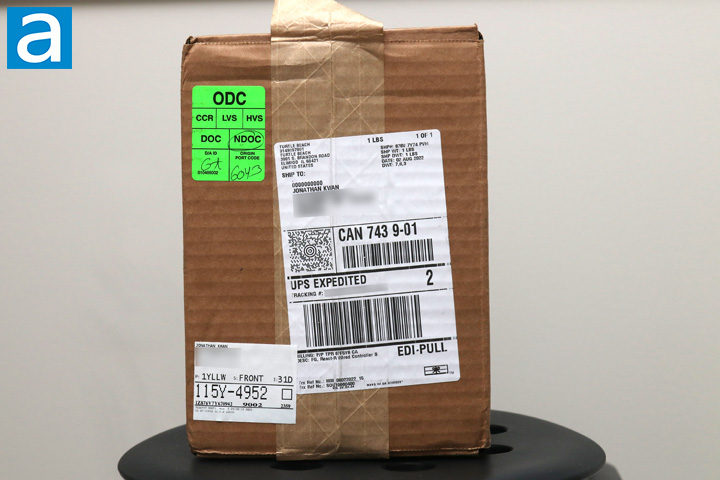 Today's review unit of the Turtle Beach React-R Controller arrived from a distribution center in Elwood, Illinois. Traveling with UPS and their Expedited service, this box arrived in relatively good condition, with maybe the exception of the packing tape coming off at the top. Even so, this is not something I am too concerned about. Inside, there was a few packing bubbles to ensure the item inside arrived in good condition.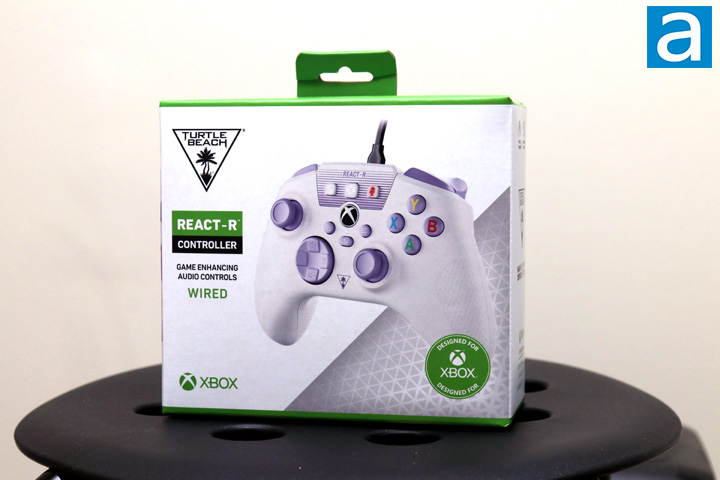 The retail container of the Turtle Beach React-R Controller is pretty clean with its white and green box. The Turtle Beach logo can be found on the top left corner, while the name can be found right underneath. The front shows off the controller in its white and purple color scheme. At the bottom, we have two Xbox logos to clearly show this is in fact an Xbox controller. This being said, it does work with Windows, which is what we will be testing with for our review today. Other than this purple-white color scheme, there is also the typical black variant for the React-R Controller. At the back of the box, we have a few features highlighted, but we will explore these features in our review.
Before I continue, I have grabbed the specifications from the manufacturer's website for your perusal:
Connectivity: Detachable 8ft / 2.5m cable with Type-C USB Connector (Type-A at console)
Audio Input/Output: 3.5mm audio port for stereo audio output & microphone input
Weight: 0.6lbs / 271g (Without Cable)
Dimensions: 6.1x2.5x4.3in / 155x63x110mm
Compatibility: Compatible with Xbox Series X|S, Xbox One & Windows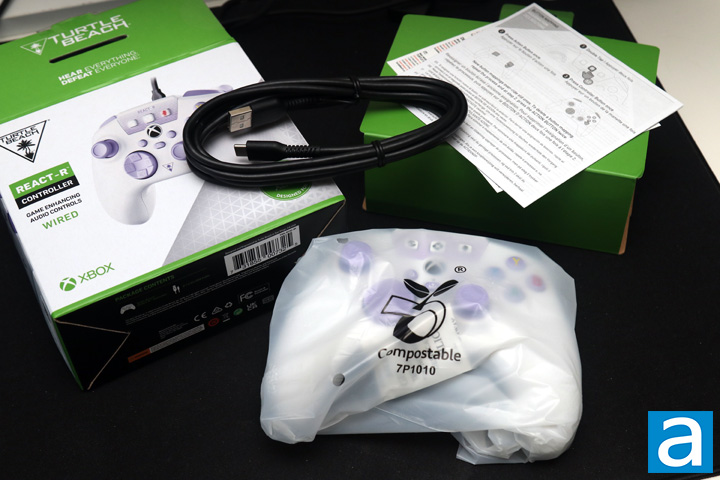 Out of the box, the Turtle Beach React-R can be found in a compostable bag inside a green cardboard shell that is inside the retail container. A 2.5m USB Type-C to Type-A cable is also included, as this is a wired controller. It is interesting this is slightly shorter than the cable provided with the Recon Controller and not braided either. Some small pamphlets of paper can be found that hold quick start and other information for the React-R Controller. Interestingly, there is no Turtle Beach sticker included with this controller, but it is not a noticeable omission for most people.
---
Page Index
1. Introduction, Packaging, Specifications
2.
A Closer Look - Hardware
3.
Subjective Performance Tests
4.
Conclusion