By: Aaron Lai
August 13, 2020
With the National Hockey League back in its playoffs and Return to Play protocol happening, it has been pretty interesting to watch the qualifying round. Unlike a regular year, where only the top eight teams of each conference would begin the playoff run, this year the human malware caused a lot of changes. For one, the top twelve teams from both conferences would be participating, with the top four of each receiving a bye into the first round. The bottom eight of those in the playoffs would then play a shorter best-of-five series to determine who would reach the next round. I personally liked this format, even in spite of the strange times we have been living through. A lot of people told me there could be upsets in the qualifying round, as one team with a good start could easily defeat a good team that had a few bad games. Several factors could be the cause of this, including a goalie carrying the team the victory, one team finding their strides faster than the other, or getting scoring contributions from multiple lines instead of just the top two. In the qualifying round, we saw several lower seed teams upset the upper teams because of this. For example, both twelfth seeds in the east and west were able to take out the fifth seed of the respective conference. Each victorious team had different factors that helped in their victory. When we look at gaming headsets, we also have several factors that we consider when we call something good. This often includes, but is not limited to, comfort, audio quality, and longevity. Today is the press release day of the Turtle Beach Stealth 600 Gen 2, a wireless gaming headset that is intended for console gamers. Will the Stealth 600 Gen 2 have the winning factors needed to emerge victorious from our testing? Let us read on to find out!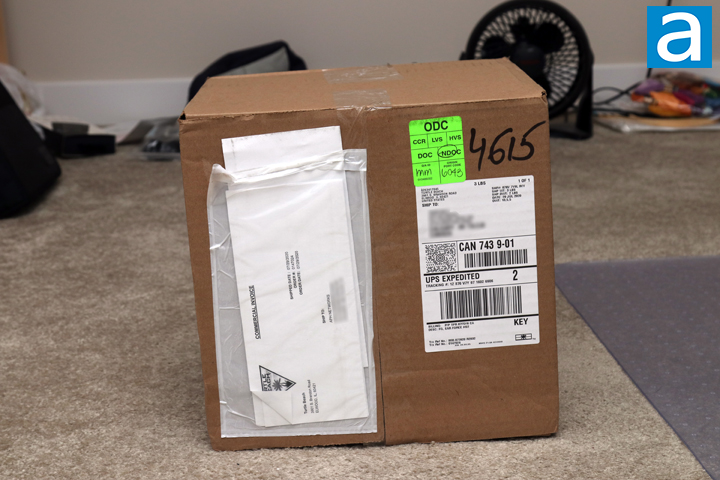 Today's review unit of the Turtle Beach Stealth 600 Gen 2 arrived from Turtle Beach's offices in Elwood, Illinois. Traveling with UPS and their Expedited service, the box arrived in excellent condition with no real issues to speak about. I was a bit surprised to see a box so large for a headset, but thankfully, Turtle Beach also packed several inflated bags to prevent damage to the products inside. In addition to the headset, Turtle Beach also sent us their Ear Force HS2 headphone stand, and I will take a look at it later on in the review.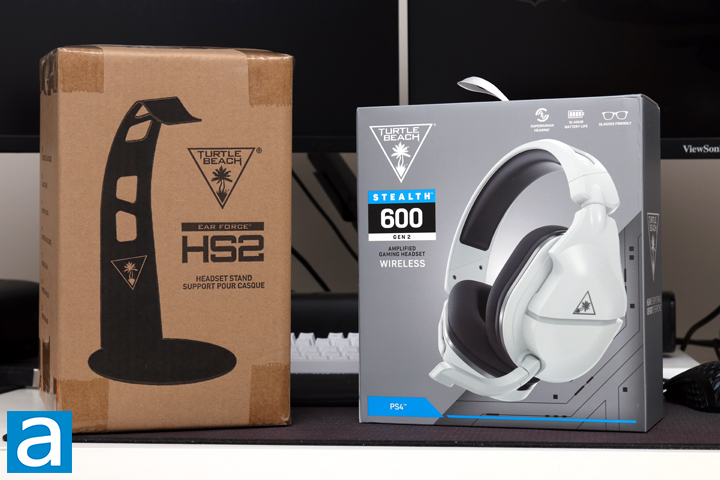 The Turtle Beach Stealth 600 Gen 2 comes in a clean grey box for this variant of the Stealth 600 Gen 2. Our review unit is of the PlayStation 4 unit, but Turtle Beach also has an Xbox version of this headset. In addition, Sony has mentioned all PS4 accessories will be supported with the upcoming PlayStation 5, so I would expect this headset to also work with the next-generation Sony console. Otherwise, the front shows off the few manufacturer logo with the product name underneath. A description of "Amplified Gaming Headset" can be seen under that. As you probably already know, this is a wireless headset. Otherwise, the front also shows off the Stealth 600 headset in a scaled down image. The overall box is pretty clean and looks pretty gamer-centric too. At the top we have three highlighted features, including the Superhuman Hearing, the 15-hour battery life, and the glasses-friendly design. We will see what these refer to later on in our review.
Before we continue, I have grabbed the key features from the manufacturer's press release for your perusal:
Key Features
- Wireless connection
- Pinpoint audio accuracy
- Gen 2 Flip-To-Mute mic
- Better fit, better sound
- Robust construction
- Powerful, amplified audio
- Glasses friendly
- Superhuman Hearing
- Variable mic monitoring
- Easy access to audio presets
- 15-hour battery life
Specifications
Connections: PlayStation®5*, PlayStation®4, PlayStation®4 Pro, Nintendo Switch™** Via Wireless USB Transmitter
Speaker Frequency Response: 20Hz – 20kHz
Speaker Size: 50mm with Neodymium magnets
Headset Power: Battery
Battery: Rechargeable 900mAh Lithium Polymer
Mic Design: Flip-up Omni-Directional
Ear-Cup Design: Over-Ear (Closed)
Ear Cushion Material: Fabric with Foam Cushioning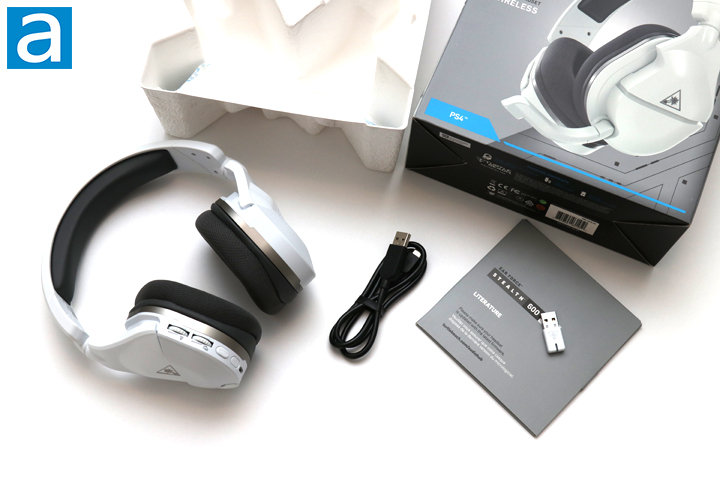 Out of the box, we have a few things of interest. The headset itself is packaged in a plastic bag and placed in a white cardboard carton. You will also find a 60cm USB Type-A to Type-C cable for charging the device. It is nice to see this updated plug being used here. Next, we have a small wireless USB adapter so users can plug this into their console for usage. This adapter is unique to the PlayStation variant of the Stealth 600 Gen 2, as the Microsoft one connects directly to your console, or to a PC via an Xbox Wireless Adapter. Finally, we have some quick starting documentation to help users know how to set up the headset for usage.
---
Page Index
1. Introduction, Packaging, Specifications
2.
Physical Look - Hardware and Software
3.
Subjective Audio Analysis
4.
Conclusion