By: Jonathan Kwan
January 14, 2022
One of my favorite scenes from the 2006 film Snakes on a Plane was near the end of the movie when FBI Agent Neville Flynn, played by Samuel L. Jackson, and Troy, a bodyguard of another passenger on the plane played by Kenan Thompson, took control of the plane to try to land it at Los Angeles International Airport. Both pilots were dead, and the two of them as the new pilots started to communicate with air traffic control. "Sir, have you got any experience piloting a jet aircraft?" ATC began. Troy replies, "Oh, yeah. F-15's, F-16's, A-10 Warthogs, I have flown all that ****." "Then we are all thankful to have you, sir. What squadron were you with?" ATC asks. "The Awesome Fighting Aces," Troy answers as he turns to Agent Flynn. "Man, I am telling you, them video games got their **** locked down tight." "Sir, are you telling me that your only real flight time is at the controls of a video game?" the ATC controller exasperates. Troy then cuts in. "No, see, it is... it is not a video game, alright? It is a flight simulator." After an epic facepalm reaction from Samuel L. Jackson, eventually they land the plane successfully, but not before struggling to stop the Boeing 747 because Troy usually would have ended the game by that time already. This brings us the question, is Microsoft Flight Simulator realistic enough for this movie scene to actually happen in real life, and what would it take for one to learn how to fly from the comfort of their home? The latest version of Microsoft Flight Simulator was raved by professional reviewers and enthusiasts alike since its release for its realism, but if you end up in a situation where you are a passenger on a commercial jet and somehow need to take over to land it like Troy in the movie, then you will need more than just a keyboard and mouse to train. Today, we have Turtle Beach's VelocityOne Flight yoke to get you started on this journey. Is it any good? Read on to find out!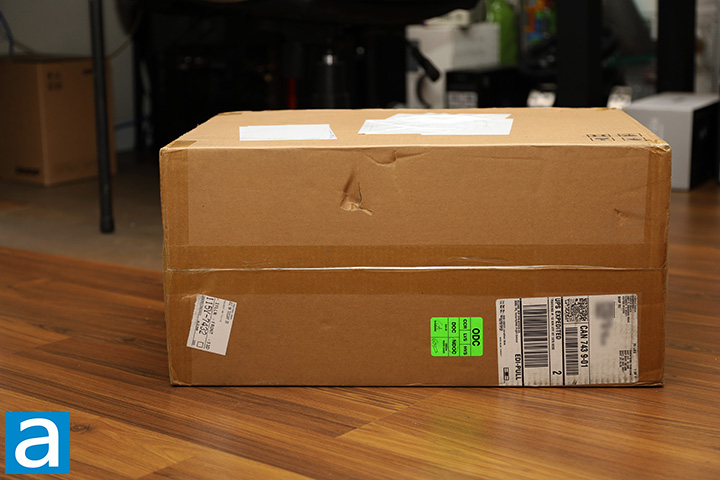 Our review unit of the Turtle Beach VelocityOne Flight arrived to us here in Calgary, Alberta, Canada from a shipping fulfillment center in Elwood, Illinois, USA. Using UPS Expedited, the large brown corrugated cardboard box arrived in excellent condition to us here in Calgary, Alberta, Canada for our review today.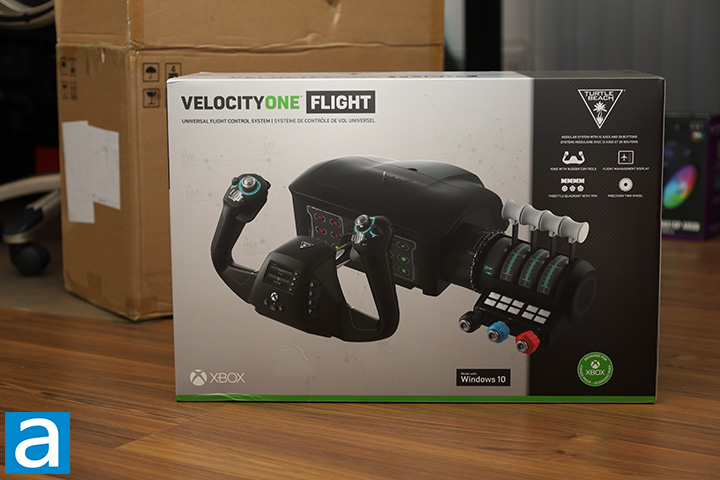 The Turtle Beach VelocityOne Flight came to us in retail packaging. The green, black, and white color scheme of the box will immediately remind you of the Xbox, and that is because the VelocityOne Flight is designed for the Xbox and PC. To accentuate its flight theme, you can actually see a constellation of North American airports in the background. A photo of the product itself at three-quarters angle occupy most of the space in the middle. The product name and description, VelocityOne Flight Universal Flight Control System, is at the top left corner. Meanwhile, logos along the bottom show off its Xbox and Windows 10 compatibility. In the vertical black band on the right, there is Turtle Beach's logo at the top. Under the logo is a line highlighting its modular system with twelve axes and twenty-six buttons. A matrix of four icons is present to point out its yoke with rudder controls, Flight Management Display or FMD, throttle quadrant with TPM, and precision trim wheel. Diagrams for feature highlights of the yoke and FMD are found on the remaining sides of the box.
Before we move on, let us take a look at the specifications of the Turtle Beach VelocityOne Flight, as obtained from the manufacturer's website:
Connections: USB Connection: Xbox Series X|S & Xbox One | Windows PCs
Software Compatibility: Microsoft Flight Simulator, Sim software with USB controller support
Connectivity: Input Connectivity: 2M USB-A to USB-C Cable to console or PC
Audio Connectivity: 1x 3.5mm audio port for stereo audio and microphone
Axes: 12 Axes. Hall effect sensor on main yoke axis. Optical encoder (trim wheel) and variable resistor (levers)
Dimensions: L 483mm (19.01") x W 496mm (19.5") x H 183mm (7.2")
Buttons: (2) 8-way POV switches, (2) 4-way HAT switches, (6) front-facing push buttons, (2) rear-facing push buttons, Xbox system buttons, (10) quadrant buttons
Screen: Flight Management Display – Full color, 320 x 230 with adjustable backlight
Lighting: RGB LEDs, adjustable via VelocityOne Flight Management Display
Status Indicator Panel: (12) RGB LEDs with (3) included swappable backlit status panels
Desk Clamp: Included
Out of the box, the main item and its accessories are all neatly placed and protected between two large environmentally friendly cardboard trays. Everything is wrapped and organized in their individual plastic bags as well. Here is what you will get from the factory:
1x VelocityOne Flight Universal Control System (Yoke handle, base, and throttle quadrant)
4x additional detachable throttle tops
6x Cockpit fixing screws
1x 1m USB-C to USB-C cable
1x 2m USB-A to USB-C Cable
1x Quick flight guide
1x Quick start guide
1x Blank SIP magnetic panel
2x SIP label sheets
1x Quadrant button label sheet
If you are the kind of person who never reads instruction manuals, keep the quick flight poster around anyway -- it is extremely well-written, well-presented, logically organized, and super useful to get you started if you are new or unfamiliar with flight simulators and its hardware controls.
---
Page Index
1. Introduction, Packaging, Specifications
2.
Physical Look - Hardware
3.
Software and Usage Experience
4.
Conclusion