By: Jonathan Kwan
May 20, 2006
After taking a look at the Boxwave Designio last week, we've got a general idea of what kind of portable electronics protection APH editors are looking for. As the Boxwave Designio isn't a candidate of what we think is the best case, we continued our quest for the best and ultimate solution for protecting our gadgets. Several APH readers therefore told us about Vaja -- a company that designs exclusive custom hand-made leather cases.
To meet our criteria, we wanted several qualities. Although adequate protection is definitely a priority, look and feel is equally as important. We also wanted top build quality, as well as a product that's free of other miscellaneous drawbacks such as being over-tight with our player as seen on our previous Boxwave Designio for Zen Micro review.
After being in contact with Ricardo over at Vaja several weeks ago, he told me that due to current amount of orders it would take them approximately one month to get us a unit for review. I think it's worth the wait, and a couple of days ago the FedEx man arrived at my door with the package that contains our review unit.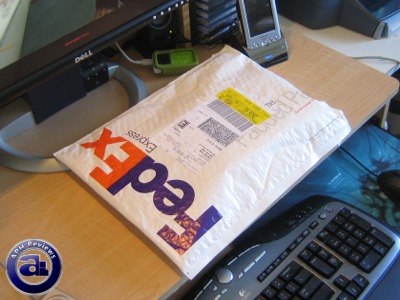 Our review unit came in a large FedEx bubble envelope from Argentina using FedEx International Priority. Yes, that's right -- two business days from South America to me where I reside in North America. The FedEx man rang my doorbell just as I was playing some Counter-Strike: Source...
Inside our bubble envelope is a box that's very cleanly designed and visually appealing. This box has a drawer-like pull out in the middle that has many similarities to expensive chocolate packaging; a very different approach in comparison to the Boxwave Designio which uses a jewellery type box to contain their product.
Pulling out the middle reveals a beautifully constructed box with a flip open cover. Behind the flip cover is our Vaja i-volution leather case. As a side note, Vaja offers a wide variety of leather products -- from cell phone protection to PDAs cases -- under two product lines (Classic and i-volution). We'll look at their i-volution Zeon today, a leather case designed specifically to accommodate Creative Zen Micros.
When I first saw this leather case, I was like, "Wow!". Anyone on my messenger contacts list who's online at the time could have felt my excitement. I was even further impressed by its looks when I slid my Zen Micro into the case.
As these Vaja leather cases are custom hand made and not mass-produced, customers had an opportunity to customize the final product to their likings here. For an additional cost, you can add a belt clip as well as adding up to three lines of personalized text on the back. Standard customizations with no additional costs include choosing your own colors. Our personalized review unit has Leather 1 (Top) as Caterina Golden Ochre and Leather 2 (Bottom) as Lemon with no other upgrades.
Although you can choose custom colors, Vaja recommends the use of a darker color (Unlike ours) for the bottom, due to the fact that lighter colors appear dirty faster. Personally, I think lighter colors look better at the bottom, especially in our case, because... well... just imagine flipping them around.
Utilizing some soft nylon, the lining inside the i-volution leather case is decorated with a repeating series of Vaja logos. It's smooth and did not scratch during our tests, but in my opinion the black, fluffy fabric inside Boxwave Designio is more unlikely to cause damage to the protected device. However, a resulted advantage of nylon approach is a thinner and sleeker case, which is what we are looking for.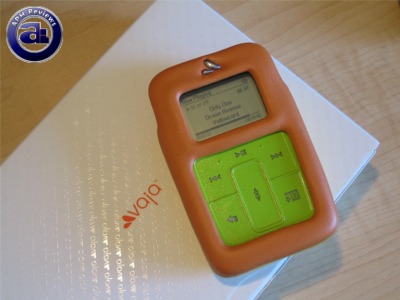 At 2.36" x 3.54" x 1.60", the dimensions of Vaja i-volution Zeon isn't too much larger than Creative Zen Micro's original dimensions at 2" x 3.3" x 0.7". That is, with the exception of thickness, where the leather case is nearly twice as thick as the Zen Micro itself. Fortunately, it still retains sleekness of the Zen Micro, if not making it nicer looking.
A clear advantage over our Boxwave Designio is screen protection, which we did complain about in our review regarding that product. Screen protection is directly implemented into the i-volution Zeon, and reinforcements can be felt beneath the leather surrounding screen area. Under normal usage, I noticed a few scratches on the screen protector after a few days. Screen protection can be improved here as it is scratched way too easily.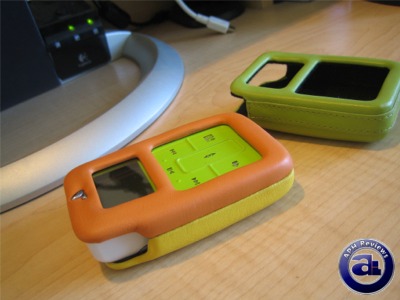 Just as you wonder why I have a lime-green Zen Micro inside an orange case, Creative was "supposed" to send me an orange Zen Micro for warranty replacement. Instead, they sent me a lime-green one. I kind of worried how it will look inside our Caterina Golden Ochre on Lemon leather case, but it all came together well. Doesn't it remind you of Ikea Spring catalogues?
Backtracking a bit, our Creative Zen Micro slipped easily into the Vaja leather case without any issues. Enough thumb area can be seen in our photo above for easy removal (A sacrifice for a little less protection though), including the fact that this case is tight enough for our Zen Micro to sit securely in place, yet it can still be taken out without any problems.
Area around the touchpad was reasonably deep and did not create a "pit problem" as seen in our Boxwave Designio for Zen Micro which we've examined last week. ("Pit problem" means: Part of the case around the perimeter of screen or touchpad too thick, creating a deep "pit") Credit goes to nylon lining inside the Vaja i-volution.
Because every product from Vaja is hand made and hand made products will have some inconsistencies, our i-volution Zeon did not fall out of this category. Screen area on our Vaja case was not "bang on" with my Zen Micro, covering approximately one millimeter of our screen at the top with one millimeter of extra room underneath it as seen in our photo above. Although the top cover is long enough to cover our entire Zen Micro, top edge of this case has a waterfall bendback to hold our Zen Micro at the top -- our review unit's top was again one millimeter short of doing that.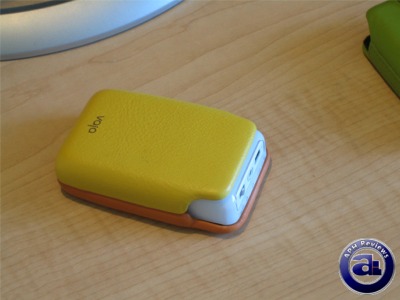 And interesting observation. While the Boxwave Designio did not cover the entire front of our Zen Micro, its bottom coverage was perfect. When our Vaja i-volution Zeon had a designed perfect coverage at top, its bottom was made to be a bit short. This exposes approximately half a centimeter at the curved part of our Creative Zen Micro. Not too significant, but less protection is less protection. I do see an advantage in this though; without having the case to bend up and cover that part, sliding the Zen Micro in and out becomes easier and does not scratch the back during this process. (It did with our Boxwave Designio.)
Before we conclude, I almost forgot about one very important thing of the Vaja i-volution: build quality. This semi-rigid case has a hard bottom while the front is soft leather. Made of genuine high quality leather, it feels very comfortable due to its softness and smoothness and I can assure you it's definitely not cheaply made. The Vaja i-volution has some real leather smell to it too!
All in all, the Vaja i-volution Zeon is an excellent product. From its excellent packaging to usage of high quality leather on the outside and carefully chosen material for its lining inside, it looks and feels excellent while offering great protection for your electronics. Fully customizable solutions allow you to personalize the leather case to your needs and preference. The screen protector can be improved by reducing its vulnerability to scratches and hand made inconsistencies can be worked upon. Although this leather case may seem costly, it's worth it -- it's high quality stuff we are talking about here.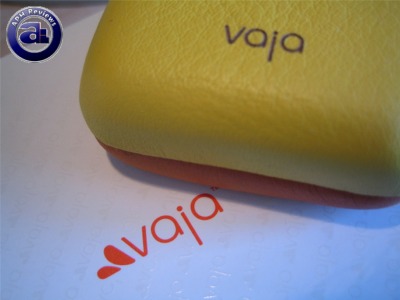 Special thanks to Ricardo over at Vaja for making this review possible.
Note: The number ratings below has been adjusted accordingly to comply with our new Number Rating System.

Rating: 7.5/10 | APH Recommended
What do these ratings mean?
The Vaja i-volution Zeon is an excellent, very nice looking, well designed, and high quality leather product. Unfortunately, screen protector is too vulnerable to scratches and a few handmade inconsistencies can be noticed.