Page 3 - Using the Vizo Milano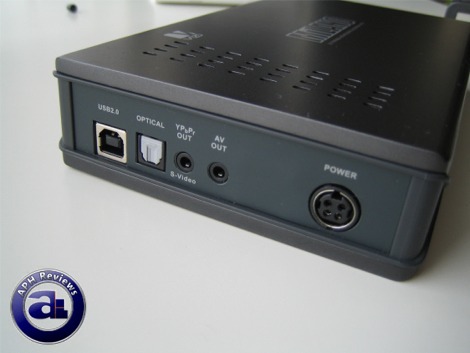 Before we actually 'use' the Vizo Milano, we need to hook it up, right? Well, obviously this is part of the usage section of this review ;)
Anyways, back on topic, on one end of the Vizo Milano are the input/output connectors. From the left is a USB 2.0 connector, followed by an optical out, 3.5mm S-Video/component video out, 3.5mm composite video out, as well as a power input. Video out cables are included for the semi-proprietary 3.5mm video outs; but we would actually like to see standard connectors instead -- at least a short leadout would be nice since some users may prefer higher quality cables.
I was actually quite surprised that there are no digital video outputs; an HDMI port would definitely be appreciated.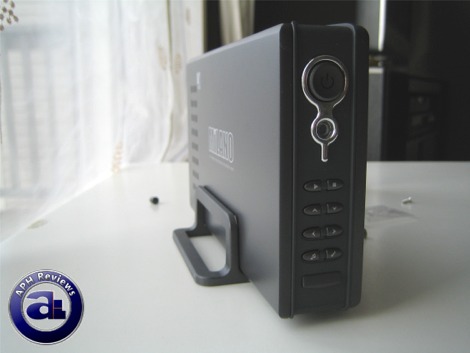 On the other end are the controls. At the top is a power button with blue LED that not only indicates power status but also blinks with disk activity; located below is the remote signal receiver. An array of eight buttons are located below it for basic on-screen navigation and usage.
Shown above is the Vizo Milano placed upright with the included stand.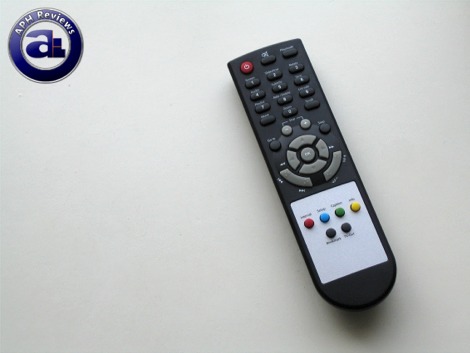 An unbranded black remote control tags along the Vizo Milano hard drive enclosure package. As a media enclosure, the remote control is definitely a welcomed addition to complete this package. The Vizo Milano accepts remote signals amazingly well; even at almost perpendicular angles to the Vizo Milano remote receiver there are no issues at all.
The remote control is in fairly standard layout with the power button at the top; as well as numeric buttons (Secondary function is printed on top of it) and directional navigation keys. Volume control and a dedicated mute button is not absent either. The array of buttons at the bottom are more or less dedicated to the functions of the enclosure itself (Such as setup, TV out settings, and the such).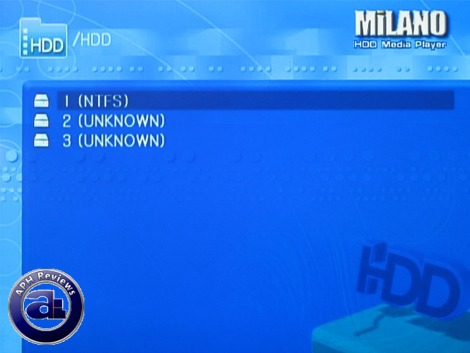 I did not have any extra, unused IDE drives laying around -- as mentioned earlier, the Vizo Milano is compatible with PATA drives only and not SATA -- so I initially popped in a ten year old Western Digital 1.6GB hard drive in for the tests. Yes, 1.6GB -- I did not miss any zeros or place the decimals in the wrong location!
Back on topic, the Vizo Milano turns on, but won't show anything in the hard drive. It works fine under USB, just not standalone -- so I thought it had something to do with Milano's design of not working with drives of that specific build and capacity. I dug out the Western Digital Caviar 80GB, as shown in the demo for installation in the previous page, from my test platform and tried it. The Vizo Milano won't even turn on at all.
Finally, I took a Seagate 7200.7 160GB from one of my spare computers and plugged it in. The Vizo Milano came to life and had no issues at all; a brief moment displaying the Milano logo as the device initialized. When loaded, the screen above is shown -- since the drive is partitioned into three NTFS volumes, they are shown correspondingly in the screen above.
Something tells me that this drive has something against Western Digital hard drives...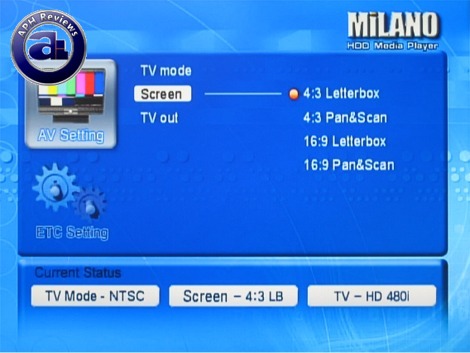 Hitting the Setup button on the remote control brings the Vizo Milano to the setup screen. The first group of settings are formatted under "AV Setting"; where TV mode (PAL/NTSC) are configured along with screen aspect ratio and resolution configuration. The current settings are conveniently displayed at the bottom.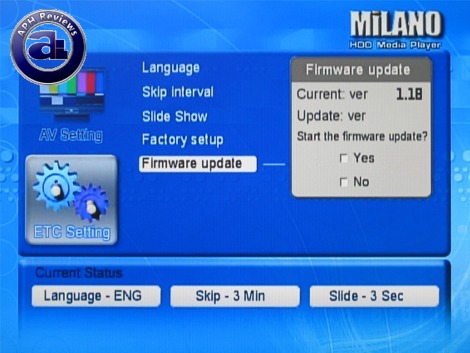 The "ETC Setting" tab lets the user complete other tasks from language settings to firmware update. Most European languages are supported; but not any Asian languages -- which is quite a surprise coming from Vizo, a company located in Taiwan. The Vizo Milano can't even display Chinese characters -- or see any folders/files with Chinese characters in them, for that matter.
To exit setup, the Setup key must be pressed -- the usual left (Back) button on the navigation section on the remote will not work; and hitting Stop won't do anything either which can be confusing and a bit illogical for the first time user.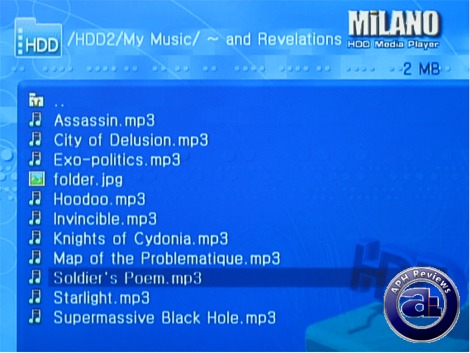 Navigation is quite logical with the remote control's directional buttons -- as well as the 'OK' key to select. I have to admit it's a bit bland with the relatively boring wallpaper and very... 'generic' file browser, but that's just how it is. Different media files are shown and their type are represented with an icon next to it; as well as its file size shown in the top right hand corner.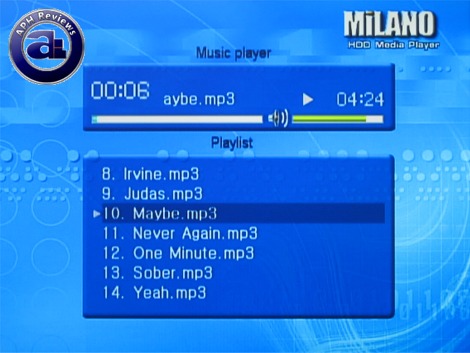 Once you select a music file from a particular folder, a short lag time will be experienced as the Vizo Milano composes a playlist out of all the music in the corresponding folder. The different shades of blue are used again in the Music Player with minimal graphics.
Elapsed time on the song is shown in the upper box's top left hand corner, with the time remaining on the right. A progress bar is available below the file name (Not ID3 tag); a volume bar is right next to the progress bar. A speaker icon is in the middle -- it changes when the Vizo Milano is on mute.
The current playlist is shown below. Personally I won't even bother with making a custom playlist on the Milano -- it not only takes an effort to read and understand the set of buttons used to create and maintain a playlist, but also the effort of navigation to create one.
If you want to return to the file browser, a small dedicated "Stop" button is on the remote -- you don't use the left (Back) navigation key. The screen will blink and a bit of lag would be experienced as the Vizo Milano brings you back to the file browser. Any audio playing is stopped at this point, meaning that you cannot view files while listening to music in this particular scenario.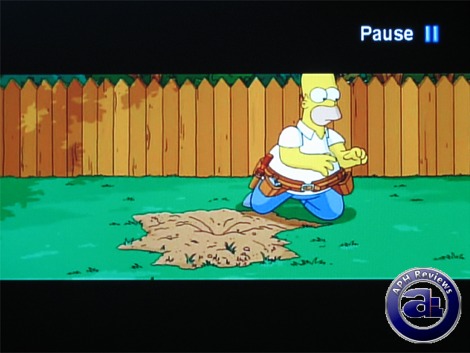 Video playing works very well, with the standard play/pause and searches up to 128x. I had no problems playing videos right the first time; and quality is generally excellent on the screen with no frame lag or artifacts under complex scenes. Compatibility is a concern for me, however. While it works with standard files such as DivX/XviD in AVI container, it will not work with files such as those AVIs from (At least my) digital cameras. No WMVs either, which is another negative.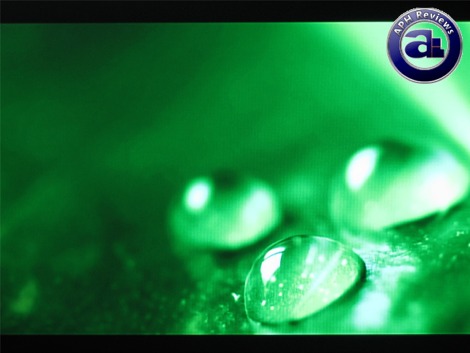 Image viewer is just that, nothing special... just shows photos and image files on the big screen! (No RAW, PNGs, etc though)
Overall, the Vizo Milano works pretty well. However, in terms of its user interface there's quite a bit of work to be done ... a lot of times, how to work certain features and navigation can be very illogical and without reading the manual it can be hard to get certain features to work. The UI itself is also very bland, boring and generic which can and should also definitely be worked on (Along with some odd English usages). Compatibility with different media file formats can also be greatly improved here.
---
Page Index
1.
Introduction, Packaging, Specifications
2.
A Closer Look, Installation
3. Using the Vizo Milano
4.
Performance & Conclusion