By: Jonathan Kwan
January 8, 2008
In the digital home, there are many ways to play media that's physically located on your computer on your home stereo system. From the classic method of using a high end sound card such as the Asus Xonar D2 (Or an Asus Xonar U1 if USB is your only choice), to using a Slim Devices Squeezebox to stream media using a network, the possibilities are endless. One to add to this combination is the Vizo Milano. This unique hard drive enclosure allows you to simply pop in a hard disk drive, and the enclosure does the rest. It supports digital out to your receiver for audio, and hooks up to your TV using major analog formats to play video and display pictures. It even comes with a remote control! Will this media enclosure change the way we play digital files on home theater setups? Let's have a detailed look at the Vizo Milano media player and hard drive enclosure today.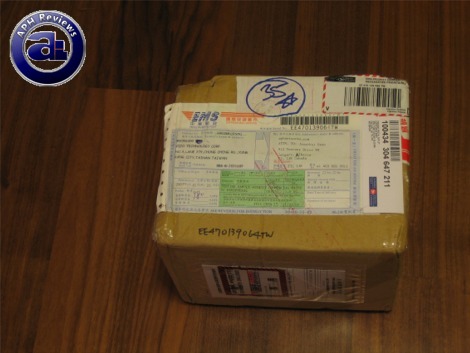 Our review unit came in a corrugated cardboard box using express mail from Vizo's offices in Taiwan. Like the Noctua NF-P12, it was held at a nearby post office five minutes away from my house and I conveniently picked it up on the way home. While the box looked relatively destroyed, the packaging was good and everything inside arrived safely and undamaged.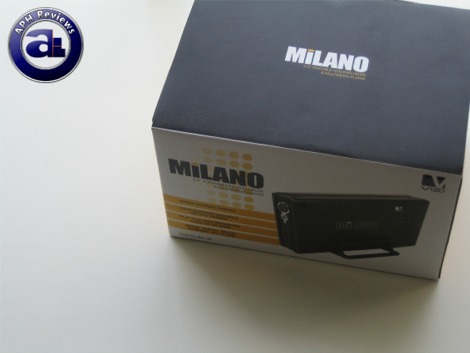 Our review unit of the Vizo Milano came in retail packaging. The cardboard box was built solidly with a flap clip to hold it closed at the top. A clean approach with excellent use of color and shape is used with the packaging; with a photo of the Vizo Milano shown in front with features and specifications listed.
Before we move on, let's take a look at the specifications of the Vizo Milano, courtesy of Vizo and adapted for clarity:
Features:
- Sigma Designs chipset
- Aluminum case to provide the excellent heat dissipation
- Support JPEG, MP3/WMA/OGG, MPEG1/2/4 and Divx multimedia format
- Provide high speed USB 2.0 interface, optical transfer, the HDTV high distinctive output technology which is up to 1080i
- Support front panel control and remote control ( IR )
- Digital Multimedia Player via TV/Projector
- USB 2.0 External Storage via PC( FAT32/NTFS/HFS+ )
- Audio - Stereo, Digital AC3 5.X CH. Surround Sound
- Video - Composite, HD Component 480p, 720p, 1080i
- DVD Manager - Playback of DVD File same as Original DVD Title ( IFO/ISO )
- Support Languages : English, French, German, Italian, Spanish, Portuguese
Specifications
- Interface : 480Mbps USB 2.0 (USB 1.1 Compatible)
- HDD Type : 3.5" IDE HDD (Maximum capacity up to 750GB)
- HDD Format Support : FAT32/NTFS/HFS+ ( for Mac OS )
- TV Type : NTSC / PAL
- Power Supply : AC/DC Power Adapter (AC input: 100~240 Vac, DC output : +5V/+12V)
- Weight : 400 g (without HDD)
- Dimensions : 202.5(L) x 115(W) x 36.5(H) mm
Supported Formats
- Movie: MPEG-1 (AVI; MP; DAT) MPEG-2 (AVI; VOB; IFO; ISO) MPEG-4 (AVI; DIVX3.11; DIVX4.XX; DIVX5.XX; XVID)
- Music: MP3( 32-320 kbps ), WAV( 16-48 kpbs ), WMA( 32-320 kbps ), AC3, OGG( 45-500 kbps )
- Photo: JPG/ JPEG up to 8mega pixel (baseline and progressive)
- Available OS: Windows 98SE/ ME/ 2000/ XP / Vista or Mac 10.3 & above
- Output: Video - Composite RCA, YPbPr, S-Video; Audio - Composite RCA with L/R audio, SPDIF optical output
System Requirement
- Compatible OS: Windows 98SE/ME/2000/XP/Vista or Mac 10.3 & above
- Note : Driver needed for window 98SE
The box interior is nicely partitioned to organize the contents and accessories. Out of the box, you will receive the following:
- The Vizo Milano enclosure itself
- Composite video/audio cable
- USB cable
- AC adapter and power cord
- S-Video cable
- Component video cable
- Remote control
- 2xAAA batteries for the remote control
- Package of screws
- Vertical stand
- User manual
The power brick accepts 100-240V AC input.
---
Page Index
1. Introduction, Packaging, Specifications
2.
A Closer Look, Installation
3.
Using the Vizo Milano
4.
Performance & Conclusion