By: Ben Joubert
May 29, 2019
I looked at quite a number of graduate schools when I was figuring out which one to attend. I ended up at one in Ontario, which also happens to have many graduate schools. In the year that I have spent in Ontario, I was able to go some conferences at one of the other graduate schools I considered. It was a fun experience and I learned a lot. Of course, that was pre-pandemic days, given now we are not allowed to attend school physically, never mind visiting other schools. Since then, I have not heard from that graduate school until very recently. They put on an advertisement where they were giving away free stylized stickers of the Reformers of the 16th century. For those who are not familiar, these included John Calvin, Martin Luther, Thomas Cranmer, and John Wycliffe. All I had to do to get these stickers was to email them. A bit of a nerd myself, I emailed them. A few weeks later, I got a bunch of them in the mail, and some were even magnets. I was impressed. The only issue was I do not know where to put the magnets. The Thermador fridge at my house is not magnetic, so was out of the picture. Luckily, I just received the XPG Invader to review, which is mostly made out of metal, and get this -- the magnets look quite good on the front of the case, haha. Of course, the XPG Invader has plenty of other and more interesting features to explore. But are they any good, given this is one of XPG's first cases in the market today? Read on to find out!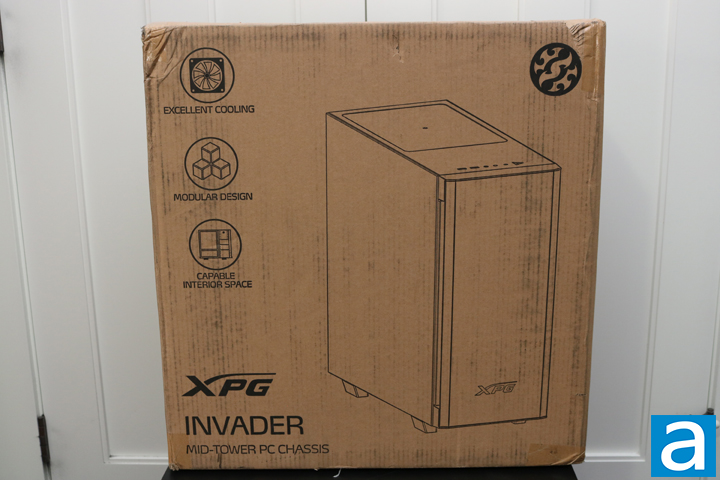 The XPG Invader arrived from Brea, California via UPS Standard. The box was in decent condition upon arrival here in Calgary, Alberta. There were a few dents around the box, but nothing too worrisome. And like many shipping boxes for computer cases, they double as the retail packaging as well. The XPG Invader has a few features highlighted on the front, like the cooling capacity, the modular design, and the abundant interior space. The name is located in the lower-left corner, while the logo is found in the top right. On the back of the box is a diagram of the case basically pulled apart, so that you are able to most clearly notice the many parts of the case. On the one side, we see the color options for the case, which is black or white. We received the white version. On the other side is a list of the specifications.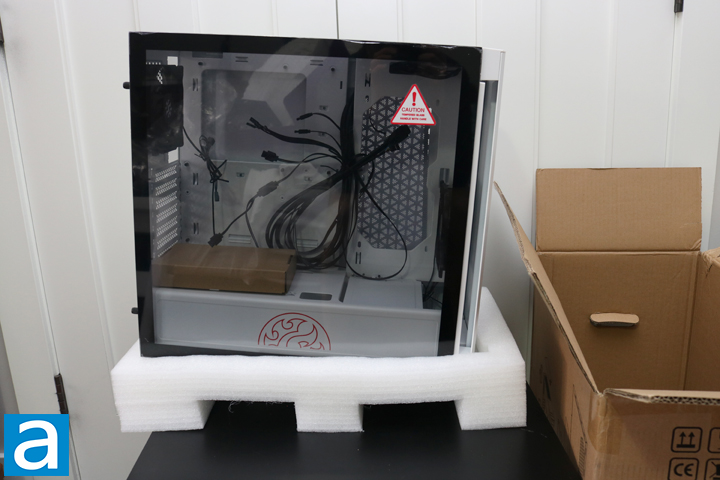 As far as cases go, the packaging inside is quite standard. There are two large foam blocks that keep the case padded on each side. As well, it keeps it nice and snug inside the box, so it does not bounce around. The XPG Invader was in perfect condition when I pulled it out. It was also covered in a plastic bag that helps prevent dust and any small surface scratches.
Before we move on, here are the specifications obtained from the manufacturer's website:
Dimension (H*W*D): 470*206*482mm (18.74*8.11*18.97 inch)
Color Exterior & Interior: Black / White
Material: SPCC
Side Panel: 4mm Tempered Glass*1 (Left Side)
Form Factor: Mini-ITX, Micro-ATX, ATX
3.5" HDD/HDD tray x2
2.5" HDD/SSD tray x2+2 (Combo 3.5"/2.5")
I/O Port: USB 3.0 * 2 , Audio*1, HD Audio ( Mic & SW ) * 1 , LED Control * 1
Fan Included:
Front:1 x 120mm Fan (1200 rpm)
Rear:1 x 120mm Fan (1200 rpm)
Fan Support:
Front: 3*120mm , 2*140mm
Top: 2*120mm
Rear: 1*120mm
Bottom: 1*120mm
Right Side: 2*120mm
Radiator Support:
Front: 360 / 240mm
Top: 240mm
Right Side: 1*240mm
Rear: 120mm
Clearance:
CPU Cooler Height Limitation: 170mm
Graphic Card Length Height Limitation: 400mm
PSU Height Limitation: 225mm
Warranty:
Warranty: 2 years
---
Page Index
1. Introduction, Packaging, Specifications
2.
Physical Look - Outside
3.
Physical Look - Inside
4.
Installation and Conclusion